Mid-April 2019 we returned (with our two Alabama grandsons accompanying us) to our Central Appalachian roots to help honor and pay tribute to my first Forestry Professor, and to this day mentor and hero, Dr. Glenn O. Workman, at Cumberland, MD's Allegany College of Maryland. We also visited Rocky Gap State Park just east of Cumberland. I hiked heartily alone two early mornings along the old Chesapeake and Ohio (C&O) Canal towpath, and we visited our son and his family north of Pittsburgh. I try to immerse myself in Nature wherever I go. Here are some sights (photos), reflections, and observations of Nature from these several mid-Appalachian excursion stops.
Rocky Gap State Park
I'm the old guy standing at the Rocky Gap Canyon Overlook below with Jack (11) and Sam (5). I had stood there more than fifty years ago while wandering the trails as a high-schooler, an innocent time when I already loved the outdoors, yet had no idea my passion would only deepen as life progressed. I can't recall the wonder I felt in the 1960s, only that I was at some level impressed, moved, and in love with Nature. I can only hope that Jack and Sam inhaled a bit of that same contagion!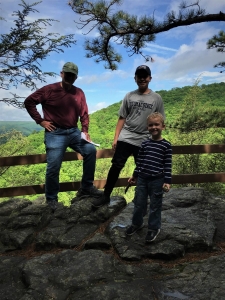 The view to the north across Rocky Gap Lake extends the ridge into Pennsylvania. At some level, more felt and sensed than I can explain, this land, its forests, the terrain draw me in. I am home. It's in my soul… my heart, body, head, and spirit. Does the salmon detect its headwater spawning home with signals as subtle and implied? Are the signals I receive more tangible (visual, olfactory, magnetic, auditory) than I can imagine? Or does simply knowing I am there trigger pheromones, emotions, blood pressure, memories, sensations that are timeless and integrated? What's first–knowing I am there generating deep nostalgia–or signals informing me I am home and thus the nostalgia welcoming me home? My eyes well with emotion when Nature pulls me into her home-embrace.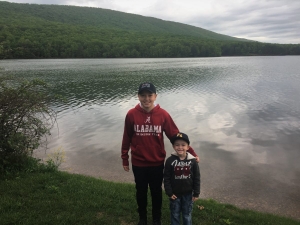 At the trailhead — two young trailblazers whose enthusiasm shows on their faces. I pray that they retain that excitement for Nature as they trek the decades yet to come, the trails yet to be explored.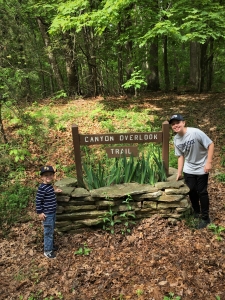 Rocky Gap State Park, like so many of Alabama's, is a destination outdoor adventure. I longed for much more time for getting reacquainted than we had available.
Cumberland, Maryland and C&O Canal
Cumberland, Maryland's Queen City, sits at the confluence of Wills Creek and the North Branch of the Potomac River. This view is upstream, to the northwest. The Potomac turns left above the Blue Bridge; Wills Creek has entered through the 1,000-foot Narrows (see the gap). As a kid I pondered how the creek had burst through a thousand vertical feet of mountain. I eventually learned that the creek performed its rock-cutting concurrent with incremental, persistent, and eons-long orogeny and erosion… one grain of sand at a time. The photo-point below is at the western terminus of the 184.5-mile C&O Canal.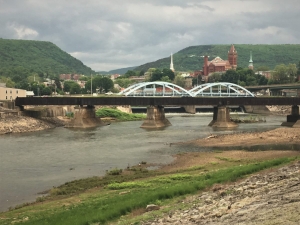 Six hundred-eighty vertical feet below, the eastern terminus is at Georgetown in Washington D.C. Both mornings while in Cumberland, I enjoyed hiking downstream a mile-and-a-half and returning. This photo sparks memory of two memorable hikes with Dad when I was Jack's current age (five-and-a-half decades ago). Mom had dropped us very near this western terminus (photo below looking downstream from about the same point as above). We carried backpacks containing sandwiches and snacks, and with our canteens fastened to our belts. Our destination: Oldtown, Maryland, 18-miles east on the towpath. I remember completing the trek exhausted by the effort and with blistered feet. Dad carried my pack the final few miles. I'm guessing that we may have taken nine hours (including breaks) to cover the distance. Mom met us there.
The ridge to the right of the river is Knobbly Mountain. That side of the river is West Virginia. The few visible houses are in Ridgely, where Dad grew up and where his parents then lived. On another day about the same period of time, we parked at my grandparents' home to hike Knobbly to the crest of that third knob, then returned. We ate lunch at a field overlooking the river valley, which seemed far below us. For both hikes my visual recall is of a somewhat pudgy pre-teen gamely keeping up with a robust, good-looking, upper-thirties Pacific-theater WWII veteran. Oh, what would I give to retrace those steps with Dad today! Not as an adolescent, but as the 68-year-old man I am today.  As then, Dad would likely patiently tolerate my slower pace. My eyes mist just to imagine. I remind myself that he lives in me… as does the young woman who dropped us off along the towpath and nine hours later retrieved us 18-miles to the east.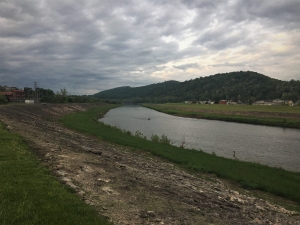 Shifting gears from sentiment to environmental awareness, from this same observation point (above) when I was Jack's age, the air would have carried the odor of raw sewage. Many upstream communities simply discharged waste into America's streams, creeks, and rivers. The solution to pollution was dilution! The Federal Water Pollution Control Act of 1948 had little impact on such Appalachian waterways. The 1972 amendments creating the Federal Clean Water Act still lay ten years ahead. We fished along the Potomac in Cumberland, catching only catfish, suckers, and carp, pollution-tolerant "trash" species. No game species then. Today, these waters are fishable and swimable, evidencing that we humans are indeed capable of positive action with respect to our environment and our need and obligation to practice responsible Earth stewardship.
The Canal, intended eventually to link commerce from the Atlantic tidewaters to the Ohio River, opened in 1831, and operated until a catastrophic Potomac River flood in 1924. By then, the competing railroads had already long before crossed the Alleghenies. The Canal never reached beyond Cumberland. The flood provided the final nail in the canal's economic obsolescence. Although built nearly 190 years ago, the stone locks stand strong today (below left). Wildness is inexorably reclaiming the C&O. Scenes like the ones below are common from Cumberland to Georgetown. I last biked the canal's entire length nearly 30 years ago, some 20 years after its 1971 designation as a National Historic Park. I've also biked the 150-mile Greater Allegheny Passage (GAP) trail from Cumberland's C&O Canal western terminus to Pittsburgh, PA. The GAP is a rails-to-trail on the old Western Maryland rail bed completed in 1912. That bed crosses the eastern continental divide at rough 2,400′.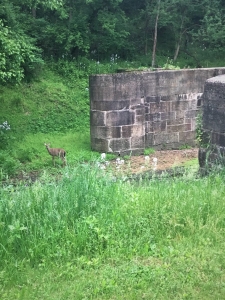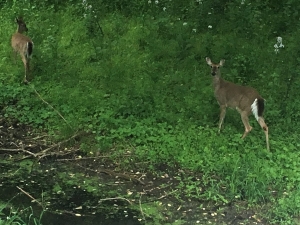 Woodland phlox (Phlox divaricata) brightened the towpath border during my two morning hikes.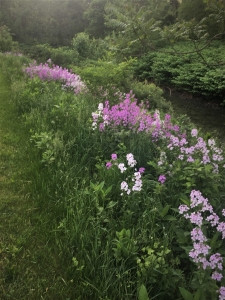 This two-foot diameter black locust (Robinia pseudo-acacia) stands between the towpath and what would have been the canal water. The tree obviously sprouted following the 1924 operations cessation. In fact, for much of the 184.5-mile distance the tow-side of the path supports large trees of diverse species.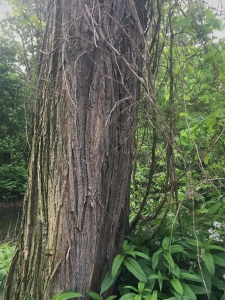 Not all species are native. This east Asian invasive is Japanese knotweed (Reynoutria japonica), an herbaceous perennial plant.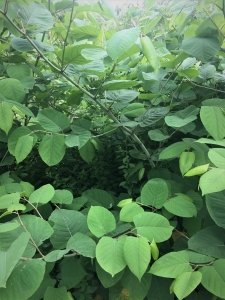 Nature is persistent, patient, self-healing, and tolerates no vacuum. Time is on her side. What are a few centuries to a Potomac River tributary that finds confluence with the river through a 1,000-foot canyon dubbed The Narrows?
Tennis Court Dedication to Doc at ACM
I dedicated my second book, Nature-Inspired Learning an Leading, to Dr. Glenn O. Workman, who established the forestry program at ACM, recruiting me to the program's first incoming class. He also coached tennis there. He touched many lives through both teaching and coaching. We were in Cumberland April 2019 for the ceremony dedicating (and naming) the new tennis complex to Doc. That's him below in sports coat and white shirt.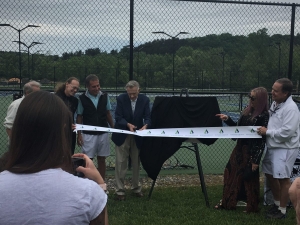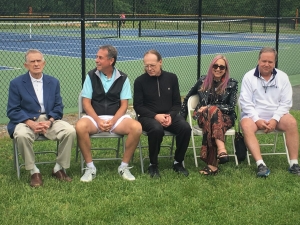 I learned so much more from Doc about life, living, and Nature than what I garnered from Dendrology and Systematic Botany.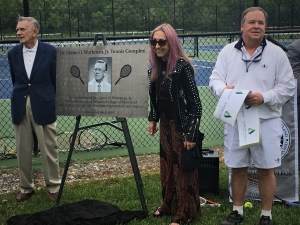 He is a mentor for the ages… for now fifty years of my life! I am grateful, and shall always be.
What the Future Means to Me
I am not the future. I've been one with Nature for nearly 25,000 days on this fine Earth. Far fewer remain to me. We visited Cranberry Township's (20 miles north of Pittsburgh where our son and his family reside) Graham Park. The Park, within walking distance of our son's residence, occupies a linear streamside zone and wetlands along the Pennsylvania Turnpike. Graham's eagle center piece monument symbolizes Nature, wildness, community, freedom, and country. All of that… and the Park offers great playground gear, a first rate sports complex, creeks, ponds, fens, and hiking trails!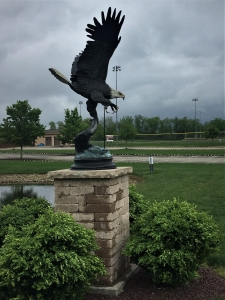 We managed to gather all five of our grandchildren with us for a first-time photograph. Spiraling down in reverse 'S' shape: me; Jack (11, AL); Mallory (PA, 8); Sam (5, AL); Judy; Nathan (6, PA); and Hannah (11, PA). They are the future… our direct lineage, carrying us far beyond our own journey, and eventually beyond their own. They are the reason I spread the gospel of informed and responsible Earth stewardship.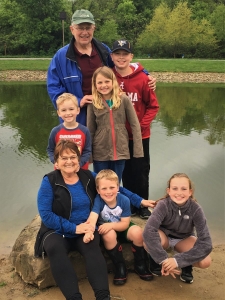 I want them to pay greater attention to and engage more regularly with Nature… and accept and practice informed and responsible Earth Stewardship. To see their relationship to our natural world with new eyes… and understand more clearly their Earth home.
Don't judge each day by the harvest you reap but by the seeds that you plant.
Robert Louis Stevenson
Thoughts and Reflections
I wrote my books Nature Based Leadership (2016), Nature-Inspired Learning and Leading (2017), and Weaned Seals and Snowy Summits: Stories of Passion for Place and Everyday Nature (2019; co-authored with Dr. Jennifer Wilhoit; Submitted to publisher May 31, 2019), as well as another one by me (single author) scheduled for 2020, Natural Elixir: Lifting Your Life through Nature's Inspiration, to encourage all citizens to recognize and appreciate that every lesson for living, learning, serving, and leading is either written indelibly in or is powerfully inspired by Nature. Both published books are available on Amazon and other online sources.
Here are the four succinct lessons I draw from this Blog Post:
Home is a special place for those of us who are Nature enthusiasts, whether its where we live now or our birth region.

Our roots and life experiences define us. Wherever we are in Nature, sink roots deeply to gather the richness and fullness that nourish us.

Remember that those we love, admire, and cherish, whether family or mentors, enrich us.
Plant seeds each day to assure a brighter tomorrow.
Inhale and absorb Nature's elixir. May Nature Inspire and Reward you!
Note: All blog post images created & photographed by Stephen B. Jones unless otherwise noted. Please circulate images with photo credit: "©2019 Steve Jones, Great Blue Heron LLC. All Rights Reserved."
Another Note: If you came to this post via a Facebook posting or by an another route, please sign up now (no cost… no obligation) to receive my Blog Post email alerts: http://stevejonesgbh.com/contact/
And a Third: I am available for Nature-Inspired Speaking, Writing, and Consulting — contact me at steve.jones.0524@gmail.com
Reminder of my Personal and Professional Purpose, Passion, and Cause
If only more of us viewed our precious environment through the filters I employ. If only my mission and vision could be multiplied untold orders of magnitude:
Mission: Employ writing and speaking to educate, inspire, and enable readers and listeners to understand, appreciate, and enjoy Nature… and accept and practice Earth Stewardship.
Vision:
People of all ages will pay greater attention to and engage more regularly with Nature… and will accept and practice informed and responsible Earth Stewardship.
They will see their relationship to our natural world with new eyes… and will understand more clearly their Earth home.
Tagline/Motto: Steve (Great Blue Heron) encourages and seeks a better tomorrow through Nature-Inspired Living!
http://stevejonesgbh.com/wp-content/uploads/2019/05/IMG_0722.jpg-05.10.19-Rocky-Gap-State-Park.jpg
900
1200
Steve Jones
http://stevejonesgbh.com/wp-content/uploads/2017/01/gbhweblogo.png
Steve Jones
2019-06-29 05:16:14
2019-06-29 05:16:14
Mid-April Return to the Central Appalachians