Colleagues Craig Cassarino and Dr. Jean Meade and I visited an east-central Ohio cattle operation owned by friends and associates whom Craig has known for two decades. Because we three are collaborating on a Nature-based, sustainable agriculture-themed education project near Morgantown, West Virginia (Jean's location), Craig wanted Jean and me to see the property and meet the landowners. Craig flew into Pittsburgh (90 minutes to Morgantown) from New Hampshire to coincide with my travels to the area. We drove over to Flushing, Ohio first thing Thursday, May 17. At this stage I will not reveal the owners' identity. I want to coordinate telling their incredible Land Legacy Story more fully with them. Theirs is a story meriting recognition and celebration.
Premium Japanese cattle breeds are among Craig's many interests. He is the catalyst (shall we say "cattle-yst"?) responsible for this operation incorporating Akaushi, what one web site called one of "the most outrageously marbled, incredibly decadent beef on the planet." The cinnamon-brown bulls below are Akaushi. The operation's other bull breed is a more common black Simmental, bred on this operation with Black Angus heifers. A Simmental bull grazes beyond the Akaushi in this photo. The family's home sits atop the hill. A sight (and site) of pastoral splendor, accented and back-dropped by the rising cumulus.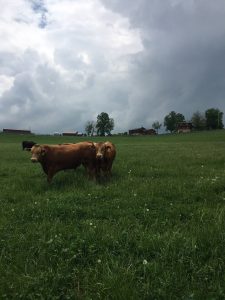 Yet 35 years ago a 100-foot strip-mine highwall would have greeted this view of the home. No lush green grass… just bare rock and debris, something like the stock photo below. The cattle operation family metamorphosed from a family-owned coal mining firm. Both husband and wife worked for the coal company, beginning in the mid-70s. He left the family firm in 1990 for a larger nearby coal company, serving as engineer and land manager. When that company sold its 42,000 acres of inactive mined land (and inoperable non-mined land) in 1999, the couple purchased those holdings. They have since divested all but 13,000 acres. We toured the ~1,100 acres of pastureland contiguous with the home site… derived from a combination of family land (a mix of personal and family-owned coal company) and some 1999-acquired company land. The photos within this post belie the land's strip-mine past. I believe John Denver spoke less than reverently of strip-mining in his Rocky Mountain High:
Why they try to tear the mountains down
To bring in a couple more
More people, more scars upon the land
I don't intend to debate the relative merits of strip- and deep-mining, nor discuss the virtues and sins of our fossil-fuel dependence. My point and purpose instead is to recognize that an action as disruptive and seeming devastating as ripping the Earth asunder to extract coal does not necessarily result in permanent "scars upon the land."
The owners did more than the expedient and minimally expensive to meet the letter of reclamation laws. They acted consciously and deliberately as Earth stewards. Their responsible actions created a landscape of pastoral beauty and productivity. The 16-acre impoundment below supports fish, frogs, and turtles and attracts diverse mammals and birds. I took the photo from the patio of the family's cabin.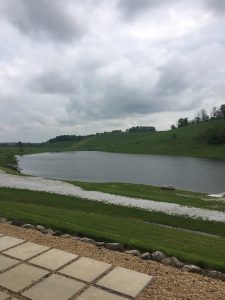 A 50-70-foot-high spoils ridge stands behind the cabin (below left). A clear-water spring exits from the hill (below right) from a point near where I stood to take the photo of the back of the cabin and forest.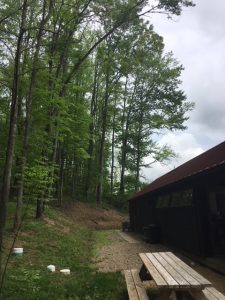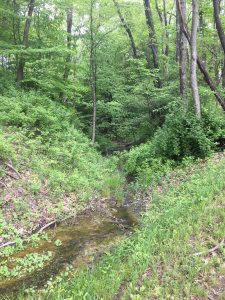 The naturally-regenerated hardwood forest would appear as growing upon undisturbed land to the uninitiated. Yet this stand regenerated on unconsolidated, piled over-burden from stripping.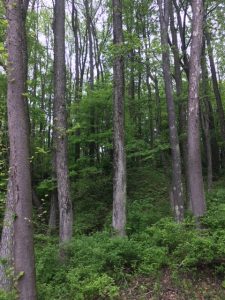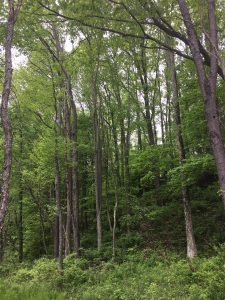 That debris ridge stood already re-foresting when the company rehabilitated the surrounding stripped acreage in 1983. The rolling pastureland where the cattle stand below supports lush forage. Interestingly, native, undisturbed pastureland requires liming to support grass and forbs of this quality. The reclaimed strip-lands include limestone debris, keeping the pH high enough to obviate the need for lime application.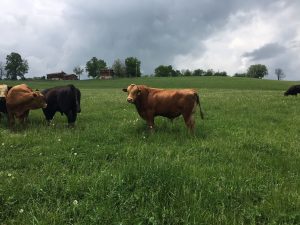 No obvious scars upon the land evident in the scene below, where ten Akaushi momma cows and their two-month-old calves came to greet us when we approached on the Polaris ATV.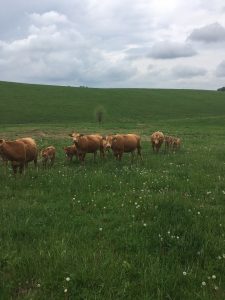 Same for the two views below. The owners care deeply about the land… and it shows.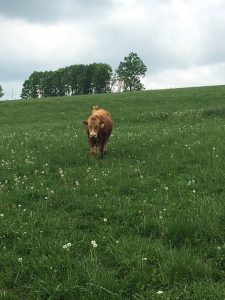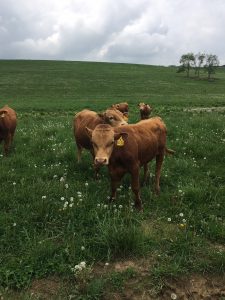 The owners prescriptively manage grazing to ensure healthy forage and cattle. Although I did not probe or shovel beneath the surface, I saw evidence that the site is developing true soil with deep roots and organic matter incorporation. If the landowners agree to composing a Land Legacy Story, I will bring along my soil probe and put my doctoral expertise in forest soils to work.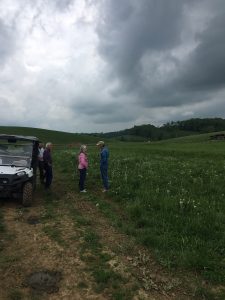 Nature's Own Reclamation Methodology
As I write this post, Kilauea volcano in Hawaii is spewing lava… lava that will soon serve as raw material for rich soil as weathering (chemical, physical, and biological) acts upon it. Fact is, all of Hawaii's land is of volcanic origin. The entire island system and its rich life resulted from severe disturbance. I recall standing at Exit Glacier near Seward, Alaska, reading the interpretive signage chronicling the glacier's retreat over the past 50 years. Near the current ice front, raw terminal moraines of unconsolidated glacial till stand tens of feet high. At the sign marking the front five years ago, vegetation covers the deposits. By ten years ago, tree seedlings and saplings dominate. Where the glacier face stood twenty years prior, a young forest occupies the site. Nature knows disturbance. Nature pays little heed to whether the cause is human-derived or of her own work.
However, we can assist Nature's healing and abet her amelioration processes. The Flushing, Ohio landowners returned the land to a near-natural contour. They accommodated drainage and surface water flow to resemble patterns common to this region. The company had stock-piled surface soils and reapplied them to the reclaimed landscape. They re-vegetated quickly and encouraged its growth and establishment. They are conscious of soil formation as a necessary requisite to full and long-term land health and its economic vitality. Land ownership comes with costs (e.g., taxes; access maintenance; protection from fire and trespass; fences); the owners seek a return on their continuing investment of time and resources. They seek an economically viable premium breed cattle operation. They realize that the more responsibly they steward the land, the more viable their operation.
They believe in Earth Stewardship… because it's the right thing to do and it's doing things right. As we drove back to Morgantown, we observed many pastures on hillsides that have never been stripped for coal. We saw far too many hillsides bearing the distinctive scars of over-grazing. Corduroy contours of cattle walkways; bare ground where the grasses and forbs no longer constitute a soil-protecting stand; resultant erosion gullies; failed stream banks. Good land practices follow simple and proven treatment sequences and actions. Excellent stewardship can yield exemplary results on land that some would describe as having been decimated, destroyed, ruined by strip-mining. We saw first-hand in Flushing that good stewardship can return such abused land to full (and perhaps better than pre-disturbance) productivity — restoring its beauty, magic, wonder, and awe. In contrast, as we returned to West Virginia, we witnessed that irresponsible treatment of undisturbed land can be a travesty of abuse, devastation, destruction, and ruination without a single bulldozer scarring the land.
Broad Lessons for Our Relationship to the Land
I will draw this essay to a conclusion by offering four relevant quotes from a conservation and land ethic giant, Aldo Leopold.
Leopold wrote in A Sand County Almanac: "All conservation of wildness is self-defeating, for to cherish we must see and fondle, and when enough have seen and fondled, there is no wilderness left to cherish." The landowners, my colleagues, and I certainly do not view the property as wilderness yet we do see it as a landscape blend of domesticated and wild. The fish, amphibians, and reptiles within the ponds do not care that their habitat is an artificial impoundment. The critters living within and near the debris-hill forest pay little heed to its origins.
Leopold also wrote that "We abuse land because we see it as a commodity belonging to us. When we see land as a community to which we belong, we may begin to use it with love and respect." The landowners may not have referred to their operation as a community. However, they spoke of it in such reverent and respectful terms that they conveyed the same sentiment Leopold expressed. They view the land, their home, and the cattle enterprise as fully integrated… and they see themselves as one with it.
I observed earlier that the landowners reached beyond the expedient in rehabilitating the land. Leopold counseled all of us, with respect to caring for the land and its denizens, "Examine each question in terms of what is ethically and aesthetically right, as well as what is economically expedient. A thing is right when it tends to preserve the integrity, stability, and beauty of the biotic community. It is wrong when it tends otherwise." Leopold expressed these thoughts nearly 70 years ago; the Ohio land stewards have been walking the talk for at least 35 years. They have and are doing the right thing.
Even as I quote Leopold, he had his own favorite quote: "My favorite quote: The land ethic simply enlarges the boundaries of the community to include soils, waters, plants, and animals, or collectively: the land… In short, a land ethic changes the role of Homo sapiens from conqueror of the land-community to plain member and citizen of it. It implies respect for his fellow-members, and also respect for the community as such." May 17, we visited a property cared for by landowners who are clearly citizens of the domain they have the privilege of tending.
Note: I am available for Nature-themed motivational/inspirational speaking and writing… for NGOs, businesses, landowners, agencies, and Nature-oriented enterprises. Contact me at: steve.jones.0524@gmail.com
Land Legacy Stories: This Blog Post is an example of the approach I take to developing Land Legacy Stories, detailed tales of the relationship between caring, informed, and responsible stewards and their land… intended to extend generations forward and linking them to the past. Contact me to discuss your Land Legacy Story
My Premise and Core Belief: Every lesson for living, learning, serving, and leading is either written indelibly in or is powerfully inspired by Nature!
Responsible Earth stewardship provides a full measure of humility and inspiration, two necessary components of living life fully: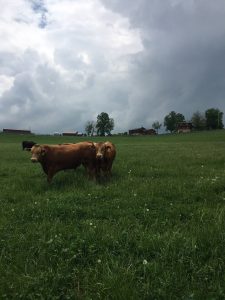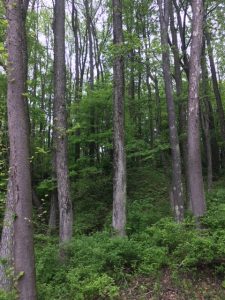 http://stevejonesgbh.com/wp-content/uploads/2018/05/IMG_6118-1.JPG-05.17.18-lo-res-e1526722266159.jpg
2016
1512
Steve Jones
http://stevejonesgbh.com/wp-content/uploads/2017/01/gbhweblogo.png
Steve Jones
2018-05-29 04:35:03
2018-05-29 04:35:03
Idyllic and Pastoral -- An Earth Stewardship Surprise and Exemplar