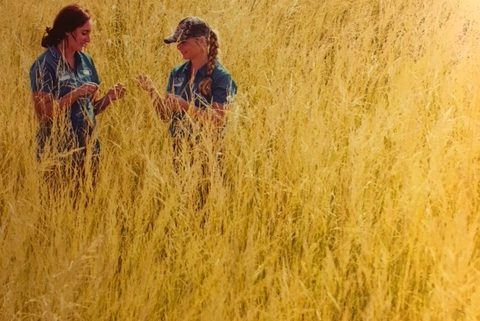 My keynote address to the annual meting (Conservation Delivery in Changing Times) of Kansas Natural Resource Professionals focused on Applying Nature's Wisdom and Inspiration to Conservation Delivery. Three hundred seventy-five registrants set a new attendance record for the annual gathering, this the 11th. What a great concept in drawing together professionals dealing with forests, range-land, fisheries, wildlife, and related fields.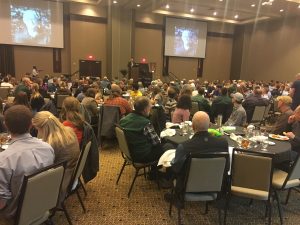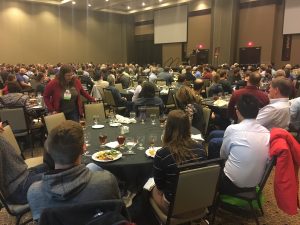 I wasn't sure what to expect in way of reaction to my message. This was my first venture into the heartland with my Nature-Inspired Learning and Leading sermon. The first time testing the message with diverse natural resources managers in a part of the country far removed from my eastern US (and Alaska) former fields of practice. Really, my first test since adopting this deep message of Earth Stewardship, rooted in science, yet driven by my growing emphasis on heart, spirit, and soul. I outlined many of the basic elements I've brought forward in these Great Blue Heron blog posts.
I told the audience my purposes during that afternoon session. First, reuniting with my dear friend and colleague over the past 30 years, Larry Biles (left), Kansas State Forester, who arranged for the invitation to deliver the keynote. Such a great privilege and joy to see Larry (and wife Sarah) again.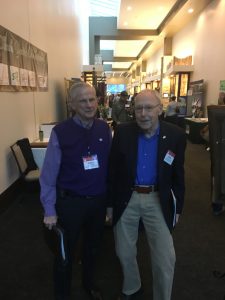 I admitted that another aim for me was meeting the attendees and talking with as many as possible. How better could I learn than by hearing from those who are steeped in the practice of Kansas natural resources management! I shared another shamelessly selfish objective: gauging their reaction to some of my ideas and reflections on Nature-Inspired Learning and Leading. A parallel objective — spreading the gospel of applying Nature's wisdom and inspiration to living, learning, serving, and leading.
And I made clear that I hoped to stimulate them to contemplate:
The privilege we have of working in our allied fields
The beauty, magic, wonder, and awe of Nature
Our obligation as natural resource managers to sow the seeds of Earth Stewardship
I closed my keynote with some final thoughts about their role as natural resource professionals:
Theirs is a noble calling
One with high purpose
Urging them to adopt a goal to unveil and interpret the beauty, magic, wonder, and awe that lies hidden within Nature at all levels, whether Denali National Park, Tallgrass Prairie National Preserve, Konza Prairie, or a Manhattan, KS city park
Their service is a privilege… a gift
And what they do carries a professional obligation to steward and sow the seeds of a land/Earth ethic
I challenged them to Rise to the Challenge… and leave a legacy
My Concurrent Session:
Harnessing Nature's Wisdom and Inspiration through the Power of Stories
Some 50 participants attended my second-day concurrent session. This amounted to the first time I introduced my idea of Wild-Land Legacy Stories to any contingent of natural resource professionals, much less this wide range of folks from watershed to forest to wildlife to range to fisheries.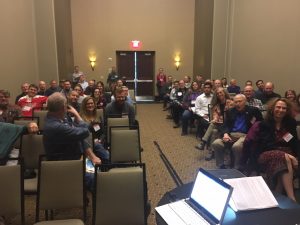 Rather than lay out the details here, I'll hold the summary and discussion for a future blog post. Watch for it!
Also, soon I will post photos and text from my day-after-the-conference visit to Konza Prairie and Tallgrass Prairie National Preserve, my first full-blown immersion into this incredibly beautiful ecosystem and community that once dominated our nation's heartland.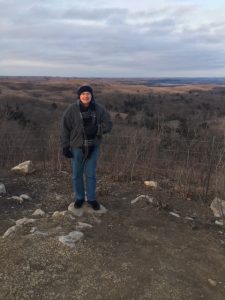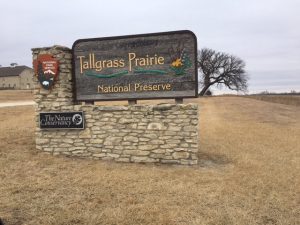 Remember: every lesson for living, learning, serving, and leading is either written indelibly in… or is powerfully inspired by… NATURE!
http://stevejonesgbh.com/wp-content/uploads/2018/02/IMG_4877-1-KNRC-Program-lo-res-e1518308306653.jpg
640
480
Steve Jones
http://stevejonesgbh.com/wp-content/uploads/2017/01/gbhweblogo.png
Steve Jones
2018-02-11 06:12:05
2018-02-11 06:12:05
Kansas Annual Natural Resource Conference