Here at 34.7 degrees north latitude (contrast that to Fairbanks, AK at 64.8), we expect some relative warmth this time of year. Average daily high for early January is 48. We enjoyed one day since the last few days of December that made it all the way to 35! Average daily low is 30; most of these past seven-plus days have fallen to high single digits and teens! Big Blue Lake is ice-covered… and has been for a week. Were I a bit more adventurous (and still near my marathon-running-days weight), I believe I could walk across it.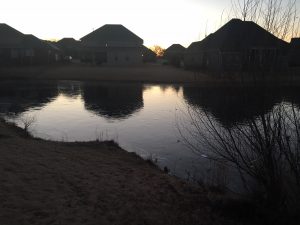 Although my local friends would think me near-crazy, I welcome the spell of deep winter. It legitimizes seasonal dormancy in these parts. Nature prepares for the extremes… the outliers. When we lived near Montgomery, AL back in the early 80s, our landscape beds showcased scores of ornamental azaleas. An Arctic air penetration brought the temperature to negative two over the Christmas break while we were with family in Maryland. We returned to find the bark and cambium split on every plant — burst and deceased. Native azaleas survived the extreme low. Nature had prepared those native species and varieties to the wild swings within the parameters of normal. That Arctic air-mass, as well as this one, fall within the range of normal. Below average — certainly. Yet within the rather wide limits of long-term natural.
Let Nature's plant kingdom enjoy a break. A rest from the pressures of making a living via photosynthesis. In fact, the break extends from early October through most of March. Our northern Alabama red maple begins flowering early in that spring equinox month. Most forest species extend leaf dormancy into late March and early April. That's nearly half-a-year of forced rest, even here in a part of the country our northern friends consider The South — a place to escape winter.
Even as Nature prepares for the extremes, we humans tend toward remembering the severe conditions, and recalling them as typical. Here's an example. We arrived in Fairbanks June 2004. By early October, summer had gone, leaf color began turning aspens and poplar gold as August transitioned to September; deciduous trees had shed all leaves by September's third week. We had 2-3 snows of 1-2 inches that fell, accumulated, and then melted. I watched for the climatological summary for September. With the summary in mind, I asked many long-term Fairbanks residents, most of them affiliated with the university, how the just-completed month compared to "the way they used to be." Without exception, respondents talked about how Septembers used to be much colder, with a winter-long snow pack already in place by month's end. Interestingly, September 2004 was the third coldest December on record! We all remember our parents telling us that they walked uphill to and from school in waste-deep snow.
So, what are the lessons we can draw from this cold spell? If you are a duck or a goose, prepare for some hard landings (yes, those are geese on the ice):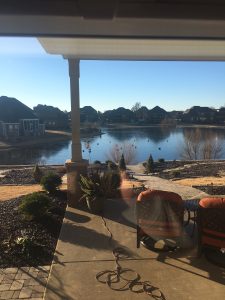 Otherwise, be aware of the nature and extent of normal (not just average) ebbs and flows for life, living, and enterprise. Remain aware that Nature prepares for the extremes. Even for those of us who choose to live in high risk areas, on average (over the vast majority of days), the hurricane does not make landfall near us; the fire does not consume our surrounding shrub and forest cover (and our home); the flood does not inundate us; the mudslide does not sweep our home down the hillside; the earthquake does not liquefy our firm under-footing. Yet the risks are quantifiable. While not average occurrences, they do fall within the long-term normal. Know what is normal and prepare for it… or, if too much to bear, avoid it.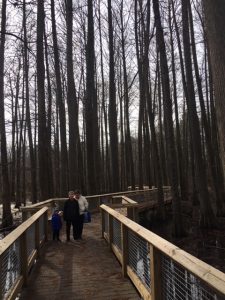 Nature prepares. She knows that these cypress will from time-to-time see real winter settle on the Tennessee River flats here at Wheeler National Wildlife Refuge. My guess is that in their own way, the trees, too, welcome the dormant season. They are re-loading, ready to launch into full production once Arctic threats are at bay.
A Sharpened Great Blue Heron Focus
My own dormant season began when I headed south from my Fairmont State University Presidency (https://www.fairmontstate.edu/) just before Christmas. I view these Blessed subsequent two-weeks as a form of rest and reloading. Professionally, I have begun thinking in earnest about how to better focus my work with Great Blue Heron, LLC. Here is where I will concentrate:
Promoting my books (and continuing to write; two new ones in process)
Speaking — along the Nature-Inspired Learning and Leading theme of my books. Purpose: to inspire, educate, and enable audiences to harness Nature's Wisdom and Power in service to cause.
Land Legacy Stories — contracting with individuals, organizations, agencies, and companies who own wild-land (forested and not) to tel the Story of the property. Both the Human and Human Nature dimensions of the Land Legacy.
Although perhaps separate from GBH, I will consider other higher education consulting and interim executive positions — all of which I will approach from the Ecosystems Basis I employed successfully as FSU Interim President.
I will devote future Blog Posts to more clearly defining and expanding upon this New Year's resolution to sharpen GBH in greater service to tomorrow.
http://stevejonesgbh.com/wp-content/uploads/2018/01/IMG_4630-Geese-on-BBL-Ice.jpg
1512
2016
Steve Jones
http://stevejonesgbh.com/wp-content/uploads/2017/01/gbhweblogo.png
Steve Jones
2018-01-09 05:03:06
2018-01-09 05:03:06
But Baby It's Cold Outside!