January 31, 2023 I visited Huntsville, Alabama's Goldsmith-Schiffman Wildlife Sanctuary early afternoon following a night of steady rain. Saturated forest and field, streams and the Flint River running full, and deep overcast gave the Sanctuary an air of solemn spirituality. I returned February 14 on a spectacularly sunny Valentine's Day and a week later on a fabulous spring afternoon. This Post offers observations, reflections, and photographs relevant to the signs of wildlife I encountered in aggregate on those three visits. I do not try to distinguish among the three visits.
Revisiting the Sanctuary always reminds me of mid-20th century American conservationist extraordinaire Aldo Leopold:
There are some who can live without wild things and some who cannot.
Insect Consumers
Death does not end the useful ecosystem "life" of trees. Standing dead trees attract insects whose presence beckons hungry woodpeckers in search of insect snacks and meals.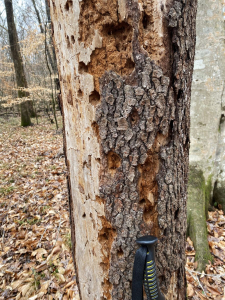 Fallen trees likewise provide food and shelter for insects and their grubs. Foraging birds or small mammals are shredding this log in search of food. The entire process constitutes the never-ending cycle of forest life.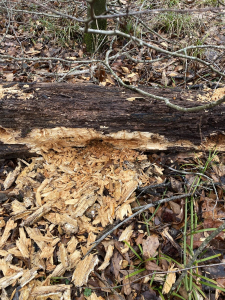 Beavers
Beavers, industrious amphibious rodent-engineers, range across North America and are common at the Sanctuary. One of the few animals capable of (in fact, insistent upon) modifying its environment, I occasionally find evidence of curious beaver behavior. Perhaps the individual responsible for chewing this eastern red cedar liked the fragrant essence this amazing wood, famous for cedar chests!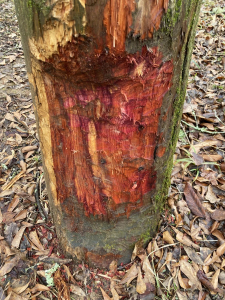 Fresh beaver-chewed saplings indicated the presence of an active colony. The severed stems absent the tops suggested that the beavers had harvested and transported the edible cambium, buds, and twigs to their bankside homes.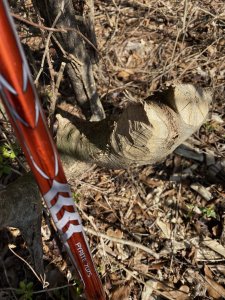 Nearby, two recently-built dams retained 10-12 inches of pool depth on the stream draining Hidden Springs. The entire riverine ecosystem benefits: fish, amphibians, reptiles, birds, and mammals…the entire community thriving in the Sanctuary. As well as all the interdependent life forms, from trees, shrubs, herbs, and macro- and micro-invertebrates.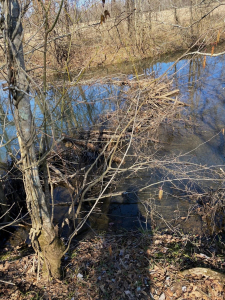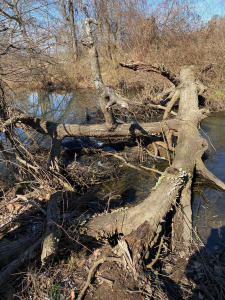 I value the Sanctuary, in its abundance and diversity of life, for its 400 acres located within the city limits of Huntsville, Alabama.
Deer
The ubiquitous deer have their own network of forest and field paths.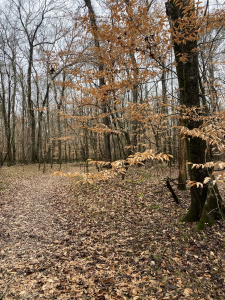 I find their telltale hoofprints wherever I stride. In fact, when off the formal human trails, I follow deer paths routinely. They seem to know the easiest route across fields, around wet spots, or through the forest. As is the case for all life forms, deer do not live forever. Primary consumers (vultures and coyotes, among others) have picked the bones clean in a meadow.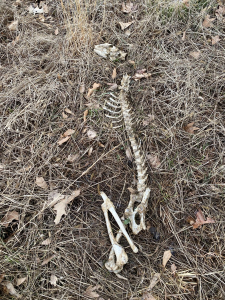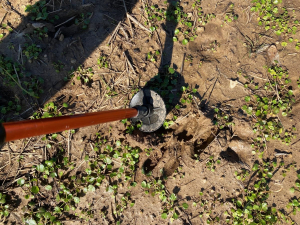 Fresh deer droppings hinted that deer are ever-present across the Sanctuary. Since last growing season, a buck has scraped velvet from his antlers on the 2.5-inch sapling along a forest path.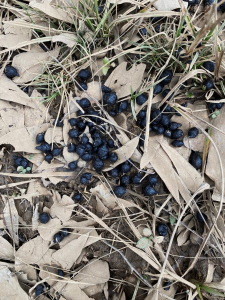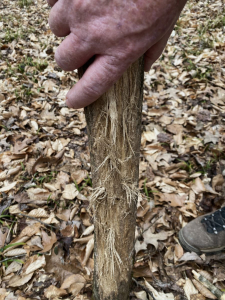 Life abounds on this forever-protected wildland!
Coyotes and Foxes
I've yet to spot a wily coyote in my Sanctuary wanderings, yet the evidence is ubiquitous. Scat rich with fine hair reveals a small mammal prey at left; coarser deer fur is apparent at right.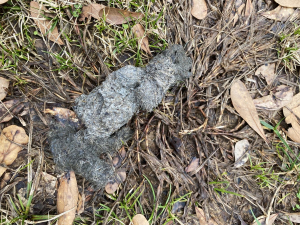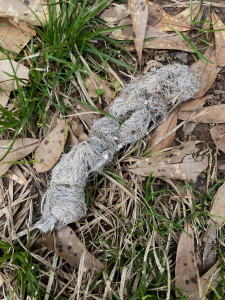 Fox scat was nearby below.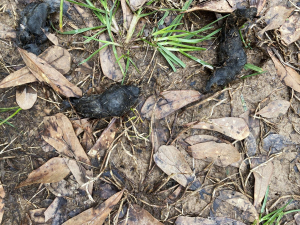 An evident mix of mammal predator and prey indicates a healthy ecosystem.
Great Blue Heron
A resident great blue heron is yet another keystone predator…fish, amphibians, snakes, birds, and small mammals. I am told that a heron rookery is near the Sanctuary along the Flint River. I cannot recall visiting the Sanctuary without seeking at least one heron.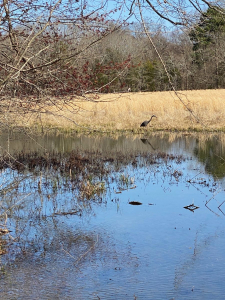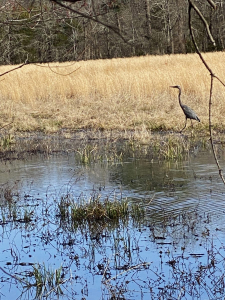 I recorded this 0:44 video of a very patient and tolerant heron:
Visiting the Sanctuary rewards me without fail, regardless of the season or time of day!
Prior Visits
Enriching this Post, I borrow from prior visits, including two mallard drakes.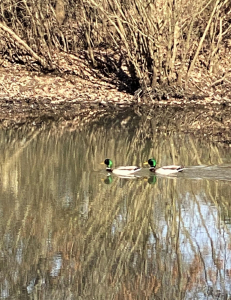 More woodpecker excavations.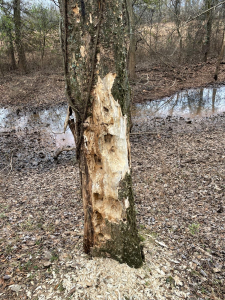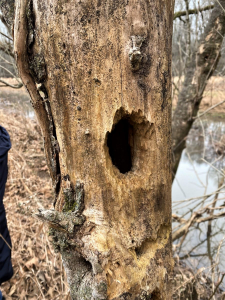 Three common water snakes in the creek exiting Hidden Springs.
Marian Moore Lewis photographed this black swallowtail as we hiked.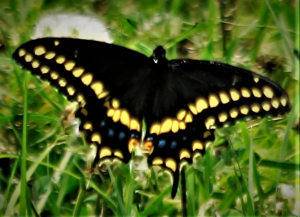 She's also credited with this blue dasher dragonfly (left) and jewelwing damselfly (right, bothe of these finds on a day we hiked.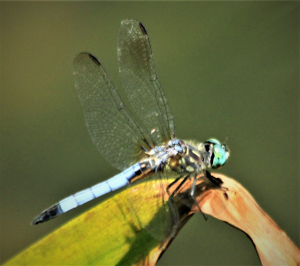 Likewise, Marian managed to bring this osprey in close with her telephoto lens. We watched the bird circle multiple times over the lake off-property near the Sanctuary's main entrance, stooping twice into the water. We could not discern whether the dives had been productive. We also viewed a great blue heron standing along the shoreline, then rising to fly into the Sanctuary.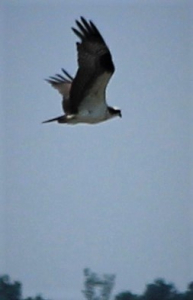 Over the course of my many visits to the Sanctuary, especially when accompanying Marian, the wooly pipevine draws my attention.
I like its heart-shaped leaves, but I simply love the vine's intimate relationship with the pipevine swallowtail butterfly (internet photo).
The butterfly's entire life revolves around the pipevine: a location for egg-laying; a site for adult butterfly romance (see stock photo above); the exclusive snack bar for the caterpillars, which we found in abundance. See the one on underside of a leaf (below left) and in Marian's hand.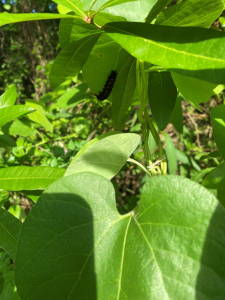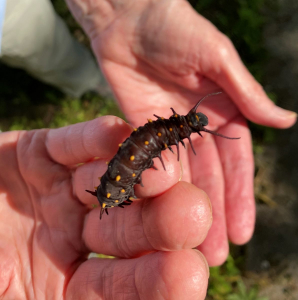 The Sanctuary is a special place of wonder for me. Its magic is not limited to wildlife. The entire ecosystem is rich with Nature's beauty, magic, wonder, and awe!
Thoughts and Reflections
I offer these observations:
There are some who can live without wild things and some who cannot. Aldo Leopold
Seldom are we guaranteed seeing wildlife on our ventures, yet always the signs are there to the discerning.
A wildlife sanctuary is more correctly viewed as a habitat preserve; provide it and they will come, whether you are there or not.
Inhale and absorb Nature's elixir. May Nature Inspire, Inform, and Reward you!
Note: All blog post images created & photographed by Stephen B. Jones unless otherwise noted. Please circulate images with photo credit: "©2023 Steve Jones, Great Blue Heron LLC. All Rights Reserved."
Another Note: If you came to this post via a Facebook posting or by an another route, please sign up now (no cost… no obligation) to receive my Blog Post email alerts: http://eepurl.com/cKLJdL
And a Third: I am available for Nature-Inspired Speaking, Writing, and Consulting — contact me at steve.jones.0524@gmail.com
Reminder of my Personal and Professional Purpose, Passion, and Cause
If only more of us viewed our precious environment through the filters I employ. If only my mission and vision could be multiplied untold orders of magnitude:
Mission: Employ writing and speaking to educate, inspire, and enable readers and listeners to understand, appreciate, and enjoy Nature… and accept and practice Earth Stewardship.
Vision:
People of all ages will pay greater attention to and engage more regularly with Nature… and will accept and practice informed and responsible Earth Stewardship.
They will see their relationship to our natural world with new eyes… and will understand more clearly their Earth home.
Tagline/Motto: Steve (Great Blue Heron) encourages and seeks a better tomorrow through Nature-Inspired Living!
Steve's Three Books
I wrote my books Nature Based Leadership (2016), Nature-Inspired Learning and Leading (2017), and Weaned Seals and Snowy Summits: Stories of Passion for Place and Everyday Nature (2019; co-authored with Dr. Jennifer Wilhoit) to encourage all citizens to recognize and appreciate that every lesson for living, learning, serving, and leading is either written indelibly in or is powerfully inspired by Nature.
I began writing books and Posts for several reasons:
I love hiking and exploring in Nature
I see images I want to (and do) capture with my trusty iPhone camera
I enjoy explaining those images — an educator at heart
I don't play golf!
I actually do love writing — it's the hobby I never needed when my career consumed me
Judy suggested my writing is in large measure my legacy to our two kids, our five grand kids, and all the unborn generations beyond
And finally, perhaps my books and Blogs could reach beyond family and touch a few other lives… sow some seeds for the future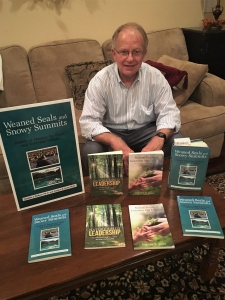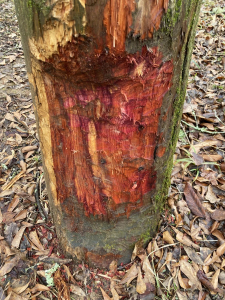 All three of my books (Nature Based Leadership; Nature-Inspired Learning and Leading; Weaned Seals and Snowy Summits) present compilations of personal experiences expressing my (and co-author Dr. Wilhoit for Weaned Seals and Snowy Summits) deep passion for Nature. All three books offer observations and reflections on my relationship to the natural world… and the broader implications for society. Order any and all from your local indie bookstore, or find them on IndieBound or other online sources such as Amazon and LifeRich.
https://stevejonesgbh.com/wp-content/uploads/2023/02/IMG_7428.jpg-01.31.23-GSWS.jpg
1200
900
Steve Jones
http://stevejonesgbh.com/wp-content/uploads/2017/01/gbhweblogo.png
Steve Jones
2023-05-24 14:04:13
2023-05-24 14:04:13
January/February Wildlife Signs on the Goldsmith-Schiffman Wildlife Sanctuary