I visited Alabama's Lakepoint State Park, arriving the afternoon of October 12, 2022 and departing the morning of the 15th. Eufaula National Wildlife Refuge surrounds Lakepoint SP.  Thus, by visiting Lakepoint, I also spent time on the 11,184-acre Refuge along Lake Eufaula, the water body created by impounding the Chattahoochee River south of Eufaula, Alabama. The lake covers 45,000 acres and encompasses 640 miles of shoreline. The lake is a bass fishing tournament hotspot.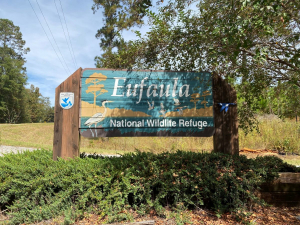 From the US National Wildlife Refuge System website:
The U.S. Fish and Wildlife Service manages an unparalleled network of public lands and waters called the National Wildlife Refuge System. With more than 560 refuges spanning the country, this system protects iconic species and provides some of the best wildlife viewing opportunities on Earth.
Each unit of the Refuge System — whether it is a wildlife refuge, a marine national monument, a conservation area or a waterfowl production area — is established to serve a statutory purpose that targets the conservation of native species dependent on its lands and water. All activities on those acres are reviewed for compatibility with this statutory purpose.
The Refuge System deploys a host of scientifically sound management tools to address biological challenges. These tools, which range from active water management to wilderness character monitoring, all are aimed at ensuring a balanced conservation approach that enables wildlife and people to thrive.
Through partnerships, the U.S. Fish and Wildlife Service leads the way in developing community-driven conservation solutions that reap ecological and economic benefits for fish, wildlife and people. Within the Refuge System, we work with landowners, Friends groups and local communities.
Specific to this unit, Eufaula National Wildlife Refuge was established in 1964, with community support and in cooperation with the U.S. Army Corps of Engineers, to provide habitat for wintering waterfowl and other migratory and resident wildlife. Target species for the Refuge are American alligator and white-tailed deer.
I discovered a Lakepoint SP shoreline tree that objected to having a Refuge sign attached to it! The sign at right convinced me not to dip a toe in the water.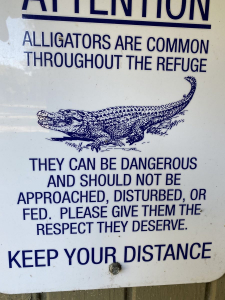 State Park Pontoon Boat Tour
Although strong thunderstorms arrived after sunset, my host Tasha Simon, Natural Resources Section Chief, Alabama State Parks, arranged for an afternoon pontoon boat tour on the Refuge bordering the park. O'Dell Banks, Alabama Parks Southeast District Supervisor, piloted us.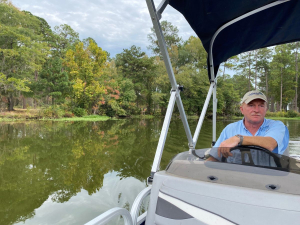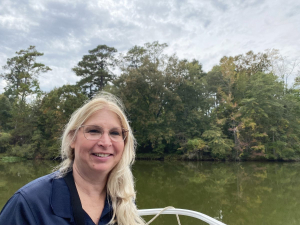 We were not alone on the water. A modest sized gator swam past us; we saw many more along the shore. None that I saw topped six feet. Regardless, for this central Appalachian-born mountain boy, I never tire of seeing these strange primitive reptilian predators.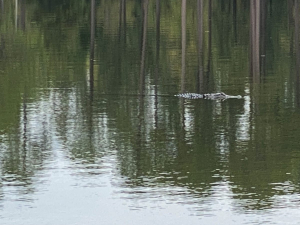 We spotted two primary avian predator species, great blue heron and great egrets. In fact, we spotted scores of these key species.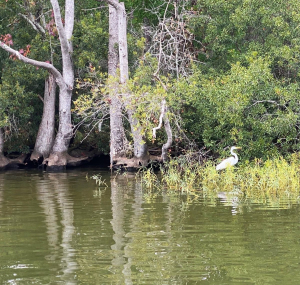 Great blue herons occupy a sacred place in my heart. Here is explanatory text from my website:
I offer these reflections as subtext to what I have come to accept as a given. That nature expresses every lesson for living, learning, serving, and leading across time, geography, and biome. That belief lies at the heart of my passion-fueled desire to give life and vibrancy to the emerging discipline of Nature-Inspired Learning and Leading.
Dad died February 13, 1995. I was still running then. I did a ten-mile loop the memorial service morning, departing as dawn began painting the eastern sky. Mid-single digit readings encouraged a quick early pace to bring warmth to my extremities. I floated, calm in the crisp silence, heading down to the winding road along Evitts Creek.
North-bound, the road flanked the creek's west bank, some 100 feet above the mostly ice-covered stream. Three and a half miles into the loop, movement at an ice-free sharp turn with mild rapids caught my eye. Hitting the stop watch, I paused, looking east below me, squinting into the sun nosing above the ridge.
A great blue heron stood, shrouded in mist rising from the exposed water. We locked eyes, the magnificent bird watching me as intently as I gazed at him (I automatically assigned male gender, not wondering why). My quiet run had focused on thoughts of Dad – our many adventures in nature — fishing, camping, hiking, and observing. He loved herons. Their still, patient, deliberate, yet stilt-legged, awkward movements. Their lightning strike to nail a next meal. Their regal flight when, in lifting, those ungainly legs become one with the sleek flight profile.
We maintained eye contact for perhaps a minute, and then he rose, effortlessly. Not heading up or down the waterway, but rising in slow spirals, ever skyward. I lost him when his flight crossed the rising sun, tears blurring my vision. I stood a moment, continuing to search the sky, but to no avail. I hit the stopwatch and resumed the loop, wiping tears as I ran. Dad had just said goodbye.
Since that long-ago winter morning, Dad occasionally makes a symbolic appearance – a farm pond; a beaver dam; in flight. The tears return. Warm memories flood. Dad is with me. He always will be.
Thanks to him, I am a lifetime outdoor enthusiast. Now, at 45 years past my bachelor's degree in forestry, just completing my thirteenth year as a university president, I am convinced that nature communicates every lesson for living, learning, serving, and leading indelibly, repeatedly, and powerfully. Not all of nature's messages are lessons. Some are symbols, from which we draw inspiration and comfort. I know that Dad lives in me. Heron reminds me, freshens the memories, and deepens my gratitude. I suppose there is a lesson embedded in the imagery – that we all owe much to those who shaped us. That we should never forget that we grow from seeds others have sowed and nurtured. That nothing shapes us more than love.
Yes, Dad said goodbye, yet he holds me tightly. I should have thanked him more often, more clearly. He knows, I am sure. He occasionally stops by to tip his wings, grab a fish, or wade through the shallows.
Nature-Inspired Living and Learning – it's my passion; it's his spirit!
This secluded backwater is emblematic of the peace and serenity that ensure spiritual escape for me. I remind you that every glimpse of shoreline is Lakepoint State Park; every square foot of water is the Refuge.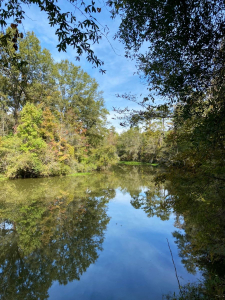 My 1:50 video with narration…and a very loud airplane flying overhead…captures the Refuge perspective of the State Park:
The aerial photograph depicts the fully integrated Refuge and Park lying on both sides of highway 431. The marriage of Federal and State wildland seems to work well. I can say for certain that the adjacency enhanced my own appreciation and enjoyment.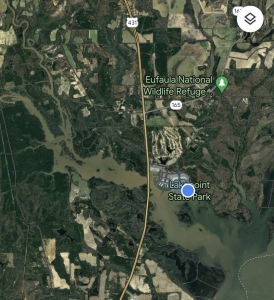 I participate in several FaceBook groups that celebrate and explore what I'll call the Nature/human/spiritual intersection: Sacred Connections; Eco-Spirituality; Religious Naturalists Association. The interplay of water, firmament, land, and trees stirs my soul. When I add the building tempest signaled by lowering and thickening clouds (and corroborated by Weather Service radar), I feel the essence of the time and place in my entire being: body, mind, hear, and spirit. Strong storms raked the Park and the Refuge after sunset!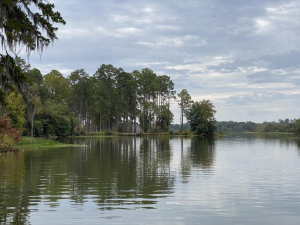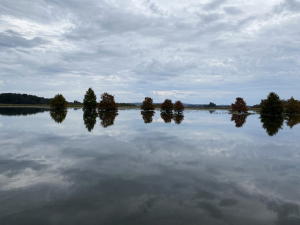 The impending storms made me seek and record here the words of William Bartram from 1791 (The Travels of William Bartram) as he traveled across the southeastern US:
It was now afternoon; I approached a charming vale, amidst a high forest, awful shades! Darkness gathers around; far distant thunder rolls over the trembling hills: the black clouds with august majesty and power, move slowly forwards… The mighty cloud now expands its sable wings, expanding from North to South, and is driven irresistibly on by the tumultuous winds, spreading its vivid wings around the gloomy concave, armed with terrors of thunder and fiery shafts of lightning. Now the lofty forests bend low beneath its fury; their limbs and wavy boughs are tossed about and catch hold of each other; the mountains tremble and seem to reel about, and the ancient hills to be shaken to their foundations: the furious storm sweeps along, smoaking [obsolete English spelling of smoking] through the vale and over the resounding hills: face of the earth is obscured by the deluge descending from the firmament, and I am deafened by the din of the thunder.
When we docked, I knew only that the front would pass later in the evening, and that we could expect strong storms. I did not fear a Bartram-level tempest!
Here is the 1:01 video with no narration I recorded to capture the sense of solace and spirituality:
The grassy water flats reached to the park's forest edge. In the foreground at right yet another heron searches for an afternoon meal.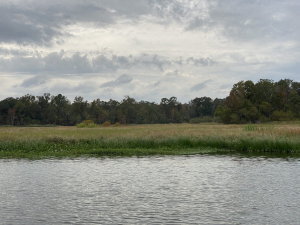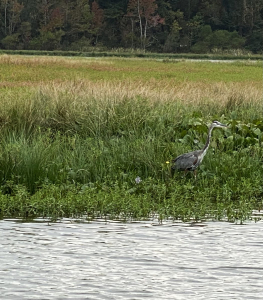 The pontoon exploration of the Refuge and Park opened my eyes to this exquisite combination Park and Refuge…a special place and now, indelible memories!
Water Vegetation
Common water hyacinth blossomed along the shoreline as we entered the water.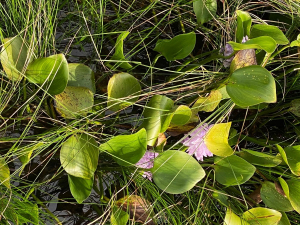 American lotus showcased its  floating vegetative pad-like leaves.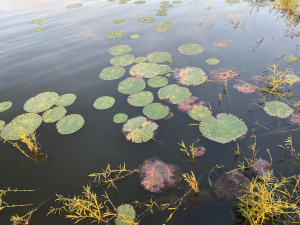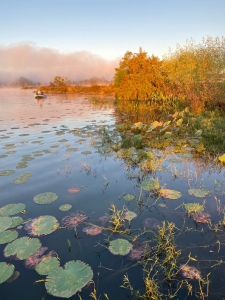 Time did not allow an exhaustive inventory of water plants, a venture reserved for a future reconnaissance perhaps. The shoreline is a magical place with untold discoveries awaiting me. I consider myself a terrestrial ecologist, yet there is much on dry land that still I do not know. I can only imagine the breadth and depth of my freshwater vegetation ignorance!
The Magic of Sunset and Sunrise
October 13, unlike the previous evening offered clear sky…an unobstructed sunset spectacular at 6:00 and 6:02 PM. I captured the sun's dip to the horizon from the fishing pier at the Lakepoint lodge.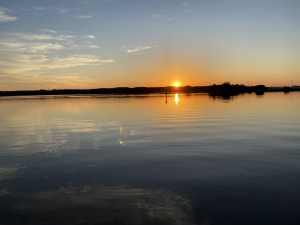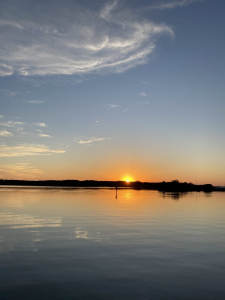 The morning of October 15, I arose before dawn and walked a quarter mile to the Park's boat launching pier, arriving just in time to catch the rising sun backlighting two fishermen casting into the misty shore. I am so grateful to be delightedly predisposed for exploring daybreak, searching for unanticipated gifts from Nature!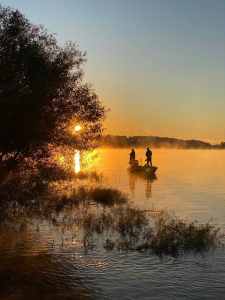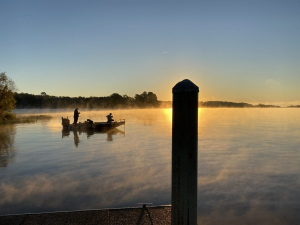 From the same location, the view to the southwest revealed a fog bank in the direction of Eufaula, a softer image of sunrise. The cool morning temperature told a tale of autumn more vivid than the evening warmth two days prior portending the line of thunderstorms.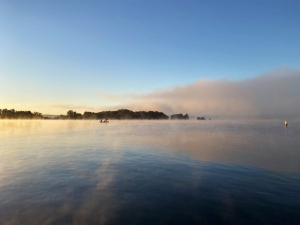 I sensed that this new air mass officially ushered the season into southeast Alabama, heralding the long autumn that will gradually transition to a February spring. What a gift to spend three nights at Lakepoint State Park and Eufaula National Wildlife Refuge!
Alabama State Parks Foundation
Thoughts and Reflections
I offer these observations:
Gators — I never tire of seeing these primitive reptilian predators.
Great blue herons occupy a sacred place in my heart.
The interplay of water, firmament, land, and trees stirs my soul.
Inhale and absorb Nature's elixir. May Nature Inspire, Inform, and Reward you!
Note: All blog post images created & photographed by Stephen B. Jones unless otherwise noted. Please circulate images with photo credit: "©2022 Steve Jones, Great Blue Heron LLC. All Rights Reserved."
Another Note: If you came to this post via a Facebook posting or by an another route, please sign up now (no cost… no obligation) to receive my Blog Post email alerts: http://eepurl.com/cKLJdL
And a Third: I am available for Nature-Inspired Speaking, Writing, and Consulting — contact me at steve.jones.0524@gmail.com
Reminder of my Personal and Professional Purpose, Passion, and Cause
If only more of us viewed our precious environment through the filters I employ. If only my mission and vision could be multiplied untold orders of magnitude:
Mission: Employ writing and speaking to educate, inspire, and enable readers and listeners to understand, appreciate, and enjoy Nature… and accept and practice Earth Stewardship.
Vision:
People of all ages will pay greater attention to and engage more regularly with Nature… and will accept and practice informed and responsible Earth Stewardship.
They will see their relationship to our natural world with new eyes… and will understand more clearly their Earth home.
Tagline/Motto: Steve (Great Blue Heron) encourages and seeks a better tomorrow through Nature-Inspired Living!
Steve's Three Books
I wrote my books Nature Based Leadership (2016), Nature-Inspired Learning and Leading (2017), and Weaned Seals and Snowy Summits: Stories of Passion for Place and Everyday Nature (2019; co-authored with Dr. Jennifer Wilhoit) to encourage all citizens to recognize and appreciate that every lesson for living, learning, serving, and leading is either written indelibly in or is powerfully inspired by Nature.
I began writing books and Posts for several reasons:
I love hiking and exploring in Nature
I see images I want to (and do) capture with my trusty iPhone camera
I enjoy explaining those images — an educator at heart
I don't play golf!
I actually do love writing — it's the hobby I never needed when my career consumed me
Judy suggested my writing is in large measure my legacy to our two kids, our five grandkids, and all the unborn generations beyond
And finally, perhaps my books and Blogs could reach beyond family and touch a few other lives… sow some seeds for the future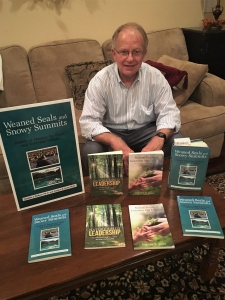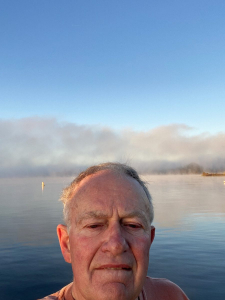 All three of my books (Nature Based Leadership; Nature-Inspired Learning and Leading; Weaned Seals and Snowy Summits) present compilations of personal experiences expressing my (and co-author Dr. Wilhoit for Weaned Seals and Snowy Summits) deep passion for Nature. All three books offer observations and reflections on my relationship to the natural world… and the broader implications for society. Order any and all from your local indie bookstore, or find them on IndieBound or other online sources such as Amazon and LifeRich.
https://stevejonesgbh.com/wp-content/uploads/2022/10/IMG_5738.jpg-10.13.22-Eufaula-NWR-Sign.jpg
900
1200
Steve Jones
http://stevejonesgbh.com/wp-content/uploads/2017/01/gbhweblogo.png
Steve Jones
2022-12-28 09:00:18
2022-12-28 09:00:18
Eufaula National Wildlife Refuge