I revisited Hays Nature Preserve November 3, 2022, with Joel Donelan, Director of Education for Huntsville, Alabama's Green Team. We focused our hike from the Flint River picnic area looping along an old slough then circling back to the parking lot. This photo-essay offers observations, reflections, and photo-highlights from a delightful autumn morning in a slice of wildness within the city limits of Huntsville. I've often observed that Nature's magic, no matter where we live across our state and beyond, lies within reach.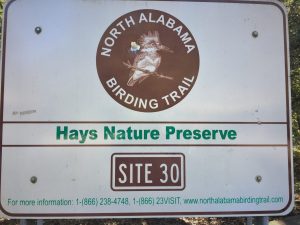 I had issued a Hays Post four years ago in October 2018: http://stevejonesgbh.com/2018/10/24/hays-nature-preserve-and-big-cove-creek-greenway/
A perfect autumn morning along the Flint River greeted my arrival, heralding a pleasant walk well-suited to showcasing what lay hidden in plain sight. Had I brought along reading material and not been scheduled to meet Joel, I could have lazed contentedly at the picnic table. Who am I fooling?! The urge to walk and explore would have spurred me to cover some ground…and reveal some of Nature's secrets.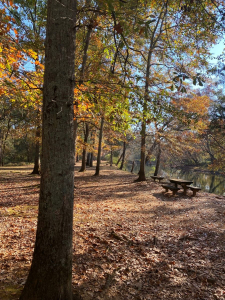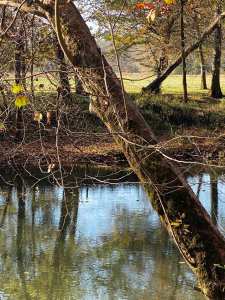 Ever on the lookout for tree form curiosities and oddities, I enlisted Joel to provide a frame of reference and scale for this hollow sycamore skeleton. Note its counter-clockwise spiral grain, which I ponder below these two photographs.  The sycamore stands along the old slough. Critters called it home during its latter living years. I suspect that birds, lizards, small mammals, and loads of insects still make use of its vertical shelter.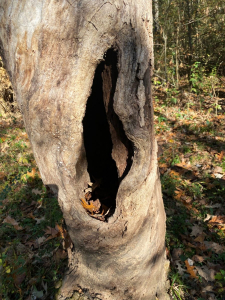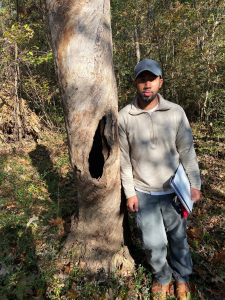 Now to the spiral grain, a feature evident in conifer and hardwood trees across my wanderings, both domestic and international. The spiral is not discernable in living trees, the wood and its grain hidden beneath the bark. Only in trees dead long enough to shed bark, whether standing or on the ground, does the grain show. I've questioned forestry friends and colleagues over the years as to the purpose, explanation, and driving forces for the spiral grain. I have yet to hear a definitive answer, nor have I found a complete and final description in the literature. I've heard the following explanations:
Coriolis effect
Prevailing wind
Crown shape and orientation
Genetics
Environment
Weather/climate
The why of wood grain spiral may be simpler. Spiralled wood is stronger and more flexible than straight grained fibers. I suppose a good structural engineer could offer a convincing argument in support. I did find a an internet explanation on TheNativeTreeSociety website that matches my own approximation:
If I were to guess, and it is a guess, I would think the spiraling pattern is a genetic trait and not one developed on the fly in response to average wind direction and the direction of the sun.  Certainly it is not related to the Coriolis effect on something as small as a tree trunk.  My guess as to why the tree grain spirals is that it is to provide additional flexibility in response to wind stress,  I think the twisted grain would be stronger in response to a wind than would a straight grained tree.  The tree tends to twist in response to winds rather than snap.  There is no single direction of weakness as is formed by the structure of the parallel grains, every direction is equally strong with the grain spiraling around the trunk. (May 2009, Edward Frank)
I shall continue to seek the ultimate answer and literature citation. Until then, I will muddle along. See the Post I published on the spiraling of our common forest vines: http://stevejonesgbh.com/2022/05/25/exploring-the-spiral-nature-of-northern-alabamas-tree-vines/
Here is a relevant quote from that May 2022 Post:
I concluded long ago that woods wanderings will continue to generate more questions than I will ever answer — more mysteries than I will ever solve. My quest to learn more will exceed this lifetime. That is part of my pleasure in venturing into the forest and writing these Posts.
Einstein offers relevant wisdom and context for such musings:
The important thing is not to stop questioning. Curiosity has its own reason for existing. One cannot help but be in awe when he contemplates the mysteries of eternity, of life, of the marvelous structure of reality. It is enough if one tries merely to comprehend a little of this mystery every day.
I have no special talent. I am only passionately curious.
The slough, formerly an active channel of the Flint, is an old oxbow and still holds water seasonally. Water tupelo is well-adapted to these saturated riverine soils. The buttressed trunks hint at wood fairies and mythical creatures.
Once again accommodating my request for scale, Joel leaned against one of the resident tupelos. I am confident that he will develop youth educational programs for delivery on-site here at Hays. The tupelo forest is a place of pure magic, perfect for weaving tales of science, fancy, and adventure. We share a deep desire to excite and inspire future generations.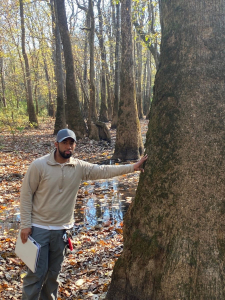 Adjacent better drained sites support numerous upland hardwood species, including this State Champion shellbark hickory. Annual (or more frequent) flooding of the Flint enriches even these upland forest soils.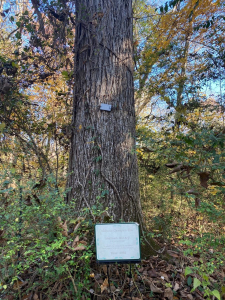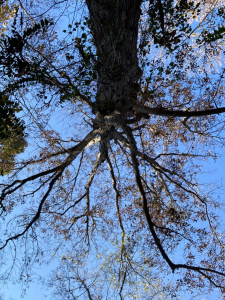 The trail is made for strolling, relaxation, and discovery. Near this photo point we observed a great blue heron fishing along the far shore (below right). I never tire of seeing these magnificent birds stealthily awaiting an unwary fish, crayfish, frog, or even a small snake. I have heard great blues characterized as the T-Rex of our southern wetlands. The bird tolerated our watching for at least ten minutes.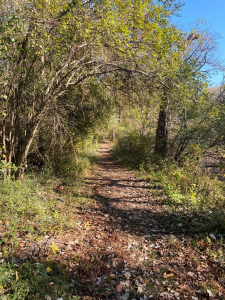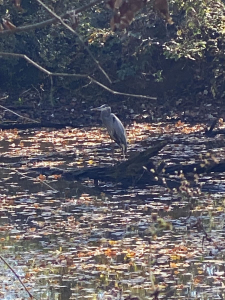 Within a few hundred yards of the champion shellbark hickory, the State Champion water tupelo greeted us. This time, I provided the scale. Its stump (ground line) diameter is a good nine feet. The bottom of its moss skirt marks the common winter water line, about navel level on me. I have previously been guilty of assuming that such champion trees are located in the wilderness or at least deep wildness. That is not the case for this champion. Over my left shoulder beyond the slough, a foursome stands at a green on the Hampton Cove Robert Trent Jones Golf Course bordering Hays Nature Preserve.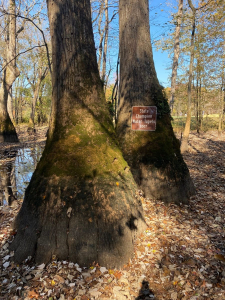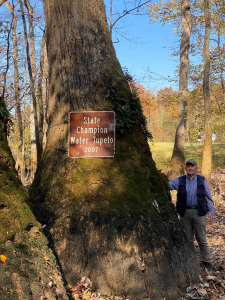 The massive base supports a colossal crown that has watched many a flood and witnessed the joy and frustration of thousands of golfers. Note the thick moss carpet near my camera lens on the swollen base.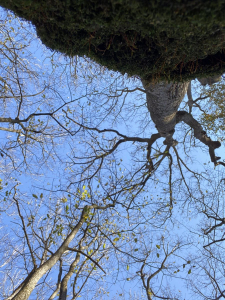 Here is the 3:17 video I recorded at the champion tupelo:
I often turn to John Muir for appropriate words of reflection:
And into the forest I go, to lose my mind and find my soul.
Our souls are well within reach when Nature envelops us with her beauty, magic, wonder, and awe! A tupelo grove, reflected in standing water, backdropped by cerulean fall sky, and magnified by the tranquility of a dazzling morning lifts my spirits and calms my mind.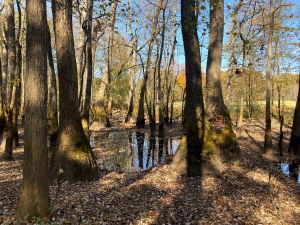 The leaning tupelos brings to mind two lovers enjoying the solitude and each other's supporting comfort. And to think that early in my forestry career I saw the hard objective reality of board feet and commercial value! To every thing there is a season…and a time to every purpose under heaven.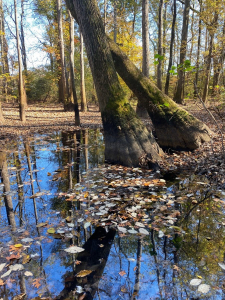 These buttressed giants support a robust community of moss and resurrection ferns.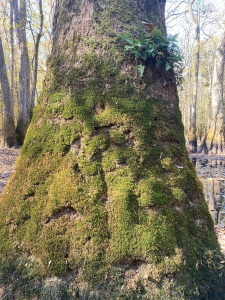 Rising 8-10 feet above the flood level, this limestone outcrop stands in stark contrast to the tupelo slough. The topographic variability expands the Preserve's biodiversity.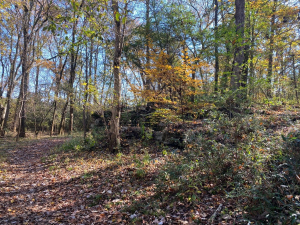 I'll end with some more from John Muir:
In every walk with Nature one receives far more than he seeks.
I did not have the luxury of spending all day at Hays as Muir urged:
I only went out for a walk and finally concluded to stay out till sundown, for going out, I found, was really going in.
Thoughts and Reflections
I offer these observations:
Nothing surpasses a gorgeous autumn day spent in Nature.
Muir observed eloquently that "Going out…was really going in." 
A tupelo grove, reflected in standing water, backdropped by cerulean fall sky, and magnified by the tranquility of a dazzling morning lifts my spirits and calms my mind.
Inhale and absorb Nature's elixir. May Nature Inspire, Inform, and Reward you!
Note: All blog post images created & photographed by Stephen B. Jones unless otherwise noted. Please circulate images with photo credit: "©2022 Steve Jones, Great Blue Heron LLC. All Rights Reserved."
Another Note: If you came to this post via a Facebook posting or by an another route, please sign up now (no cost… no obligation) to receive my Blog Post email alerts: http://eepurl.com/cKLJdL
And a Third: I am available for Nature-Inspired Speaking, Writing, and Consulting — contact me at steve.jones.0524@gmail.com
Reminder of my Personal and Professional Purpose, Passion, and Cause
If only more of us viewed our precious environment through the filters I employ. If only my mission and vision could be multiplied untold orders of magnitude:
Mission: Employ writing and speaking to educate, inspire, and enable readers and listeners to understand, appreciate, and enjoy Nature… and accept and practice Earth Stewardship.
Vision:
People of all ages will pay greater attention to and engage more regularly with Nature… and will accept and practice informed and responsible Earth Stewardship.
They will see their relationship to our natural world with new eyes… and will understand more clearly their Earth home.
Tagline/Motto: Steve (Great Blue Heron) encourages and seeks a better tomorrow through Nature-Inspired Living!
Steve's Three Books
I wrote my books Nature Based Leadership (2016), Nature-Inspired Learning and Leading (2017), and Weaned Seals and Snowy Summits: Stories of Passion for Place and Everyday Nature (2019; co-authored with Dr. Jennifer Wilhoit) to encourage all citizens to recognize and appreciate that every lesson for living, learning, serving, and leading is either written indelibly in or is powerfully inspired by Nature.
I began writing books and Posts for several reasons:
I love hiking and exploring in Nature
I see images I want to (and do) capture with my trusty iPhone camera
I enjoy explaining those images — an educator at heart
I don't play golf!
I actually do love writing — it's the hobby I never needed when my career consumed me
Judy suggested my writing is in large measure my legacy to our two kids, our five grand kids, and all the unborn generations beyond
And finally, perhaps my books and Blogs could reach beyond family and touch a few other lives… sow some seeds for the future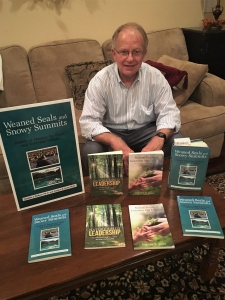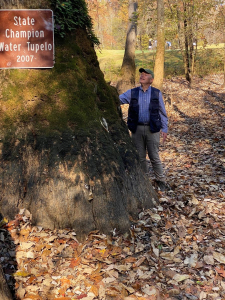 All three of my books (Nature Based Leadership; Nature-Inspired Learning and Leading; Weaned Seals and Snowy Summits) present compilations of personal experiences expressing my (and co-author Dr. Wilhoit for Weaned Seals and Snowy Summits) deep passion for Nature. All three books offer observations and reflections on my relationship to the natural world… and the broader implications for society. Order any and all from your local indie bookstore, or find them on IndieBound or other online sources such as Amazon and LifeRich.
https://stevejonesgbh.com/wp-content/uploads/2022/11/IMG_6317.jpg-11.03.22-10.09-AM-Hays-NP.jpg
1200
900
Steve Jones
http://stevejonesgbh.com/wp-content/uploads/2017/01/gbhweblogo.png
Steve Jones
2022-12-14 13:25:34
2022-12-14 13:25:34
Early November Visit to the Tupelo Slough at Hays Nature Preserve