October 2022 I enjoyed my first visit to Alabama's Lakepoint State Park near Eufaula. I found the Park's forests and Lake Eufaula shoreline delightful, rich with Nature's beauty, magic, wonder, and awe. See my focus on the Park's managed loblolly pine forest, intersected with pleasant trails.
A Park and a Refuge
An equinox stroke eliminated my planned March 2022 trip to Lakepoint State Park for a quarterly Alabama State Parks Foundation Board meeting. I vowed to visit the Park once I recovered and summer had passed into fall. I arrived Wednesday October 12, in time for lunch at the Lakepoint SP Lodge, met by my host Tasha Simon, Natural Resources Section Chief, Alabama State Parks. Tasha toured me through the Park that afternoon and through mid-afternoon Thursday, offering ideas for me to pursue until I departed early Saturday morning for Andalusia.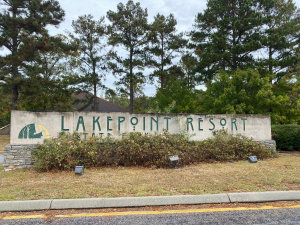 I focus this Post on our hike through the managed, park-like loblolly pine stand transected by a gentle trail and bounded by a loop road accessing Deer Court, ClarkLoop, Barbour Loop, and the Alabama Loop. The pine stands out more darkly within the loop across Route 431 from the golf course at the left-center of the aerial photograph.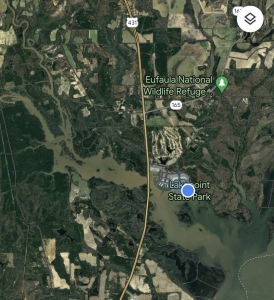 We met at the restaurant, located in the Park's lodge along Lake Eufaula.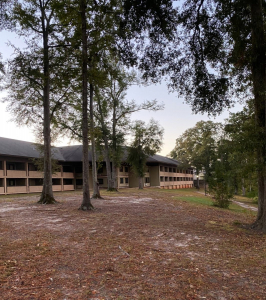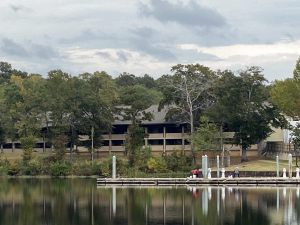 The Eufaula National Wildlife Refuge surrounds the Park, representing an effective State/National partnership.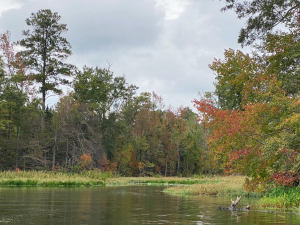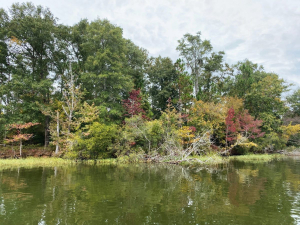 The pine stand we traversed extends to the water line in the day use area (left). Mixed natural hardwood forest borders the lake in other parts of the park (right).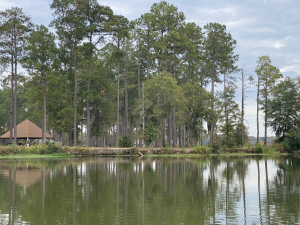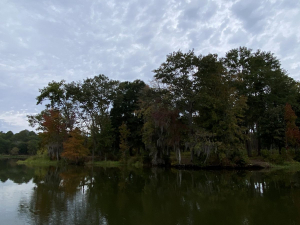 A Managed (Park-Like) Loblolly Pine Forest
We drove from the lodge to the activity building on the northern side of the subject pine forest, which borders the parking area.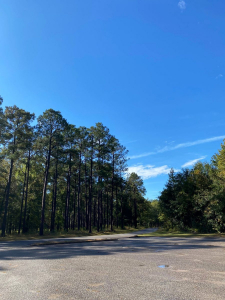 I often refer to forest conditions that are park-like…and have for many years. However, I just now consulted my dictionary of forest terminology, finding no formal definition. Back in my graduate school days and early in my academic career, when every written point had to be affirmed by a literature citation, I would have panicked. Today, instead, I remind myself, "I know what park-like means. Why on earth do I need to confirm what I know it means with what somebody else thinks it means?!" So, allow me to fashion the parameters for my own park-like definition:
Populated by mature (larger than seedlings and saplings) trees
Average height at least 40 feet
Crowns not touching; that is, less than fully stocked
Some sunlight reaching the forest floor
Understory somewhat open
A sense that the forest is accessible
Visibility extends into the forest
Our subject forest meets those criteria. Park crews have commercially thinned the stems, leaving lots of crown space for growth. Prescribed fire (about a three-year cycle) maintains the open understory. The unmanaged hardwood and mixed pine/hardwood stands nearby present a solid edge, appearing jungle-like, with no visibility into the forest. I prefer the open view, with individual stems fading into the distance, and the sky and sun above.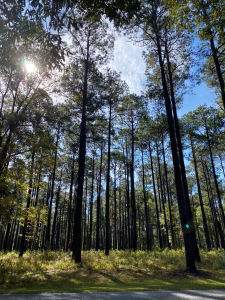 I recorded this 2:02 video within the stand October 13: https://www.youtube.com/watch?v=MGqa8rERuak
The view below left looks out from the trail onto the loop road. The trunk below right evidences the prescribed fire, hot enough to control woody understory insurgents without damaging the naturally fire resistant loblolly pine.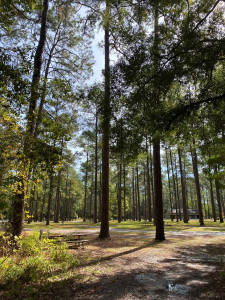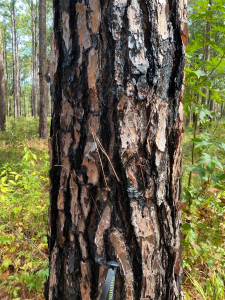 During the days when I ran recreationally, I loved trails like the one we hiked (left). The crown view (right) suggests, with open space closing, that a next thinning may be timely within the next 2-4 years. Loblolly competes ruthlessly for sunlight. The species practices aggressive self-thinning. The strong survive. Lay literature (fairy tales and feel-good stories of the forest) depicts a fantasy of an idyllic world where peace, love, tranquility, and cooperation prevail. Such is not the case. Resources (moisture, nutrients, and sunlight) are finite. Trees live to grow and reproduce. Those able to grow will live to reproduce. Those who grow best, tap a greater share of those scarce resources. The individuals who lose their share yield vitality, and will eventually succumb. This is not the fantasy world where caring and sharing rule the day. Life in the forest is dog-eat-dog, fiercely competitive. Resources are finite; only the strong survive.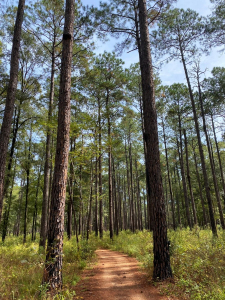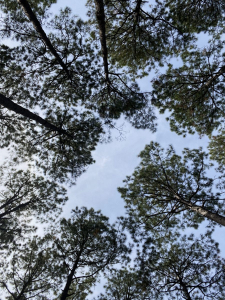 Without periodic prescribed burning, succession would encourage woody shrubs and trees to occupy the understory, eventually converting the forest from a single-tiered mature pine main canopy to an emerging predominantly hardwood forest overtopped by residual pine above. Lush perennial, non-woody plants, like the dog fennel (below left) flourish in the repeatedly burned stand. Because the mature main canopy produce prodigious cone and seed crops, pine seedlings germinate liberally in the fire-prepared soil (below right). A subsequent fire will kill the seedlings, yet if managers decide to regenerate the stand to pine, they can withhold fire, encouraging those seedlings to develop as the next stand. Such is one alternative afforded by the art and science of forestry.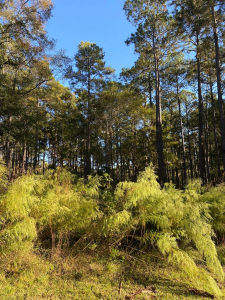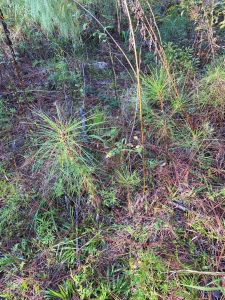 Here is a second video (2:17) I recorded in the managed loblolly forest: https://www.youtube.com/watch?v=kGMAToMCijE
Emphasizing the finite light available, I use the vertical crown shot below left to demonstrate how thinning redistributes crown space among the residual stems. The standing dead tree below right succumbed to some natural agent, quite possibly lightning. Recall my oft-repeated observation that life and death in our forests march hand in hand.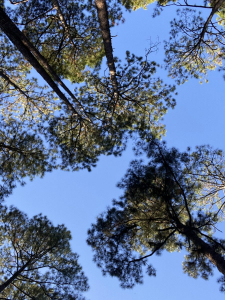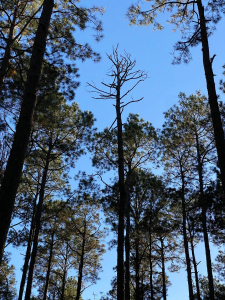 A large oak stands within the loblolly. It is a residual that was already in place when past practice resulted in establishing our natural loblolly forest. The oak's thick bark is resistant to the periodic prescribed fires. The oak adds a dimension of wildlife habitat diversity to the site.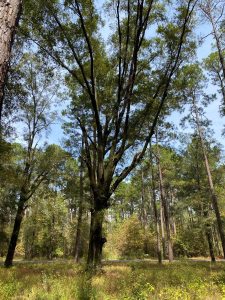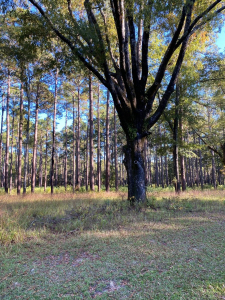 Tree Form Oddities and Curiosities
Fusiform rust is a common fungal pathogen of loblolly pine, often infecting seedlings and, if not fatal, potentially carrying on into mature trees. The scar below left persists as a canker within our subject forest. The infection remains active, as does the tree's battle to partition the active court and to callous over the wound. The interaction marks the tree with an obvious target canker. The tree, with the blemish apparent at its base (below right) continues to tap a share of upper canopy sunlight.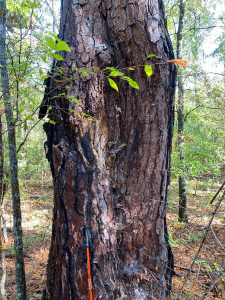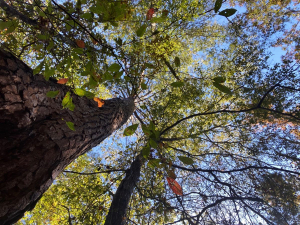 The fusiform cankers are pine sap infused, often igniting with surficially-intense fire during prescribed and wildfire. This individual carried the effect to extreme, opening a portal that attracted our attention. Will the burn-through kill the tree? The simple answer is, not yet. The rind of active cambium is valiantly trying to heal the wound. My assumption is that were the tree in a fully-stocked stand, it would have already lost its ability to compete with its neighbors. Instead, I believe that those who marked the prior thinning noticed the tree's special visual character and marked it for retention, opening canopy space around it.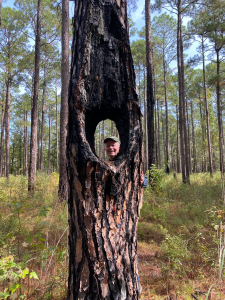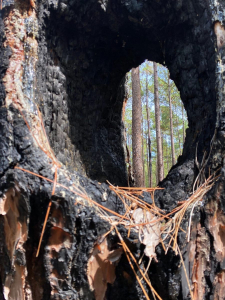 Here's a different type of oddity, one of a peculiar nature that I had not spotted previously, even during my earlier career in managing industrial loblolly forests. These appear to be whorled 2-4-inch bark plates spaced irregularly along the vertical axis. I remain stymied, unable to find evident causal agent or mechanism. I can guess or speculate. Here goes: perhaps this individual responds to yellow-bellied sapsucker pecking by stimulating growth of these barky plates. Below right the plates extend into the live crown base.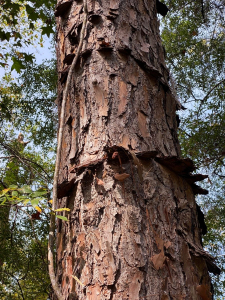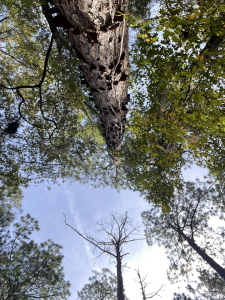 April 3, 2020, I photographed this odd loblolly pine with circumferential ridges at the North Alabama Land Trust Chapman Mountain Nature Preserve near Huntsville. I wonder if the causal factors are related.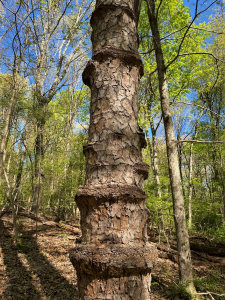 Einstein marveled at the mysteries of Nature:
The most beautiful gift of nature is that it gives one pleasure to look around and try to comprehend what we see.
Surrounded by the Eufaula National Wildlife Refuge
The pine stand grows to the water's edge within the Lakepoint State Park day use area, which, as does the entirety of the park's landmass, abuts the Eufaula National Wildlife Refuge.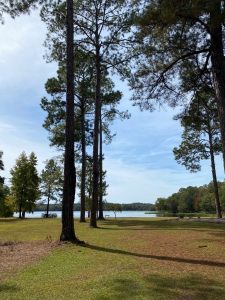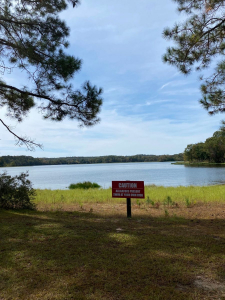 I find special satisfaction and comfort in knowing that the full viewshed beyond the sign below right encompasses State and Federal land and water preserved and protected forever.
Paraphrasing from Louis Bromfield:
The land (and water) came to us out of eternity, and when the youngest of us associated with it dies, it will still be here. The best that any of us can hope to accomplish during our fleeting existence is to make some small corner of the world better through wisdom, knowledge, and hard work. 
My own hope is that this Post may spark interest or generate action oriented to spreading the gospel of Earth appreciation and stewardship.
Alabama State Parks Foundation
Thoughts and Reflections
I offer these observations:
Nature rewards every time I visit some natural place new to me.
Einstein: "The most beautiful gift of nature is that it gives one pleasure to look around and try to comprehend what we see."
Every place in Nature has a story to tell.
Inhale and absorb Nature's elixir. May Nature Inspire, Inform, and Reward you!
Note: All blog post images created & photographed by Stephen B. Jones unless otherwise noted. Please circulate images with photo credit: "©2022 Steve Jones, Great Blue Heron LLC. All Rights Reserved."
Another Note: If you came to this post via a Facebook posting or by an another route, please sign up now (no cost… no obligation) to receive my Blog Post email alerts: http://eepurl.com/cKLJdL
And a Third: I am available for Nature-Inspired Speaking, Writing, and Consulting — contact me at steve.jones.0524@gmail.com
Reminder of my Personal and Professional Purpose, Passion, and Cause
If only more of us viewed our precious environment through the filters I employ. If only my mission and vision could be multiplied untold orders of magnitude:
Mission: Employ writing and speaking to educate, inspire, and enable readers and listeners to understand, appreciate, and enjoy Nature… and accept and practice Earth Stewardship.
Vision:
People of all ages will pay greater attention to and engage more regularly with Nature… and will accept and practice informed and responsible Earth Stewardship.
They will see their relationship to our natural world with new eyes… and will understand more clearly their Earth home.
Tagline/Motto: Steve (Great Blue Heron) encourages and seeks a better tomorrow through Nature-Inspired Living!
Steve's Three Books
I wrote my books Nature Based Leadership (2016), Nature-Inspired Learning and Leading (2017), and Weaned Seals and Snowy Summits: Stories of Passion for Place and Everyday Nature (2019; co-authored with Dr. Jennifer Wilhoit) to encourage all citizens to recognize and appreciate that every lesson for living, learning, serving, and leading is either written indelibly in or is powerfully inspired by Nature.
I began writing books and Posts for several reasons:
I love hiking and exploring in Nature
I see images I want to (and do) capture with my trusty iPhone camera
I enjoy explaining those images — an educator at heart
I don't play golf!
I actually do love writing — it's the hobby I never needed when my career consumed me
Judy suggested my writing is in large measure my legacy to our two kids, our five grand kids, and all the unborn generations beyond
And finally, perhaps my books and Blogs could reach beyond family and touch a few other lives… sow some seeds for the future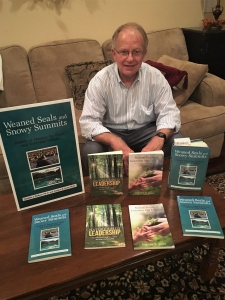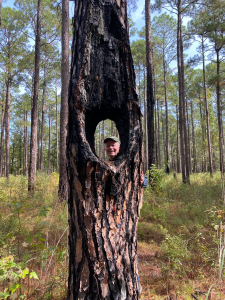 All three of my books (Nature Based Leadership; Nature-Inspired Learning and Leading; Weaned Seals and Snowy Summits) present compilations of personal experiences expressing my (and co-author Dr. Wilhoit for Weaned Seals and Snowy Summits) deep passion for Nature. All three books offer observations and reflections on my relationship to the natural world… and the broader implications for society. Order any and all from your local indie bookstore, or find them on IndieBound or other online sources such as Amazon and LifeRich.
https://stevejonesgbh.com/wp-content/uploads/2022/10/IMG_5557.jpg-10.12.22-Lakepoint-SP-12.24-PM.jpg
900
1200
Steve Jones
http://stevejonesgbh.com/wp-content/uploads/2017/01/gbhweblogo.png
Steve Jones
2022-11-09 09:04:26
2022-11-09 09:16:59
Alabama's Lake Point State Park; Managed Loblolly Pine