Flight 93 National Memorial
Few of us alive September 11, 2001 will forget that day of terrifying destruction — a country literally under attack by ruthless human monsters… a horrid sub species intent upon violence and terror. One of the four hijacked planes fell to Earth some forty air miles from my birth home. Traveling mid-November from Cumberland, MD to visit our son and his family north of Pittsburgh, we detoured to the Flight 93 National Memorial near Shanksville, PA. A day fittingly gray and cold, matching the mood of place and the events that culminated on the site.
Like the many National Parks, Memorials, and Monuments I've visited, this one rose to the occasion, capturing that fateful day with appropriate solemnity, honoring those who died in defiance of the brutal terrorists, and memorializing this land that will live on forever with absolute respect for the heroes who gave their last full measure here. I do not strive to repeat the story nor describe the structures and interpretation. I give very high marks to all that the National Park Service has generated on-site and online. Instead, I will offer some reflection through a different lens… my naturalist and applied ecologist's filters.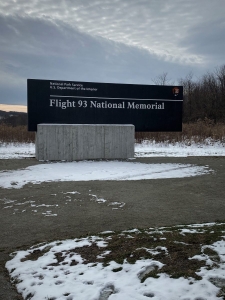 I include Memorial photos only as a context within which to observe and reflect. Take my word, the Memorial is hauntingly beautiful and majestic. Yet there are ironies I will introduce to you. I grew up and am growing old loving this Allegheny Front region of Pennsylvania and Maryland. This highland (2,400-3,000 feet) lies just west of the eastern continental divide. Summers are generally pleasant; winters are harsh. Snowfall averages more than 100-inches annually. I worked my freshman and sophomore summers just south of this Pennsylvania location in Maryland doing forest inventory on Savage River State Forest. I considered it heaven.
I clearly remember a likewise nationally significant 1964 plane crash in this same area, encompassing Savage River State Forest. From a 2014 AP online article recalling the crash of the nuclear-armed (two bombs) B-52:
"The storm-driven crash of a nuclear bomber in western Maryland in 1964 made an indelible impact on the Cold War program that put the crew and public at risk.
Fifty years later, Operation Chrome Dome is nearly forgotten, but memories of the crash on Big Savage Mountain remain painfully fresh among the crew members' families and the rural Appalachian residents who helped recover the bodies.
Gary Finzel, 69, said his overnight trek through hip-deep snow with five others to recover the frozen remains of Air Force Maj. Robert Lee Payne was the worst night of his life.
"I can see him sitting there on his hunkers on the banks" of Poplar Lick, Finzel said Tuesday. "I still see him the same as if it was yesterday."
The accident on Jan. 13, 1964, is memorialized by stone markers in tiny Grantsville, about 140 miles west of Baltimore, and at the spots where three of the five crew members died. Payne succumbed to exposure in the Savage River State Forest after ejecting from the crippled B-52. Bombardier Maj. Robert Townley's remains were found in the wreckage on adjacent private land. The tail gunner, Tech Sgt. Melvin F. Wooten, bailed out and died from exposure and injuries near Salisbury, Pa., nearly 15 miles north of the crash site.
The pilot, Maj. Thomas W. McCormick, and co-pilot Capt. Parker C. "Mack" Peedin ejected and survived. Neither is still living."
I can close my eyes and see the Cumberland, MD (my hometown) airport, serving in real time as base for search, rescue, and recovery operations. I was 12-and-a-half years old. Dad and I spent many hours over several days at the airport watching twin-rotor military choppers ferrying people, equipment, and wreckage in and out, great blasts of rotor-driven snow rising with each arrival and departure. I recall the actual storm, fierce even in the valley Cumberland occupies, yet raging at full-blizzard intensity in the higher elevation crash zone.
Flight 93 crashed just 26 miles from where Tech Sgt Wooten died. The SAC Bomber succumbed to weather, mechanical failure, and perhaps an ill-advised decision to fly over the mountains that night. Again, from AP: "A heavily redacted Air Force report on the accident attributes the crash to a bulkhead structural failure that caused the vertical fin to separate from the plane during weather-related turbulence."
In sharp contrast, it was pure evil that brought Flight 93 to its demise. Pure evil combated and overcome in-air by American citizen-heroes (passengers) who forced the hand of the terrorists, preventing them from using the jetliner as yet another hostile missile aimed at our Nation's Capital. Memories of both incidents will haunt me the remainder of my days. One a searing nightmare that now lies raw and fresh on my and in our national psyche. The other a vivid memory of an adventure that my Dad and I shared, certainly a disaster that took five crew lives, yet still a lesson in the power and fury of Nature. A ferocious storm interacting with a dangerous time for humanity… a world poised at the cusp of nuclear holocaust. I know that Dad understood the nuclear war implications. I suspect I focused more on the weather elements coupled with the excitement of a major search, rescue, and recovery operation, still mostly enjoying a time of personal innocence and geopolitical ignorance.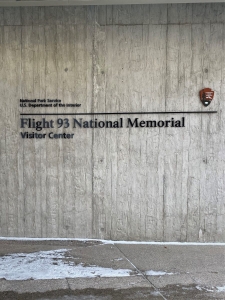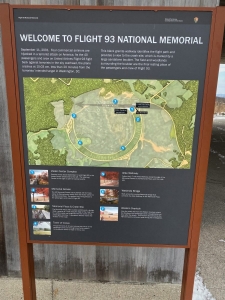 There was nothing innocent about Flight 93. The evil scum who perpetrated this act of terror left little room for doubting their vile madness. Yes, I admit to harboring echoes of anger, fury, and resentment as I toured the site and experienced the exhibits. Also sadness and tears. I listened, eyes welling, to messages left by three passengers on their home phones, saying farewell to loved ones.
Lower left looks back along the flight path of the inbound doomed plane. The lower right view is along the final flight path toward the impact site a half-mile distant. Despite the horror and sadness of the day, the Memorial beautifully expresses a prevailing sentiment of beauty, inspiration, hope, and human goodness, valor, and decency. The haloed sun lower right expresses visually, emotionally, and spiritually far more than I can offer with words.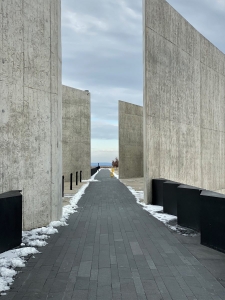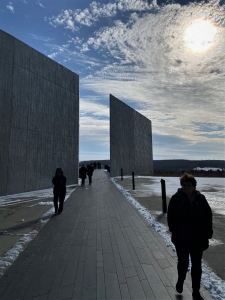 Healing from Landscape Devastation and Human Tragedy
Here's where I take a side track. I love the banner at the observation point of the flight path walkway: A Common Field One Day; A Field of Honor Forever. Beyond that banner, the plane crashed into our Mother Earth at a nearly vertical pitch at woods-edge. But was this a common field even then? I had not thought about the Nature of this land, and I have discovered little since describing the prior land use, beyond finding mention of it as an abandoned strip mine. I had imagined the typically rolling pasture, field, and forest common to this upland region. However, I immediately noticed upon entering the Memorial grounds that this is long-abandoned coal strip-mined land. Likely stripped prior to days when reclamation laws were enacted at the state and federal levels. I saw rough, unhealed debris piles, pits, ponds, and sparse forest cover. Park Service crews and volunteers will be planting thousands of seedlings… to heal the land and honor Flight 93 victims and their families. So, a Common Field? No, it's a landscape devastated by strip mining during a period before we recognized the need to establish minimum standards of practice to return stripped acreage to some level of productivity.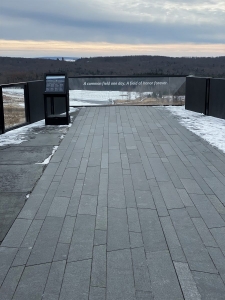 I've written about eastern Ohio stripped land that has been remediated and returned to some respectable level of productivity: http://stevejonesgbh.com/2019/04/19/mid-march-revelations-on-worn-out-land-2/. At this Memorial the abused land resonates with the emotional devastation wrought by that day's terror. The irony translates across both types of scarring. Society needed the coal; we mined it, exacting a toll upon the land. Only later did we realize the false economy of extracting in the absence of designed reclamation. An expensive unintended consequence. I appreciate the resonance of our taking intentional steps to heal a physically abused and ruined land… on a site bearing palpable scars of a devastating blow to our national psyche.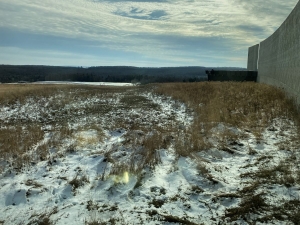 I hope at some point the Park Service will infuse some expression of the irony and parallels. Healing and awareness come in multiple dimensions. Caring for our One Earth, this pale blue orb in the vast darkness of space, is as important as anything commanding our societal attention. We must choose to defeat the existential threat of evil terrorism, even as we awaken to stewarding our Common Home, protecting our Earth from ourselves, and ensuring its sustainability. The two interlocking imperatives command coincident attention here at the Flight 93 National Memorial.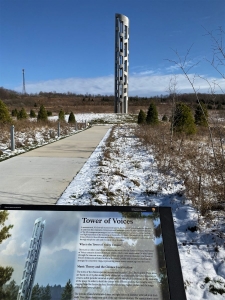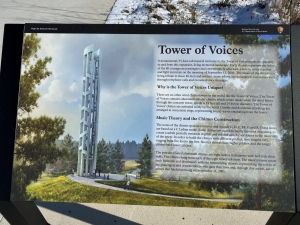 The Tower of Voices stands as a spiritual lantern to what happened here, and what may result from those events. The awakening, the healing, the commitment to citizenship and stewardship. I am left humbled, inspired, and recommitted to informed and responsible citizenship and stewardship.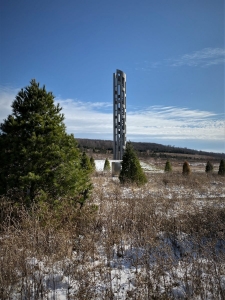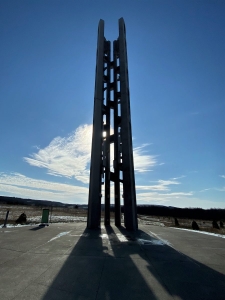 Thoughts and Reflections
I wrote my books Nature Based Leadership (2016), Nature-Inspired Learning and Leading (2017), and Weaned Seals and Snowy Summits: Stories of Passion for Place and Everyday Nature (2019; co-authored with Dr. Jennifer Wilhoit) to encourage all citizens to recognize and appreciate that every lesson for living, learning, serving, and leading is either written indelibly in or is powerfully inspired by Nature. All three are available on Amazon and other online sources.
Here are the three succinct truths I draw from this Blog Post:
Sometimes Nature and the sweep of human events interact in unexpected ways
Nature can heal… both human and natural wounds
Every place in Nature has a story to tell
Inhale and absorb Nature's elixir. May Nature Inspire and Reward you!
Note: All blog post images created & photographed by Stephen B. Jones unless otherwise noted. Please circulate images with photo credit: "©2019 Steve Jones, Great Blue Heron LLC. All Rights Reserved."
Another Note: If you came to this post via a Facebook posting or by an another route, please sign up now (no cost… no obligation) to receive my Blog Post email alerts: http://stevejonesgbh.com/contact/
And a Third: I am available for Nature-Inspired Speaking, Writing, and Consulting — contact me at steve.jones.0524@gmail.com
Reminder of my Personal and Professional Purpose, Passion, and Cause
If only more of us viewed our precious environment through the filters I employ. If only my mission and vision could be multiplied untold orders of magnitude:
Mission: Employ writing and speaking to educate, inspire, and enable readers and listeners to understand, appreciate, and enjoy Nature… and accept and practice Earth Stewardship.
Vision:
People of all ages will pay greater attention to and engage more regularly with Nature… and will accept and practice informed and responsible Earth Stewardship.
They will see their relationship to our natural world with new eyes… and will understand more clearly their Earth home.
Tagline/Motto: Steve (Great Blue Heron) encourages and seeks a better tomorrow through Nature-Inspired Living!
Steve's Three Books
I write my books, issue my Posts, and speak before various audiences to educate, inspire, and enable readers and listeners to understand, appreciate, and enjoy Nature…and accept and practice Earth Stewardship, and Earth Citizenship!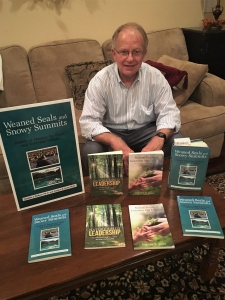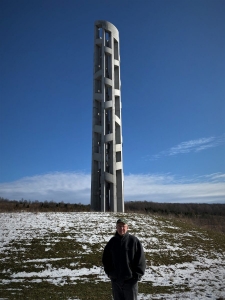 A Lasting Call for Informed and Responsible Citizenship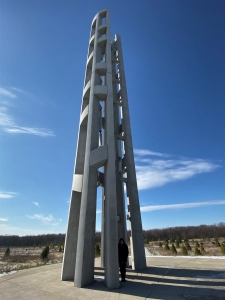 A Persistent and Tireless Call for Informed and Responsible Earth Stewardship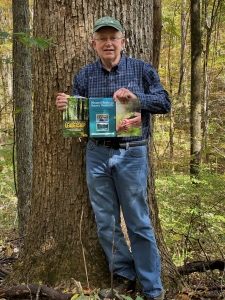 All three of my books (Nature Based Leadership; Nature-Inspired Learning and Leading; and co-authored with Dr. Jennifer Wilhoit, Weaned Seals and Snowy Summits) present compilations of my own (and Dr. Wilhoit's) rich experiences in Nature. The books are collections of nature stories seeking to inspire deeper relationship with and care for this beautiful Earth. Order any and all from your local indie bookstore, or find them on IndieBound or other online sources such as Amazon and LifeRich.
http://stevejonesgbh.com/wp-content/uploads/2019/11/IMG_0328.jpg-11.14.19-Flight-93-National-Memorial.jpg
1200
900
Steve Jones
http://stevejonesgbh.com/wp-content/uploads/2017/01/gbhweblogo.png
Steve Jones
2019-12-09 14:38:20
2019-12-09 14:38:20
Healing from Landscape Devastation and Human Tragedy: Flight 93 National Memorial