A Nomad's Perspective
Judy and I have lived in the US South for a total of nearly a quarter of a century (about half of my adult life), punctuated by shifts northward totaling 27 years:
Syracuse, New York — 2 years
Southeastern Virginia — 7 years
Savannah, Georgia — 2 years
Prattville, Alabama — 3 years
Syracuse, New York — 3 years
State College, Pennsylvania — 9 years
Auburn, Alabama — 5 years
Cary, North Carolina — 3 years
Fairbanks, AK — 4 years
Urbana, Ohio — 5 years
Keene, New Hampshire — 3 years
Fairmont, West Virginia — 1 year
Madison, Alabama — 3 years (and counting)
Winters in those northern climes can be (and often are) serious, arriving on schedule and holding on (with a few thaws) until spring. Southland winters to the contrary amount to fall beginning mid-November, then gradually transitioning to spring by early March. Toss in an occasional day or two of winter weather to excite (and panic) the locals. So, my conclusion, based upon near-nomadic wandering over some fifty years from Fairbanks' latitude 65 degrees north to Savannah's 32 degrees north, is that winter is a relative term.
Winter's December 2019 Visit
I'll begin with a recent example. December 10, a strong cold front muscled into the Tennessee River Valley before a steady rain ended, transitioning the rain to sleet then snow. The result: a half-inch coating… and thousands of absolutely distraught drivers convinced that this storm was apocalyptic! Not a flake stuck on the warm pavement or even on our flagstone landscape paths. Here in the South, this amounted to a brief interruption of the long autumn reaching for spring. The sleet and snow did not portend the arrival of winter, but merely an ever-so-short pause in autumn.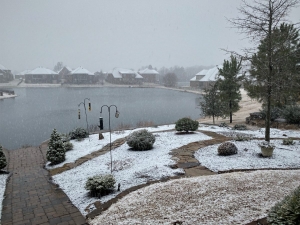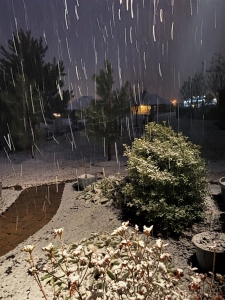 The dusting persisted through the next morning, adding a little winter zest to our mailbox Christmas decorations. I recall far more snow mid-September in Fairbanks!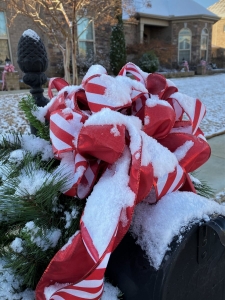 Real Winter
Huntsville locals will remember the December 10, 2019 storm as that season's early winter arrival. Our New Hampshire winters were a trifle less subtle. Snow cover there did not disappear with the next day's noon sun. That's Judy and me along our driveway below, probably in mid-February one of those three winters. A succession of storms piles it high. Spring is nowhere in sight. Fall departed long ago.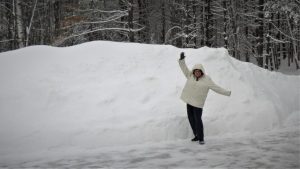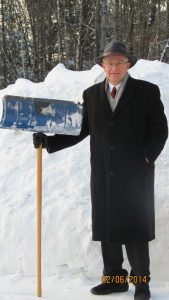 And yet by Fairbanks standards, southern New Hampshire winters, while snowy, are relatively mild. That's Willie Karidis (then Director of the Denali Education Center) and me mid-March snow-shoeing on the frozen Nenana River at negative 37 degrees Fahrenheit just outside Denali National Park. The bright sun belied the danger. Frostbite nipped my nose not long after the photo captured our image. Unlike our Alabama mid-winter sun, the winter solstice sun at Fairbanks rises only 1.7 degrees above the southern horizon at solar noon (below right). Thermal power? Nada! Noon sun melting yesterday's accumulation? Not a chance — early October's snow still resides under this solstice mantle of the white stuff! Fairbanks' average daily high for March 31 is 32 degrees. Contrast that to the average high for the date in Huntsville, AL at 69 degrees. Our first year in Fairbanks saw April Fool's Day reach a record low high temperature (for the date and month) at one below zero. Winter is relative.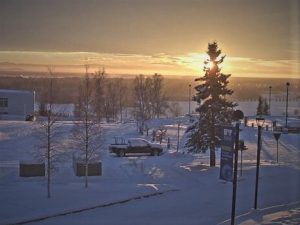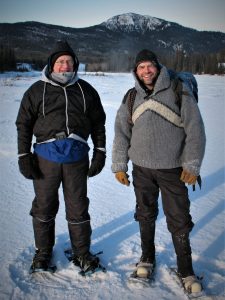 As Chair of the University of the Arctic Governing Board during those Alaska years, I presided over an international session in Rovaniemi, Finland, University of Lapland, which sits at the Arctic Circle. Plenty of daylight during the March equinox period. Conditions not much different from the near-Denali photos above. Still deep winter. We are in full-blown spring by that date here in the South.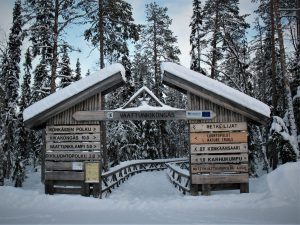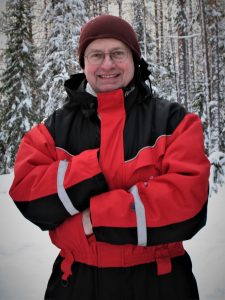 Alabama Winter
The western US sandhill cranes left the high Arctic and passed south through Fairbanks before the end of August. Our own Tennessee Valley sandhill cranes (below left) arrive here mid-November to spend the winter with us (nearby Wheeler National Wildlife Refuge) before departing mid-February northward. Also at WNWR, the cypress swamp below right depicts another version of our deep winter.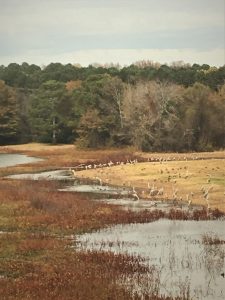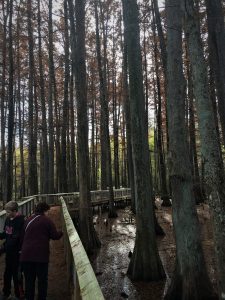 I recall living twice in Syracuse, NY, which self-proclaims the title of cloudiest major US city. I could not confirm that honorific title on the internet, yet I can vouch for the deep darkness of dense cloud cover that seems to persist from October through April. One did not need to search long for clinics treating SAD (Seasonal Affective Disorder) in The Salt City (named for the nearby salt deposits, and not for the anti-icing road treatment that will rust your wheel wells in just a few seasons!). Not so cloudy and dark here in the South. A front slips through with abundant rain and the following few days bless us with deep blue, often complemented with wisps of horsetail cirrus (below in late November 2018 at McDowell Camp and Conference Center). Nature graciously rewards us with aerial magnificence.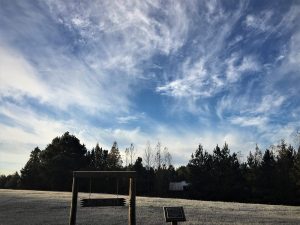 Snow seldom falls and almost never persists. Also at McDowell, the frosty grass at sunrise must satisfy my winter snow nostalgia.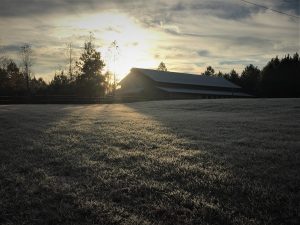 Over our many interstate moves I've learned to temper my seasonal weather expectations. Does me no good to pine for a deep snow, high-wind Nor'easter here in northern Alabama, nor in New Hampshire could I wish for sitting on the patio at sunset January 1 as I did this evening with no wind and the temperature at 52 degrees! I've become adept at flourishing wherever we find ourselves.
Again, the Real Thing!
Yet I do love the extremes, including the raw and brutal power that turned our team back at 5,300-feet one February day when we attempted to summit Mount Washington. That's my back second from the rear, enjoying the pleasurable terror.  When we tucked tail (the photo depicts our furthest progress) the wind was gusting above 100 MPH with the ambient temperature below zero Fahrenheit at the summit. That's deadly. That's real…nearly unbelievable…winter.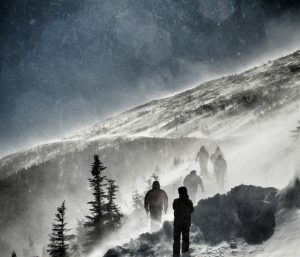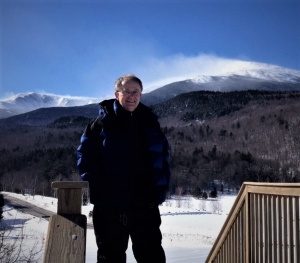 That wasn't daily existence across New Hampshire. That was at a location known for The World's Most Extreme Weather. As I write these words New Years Day, the summit temperature is 10 degrees, wind chill is -19, and the wind is gusting to 85 MPH!
Summer as Winter
Sitka, Alaska sits along the state's southeast coast. The city welcomes cruise ships into its protected harbor during its brief summer. Snow-capped mountains ring the bay (below left). The trailhead for the Mt Verstovia trail is just east of town. Mid-June 2012 I made a valiant attempt to reach Verstovia's nearly 3,000-foot summit. My ascent ended when I encountered decaying snow 3-5-feet deep still 500 feet below the summit (below right).  The higher peaks still carried fresh snow. Summer? Like winter, summer is a relative term! My forehead perspiration (my entire body was soaked) had nothing to do with summer's heat. I had just climbed 2,500 feet vertical (a steep trail) and struggled with the coarse granular snow until I accepted defeat.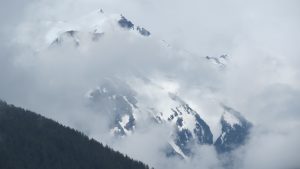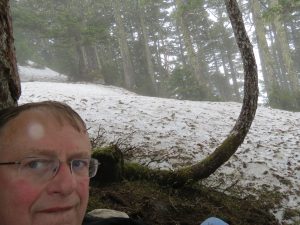 A dormant volcano, Mt Edgecumbe, stands across the bay from Sitka's airport. Mark Twain once said, we are told, "The coldest winter I ever saw was the summer I spent in San Francisco." No, the statement just would not have worked for the humorist had he substituted Sitka for San Francisco!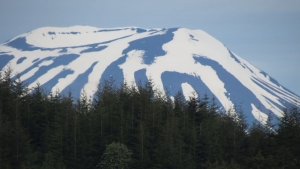 Again, a Southern Winter — It's All Relative!
No deep decaying snow to deal with at Beaverdam Creek Boardwalk at Wheeler National Wildlife Refuge just a few miles from where we live in Alabama.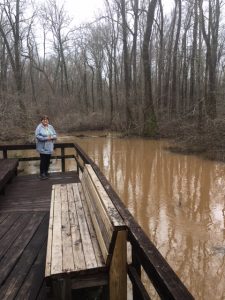 Just once during our four winters in northern Alabama has our Big Blue Lake frozen soundly enough to support the weight of our over-wintering Canada geese. The Nenana River annual Ice Classic at Nenana, AK (midway between the entrance to Denali National Park and Fairbanks) awards a significant cash prize to the to the person who comes closest to guessing the exact date, hour, minute, and second of break-up. Average April 1, ice thickness over the years is 42 inches. Strong enough to support a goose? Even a moose — perhaps a caboose!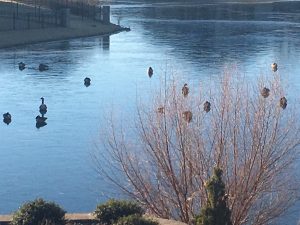 January 7, 2020 I snapped this shot of emerging daffodils in my neighborhood. Who can dispute my statement that our fall gradually transitions to spring? I need not provide further evidence than these daffodil blades beginning to break through the mulch.
Yet there is more. Planted pansies provide winter color at our latitude. When temperatures drop below freezing, the plants wilt (their way of protecting cells from the cold) while awaiting warmer days. I took this photo January 9, 2020 on a mild afternoon in the upper 50s.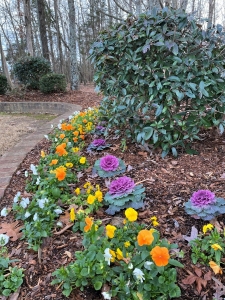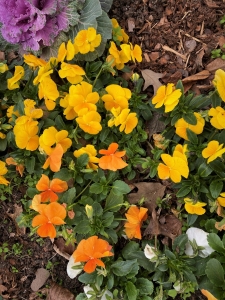 January 12, I biked once again on Bradford Creek and Mill Creek Greenways. Spring presented a little more evidence of its headway, further tracing the seasonal transition. I spotted my first henbit (Lamium amplxicaule) flower of the year. Henbit is a naturalized non-native, common across the eastern US.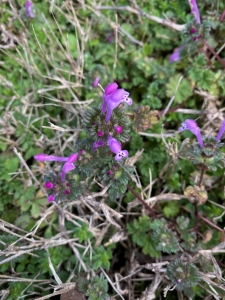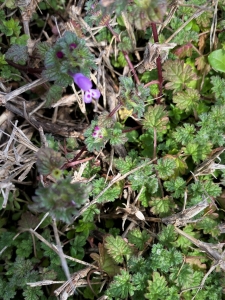 I also saw chickweed and a small cress in flower, but did not attempt to photograph their tiny white flowers.
January 2018 I visited Gulf State Park, Alabama. The season was clearly fall/spring… and Sam the resident pelican offered no counter argument. Some 400 miles south of where I reside, the climate is much warmer along the coast.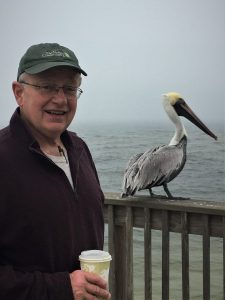 No winter pelican acquaintances when we lived in Fairbanks, Alaska. Moose-friends frequently visited our yard, especially in winter. Make that WINTER! I'm placing the finishing touches on the Post January 8. I just checked the Fairbanks temperature: negative 33 Fahrenheit! This is the warmest part of the day.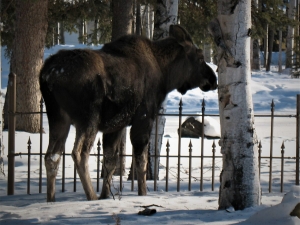 Again, as is nearly everything in Nature… Winter is relative.
Thoughts and Reflections
I wrote my books Nature Based Leadership (2016), Nature-Inspired Learning and Leading (2017), and Weaned Seals and Snowy Summits: Stories of Passion for Place and Everyday Nature (2019; co-authored with Dr. Jennifer Wilhoit) to encourage all citizens to recognize and appreciate that every lesson for living, learning, serving, and leading is either written indelibly in or is powerfully inspired by Nature. All three are available on Amazon and other online sources.
Here are the three succinct truths I draw from this Blog Post:
Everything in Nature is relative

Nature cares little about the weather we hope to experience; it is what it is

Knowing local norms and averages helps us adjust our expectations and adapt to place
Inhale and absorb Nature's elixir. May Nature Inspire and Reward you!
Note: All blog post images created & photographed by Stephen B. Jones unless otherwise noted. Please circulate images with photo credit: "©2020 Steve Jones, Great Blue Heron LLC. All Rights Reserved."
Another Note: If you came to this post via a Facebook posting or by an another route, please sign up now (no cost… no obligation) to receive my Blog Post email alerts: http://stevejonesgbh.com/contact/
And a Third: I am available for Nature-Inspired Speaking, Writing, and Consulting — contact me at steve.jones.0524@gmail.com
Reminder of my Personal and Professional Purpose, Passion, and Cause
If only more of us viewed our precious environment through the filters I employ. If only my mission and vision could be multiplied untold orders of magnitude:
Mission: Employ writing and speaking to educate, inspire, and enable readers and listeners to understand, appreciate, and enjoy Nature… and accept and practice Earth Stewardship.
Vision:
People of all ages will pay greater attention to and engage more regularly with Nature… and will accept and practice informed and responsible Earth Stewardship.
They will see their relationship to our natural world with new eyes… and will understand more clearly their Earth home.
Tagline/Motto: Steve (Great Blue Heron) encourages and seeks a better tomorrow through Nature-Inspired Living!
Steve's Three Books
I began writing books and Posts for several reasons:
I love hiking and exploring in Nature
I see images I want to (and do) capture with my trusty iPhone camera
I enjoy explaining those images — an educator at heart
I don't play golf!
I actually do love writing — it's the hobby I never needed when my career consumed me
Judy suggested my writing is in large measure my legacy to our two kids, our five grand kids, and all the unborn generations beyond
And finally, perhaps my books and Blogs could reach beyond family and touch a few others lives… sow some seeds for the future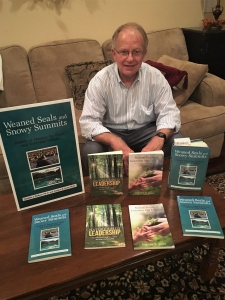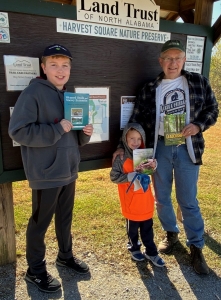 Every place in Nature tells a story, as do all stories within my books.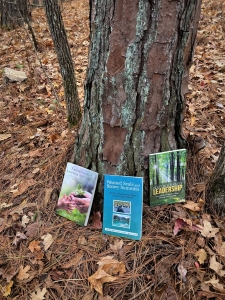 All three of my books (Nature Based Leadership; Nature-Inspired Learning and Leading; Weaned Seals and Snowy Summits) present compilations of personal experiences expressing my (and co-author Dr. Wilhoit for Weaned Seals and Snowy Summits) deep passion for Nature. All three books offer observations and reflections on my relationship to the natural world… and the broader implications for society. Order any and all from your local indie bookstore, or find them on IndieBound or other online sources such as Amazon and LifeRich.
http://stevejonesgbh.com/wp-content/uploads/2019/12/Dec-10-2019-2.jpg
1200
900
Steve Jones
http://stevejonesgbh.com/wp-content/uploads/2017/01/gbhweblogo.png
Steve Jones
2020-01-15 09:32:21
2020-01-15 09:32:21
Winter is a Relative Term