I wrote this essay in June 2018, holding it until now, awaiting the right moment to publish as a Great Blue Heron Blog Post. I'm still not certain what might define the right moment. This Post is far more reflective and philosophical than others more immediate have been. It does not pertain to any particular venture I've made into a wild place. I don't chronicle the emergence of a new burst of wildflowers. I simply reflect upon the essence of my own relationship with Nature. Allow me to excerpt from these June musings:
I am a foot-soldier for Nature-Inspired Learning and Leading. I've honed my craft wearing Vibram soles and flannel shirts. I've never owned a tweed jacket with elbow patches. I'd rather be atop the fire tower than in the ivory tower. I learn best through direct experience. Far too few of us in today's world take a walk in the woods, on the beach, through the wetland, across the prairie habitat, or even enter an urban park. I'm a simple man… enjoying Nature's simplicity.
So, I've chosen to offer these early summer thoughts at a time when the pace of my Natural ramblings (and yours, too, I suppose) have slowed with the season.
Reflections on Spiritualism in Nature (June 2018)
I belong to an interesting and provocative group that discusses (mostly by email) the integration of Nature, philosophy, religion, ethics, and Earth stewardship. The group believes that our endeavors and deliberations are best guided by the wisdom found in such human traditions as science, art, literature, philosophy, and religion.
I love an Albert Einstein quote from the group's homepage: In every true searcher of Nature 
there is a kind of religious reverence. I've felt that same reverence since I first fell in love with wildness as an adolescent… a sense of passion and addiction that deepens daily, weekly, monthly, and yearly. Make no mistake, my relationship to Nature is both spiritual (lower case 's') and Spiritual — its depth and intensity rise within me to religious.

Scholarly and Philosophical Exchanges — At A Depth Barely Within My Intellectual Reach
I've quietly read and appreciated exchanges over the past several months since joining the group. I'm impressed with the depth of thinking and scholarship… to the point of reluctance to weigh into discussions that are clearly beyond my scholarly ken. I am a forester (BS 1973) who later returned for a PhD in applied ecology (1987). Although spending 30+ years since in higher education, I consider myself a practicing naturalist — boots on the ground, and over time evolving to embrace what I'll call spiritual ecology.
I like the flow of a series of recent posts, encouraging members to list and categorize practices they employ individually to further the concept and discipline of spiritual ecology. However, these deep and rather esoteric exchanges serve to remind me palpably that my own related practice is soil-rooted. I offer a participant's late May category-structure immediately below (italics); taken directly and in-full from that person's shared communication:
Physical/psychological
A daily ritual consisting of an amalgam of yoga, QiGong, and aikido
A weekly QiGong class
Psychological/spiritual
A daily meditation sitting (reflecting the influence of an eclectic group of Buddhist teachers)
Occasional Buddhist meditation retreat (usually at the Barre Center for Buddhist Studies)
Focusing exchanges with several partners (a practice based on the work of Eugene Gendlin)
Occasional reflective journal writing
Intellectual/spiritual
Periodically following/occasionally contributing to [exchanges among this group]
Frequent listening to the weekly "On Being" interviews conducted by Krista Tippett
Frequent reading of novels (e.g., Gilead by Marilynne Robinson, The Overstory by Richard Powers)
Sporadic reading of emerging findings from physics (e.g., the work of Carlo Forelli)
Occasional reading of Buddhist writings (e.g., Stephen Batchelor, "After Buddhism: Rethinking the Dharma for a Secular Age")
Occasional reading of poetry (e.g, "Beannacht by John O'Donohue)
Spiritual
Occasional ritual of viewing visual images on the web that inspire wonder (e.g., Steve Axford's photographs of fungi,  Camille Seaman's' photographs of "supercell" storms, or images of galaxies or other cosmic formations
Occasional reading of a daily prayer at Prayer Wheel
Occasional reading of Franciscan Friar Richard Rohr's Daily Meditation
Very occasional ingestion of the (illegal) psychedelic drug psilocybin (which happens to be the subject of a new book by food-writer Michael Pollan
Political
Leadership of [a State] chapter of Elders Climate Action and participation in the national leadership team of that group
Participation in The Environmental Voter Project
Please don't misinterpret; I am not making light of such an approach. I admire the intellectual sobriety, the metaphysical rapture, and the intense pursuit of spiritual ecology. I have chosen a different path. Or might I say an alternative path has chosen me.
My Practice of Spiritualism in Nature is Soil-Rooted
Allow me to illustrate my woods and Nature orientation using my own examples from earlier in June:
Physical/psychological
A nineteen-mile greenway bicycle ride this morning (see photo; relax — no snakes and only rabbits, squirrels, and birds!)
Daily spinning bike when I can't venture outside
Resistance routine at the gym 2-3 mornings per week
Lots of yard and garden engagement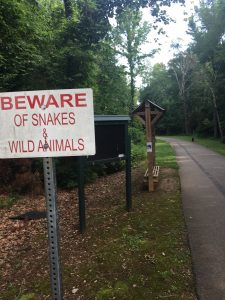 Psychological/spiritual
Connecting spiritually along the trail this morning — nothing beats the elixir of breeze, birdsong, stream gurgle, and deep shade
Walking in the neighborhood at dawn this morning — watching distant lightning far to the WSW
After daybreak observing the mammatus clouds (under-lit by sunrise glow) from the storm's anvil streaming toward us, even as the cell lost steam and energy, fully decayed before reaching us
Intellectual/spiritual
Posting weekly (plus or minus) essays to my website (http://stevejonesgbh.com/blog/) — core theme: Nature-Inspired Learning and Leading
I posted the most recent essay this past Tuesday (May 29), offering reflections on a rehabilitated surface mine I visited in Ohio two weeks prior (http://stevejonesgbh.com/2018/05/29/idyllic-pastoral-earth-stewardship-surprise-exemplar/e )
Just yesterday I completed my next-to-last chapter of a book I am co-authoring with a Puget Sound-based colleague. The chapter: Nature's Islands — Physical and Metaphorical. I've discovered in my semi-retirement that thinking requires far less energy and stamina than writing. I do not think to write; I write to think.
I read and re-read (frequently Aldo Leopold, Leonardo da Vinci, and Robert Macfarlane (among others)) to inform and lift my writing
Spiritual
Weekly hikes with area retired professionals — I took the photo Friday of the 30-inch diameter shagbark hickory between thunderstorms. What could be more spiritual than this magnificent organism standing tall in a second-growth forest?
This morning along the greenway I found a so-termed lesser denizen — a plate-size mushroom. Certainly not lesser spiritually (see photo)
I tend to discover the spiritual in Nature whenever I look for it. Friday's active atmosphere rich with moisture and instability served up the visual gift of a roll cloud created by down-drafts from a mature cell (see photo)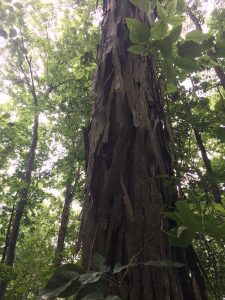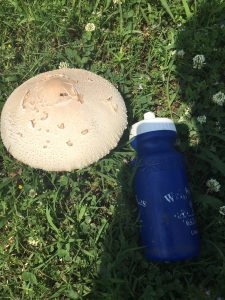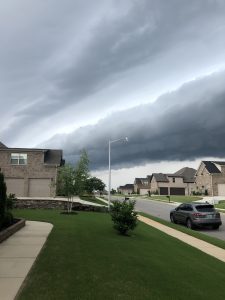 Political
I avoid political engagement. Instead, I volunteer teach for a local university and a lifelong learning center — Nature-Inspired Learning and Leading. I urge participants to make informed decisions whether at the ballot box or the grocery store. I do not tell them what is right.
I cannot match the intellectual and scholarly bent of my spiritualism in Nature colleagues. Perhaps my more pedestrian reflections offer a counter-point of value. Again, I am a foot-soldier for the cause of applying Nature's Power, Wisdom, and Spirit to Life and Living.
 Reflections
I recognized long ago that I am at root a practicing forester who stumbled into higher education administration. Nature is simple, direct, and compelling. I speak Nature's language best when immersed in full Nature-contact with my body, heart, mind, soul, and spirit.
Certainly, I benefit from reading the group's rather esoteric exchanges. Yet I revel in Nature's fundamental essence. I prefer taking my medicine straight. I know what makes my heart race… what prompts an involuntary sharp inhalation… what generates deep gratitude for life and living… what inspires me daily to be functional long before daybreak.
Again, I am a foot-soldier for Nature-Inspired Learning and Leading. I've honed my craft wearing Vibram soles and flannel shirts. I've never owned a tweed jacket with elbow patches. I'd rather be atop the fire tower than in the ivory tower. I learn best through direct experience. Far too few of us in today's world take a walk in the woods, on the beach, through the wetland, across the prairie habitat, or even enter an urban park. I'm a simple man… enjoying Nature's simplicity. Nearly 500 years ago, Leonardo da Vinci observed:
Human subtlety will never devise an invention more beautiful, more simple or more direct than does nature because in her inventions nothing is lacking, and nothing is superfluous.
I find satisfaction, reward, fulfillment, and inspiration in Nature. I seek to learn her lessons applicable to Life and Living, for in her inventions nothing is lacking, and nothing is superfluous. I am a practitioner of Spiritual Ecology. I am not a Spiritual Ecology academic.
I urge my readers to lace up your boots; open your eyes and hearts; visit some level of nearby wildness; taste the sweet elixir of Nature's Power and Wisdom! Do your part to change some small corner of this Earth for the better… through knowledge, wisdom, and hard work.
May Nature inspire all that you do.
Note: All blog post images created & photographed by Stephen B. Jones unless otherwise noted. Please circulate images with photo credit: "©2018 Steve Jones, Great Blue Heron LLC. All Rights Reserved."
Another Note: If you came to this post via a Facebook posting or by an another route, please sign up now (no cost… no obligation) to receive my Blog Post email alerts: http://stevejonesgbh.com/contact/
And a Third: I am available for Nature-Inspired Speaking, Writing, and Consulting — contact me at steve.jones.0524@gmail.com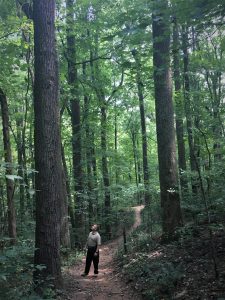 View this photo and brief text as postscript to this Spiritualism in Nature essay I penned in June. My August 28, 2018 photo captures a Natural Cathedral forest within Alabama's Monte Sano State Park — the spirit (and Spirit) lies within. I felt the magic and joy… and sensed the complementary forces of humility and inspiration.
And even more recently, this October 2, 2018 sunset photo connects to my very heart, soul, and spirit!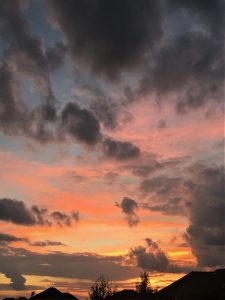 http://stevejonesgbh.com/wp-content/uploads/2018/06/IMG_6293-1.JPG-6.1.18-Shagbark-lo-res-e1528065434487.jpg
2016
1512
Steve Jones
http://stevejonesgbh.com/wp-content/uploads/2017/01/gbhweblogo.png
Steve Jones
2018-10-16 12:59:11
2018-10-16 12:59:11
Reflections on Spiritualism in Nature