I am pleased to offer the tenth of my new GBH Brief Form Post format to my website (Less than three-minutes to read! Not including the brief video). I tend to get a bit long-winded with my routine Posts. I don't want my enthusiasm for thoroughness and detail to discourage readers. So I will publish the brief Posts regularly on at least a trial basis.
I visited Alabama's Oak Mountain State Park, near Birmingham, mid-January 2023, taking time as available to saunter the short trails in and around Maggie's Glenn. You can see my standard-length Post from my mid-January treks into Maggie's Glenn: http://stevejonesgbh.com/2023/03/29/oak-mountain-state-park-january-saunters-into-maggies-glen/
I view Maggie's Glenn as a memorable special place, not unlike the subject of my third book, Weaned Seals and Snowy Summits: Stories of Passion for Place and Everyday Nature (co-authored with Dr. Jennifer Wilhoit).
Brief-Form Post on a Special Place
The omnipresent marscencent beech leaves grace every Maggie's Glen Trail winter photograph. I never tire of the quiet, serene, mystical sense of the place. Well over a century ago, Muir observed:
Everybody needs beauty as well as bread, places to play in and pray in, where Nature may heal and cheer and give strength to body and soul alike.
Maggie's Glen is surely one of those places.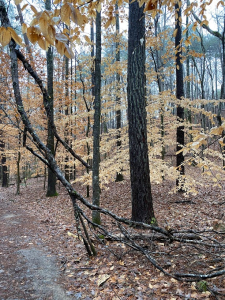 Five hundred years ago Leonardo da Vinci observed, "Water is the driver of Nature." Such is the obvious case at Maggie's Glann!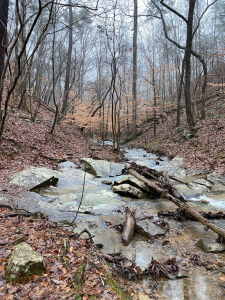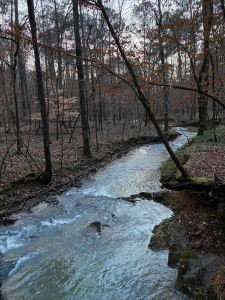 Recognizing once more that my still photos can never tell the whole story nor fully depict the beauty, magic, wonder, and awe, I recorded this 1:51 video:
American beech commonly hosts lichens and mosses on its smooth bark, like a canvas is home to human artistry. Recent rains sufficient to draw stem flow from the intercepting crown, wetted the entire trunk, accenting the lichen and moss displays. Who needs human art when Nature is the master of design?!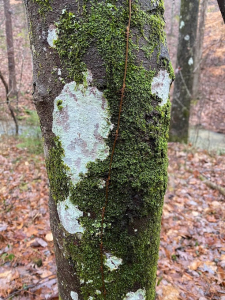 I accept the challenge of distilling these Brief-Form Posts to a single distinct reflection, a task far more elusive than assembling a dozen pithy statements. More than a half-millennium ago, Leonardo da Vinci observed, Human subtlety will never devise an invention more beautiful, more simple or more direct than does nature because in her inventions nothing is lacking, and nothing is superfluous. Here is my simplistic observation:
Nothing exceeds the magic, inspiration, and sacred spirit of a quiet morning forest and a gurgling stream amid the mists of a new day.
NOTE: I place 3-5 short videos (15-seconds to three minutes) on my Steve Jones Great Blue Heron YouTube channel weekly. All relate to Nature-Inspired Life and Living. I encourage you to SUBSCRIBE! It's FREE. Having more subscribers helps me spread my message of Informed and Responsible Earth Stewardship…locally and globally!
http://stevejonesgbh.com/wp-content/uploads/2023/01/IMG_7035.jpg-01.17.23-Trail-to-Maggies-Glen-5.09-PM.jpg
1200
900
Steve Jones
http://stevejonesgbh.com/wp-content/uploads/2017/01/gbhweblogo.png
Steve Jones
2023-05-25 14:31:37
2023-05-26 05:49:34
Brief-Form Post #10: Look Back to Short Hikes at Maggie's Glenn, Oak Mountain SP!