March 16, 2023 I co-led (with Mike Ezell, AL State Parks Naturalist Emeritus) a Nature walk at Joe Wheeler State Park for members of the Huntsville LearningQuest class that had just completed a seven-week course on the State Parks of North Alabama. This Post presents the additional visual accents gifted by the spring sky and clouds above us.
We chose a spectacular spring day, when images of clouds and sky amplified the beauty, magic, wonder, and awe of Nature.
A fitting sky send-off as the group gathered by the lodge (left). I wondered whether I could have chosen a better sky. I think not!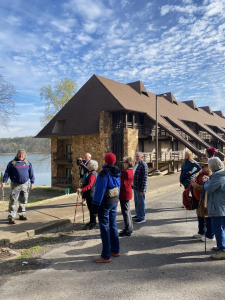 Mike led us into the mature upland hardwood forest. Nothing could have expressed greater promise for a woodlands stroll than the beckoning mid-spring blue sky.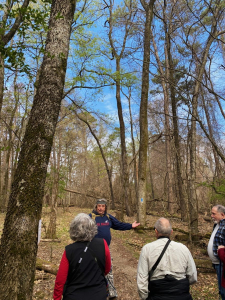 The lake complements the sky, reflecting the blue-white, the wind-textured surface blending the blue and white into a single hue. Almost a slate blue-gray. I've learned over these seven-plus decades that I'm pretty good with only a few basic colors: the red/orange/yellow/green/blue/indigo/violet (ROY-G-BIV) of the rainbow. Beyond that, I'm somewhat lost. My spouse can distinguish hundreds. During the spring, when multiple shades of green paint the fields and forests, I see green, but without my Munsell Color Chart (I used it many decades prior to characterize and classify soil), I can only go from light green to dark green, and throw in an occasionally verdant or vernal to sound more sophisticated!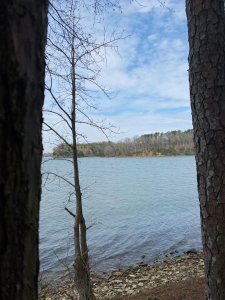 The sky and clouds likewise blessed us as we passed near the lakeside cottages. I just can't focus on scenery without including the firmament.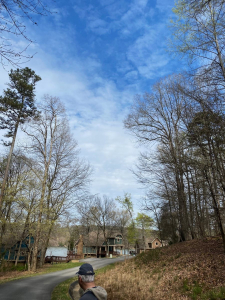 Nothing spectacular in these views through the forest, beyond the bluff, to the wind-swept and sun-blessed Lake Wheeler, yet the images lift my spirit and soothe my soul. Another six weeks, with full foliage, the impact lessens, the view obscured. Or a deep cloudy, drizzly day when water and sky blend into one, and the trees seem to stand alone, lost in the foreground with no sense of scale or perspective.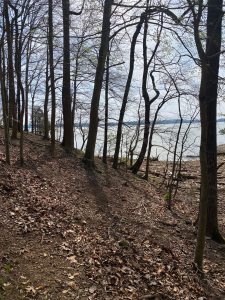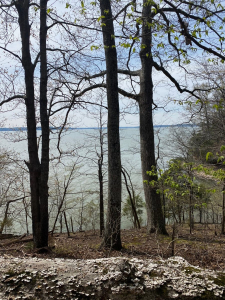 The sky came to life from this nearby bluff position, the line of sight more northerly, capturing the emerging spring greens of the hillside flank tracing down to the water.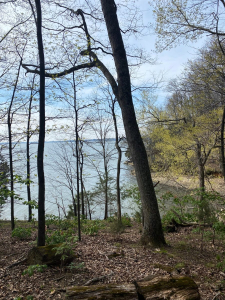 A sky-view into the dominant canopy crowns would not be available when leaves emerge in another month. These are in fact regal forest sentries, reaching skyward (no, heavenward!). What a life…every day awakening, arms outstretched to the great beyond, caressing the breeze, basking in sunshine, inhaling Nature's essence, accepting the freshness of morning fog, and thrilling to the wet kisses of welcome raindrops!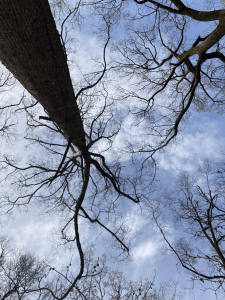 I've been fixated and mesmerized by sky and clouds since I left my Mom's apron. How could I possibly contemplate the woodland saunter at Joe Wheeler State Park without seeing and appreciating the universe of sky and clouds above!?
John Muir tied the Wheeler hike package tightly…and perfectly:
When we try to pick out anything by itself, we find it hitched to everything else in the Universe.
The woodland hike; Lake Wheeler; the lakeside bluffs; the mature hardwood forest; the exquisite sky and clouds above — all of it hitched and stitched.
Albert Einstein's words inspire me to view the spring morning, the natural laws that guide our world, and the endlessly changing sky above with eyes peering from my very soul:
Look deep into nature, and then you will understand everything better.
I'm fascinated with Nature's firmament…and with her incomparable beauty, magic, wonder, and awe!
Alabama State Parks Foundation
Thoughts and Reflections
I offer these observations:
Once you have tasted the essence of sky, you will forever look up. (Leonardo da Vinci)
The sky is the daily bread of the eyes. (Ralph Waldo Emerson)
Exquisite sky and clouds magnify the inspiration of a spring woodland saunter.
Inhale and absorb Nature's elixir. May Nature Inspire, Inform, and Reward you!
Note: All blog post images created & photographed by Stephen B. Jones unless otherwise noted. Please circulate images with photo credit: "©2023 Steve Jones, Great Blue Heron LLC. All Rights Reserved."
Another Note: If you came to this post via a Facebook posting or by an another route, please sign up now (no cost… no obligation) to receive my Blog Post email alerts: http://eepurl.com/cKLJdL
And a Third: I am available for Nature-Inspired Speaking, Writing, and Consulting — contact me at steve.jones.0524@gmail.com
Reminder of my Personal and Professional Purpose, Passion, and Cause
If only more of us viewed our precious environment through the filters I employ. If only my mission and vision could be multiplied untold orders of magnitude:
Mission: Employ writing and speaking to educate, inspire, and enable readers and listeners to understand, appreciate, and enjoy Nature… and accept and practice Earth Stewardship.
Vision:
People of all ages will pay greater attention to and engage more regularly with Nature… and will accept and practice informed and responsible Earth Stewardship.
They will see their relationship to our natural world with new eyes… and will understand more clearly their Earth home.
Tagline/Motto: Steve (Great Blue Heron) encourages and seeks a better tomorrow through Nature-Inspired Living!
Steve's Three Books
I wrote my books Nature Based Leadership (2016), Nature-Inspired Learning and Leading (2017), and Weaned Seals and Snowy Summits: Stories of Passion for Place and Everyday Nature (2019; co-authored with Dr. Jennifer Wilhoit) to encourage all citizens to recognize and appreciate that every lesson for living, learning, serving, and leading is either written indelibly in or is powerfully inspired by Nature.
I began writing books and Posts for several reasons:
I love hiking and exploring in Nature
I see images I want to (and do) capture with my trusty iPhone camera
I enjoy explaining those images — an educator at heart
I don't play golf!
I actually do love writing — it's the hobby I never needed when my career consumed me
Judy suggested my writing is in large measure my legacy to our two kids, our five grand kids, and all the unborn generations beyond
And finally, perhaps my books and Blogs could reach beyond family and touch a few other lives… sow some seeds for the future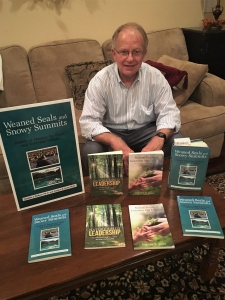 All three of my books (Nature Based Leadership; Nature-Inspired Learning and Leading; Weaned Seals and Snowy Summits) present compilations of personal experiences expressing my (and co-author Dr. Wilhoit for Weaned Seals and Snowy Summits) deep passion for Nature. All three books offer observations and reflections on my relationship to the natural world… and the broader implications for society. Order any and all from your local indie bookstore, or find them on IndieBound or other online sources such as Amazon and LifeRich.
http://stevejonesgbh.com/wp-content/uploads/2023/03/IMG_8049.jpg-03.16.23-LQ-Blue-Trail-10.30.jpg
1200
900
Steve Jones
http://stevejonesgbh.com/wp-content/uploads/2017/01/gbhweblogo.png
Steve Jones
2023-05-18 14:25:12
2023-05-18 14:25:12
Glorious Mid-March Skies at Joe Wheeler State Park