I am pleased to offer the fourth of my new GBH Brief Form Post format (Less than three-minutes to read! Not including viewing the short video) to my website. I tend to get a bit long-winded with my routine Posts. I don't want my enthusiasm for thoroughness and detail to discourage readers. So I will publish the brief Posts regularly on at least a trial basis.
Brief-Form Post on Magical Mosses and Lichens
January 31, 2023 I visited Huntsville, Alabama's Goldsmith-Schiffman Wildlife Sanctuary to see what woodland delights mid-winter offered. One might expect a drab, lifeless, early afternoon. Such is seldom (never!) the case when I wonder our north Alabama forests.
Mosses in Regal Green
Were this one of my longer Posts I would define and characterize the lifeform we call moss (and in the following section…lichen). Today, I shall presume my readers generally know a moss when they see one. Let's instead enjoy and admire the exquisite verdant drapery adorning these winter trunks!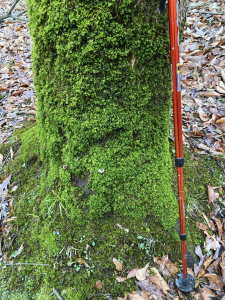 I recorded this 2:28 video of moss-draped trees while wandering the riparian forest:
Even the fallen stems retain their green fineries!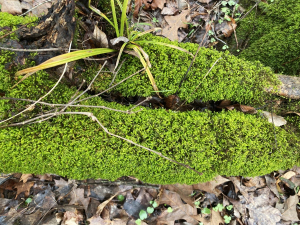 Mid-winter as drab and lifeless — no way!
Multi-hued Lichens
This stem serves as a perfect segue from mosses to lichens, sporting both lifeforms on its trunk.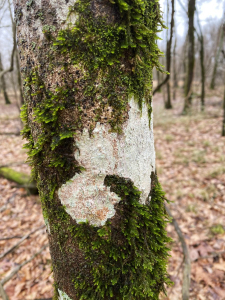 American beech trees, on which so many brainless humans insist upon carving banal epitaphs of adoration, provide superb palettes for lichens of all shades and varieties. Especially when rain has wetted the trunks with stem-flow, as was the case on January 31, the colors are vibrant.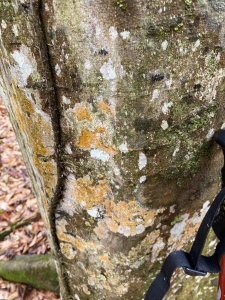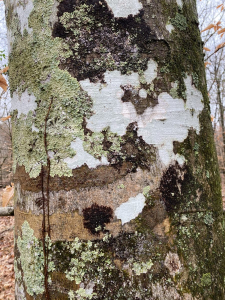 I'm fascinated with Nature's artistry…revealing her incomparable beauty, magic, wonder, and awe!
Nature's beauty, magic, wonder, awe, and inspiration are without limit, often exceeding our expectations!
Inhale and absorb Nature's elixir. May Nature Inspire, Inform, and Reward you!
NOTE: I place 3-5 short videos (15-seconds to three minutes) on my Steve Jones Great Blue Heron YouTube channel weekly. All relate to Nature-Inspired Life and Living. I encourage you to SUBSCRIBE! It's FREE. Having more subscribers helps me spread my message of Informed and Responsible Earth Stewardship…locally and globally!
http://stevejonesgbh.com/wp-content/uploads/2023/02/IMG_7402.jpg-01.31.23-GSWS.jpg
1200
900
Steve Jones
http://stevejonesgbh.com/wp-content/uploads/2017/01/gbhweblogo.png
Steve Jones
2023-04-03 13:38:21
2023-04-10 14:54:20
Brief-Form Post #4: Magical Mosses and Lichens on a Nearby Wildlife Sanctuary!