This Post serves as the immediate sequel to last week's photo-essay: http://stevejonesgbh.com/2022/06/20/chapter-one-late-spring-return-to-the-sanctuary/
May 13, 2022, I returned to Huntsville, Alabama's Goldsmith-Schiffman Wildlife Sanctuary with Bill Heslip, retired videographer, Margaret Anne Goldsmith, benefactor who donated the property to the City, and Marian Moore Lewis, author of Southern Sanctuary, a month-by-month almanac of the Nature of the Sanctuary. I'll take you along with photos, observations, and reflections on our late spring afternoon tour.
Our visit would serve as the capstone for compiling a video Land Legacy Tale for the Sanctuary, which we hope to release later this summer. Bill is the producer; I serve as his naturalist. Margaret Anne and Marian offer additional indispensable knowledge and perspective. Last week's Post offered observations, reflections, photographs and a video on our hike through the riparian forest and along the Flint River. This Post covers our emergence into the meadow habitat and our brief trip to the edge of the tupelo swamp.
Here is my June 2021 Post introducing our vision for the video project: http://stevejonesgbh.com/2021/08/25/contemplating-a-video-of-the-goldsmith-schiffman-wildlife-sanctuary/
Emerging to the Meadows
Bill is preparing to record more video with Margaret Anne and Marian. Becky Heslip watches while carrying some of Bill's gear. Below right the group stands at the meadow/woods edge.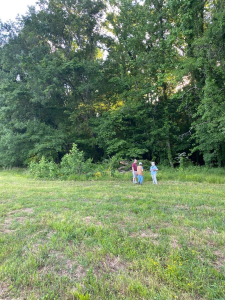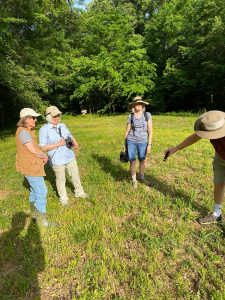 I've found that the Sanctuary is photogenic across the seasons. Late spring to early summer is no exception. It's hard to top cerulean sky, open meadow, bordering forest, and distant ridge.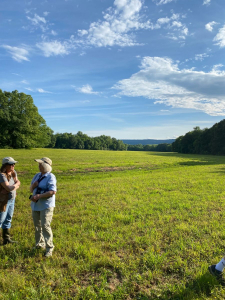 I couldn't resist capturing Bill and our two principal subjects, outstanding in their field, in this 1:47 video. My narrative refers to two people; we all know there are three. Attribute my error to the stress of a forester-introvert speaking into a microphone!
I couldn't get enough of the meadow, forest, ridge, and sky combination!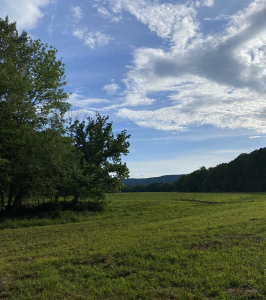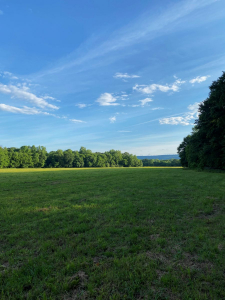 At the risk of overdoing it, here are two more.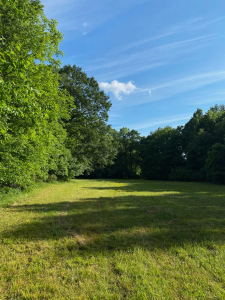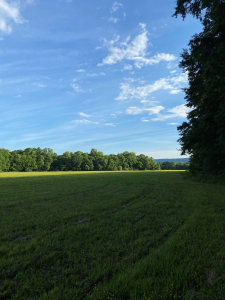 The Tupelo Swamp
We left the field, heading north through the forest edge, quickly entering into the tupelo swamp, a land of water, somewhat exotic trees and reflections, and myriad evening bird calls.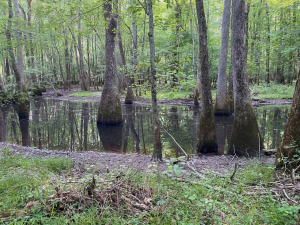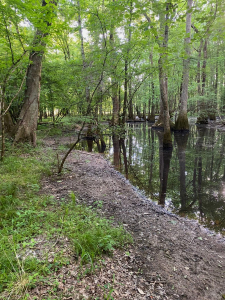 Bill recorded the scene, once again asking Marian for comments and reflections.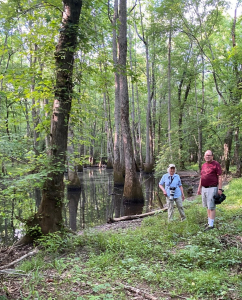 And I took advantage of the opportunity to record another 90 seconds of video, this time capturing my own observations on a third ecotype here on the Sanctuary: previously riparian forest and open meadow, and now tupelo swamp.
Every one of my wanderings within the Sanctuary reveals magic and mysteries that enrich my life and living. Although aging is a reality for all of us, I find deep healing and renewal with my wildness wanderings and their associated wonderings!
Some Final Reflections on my May 13 Return to the Sanctuary
Wednesday, June 1st, 2022, Richard Rohr's online Daily Meditations spoke to the same concept I've noted, that is, the Sanctuary revealing magic and mysteries that enrich my life:
Waiting for Things to Unfold
On a bird watching trip in Baja, Mexico, theologian Douglas Christie reflected on the need for patience and letting go of control so that we can see in a new way:
What is being asked of us in this moment is patient attention; a willingness to slow down, listen, and look; a willingness to let go of our expectations, to accept the possibility that our efforts may not bear any fruit—or at least not in the way we have been hoping that they will.
The French philosopher and mystic Simone Weil (1909–1943) once noted: "We do not obtain the most precious gifts by going in search of them but by waiting for them." This idea comes back to me in this moment with new force and meaning. I smile to think of my own impatience, my relative incapacity to wait for much of anything. I wonder what this is about. Why do I put so much stock in my ability to seek and find what I am looking for? . . . Why is it so difficult for me to wait for things to unfold, to reveal themselves? . . .  
The idea that what we most deeply desire must ultimately reveal itself to us is not easy to accept. It suggests a relinquishment of control that most of us, if we are being honest, find difficult to practice. There is too much risk, too much vulnerability. Yet the willingness to relinquish control and open ourselves to the mysterious unknown is at the heart of every great spiritual tradition. In the Gospel tradition, it is described as becoming again like a child, or being born anew: learning to see with fresh eyes.
I often contrast walking through the woods and wandering in the forest in a manner that forces (or enables) me to slow down, listen, and look. I embrace the notion of waiting for wonders to reveal themselves…to unfold. Yes, to open myself to the mysterious unknown…becoming again like a child…being born anew…learning to see with fresh eyes!
Thoughts and Reflections
I offer these observations:
The Sanctuary, and any wild place, reveals new secrets every time we visit.
When in Nature, slow down, listen, and look…learn to see with fresh eyes.
I find deep healing and renewal in my wildness wanderings and their inspired wonderings!
Inhale and absorb Nature's elixir. May Nature Inspire, Inform, and Reward you!
Note: All blog post images created & photographed by Stephen B. Jones unless otherwise noted. Please circulate images with photo credit: "©2022 Steve Jones, Great Blue Heron LLC. All Rights Reserved."
Another Note: If you came to this post via a Facebook posting or by an another route, please sign up now (no cost… no obligation) to receive my Blog Post email alerts: http://eepurl.com/cKLJdL
And a Third: I am available for Nature-Inspired Speaking, Writing, and Consulting — contact me at steve.jones.0524@gmail.com
Reminder of my Personal and Professional Purpose, Passion, and Cause
If only more of us viewed our precious environment through the filters I employ. If only my mission and vision could be multiplied untold orders of magnitude:
Mission: Employ writing and speaking to educate, inspire, and enable readers and listeners to understand, appreciate, and enjoy Nature… and accept and practice Earth Stewardship.
Vision:
People of all ages will pay greater attention to and engage more regularly with Nature… and will accept and practice informed and responsible Earth Stewardship.
They will see their relationship to our natural world with new eyes… and will understand more clearly their Earth home.
Tagline/Motto: Steve (Great Blue Heron) encourages and seeks a better tomorrow through Nature-Inspired Living!
Steve's Three Books
I wrote my books Nature Based Leadership (2016), Nature-Inspired Learning and Leading (2017), and Weaned Seals and Snowy Summits: Stories of Passion for Place and Everyday Nature (2019; co-authored with Dr. Jennifer Wilhoit) to encourage all citizens to recognize and appreciate that every lesson for living, learning, serving, and leading is either written indelibly in or is powerfully inspired by Nature.
I began writing books and Posts for several reasons:
I love hiking and exploring in Nature
I see images I want to (and do) capture with my trusty iPhone camera
I enjoy explaining those images — an educator at heart
I don't play golf!
I actually do love writing — it's the hobby I never needed when my career consumed me
Judy suggested my writing is in large measure my legacy to our two kids, our five grand kids, and all the unborn generations beyond
And finally, perhaps my books and Blogs could reach beyond family and touch a few other lives… sow some seeds for the future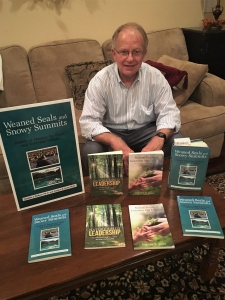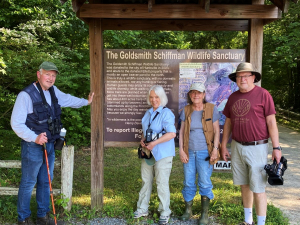 All three of my books (Nature Based Leadership; Nature-Inspired Learning and Leading; Weaned Seals and Snowy Summits) present compilations of personal experiences expressing my (and co-author Dr. Wilhoit for Weaned Seals and Snowy Summits) deep passion for Nature. All three books offer observations and reflections on my relationship to the natural world… and the broader implications for society. Order any and all from your local indie bookstore, or find them on IndieBound or other online sources such as Amazon and LifeRich.
http://stevejonesgbh.com/wp-content/uploads/2022/05/IMG_3631-1.jpg-05.13.22-5.55-PM-GSWS.jpg
1200
966
Steve Jones
http://stevejonesgbh.com/wp-content/uploads/2017/01/gbhweblogo.png
Steve Jones
2022-06-29 16:45:04
2022-06-29 16:45:04
Chapter Two: Late Spring Return to The Sanctuary