I visited Alabama's Lake Guntersville State Park April 20 and 21, 2022, to attend the Alabama State Park Foundation Board quarterly meeting, my first non-medical-treatment journey since my March 24, 2022 stroke. Not yet ready for woods-trail hiking, I managed to capture some memorable Nature photos from wandering the grounds near the Park Lodge.
Photos from the 1,100-foot Elevation Plateau Top
Arriving after lunch, Judy and I strolled near the lodge, where we spent the night. I'm standing at the overlook (1,100-foot-elevation) approximately 500 feet above the lake (600-foot-elevation). Hardwood trees are about 40 percent foliated.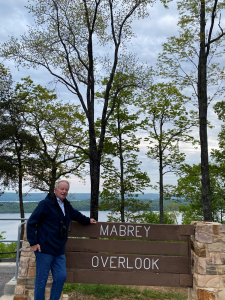 The spectacular view from our balcony (1:28 PM April 20). The campground is in the foreground.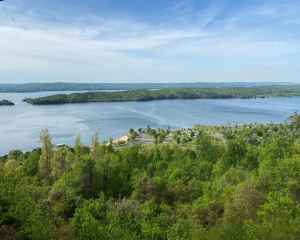 Later that afternoon (3:03) we found this white fringetree at peak flower.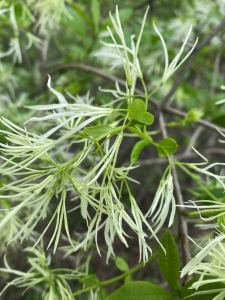 We spotted this lone loblolly pine at 3:11 PM. Every tree, especially those open-grown, expresses a unique character in form, reflecting its environment.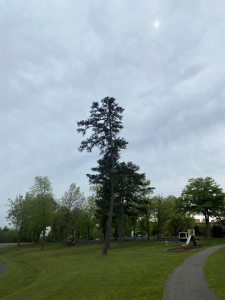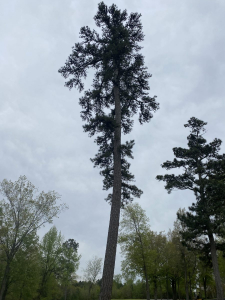 April 21, 2022
Without offering exhaustive narrative, I will begin this April 21 journey at dawn, take you through the morning prior to our Board meeting, present a few photos from after lunch, then capture a several images as we departed the Park. I hope they demonstrate the special stroke-healing and recovery boost that I took from this tentative return to the outdoors. I consider the entire package as Nature-Inspired Aging and healing! It goes hand-in-hand with Nature-Inspired Life and Living.
I am hopelessly addicted to dawn. In very limited light, I snapped these images from the balcony at 5:45 AM. The iPhone's built-in time exposure captured more light than my naked eye detected. The view looks down on the campground, swinging to the north (right).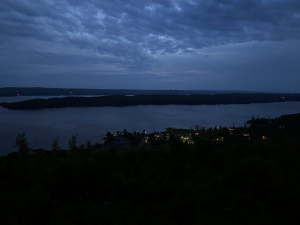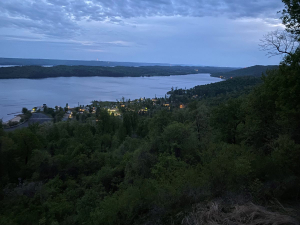 By 6:08 AM Judy and I had once again strolled to Mabrey Overlook. Full daylight, just four minutes after sunrise, enabled us to see the lake and the Cumberland Plateau extending beyond.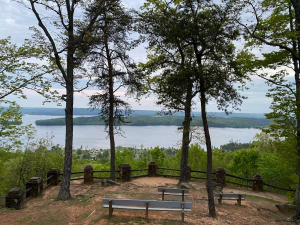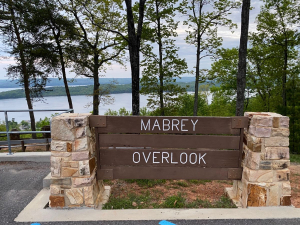 An overcast of alto-cumulus backdropped the scattered trees topping the golf course across the road from the overlook. I've heard many people mention 7:00 AM as too-early to start the day. There we were at 6:16 AM, wide awake and sipping long draughts of Nature's special morning elixir. Imagine what we would have missed had we slept until 7:00, nearly an hour after sunrise!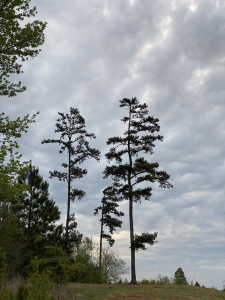 Twenty minutes later, the sun-kissed, thin overcast revealed blue sky above, removing any threat of impending rain. The day ahead would be grand.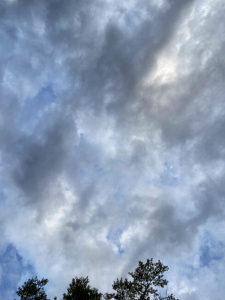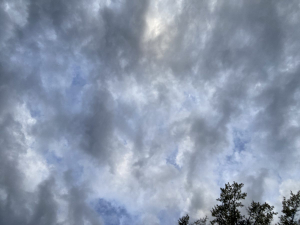 We had returned to our room by 6:45 AM, giving us yet another grand view of the lake and plateau.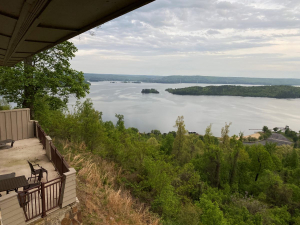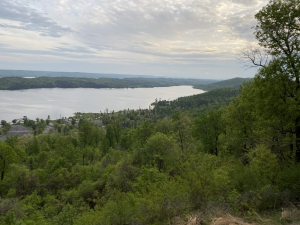 By 7:28 AM, after returning briefly to the balcony following breakfast, the sun is softly caressing the far shore. Life is good; Nature is magnificent!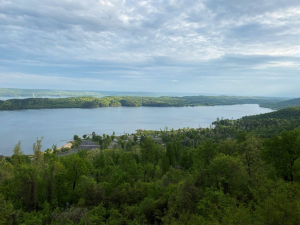 We returned after lunch and Board adjournment for one final balcony gander at 1:07 PM, before packing and heading home.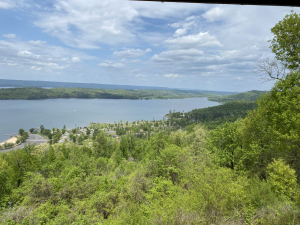 Departing the Park at Water's Edge
We dropped down to lake-level at 1:22 PM. In prior years spring Posts, I've played on the title of a popular book and movie, Fifty Shades of Gray. Whether living in New Hampshire, Pennsylvania, or other states we've called home, I find the variety of spring green-shades mesmerizing, referring to them as Fifty Shades of Green! The next three shots begin (left) with a view to the ESE, the one at right to the WSW.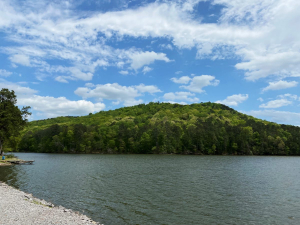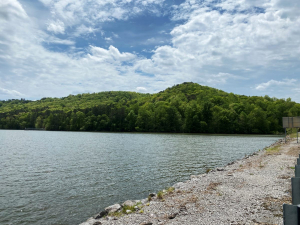 This view is generally to the south, midway between the two above.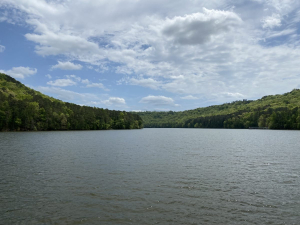 The greens and the spectacular sky above provided a perfect ending to our Lake Guntersville State Park visit. This is the same ESE view with greater sky coverage. This photo captures the combination of greens and sky majesty perfectly, epitomizing the Nature of our healing trip to the Park!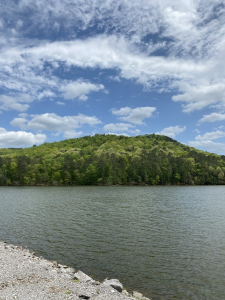 Is there a prescription medication with greater healing power than this post-stroke return to Nature? Although I was not ready to trek the State Park trails, this Nature-immersion, albeit less than a venture into wildness, turned out to be just what the doctor ordered. I felt renewed, full of hope, stoked with inspiration, and well on my way to recovery!
Homeward Bound along Golden Fields
View these 2:23 and 2:26 PM photos from our homeward bound car near Owens Cross Roads, Alabama as a postscript. Who could ask for anything more?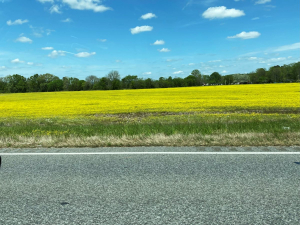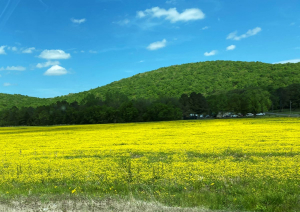 Alabama State Parks Foundation
Thoughts and Reflections
I offer these observations:
Sometimes just being outdoors, even if not venturing off-road, scratches the wildness itch.
Nature can heal a wounded psyche and soothe a physical setback.
Nature's beauty, magic, wonder, and awe are ever at the ready to administer a mind, heart, body, soul, and spiritual regenerative elixir.
Inhale and absorb Nature's elixir. May Nature Inspire, Inform, and Reward you!
Note: All blog post images created & photographed by Stephen B. Jones unless otherwise noted. Please circulate images with photo credit: "©2022 Steve Jones, Great Blue Heron LLC. All Rights Reserved."
Another Note: If you came to this post via a Facebook posting or by an another route, please sign up now (no cost… no obligation) to receive my Blog Post email alerts: http://eepurl.com/cKLJdL
And a Third: I am available for Nature-Inspired Speaking, Writing, and Consulting — contact me at steve.jones.0524@gmail.com
Reminder of my Personal and Professional Purpose, Passion, and Cause
If only more of us viewed our precious environment through the filters I employ. If only my mission and vision could be multiplied untold orders of magnitude:
Mission: Employ writing and speaking to educate, inspire, and enable readers and listeners to understand, appreciate, and enjoy Nature… and accept and practice Earth Stewardship.
Vision:
People of all ages will pay greater attention to and engage more regularly with Nature… and will accept and practice informed and responsible Earth Stewardship.
They will see their relationship to our natural world with new eyes… and will understand more clearly their Earth home.
Tagline/Motto: Steve (Great Blue Heron) encourages and seeks a better tomorrow through Nature-Inspired Living!
Steve's Three Books
I wrote my books Nature Based Leadership (2016), Nature-Inspired Learning and Leading (2017), and Weaned Seals and Snowy Summits: Stories of Passion for Place and Everyday Nature (2019; co-authored with Dr. Jennifer Wilhoit) to encourage all citizens to recognize and appreciate that every lesson for living, learning, serving, and leading is either written indelibly in or is powerfully inspired by Nature.
I began writing books and Posts for several reasons:
I love hiking and exploring in Nature
I see images I want to (and do) capture with my trusty iPhone camera
I enjoy explaining those images — an educator at heart
I don't play golf!
I actually do love writing — it's the hobby I never needed when my career consumed me
Judy suggested my writing is in large measure my legacy to our two kids, our five grand kids, and all the unborn generations beyond
And finally, perhaps my books and Blogs could reach beyond family and touch a few other lives… sow some seeds for the future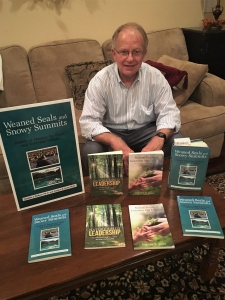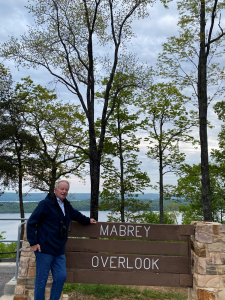 All three of my books (Nature Based Leadership; Nature-Inspired Learning and Leading; Weaned Seals and Snowy Summits) present compilations of personal experiences expressing my (and co-author Dr. Wilhoit for Weaned Seals and Snowy Summits) deep passion for Nature. All three books offer observations and reflections on my relationship to the natural world… and the broader implications for society. Order any and all from your local indie bookstore, or find them on IndieBound or other online sources such as Amazon and LifeRich.
http://stevejonesgbh.com/wp-content/uploads/2022/04/IMG_3386.jpg-04.21.22-6.09-AM-LGSP.jpg
1200
900
Steve Jones
http://stevejonesgbh.com/wp-content/uploads/2017/01/gbhweblogo.png
Steve Jones
2022-05-31 15:00:51
2022-05-31 15:00:51
An Outing One Month Beyond the Equinox and One Month After My Stroke