Some days stand higher than most. April 3, 2022 was one of those. March 24, just 13 days after "graduating" from intensive outpatient physical therapy from my November 8, 2021 total left shoulder replacement, I suffered a lacunar stroke. A scary reminder that life is fleeting and fragile. By April 3, I felt buoyed by steady progress toward regaining command over the fine motor skills in my right hand and feeling more secure with stability in my right leg. I was climbing confidently from the emotional depths from suffering the Stroke and facing the spectre of my own mortality. This Great Blue Heron Post expresses the joy and healing owing to family, place, and everyday Nature…and pays tribute to Nature-Inspired Life and Living. April 3 exemplified what I now attribute, in large measure, to Nature-Inspired Aging and Healing!
A New Day
Often I celebrate a new day from my patio and backyard. We visited our daughter and her family over the Christmas Holiday period 2014 in Madison, Alabama. Retirement was just over the horizon. Judy (my wife of then 42 years) saw many advantages in retiring near Katy and her two sons. We scheduled some time with a realator. When he showed us a vacant lot on a four-acre pond (I reverently call it Big Blue Lake!), a great blue heron (a totem and avatar of my long-deceased father) stood regally at the lot's shoreline. I knew immediately that this is where we would build. Dad convinced me!
April 3, 2022 at 7:23 and 7:25 AM, and on most mornings, I found full confirmation that we made the right choice when we bought the lot, built our reitrement home, and took possession Decemebr 15, 2015, ultimiately relocating permanently January 2018. Sure, we are in the suburbs, yet we bring Nature to us and enjoy the open space afforded by the pond.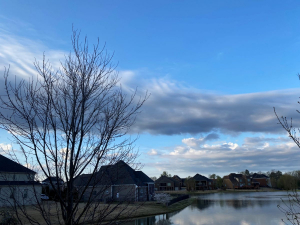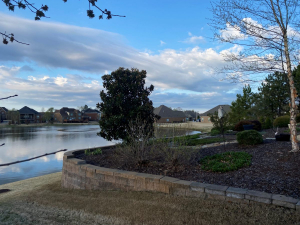 My third book, co-authored with Dr. Jennifer Wilhoit, is Weaned Seals and Snowy Summits: Stories of Passion for Place and Everday Nature. I enjoy the rich Nature and wildness nearby in nothern Alabama, yet I relish the everyday Nature that I find right at my back doorstep — my Special Place!
Within a few minutes slanting rays of sun cast new light on our pondscape. Nature appreciation is not a one and done. Her beauty, magic, wonder, and awe unfurl continuously. Retirement has gifted me with more time to observe and enjoy.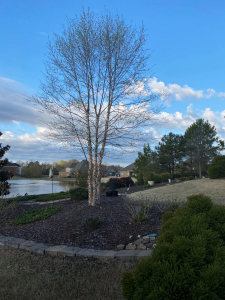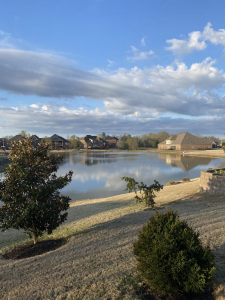 By 7:27 AM, morning had fully introduced the new day. I just can't imagine how any Nature enthusiast could disdain the dawn and abhor early rising.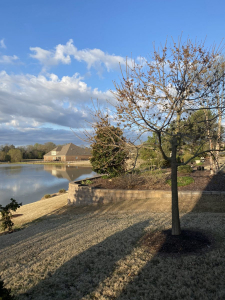 Early rising extends over a couple of weeks for this Japanese maple, as leaves and new stems ready its fresh crown, awaiting a season of life. By 9:25 AM, this early April day is in full gear.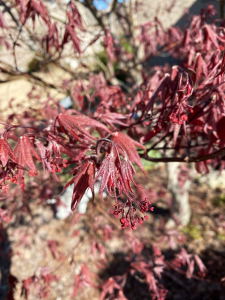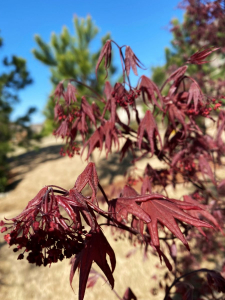 Another of our Japanese maples is sprouting leaves and flowers. There is no time to waste!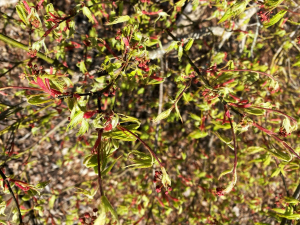 After 4.5 months of intense physical therapy recovering from left shoulder replacement (11/8), my March 24 stroke knocked me off my feet…emotionally, not literally. On this lovely morning, ten days beyond the stroke, I felt the buoyancy of progress from aggressive occupational and physical therapy. The doctors agreed that I would make a full recovery. I saw and now have faith in the veractiy of their prognosis. This morning's inspirational dawn and morning fueled my optimism.
Grandsons Amplify the Enjoyment
Our two Alabama grandsons arrived late morning, lifting me to a new and welcome post-stroke high. I see, through them, the certainty that my stroke is a pothole…a setback. Granted, the stroke served to remind me that life is fleeting and fragile, yet the grandkids signal clearly that every day merits full engagement. There is no higher calling than grandparenting. There is no element of grandparenting more noble than sharing the joy of Nature with them. The stroke, just ten days prior, relegated my role this day to recorder. A bit hunched (below left) I carefully navigated each surface irregularity.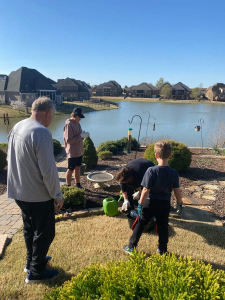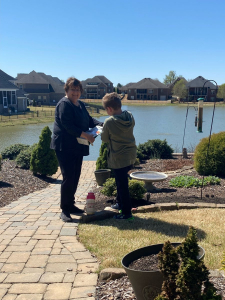 Judy put eight-year-old Sam to work, first toting a soil mix to re-cover exposed roots on a soft touch holly. Sam said, "I like the feel of soil on my hands." He understands that soil is the essence of gardening.
Perhaps some day he can read, understand, and appreciate Aldo Leopold's view of soil and land:
Land, then, is not merely soil; it is a fountain of energy flowing through a circuit of soils, plants, and animals… When a change occurs in one part of the circuit, many other parts must adjust themselves to it… Evolutionary changes, however, are usually slow and local. Man's invention of tools has enabled him to make changes of unprecedented violence, rapidity and scope.
I often mention soil health and soil fertility in these postings. Leopold defined soil fertility as the ability of the soil to receive, store, and release energy. It is hard to conceive of a more succinct definition of soil health.
Sam is doing his part to assure soil health, whether he yet comprehends it.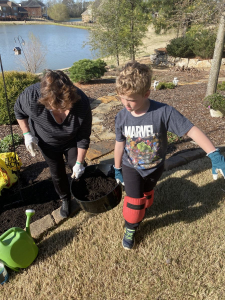 Jack (14 years) and Sam assisted Judy in planting two calla lillies. Jack provided the muscle, Sam the finesse. Seeing Sam beaming beside the plant transported me to my own early youth when my maternal grandmother introduced me to gardening, tending soil and plants. The experience spans my lifetime. If Sam remembers this morning seven decades hence, then my own life has merit.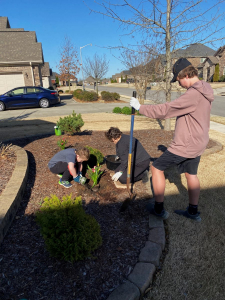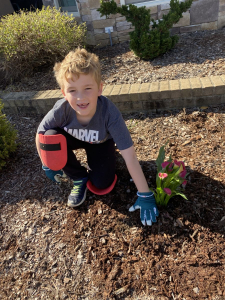 When planting the calla lillies, we disturbed a green tree frog snuggled within a previously opened bag of gardening soil. Although we built our home on a barren lot of exposed subsoil just six years ago, we now manage an oasis of a few trees, numerous shrubs, and an increasing number of perrenials (like these callas), all supported by rich, fertile, healthy, soil — soil that we have "manufactured." The frog is evidence that we now have a circuit of soils, plants, and animals.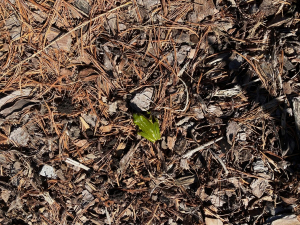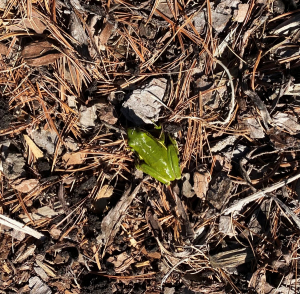 One of my orders was to "not overdue it," which is exactly what I was doing below!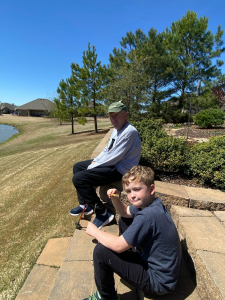 As we approached lunchtime, Sam and I examined catkins (the male flowers) on the adjoining lot. The ones below left are spent, having already released their pollen. The ones below right are locked and loaded, fully pollen-charged.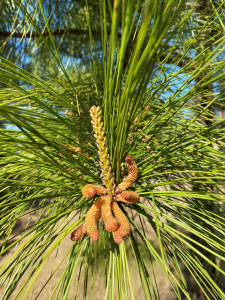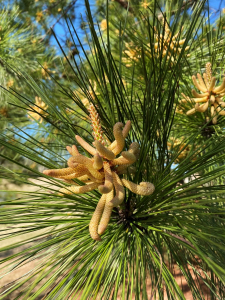 Below left Sam shook the branch at my signal to release a yellow cloud! Sam is partially hidden within the pine boughs below right.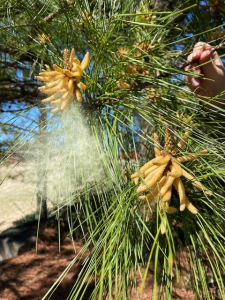 I explained to him that the female flowers are elsewhere in the tree, and that during the following summer (2023) the fertilized (with pollen) flower would produce a mature seed-bearing pine cone. Sam grasps one of last summer's mature cones below right.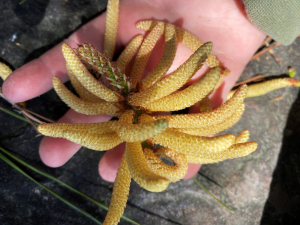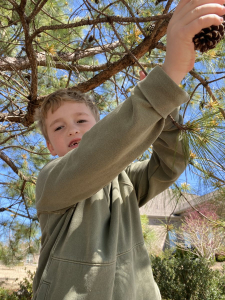 By 12:15 PM we had returned to our perch on the stairs to watch Jack fish. The pond is yet another element of our rich home ecosystem. We thrilled watching Jack land an 18-inch grass carp. I am certain that Jack will remember the carp into the deep future, perhaps when he is fishing with my great, great grandkids! He also caught three bluegill and a ten-inch bass.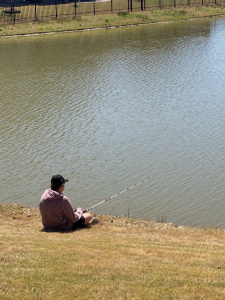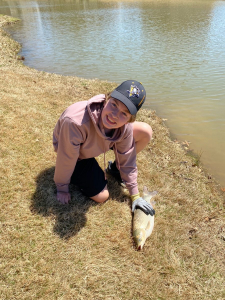 Great Blue Heron Visit
As Sam and I watched Jack fish, our resident great blue heron landed several hundred feet along the shoreline to our right. Big Blue slowly and silently fished along the shore toward our perch. He had struck twice without reward. Then he paused and assumed the ready position (below right).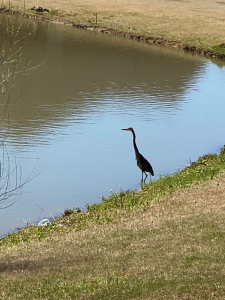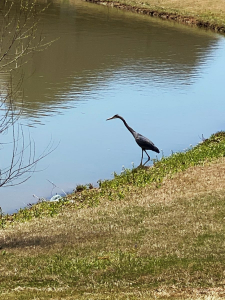 He leaned forward, eyes locked on his prey, with neck coiled, his striking mechanism taut. In a blur he struck, this time emerging successfully with a 3-4 inch sunny. He deftly flipped the small meal and swallowed it head first. I refused to contemplate the unpleasantness of entering the digestive track still alive and well. Nature is a hard-knock place for those creatures not at the food chain apex. Our notion of Nature as all peace, tranquility, and love dissipates when we carefully observe her reality.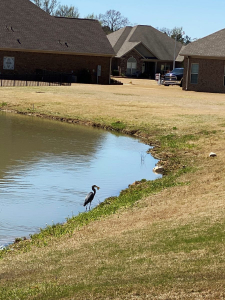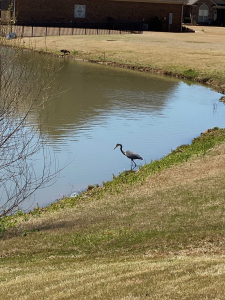 The heron passed directly along our frontage within the next one-half hour, still patiently fishing. Below left he strode just five feet from our setting Canada goose, snug on her nest at about day 14 of incubation. We'll be looking for the hatch at the 23-28 day period. The goose is ever-vigilant. She knows at some level that eggs and goslings offer tempting meals to other resident and wandering predators, including the large snapping turtle surfacing in the photo just 15 feet off-shore. Shortly thereafter Big Blue nailed a second sunny before passing Jack's tackle box on the wall (photo below right).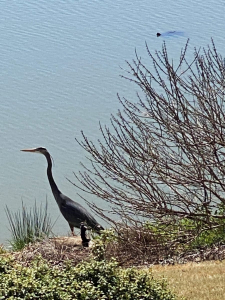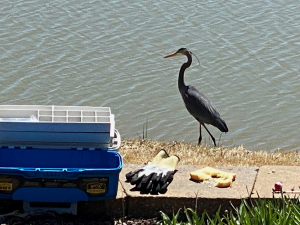 What a day for an outdoorsman sidelined from my woods rambles. I relished being able to observe Nature within the grasp of family…in my own backyard. I planted memories for two of my five grandchildren. The day punctured the festering incipient gloom of mortality and the sense of self-pity that accompanied the stroke. I felt hope and saw full recovery (and a reason for it) within reach!
May the measure of my own worth in life be in the memories of my children and grandchildren…and, too, in the aggregate of days like April 3, 2022.
Thoughts and Reflections
I offer these observations:
We cannot protect something we do not love, we cannot love what we do not know, and we cannot know what we do not see. Or hear. Or sense (Richard Louv).
Don't judge each day by the harvest you reap but by the seeds that you plant (Robert Louis Stevenson).
Be ashamed to die until you have won some victory for humanity (Horace Mann).
Inhale and absorb Nature's elixir. May Nature Inspire, Inform, and Reward you!
Note: All blog post images created & photographed by Stephen B. Jones unless otherwise noted. Please circulate images with photo credit: "©2022 Steve Jones, Great Blue Heron LLC. All Rights Reserved."
Another Note: If you came to this post via a Facebook posting or by an another route, please sign up now (no cost… no obligation) to receive my Blog Post email alerts: http://eepurl.com/cKLJdL
And a Third: I am available for Nature-Inspired Speaking, Writing, and Consulting — contact me at steve.jones.0524@gmail.com
Reminder of my Personal and Professional Purpose, Passion, and Cause
If only more of us viewed our precious environment through the filters I employ. If only my mission and vision could be multiplied untold orders of magnitude:
Mission: Employ writing and speaking to educate, inspire, and enable readers and listeners to understand, appreciate, and enjoy Nature… and accept and practice Earth Stewardship.
Vision:
People of all ages will pay greater attention to and engage more regularly with Nature… and will accept and practice informed and responsible Earth Stewardship.
They will see their relationship to our natural world with new eyes… and will understand more clearly their Earth home.
Tagline/Motto: Steve (Great Blue Heron) encourages and seeks a better tomorrow through Nature-Inspired Living!
Steve's Three Books
I wrote my books Nature Based Leadership (2016), Nature-Inspired Learning and Leading (2017), and Weaned Seals and Snowy Summits: Stories of Passion for Place and Everyday Nature (2019; co-authored with Dr. Jennifer Wilhoit) to encourage all citizens to recognize and appreciate that every lesson for living, learning, serving, and leading is either written indelibly in or is powerfully inspired by Nature.
I began writing books and Posts for several reasons:
I love hiking and exploring in Nature
I see images I want to (and do) capture with my trusty iPhone camera
I enjoy explaining those images — an educator at heart
I don't play golf!
I actually do love writing — it's the hobby I never needed when my career consumed me
Judy suggested my writing is in large measure my legacy to our two kids, our five grand kids, and all the unborn generations beyond
And finally, perhaps my books and Blogs could reach beyond family and touch a few other lives… sow some seeds for the future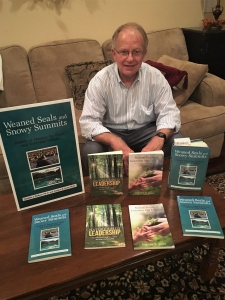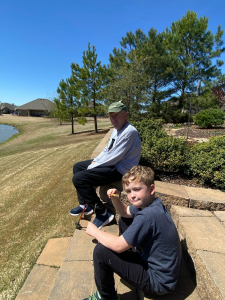 All three of my books (Nature Based Leadership; Nature-Inspired Learning and Leading; Weaned Seals and Snowy Summits) present compilations of personal experiences expressing my (and co-author Dr. Wilhoit for Weaned Seals and Snowy Summits) deep passion for Nature. All three books offer observations and reflections on my relationship to the natural world… and the broader implications for society. Order any and all from your local indie bookstore, or find them on IndieBound or other online sources such as Amazon and LifeRich.
http://stevejonesgbh.com/wp-content/uploads/2022/04/04.03.22-10.58-am-04.03.22-10.58-am-med.jpg
1200
900
Steve Jones
http://stevejonesgbh.com/wp-content/uploads/2017/01/gbhweblogo.png
Steve Jones
2022-05-18 10:03:22
2022-05-18 10:03:22
An Early April Day of Spiritual Renewal!