I participated January 28-29, 2022, in the Focus on Nature (Nature Photography) Workshop at Alabama's Joe Wheeler State Park. Sunday morning (1/30) I hiked the Blue Loop Trail shortly after sunrise. This Post offers photos, observations, and reflections on the declining black locust component in the upland forest along the trail. I report also on the two State Champion trees along the Blue Loop Trail.
Blue Loop Trail Black Locust Deterioration
Black locust is an old field, early successional pioneer species. The vast majority of Joe Wheeler's current forestland had been previously in some form of agriculture (tilled or pastured), since abandoned. The land naturally regenerated with pioneer tree species like black locust, Eastern red cedar, and black cherry, all prolific seed-producers, bird-desseminated, rapid-growing, and demanding full sunlight. None of the three grow well under  even the partial shade of a forest canopy. All three are relatively short-lived. I won't speak to the fate of our forests' black cherry and red cedar in this Post. I urge curious readers to seek additional information from this online US Forest Service publication on the silvics of black locust: https://www.srs.fs.usda.gov/pubs/misc/ag_654/volume_2/robinia/pseudoacacia.htm.
Important quotes from the publication:
Black locust is a pioneer type, usually man-influenced, and temporary.
It follows disturbances and may be natural or planted.
The (black locust forest) type is found locally throughout the Eastern United States and in southern Canada. Black locust makes up a majority of the stand during early stages but is short lived and seldom matures to a sawtimber stand.
A wide variety of species become associated with black locust and usually replace most of it.
On good sites, single trees or small groups may persist, grow to a large size, and form a small part of the ultimate canopy layer.
Across northern Alabama I see diseased black locust fading from forest stands, showing evidence of serious fungal infection (heart decay) and crown dieback. The black locust decline along the Blue Loop Trail is well underway and advancing rapidly. The dead 18-inch diameter locust below evidences long term internal decay, witness the hollow butt log. The forest floor beyond is littered with dead and down locust debris. What was once a locust-dominated forest is transitioning to hackberry and oak.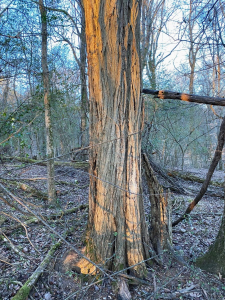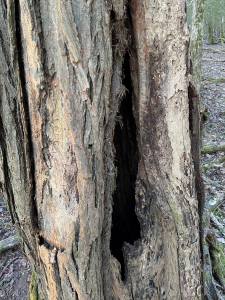 The two vertical photographs of the same tree show a close up of the bark and an extended view into the obviously dead canopy with most small and medium branches already shed to the forest floor. The tree to the locust's lower left is an adjacent hackberry (more shade tolerant than locust) which is persisting the shade of the locust.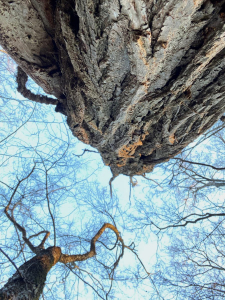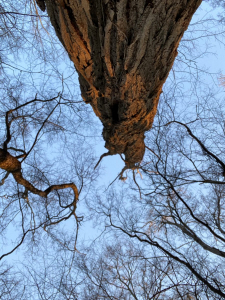 The hackberry (to the right below) will now reach into the upper canopy, lasting well beyond the life of the stand's last surviving black locust. Such is the way of forest succession. Individual forest trees compete for available sunlight. Locust excells during the early stages of stand development, producing prodigous seeds that are widely distributed by wildlife, then fading because of multiple insects (e.g., wood borers),  diseases, and physical (wind and ice) damage.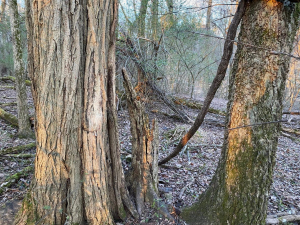 This individual looks healthy and vibrant to the casual hiker. It appears unaffected by any agent of death.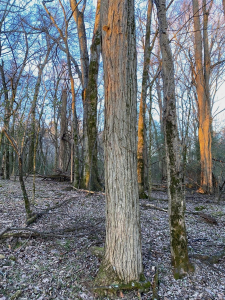 However, 20-feet above the ground, a cluster of cracked cap polypore fruiting brackets belie the impression of vigor and health. From the online Fungus Fact Friday:
Phellinus robiniae, commonly known as the "Cracked Cap Polypore," is a woody bracket fungus that is most easily identified by its habitat. This fungus grows almost exclusively on locust trees. In fact, the fungus is such a common pathogen of locusts that nearly every Black Locust tree has at least one P. robiniae mushroom on it. The mushroom is also distinguished by its furrowed cap – which gives the fungus its common name – and its dull brown pore surface.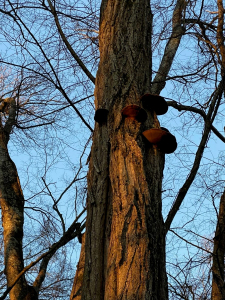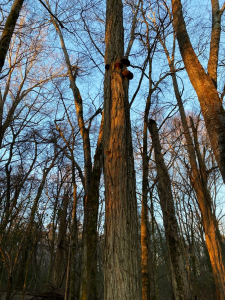 Here is an intact cracked cap bracket on a locust stem recently fallen to the forest floor at Monte Sano State Park. Many brackets on standing trees are too high for me to snap a decent photo with my iPhone.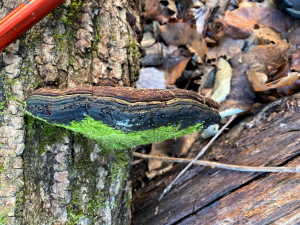 The deteriorating black locust stand along the Blue Loop Trail keep trail maintenance crews busy cutting and clearing fallen locust debris from the trail.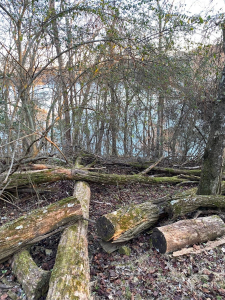 As I've said repeatedly in these Posts, nothing in Nature is static. The dance of life and death in our forests is constant and never ending. Death initiates at the moment of birth. Individual trees come and go; only the forest persists, ever-changing. I often rely upon noted naturalists or wise forebearers for apt words. Albert Einstein captured relevant wisdom through observation:
Like indvidual trees and the forest, Our death is not an end if we can live on in our children and the younger generation. For they are us. Our bodies are only wilted leaves on the tree of life. That is, annually shed leaves are to the tree as inividual tree death is to the forest.
Blue Trail State Champion Trees
The Blue Trail loops past two State Champion trees. This September elm stands near the bluff overlooking Lake Wheeler.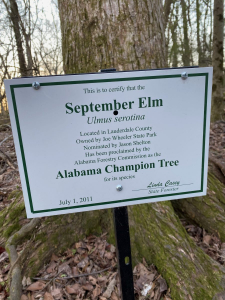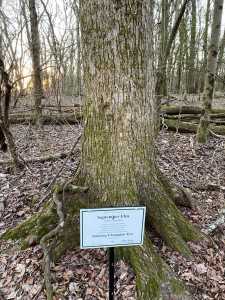 The State Champion chinkapin oak also stands along the bluff. Lake Wheeler lies visible beyond.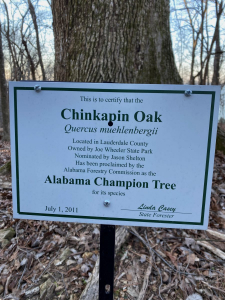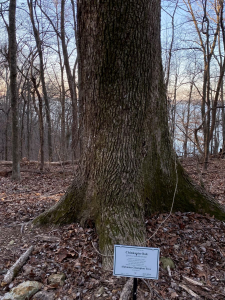 I covered the Blue Loop Trail in well under two hours, beginning at sunrise. I suppose a speedy hiker, intent only upon covering the distance, could have easily circuited the loop in 30 minutes. That wasn't my intent, nor is it ever for me. I am sure I missed much along the way, yet I saw so much more than most who trek the loop. Always, when I draft these Posts weeks later, I regret not having explored more deeply. I see blanks that I wish I had filled; questions I wish I had considered; and photographs I failed to take. I am learning…I shall never stopping learning. Education is a lifelong endeavor.
Alabama State Parks Foundation
Thoughts and Reflections
I offer these observations:
Lessons are written along every forest trail
Life and death dance continuously within all forests and across all of Nature.
As in all human enterprises, throughout Nature there are winners and losers. State Champion Trees are among Nature's winners. 
Inhale and absorb Nature's elixir. May Nature Inspire, Inform, and Reward you!
Note: All blog post images created & photographed by Stephen B. Jones unless otherwise noted. Please circulate images with photo credit: "©2022 Steve Jones, Great Blue Heron LLC. All Rights Reserved."
Another Note: If you came to this post via a Facebook posting or by an another route, please sign up now (no cost… no obligation) to receive my Blog Post email alerts: http://eepurl.com/cKLJdL
And a Third: I am available for Nature-Inspired Speaking, Writing, and Consulting — contact me at steve.jones.0524@gmail.com
Reminder of my Personal and Professional Purpose, Passion, and Cause
If only more of us viewed our precious environment through the filters I employ. If only my mission and vision could be multiplied untold orders of magnitude:
Mission: Employ writing and speaking to educate, inspire, and enable readers and listeners to understand, appreciate, and enjoy Nature… and accept and practice Earth Stewardship.
Vision:
People of all ages will pay greater attention to and engage more regularly with Nature… and will accept and practice informed and responsible Earth Stewardship.
They will see their relationship to our natural world with new eyes… and will understand more clearly their Earth home.
Tagline/Motto: Steve (Great Blue Heron) encourages and seeks a better tomorrow through Nature-Inspired Living!
Steve's Three Books
I wrote my books Nature Based Leadership (2016), Nature-Inspired Learning and Leading (2017), and Weaned Seals and Snowy Summits: Stories of Passion for Place and Everyday Nature (2019; co-authored with Dr. Jennifer Wilhoit) to encourage all citizens to recognize and appreciate that every lesson for living, learning, serving, and leading is either written indelibly in or is powerfully inspired by Nature.
I began writing books and Posts for several reasons:
I love hiking and exploring in Nature
I see images I want to (and do) capture with my trusty iPhone camera
I enjoy explaining those images — an educator at heart
I don't play golf!
I actually do love writing — it's the hobby I never needed when my career consumed me
Judy suggested my writing is in large measure my legacy to our two kids, our five grand kids, and all the unborn generations beyond
And finally, perhaps my books and Blogs could reach beyond family and touch a few other lives… sow some seeds for the future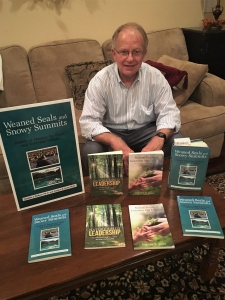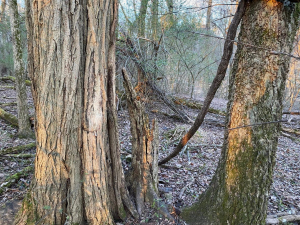 All three of my books (Nature Based Leadership; Nature-Inspired Learning and Leading; Weaned Seals and Snowy Summits) present compilations of personal experiences expressing my (and co-author Dr. Wilhoit for Weaned Seals and Snowy Summits) deep passion for Nature. All three books offer observations and reflections on my relationship to the natural world… and the broader implications for society. Order any and all from your local indie bookstore, or find them on IndieBound or other online sources such as Amazon and LifeRich.
http://stevejonesgbh.com/wp-content/uploads/2022/02/IMG_2597-1.jpg-01.30.22-7.13-AM-Another-Dead-BL.jpg
1200
900
Steve Jones
http://stevejonesgbh.com/wp-content/uploads/2017/01/gbhweblogo.png
Steve Jones
2022-03-22 13:15:35
2022-03-22 13:15:35
Black Locust Decline and Two Champion Trees at Joe Wheeler State Park