The Narrows
September 10, 2021, I hiked the six-mile out and back paved section of the Greater Allegheny Passage rails-to-trail through the Narrows in western Maryland. The Narrows reach 1,000 feet to cliffs and rimrock above Wills Creek, which flows into the Potomac River in Cumberland. My purpose with this Post is to chronicle the late summer flowering plants trailside within the gorge. See my December 14, 2021, Post on Cumberland and the Narrows at the intersection of human and natural history: http://stevejonesgbh.com/wp-admin/post.php?post=9653&action=edit&classic-editor=1
Early September (the tenth) at 39.65 degrees north latitude lies at the juncture of late summer and early autumn, still too warm for fall, yet, offering days of occasional warm sun and comfortable nights. Forest green prevails on slopes of the Narrows; summer wildflowers remain vibrant and colorful along the trail. These two views look upstream into the Narrows.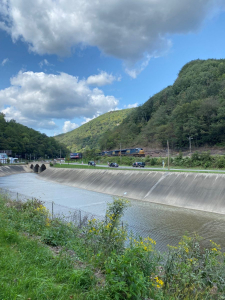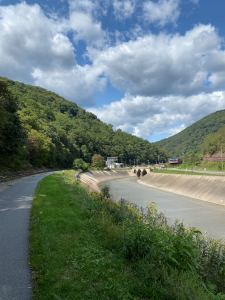 The view downstream at the far end likewise shows only a bit of forest yellowing.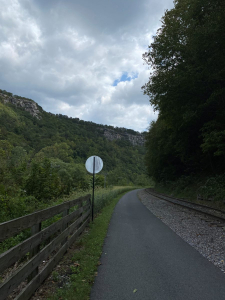 The same holds true at mid-point. The date of peak fall color is closely aligned with the average date of first freeze, which for Cumberland is October 16. Peak fall foliar color for Cumberland is mid-October.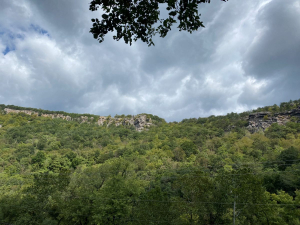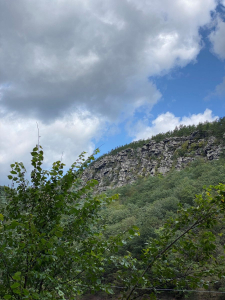 Late Summer and Early Fall
Nature of the Narrows
Wingstem stood in full flower all along the trail. Powdery mildew on leaves, below right, portend the end of its season.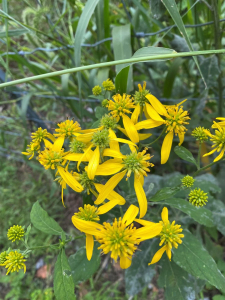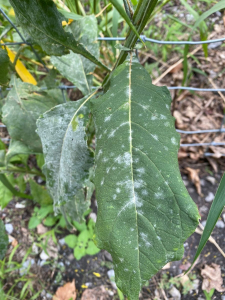 Evening primrose rivaled the wingstem's golden hues but fell short of the wingstem's abundance.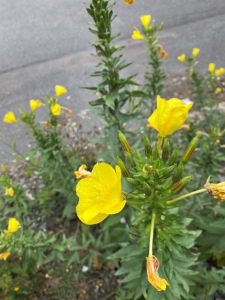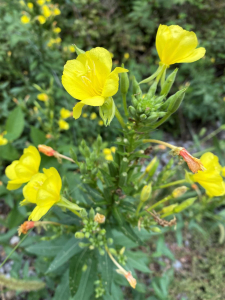 Dayflower proudly displayed its deep sky-blue flowers.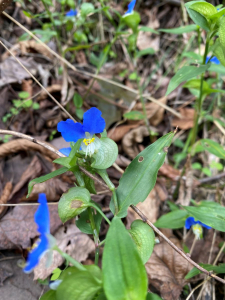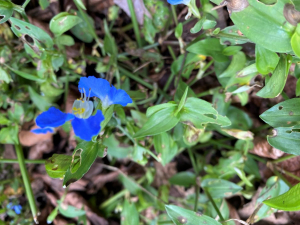 Long a favorite of mine, common milkweed, which had long since flowered, carried its seed pods in full view, counting on a drying sun to split its husk and await the autumn breezes for seed dispersal. I remember with fondness holding such dispersal-ready pods aloft and blowing the seed fairies into the wind. I suppose even today I would still enjoy such human-assisted dispersal with a sense of youthful mirth!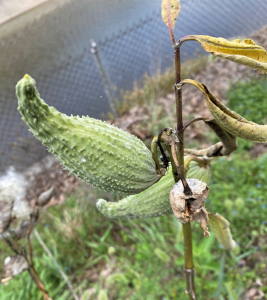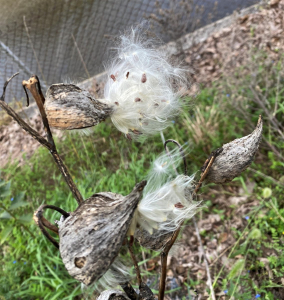 The cycle of seed dispersal, overwintering in suitable soil, spring germination, summer growth, flowering, pollination, and fruiting continues year after year. So, too, does the monarch butterfly cycle of life spin year after year in harmony with its primary host, the common milkweed. The maturing monarch caterpillar still feeds. Soon it will form its chrysalis. Available internet sources elucidate the complex life cycle of this insect that is fully interdependent with our common milkweed.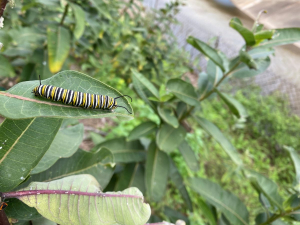 The large milkweed bugs below, likewise feeding on their milkweed host, include both nymph and adult forms. The milkweed bugs have only three life cycle stages: egg, nymph, and adult.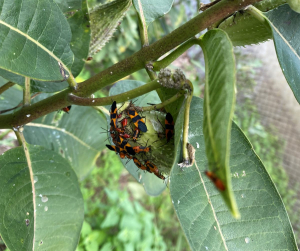 I've never been a fan of jimsonweed, and the West Virginia Cooperative Extension online source justifies my predisposition:
Jimsonweed is a weed of concern for both humans and livestock, owing its poisonous nature to certain alkaloids present in all plant parts, especially in the seeds. It belongs to the nightshade family (Solanaceae) and possesses a disagreeable odor… Jimsonweed thrives in cultivated fields, overgrazed pastures, and waste lots. Animals typically stay away from this distasteful weed while foraging; however, accidental poisoning has occurred when desirable plants or water are in short supply during the hot summer months. Children who are attracted by its large, showy flowers have occasionally been poisoned by accidental consumption of the nectar or petals.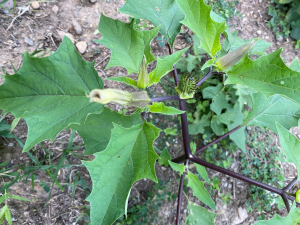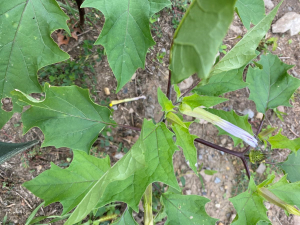 Japanese knotweed is yet another obnoxious interloper, described by Penn State Extension online:
Japanese knotweed (Fallopia japonica) is an invasive perennial and noxious weed in PA.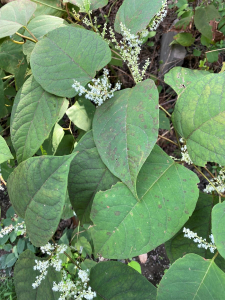 However, were I unaware of its aggressive invasive nature, I might consider its luxuriant flowers and attractive pendulant seedheads as a real looker. Funny how where we stand depends upon where we sit. We all gauge beauty through our own filters, whether conscious of them or not.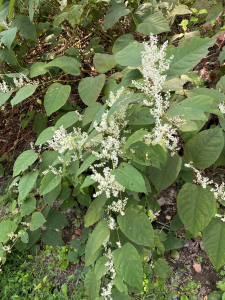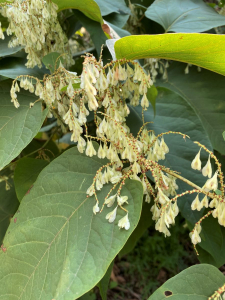 I spotted just one colony of oriental bittersweet. Its yellow fruit caught my eye. Once again, however, my appreciation waned as I recognized it…and quadrupled when I looked it up in an online Penn State source:
Oriental bittersweet (Celastrus orbiculatus) was introduced to the United States in the 1860s from east Asia. This woody, deciduous, perennial vine has since naturalized and become an extremely aggressive and damaging invader of natural areas. Oriental bittersweet chokes out desirable native plants by smothering them with its dense foliage and strangling stems and trunks. In some areas, it forms nearly continuous blankets along entire stretches of woodlands. Despite its aggressive nature and capacity to replace native plant communities, it is still sold and planted as an ornamental.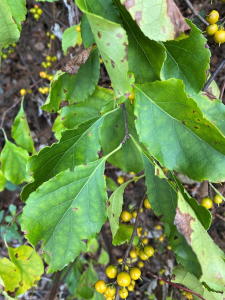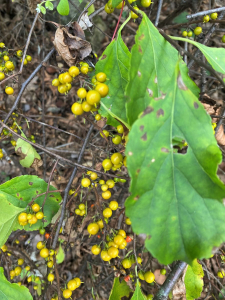 Looking back (through the trestle at the far end of the Narrows), I pondered the fact that on this shrinking planet (relative…not literal) we are realizing that no ocean is wide enough in these days of intercontinental travel to constrain a species to its place of origin. Just as the railroad carried people, seeds, and diseases across North America a century ago, planes and ships ply the oceans and airways incessantly. Will we eventually journey through space introducing Nature and human nature, elements good and not-so-good, interplanetary and intergalactically? I have heard speculations that long-ago space travelers planted the seed of life on Earth, and that all Earth life derived from that spawn. I don't know about that. However, I do know that all life on planet Earth is precious, and that our one Earth, alone in the vast darkness of space, sustains us. We have a life and death obligation to practice informed and responsible Earth stewardship.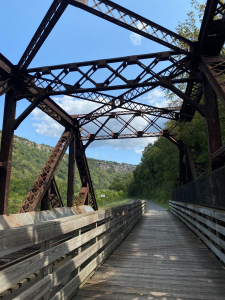 The view back through the trestle symbolizes 250 years of European westward expansion and settlement, as well as 13,000 years of American Indian occupation. For me, the three-mile (each way) out-and-back hike retraced my own 70-year life-journey that began downstream where Wills Creek emptied into the Potomac River. I thought, too, about how Nature is rewilding an abandoned railroad right-of-way…a linear wound…through this gorge steeped with history. I contemplated how Nature seems oblivious to whether she naturalizes and re-wilds with native plants or invasive species.
Thoughts and Reflections
I offer these observations:
Nature, in time, heals all wounds.
We all gauge beauty through our own filters, whether conscious of them or not.
The older I grow, the deeper my appreciation for Nature's simplest of marvels.
Inhale and absorb Nature's elixir. May Nature Inspire, Inform, and Reward you!
Note: All blog post images created & photographed by Stephen B. Jones unless otherwise noted. Please circulate images with photo credit: "©2021 Steve Jones, Great Blue Heron LLC. All Rights Reserved."
Another Note: If you came to this post via a Facebook posting or by another route, please sign up now (no cost… no obligation) to receive my Blog Post email alerts: http://eepurl.com/cKLJdL
And a Third: I am available for Nature-Inspired Speaking, Writing, and Consulting — contact me at steve.jones.0524@gmail.com
Reminder of my Personal and Professional Purpose, Passion, and Cause
If only more of us viewed our precious environment through the filters I employ. If only my mission and vision could be multiplied untold orders of magnitude:
Mission: Employ writing and speaking to educate, inspire, and enable readers and listeners to understand, appreciate, and enjoy Nature… and accept and practice Earth Stewardship.
Vision:
People of all ages will pay greater attention to and engage more regularly with Nature… and will accept and practice informed and responsible Earth Stewardship.
They will see their relationship to our natural world with new eyes… and will understand more clearly their Earth home.
Tagline/Motto: Steve (Great Blue Heron) encourages and seeks a better tomorrow through Nature-Inspired Living!
Steve's Three Books
I wrote my books Nature Based Leadership (2016), Nature-Inspired Learning and Leading (2017), and Weaned Seals and Snowy Summits: Stories of Passion for Place and Everyday Nature (2019; co-authored with Dr. Jennifer Wilhoit) to encourage all citizens to recognize and appreciate that every lesson for living, learning, serving, and leading is either written indelibly in or is powerfully inspired by Nature.
I began authoring books and Posts for several reasons:
I love hiking and exploring in Nature
I see images I want to (and do) capture with my trusty iPhone camera
I enjoy explaining those images — an educator at heart
I don't play golf!
I do love writing — it's the hobby I never needed when my career consumed me
Judy suggested my writing is in large measure my legacy to our two kids, our five grand kids, and all the unborn generations beyond
And finally, perhaps my books and Blogs could reach beyond family and touch a few other lives… sow some seeds for the future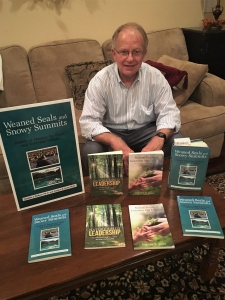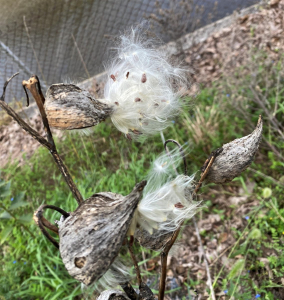 All three of my books (Nature Based Leadership; Nature-Inspired Learning and Leading; Weaned Seals and Snowy Summits) present compilations of firsthand experiences expressing my (and co-author Dr. Wilhoit for Weaned Seals and Snowy Summits) deep passion for Nature. All three books offer observations and reflections on my relationship to the natural world… and the broader implications for society. Order from your local indie bookstore or find them on IndieBound or other online sources such as Amazon and LifeRich.
http://stevejonesgbh.com/wp-content/uploads/2021/09/IMG_0548.jpg-09.10.21-Cumberland-Intersection.jpg
1200
900
Steve Jones
http://stevejonesgbh.com/wp-content/uploads/2017/01/gbhweblogo.png
Steve Jones
2021-12-27 13:55:18
2021-12-27 13:55:18
A Naturalist's View of the Narrows in Cumberland, MD