Rugged Central Appalachians
The second week of September 2021, I returned to my hometown of Cumberland, Maryland, nestled along the Potomac River in the central Appalachians. I left Cumberland for my junior year of forestry undergraduate studies out of state in 1971. Over the course of 13 career-related interstate moves, family visits brought us back to western Maryland an average of twice annually. We missed those ancient Appalachians. Each time we entered the familiar landscape we felt the homing beacon, like a tractor beam, drawing us closer with a felt sense of urgency. Such was the case in September, when I managed, like I always did, to seek some visceral comfort in local wildness. Here's a November 2019 Potomac River vista from a Green Ridge State Forest overlook just 30 miles downstream from Cumberland.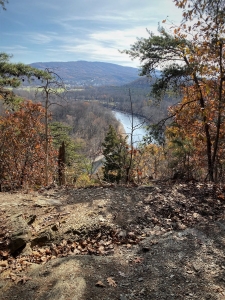 These rugged old mountains, long since eroded from their alpine, high elevation youth, nevertheless proved to be a formidable obstacle to the teeming coastal plain and piedmont residents eager to exploit and settle the fertile lands of the Ohio frontier and beyond. The Potomac River valley provided a corridor for reaching Cumberland, which served as a launching platform for ascending and crossing over the Allegheny Front. Thick forests blanketed the hills, providing abundant sawtimber, fenceposts, fuelwood, and charcoal. The inhabitants aggressively harvested, milled, and sometimes cleared the forests for field and pasture. Today the hills are once again heavily forested with naturally regenerated second growth (below left, a 90-year-old second-growth forest in the Tionesta Natural Area on the Allegheny Plateau in Pennsylvania). Photo below right from New Germany State Park (September 2021), located 20 miles west of Cumberland.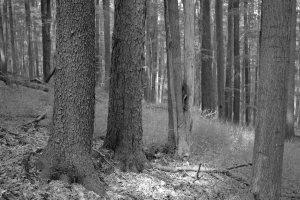 US Forest Service file photo.
Rocky Gap State Park (below left) is a high-end resort (hotel and casino) and wildland recreation destination just ten miles east of Cumberland. Evitts Mountain (beyond the lake) offers a pleasant view to the west (below right) from its 2,200-foot summit at the MD/PA line (both photos from a September 2020 hike).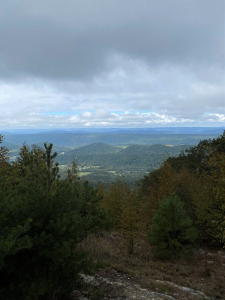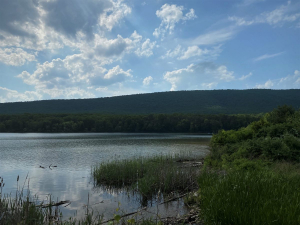 Geography funneled population through the Potomac River valley, concentrating mid-eighteenth-century development at the base of the Allegheny Front in Cumberland. Nature and natural resources shaped the settlement, prompted its industrial development, and now defines the area and much of the current recreation-based economy.
A Foothold at the Base of the Allegheny Front
The city and surrounding area tell a rich 270-year story at the intersection of human and natural history. The text below is posted on an interpretive sign near the preserved railroad station downtown.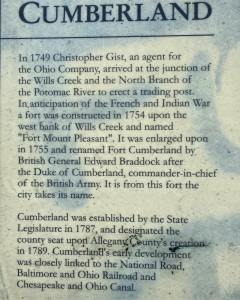 The city itself, an industrial hub when I grew up in the 1950s, is today a tourist destination. The once terribly polluted Potomac is now fishable and swimmable. The air is clean, absent smoke from multiple now-dormant coal-fired factories. Colonel Washington ventured west into the area multiple times. These were God-fearing people, who built consequential frontier churches that stand proudly yet.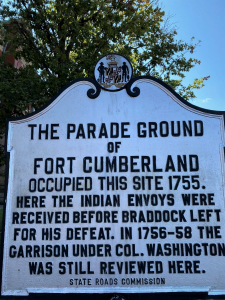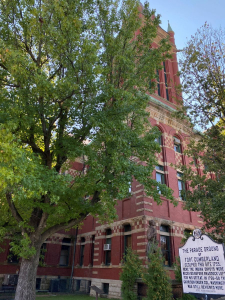 The rolling hills, populated with steeples, welcome visitors.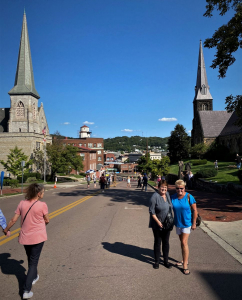 Our visit coincided with Annual Heritage days.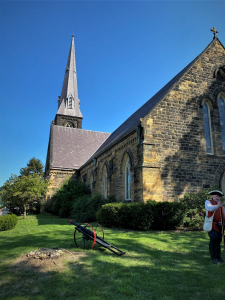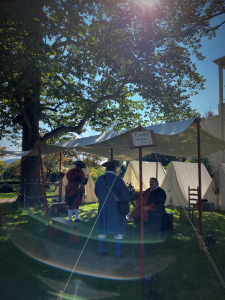 Cumberland's interpretive signs tell its story well.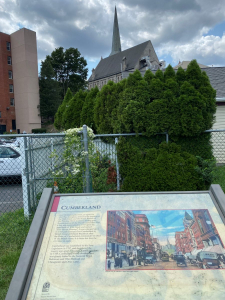 The Potomac River flows on from Cumberland (view upstream below left — see the steeples!). Downstream (below right) the river separates West Virginia (right bank) from Maryland, where I'm taking the photo.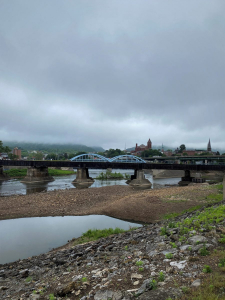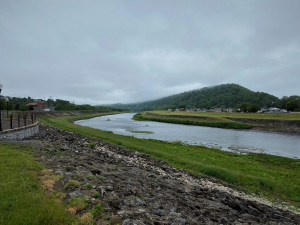 Cumberland is the western terminus of the Chesapeake and Ohio Canal. See my previous Post on reading the landscape along the canal: http://stevejonesgbh.com/2019/11/20/a-taste-of-mid-september-nature-at-the-co-canal-national-historic-park/. And another Post describing the Nature of the Canal's Paw Paw Tunnel and vicinity just 30 miles downstream of Cumberland: http://stevejonesgbh.com/2019/12/23/at-the-nexus-of-human-and-natural-history-paw-paw-tunnel/. The heavy wooden canal boats plied the 184.5 miles from Georgetown (Washington DC) until bankruptcy and the tremendous Potomac River flooding of 1924 forced the locks to close forever. Nature provided the flooding. Competition from the railroad furnished the other facet of the double whammy.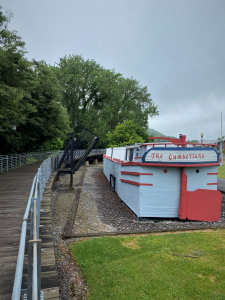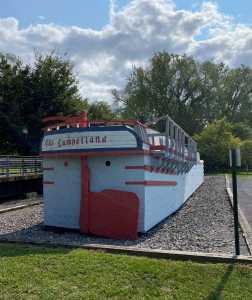 My maternal grandfather, a WWI combat veteran, drove trains from his base here at the Cumberland station. This rehabilitated steam engine makes tourist runs occasionally west, up the long grade to Frostburg, Maryland. Fall leaf season is particularly active.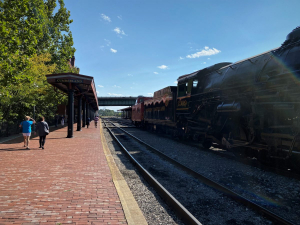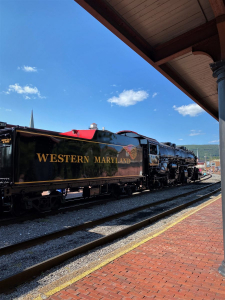 In combination, the railroad, canal, and National Highway brought people and commerce, and their westward itch to Cumberland. The road and railroad carried them beyond the Cumberland highland-launching platform.
Reaching for the Fertile Frontier Beyond
Fertile lands to the west beckoned, including these lush fields in eastern Ohio. The frontier and the promise of riches and a new life stretched nearly without end to the Mississippi River and beyond.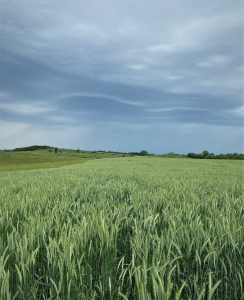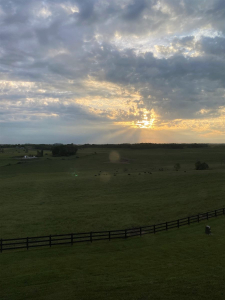 Crossing the Allegheny Front: Through the Narrows
The Allegheny Front presented challenges. Wills (north side) and Haystack Mountains (in combination, the Wills Mountain anticline) rise immediately to the west of Cumberland, 1,000 feet above the Potomac River. Nature helped in facilitating the crossing of these ridges. Cumberland, as the interpretive sign above states, is situated at the confluence of Wills Creek and the Potomac. Wills Creek passes through a water gap separating Wills and Haystack. The creek did not cut through the 1,000′ barrier. Instead, mountain building lifted the terrain through the creek, which cut and eroded through the rising land.
The photo point below left is at the Narrows rimrock on Wills Mountain, 1,000 feet above Wills Creek, flowing from right to left. The aerial view below right shows the exposed rimrock photo point (opposite side of view). Cumberland sits to the right. The Western Maryland and B&O Railroad lines bordered the creek and the National Road.
Both images from available online sources
From the abandoned WM bed on the Haystack side, I snapped this view upstream into the Narrows showing the creek (at this end modified for flood control), the concrete National Road bridge, and a train approaching on the still very active B&O side.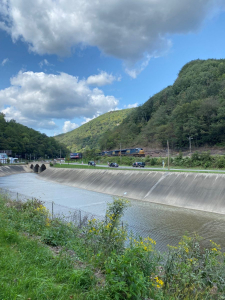 The Narrows is a remarkable natural geologic feature, another element of the array of attractions bringing tourists to Cumberland.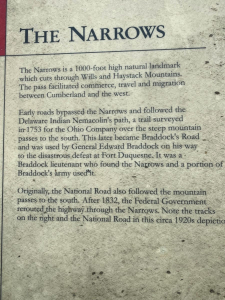 The old WM line is now the Great Allegheny Passage Rails to Trail (https://gaptrail.org/) connecting Cumberland to downtown Pittsburgh. I've biked it from Pittsburgh to Cumberland; I can attest to the website's description:
Starting in Cumberland, MD and ending in downtown Pittsburgh, the Great Allegheny Passage is a spectacular 150-mile nonmotorized path that soars over valleys, snakes around mountains, and skirts alongside the Casselman River, Youghiogheny River, and Monongahela River on a nearly-level, crushed-limestone surface. Tracing old footpaths and railroad corridors through the wilderness, it offers glimpses into the country's westward expansion and industrial might. When paired with the connecting C&O Canal Towpath, it makes long-distance trail travel possible between Pittsburgh and Washington, D.C.
I've also biked the connecting C&O Canal's 184.5 miles to Georgetown. Ironic, I suppose, that the very severe terrain that stalled western expansion instigated magnificent road, canal, and railroad engineering and construction that now serve as a recreational attraction. A compelling story is written indelibly at the intersection of human and natural history, now preserved in a manner that will intrigue and captivate generation after generation!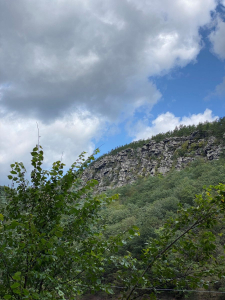 I walked six miles that recent September afternoon. The view below is looking downstream along the GAP Trail into the Narrows toward Cumberland. Such views echo my own life stories from the Cumberland area and trigger deep and pleasant nostalgia. I thought of my grandad piloting his train through the Narrows. Of Dad driving our 1959 Plymouth through the Narrows heading for a Sunday picnic. Of the many times returning to Cumberland and walking or biking this very trail. Of the Narrows telling the tales of Native trade routes, European settlement and conflict, floods and torrents, and a few hundred million years of mountain building and erosion.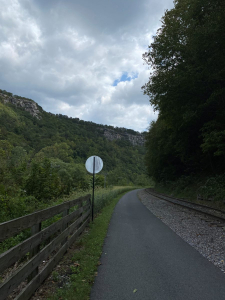 I turned around at this steel trestle that crosses Braddock Run, which empties into Wills Creek here at the upper end of the Narrows. On the left, only 147 miles to Pittsburgh; on the right, my three-mile return through the Narrows to Cumberland.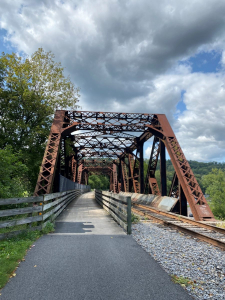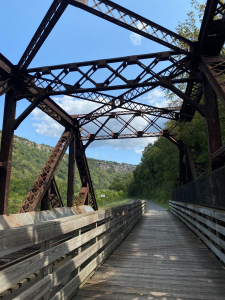 I mentioned the National Road — again, I welcome and relish the signage.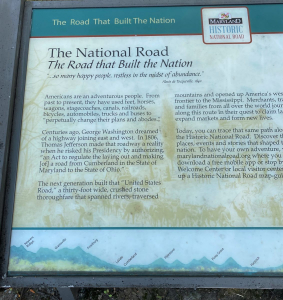 Watch for a subsequent Great Blue Heron Post on the Nature of the Narrows developed from this same trek.
Thoughts and Reflections
I offer these observations:
Compelling stories are written indelibly at the intersection of human and natural history.
My journeys into the Nature of my younger days trigger deep and pleasant nostalgia.
I have a profound passion for Place and Everyday Nature.
Inhale and absorb Nature's elixir. May Nature Inspire, Inform, and Reward you!
Note: All blog post images created & photographed by Stephen B. Jones unless otherwise noted. Please circulate images with photo credit: "©2021 Steve Jones, Great Blue Heron LLC. All Rights Reserved."
Another Note: If you came to this post via a Facebook posting or by another route, please sign up now (no cost… no obligation) to receive my Blog Post email alerts: http://eepurl.com/cKLJdL
And a Third: I am available for Nature-Inspired Speaking, Writing, and Consulting — contact me at steve.jones.0524@gmail.com
Reminder of my Personal and Professional Purpose, Passion, and Cause
If only more of us viewed our precious environment through the filters I employ. If only my mission and vision could be multiplied untold orders of magnitude:
Mission: Employ writing and speaking to educate, inspire, and enable readers and listeners to understand, appreciate, and enjoy Nature… and accept and practice Earth Stewardship.
Vision:
People of all ages will pay greater attention to and engage more regularly with Nature… and will accept and practice informed and responsible Earth Stewardship.
They will see their relationship to our natural world with new eyes… and will understand more clearly their Earth home.
Tagline/Motto: Steve (Great Blue Heron) encourages and seeks a better tomorrow through Nature-Inspired Living!
Steve's Three Books
I wrote my books Nature Based Leadership (2016), Nature-Inspired Learning and Leading (2017), and Weaned Seals and Snowy Summits: Stories of Passion for Place and Everyday Nature (2019; co-authored with Dr. Jennifer Wilhoit) to encourage all citizens to recognize and appreciate that every lesson for living, learning, serving, and leading is either written indelibly in or is powerfully inspired by Nature.
I began authoring books and Posts for several reasons:
I love hiking and exploring in Nature
I see images I want to (and do) capture with my trusty iPhone camera
I enjoy explaining those images — an educator at heart
I don't play golf!
I do love writing — it's the hobby I never needed when my career consumed me
Judy suggested my writing is in large measure my legacy to our two kids, our five grand kids, and all the unborn generations beyond
And finally, perhaps my books and Blogs could reach beyond family and touch a few other lives… sow some seeds for the future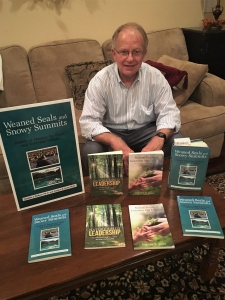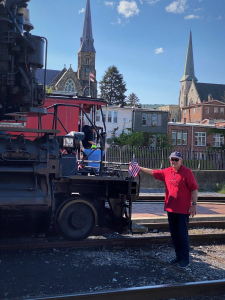 All three of my books (Nature Based Leadership; Nature-Inspired Learning and Leading; Weaned Seals and Snowy Summits) present compilations of firsthand experiences expressing my (and co-author Dr. Wilhoit for Weaned Seals and Snowy Summits) deep passion for Nature. All three books offer observations and reflections on my relationship to the natural world… and the broader implications for society. Order from your local indie bookstore, or find them on IndieBound or other online sources such as Amazon and LifeRich.
http://stevejonesgbh.com/wp-content/uploads/2021/09/IMG_0659.jpg-09.10.21-Cumberland-Intersection.jpg
1200
900
Steve Jones
http://stevejonesgbh.com/wp-content/uploads/2017/01/gbhweblogo.png
Steve Jones
2021-12-14 09:11:20
2021-12-14 09:11:20
Cumberland, Maryland: My Hometown...at the Intersection of Human and Natural History