At the north Alabama intersection of late summer and early fall, October 4, 2021, I hiked the Wells Memorial and Sinks Trails at nearby Monte Sano State Park with my two Alabama grandsons Jack and Sam. We explored the deep-cove cathedral forest with towering yellow poplars, admired some tree form oddities, and examined other non-tree curiosities we discovered along the way.
Wells Memorial and Sinks Trails
As morning clouds thinned that damp morning, we stopped at the overlook, standing at 1,600-feet, the boys' backs to the ENE. We drove from there to the new mountain bike pavilion, trailhead for the Sinks Trail.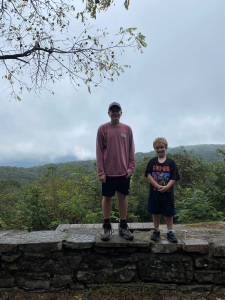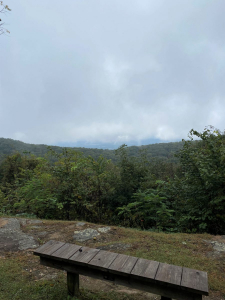 We dropped from there to the Wells Memorial Trail, transiting the loop to Keith and connecting back to Sinks. The deep cove forest trail is dedicated to the memory of William Arthur Wells, a former Monte Sano State Park CCC worker who joined the US Navy at the onset of WWII and died at the October 1944 Battle of Leyte Gulf. The trail passes through my favorite grove at Monte Sano. I've written frequently about this memorial trail: http://stevejonesgbh.com/2021/10/05/contemplating-a-video-tale-of-the-william-arthur-wells-memorial-trail-monte-sano-state-park/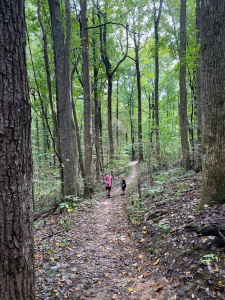 The boys posed at a cluster of basswood trees that originated from stump sprouts many decades ago.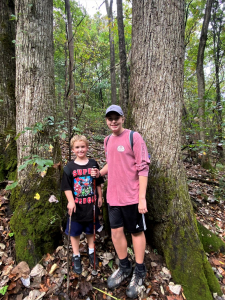 Tree Form Oddities
Always on the lookout for tree form oddities and curiosities, we discovered this critter peering at us from around a black oak. Although we had visited the grove many times, this was the creature's first appearance! A turtle? Dragon? Kin of ET? The woods present mysteries aplenty to those willing to lighten up, who invite their keen imagination to accompany them. I seldom leave home without mine. I know a little mirth enriches the learning experience…keeps the young at heart entertained, sparks their curiosity, and rewards their explorations. The scientist within me recognizes that the protuberant growth is an old broken branch stub morphed by callous tissue overgrowing (somewhat out of control) the old wound. How dull it would be to have left my imagination at home, or worse yet, to have abandoned it in my youth.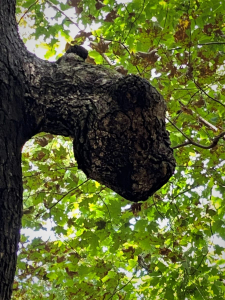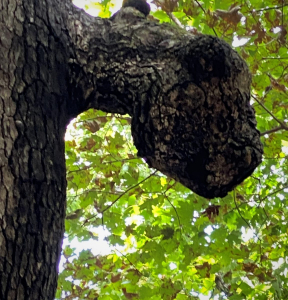 Sam ventured hesitantly close to this gnarled red oak, enchanted (and not just a little unnerved) by the tree's emergence from The Hobbit or Sleepy Hollow! Long ago injured and infected with decay fungi, this massively-burled oak is simply striving to stay vertical as its heartwood rots, maintaining life and producing acorns to continue its lineage with future generations that may escape early-life injury, and grow unimpaired and without what we foresters consider commercial defect and disfigurement.
Allow me to paraphrase a relevant John Muir quote:
God never made an ugly tree (Muir said 'landscape'). All that sun shines on is beautiful, so long as it is wild.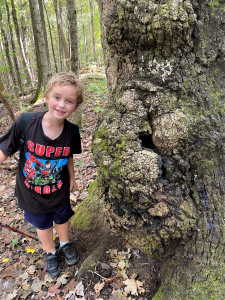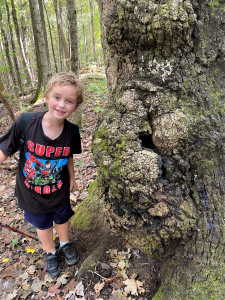 Not far away we spotted a five-foot-diameter circumferential white oak burl 20 feet above ground. I view such burls as akin to a benign cancer triggered by bacterial, viral, fungal, or some combination of agents introduced decades ago via injury, perhaps as casual a wound as a woodpecker searching for grubs.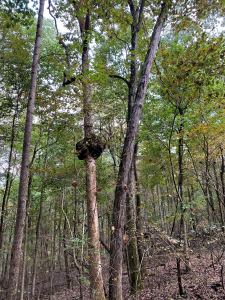 I pondered aloud with the boys how many hikers and bikers pass within sight of these curiosities without notice. What else do they miss? All manner of woods magic lies hidden in plain sight.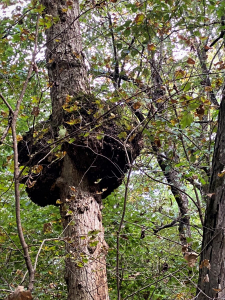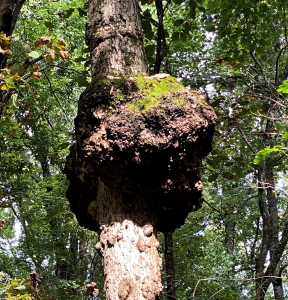 I wondered whether J.R.R. Tolkien or C.S. Lewis saw magic in forests and places they visited, stimulating the enchantment of their writing. I am convinced that imaginative minds see the wonder in plain sight. What I see does not create the fantasy so much as what I imagine allows me to see the wizardry that is in plain sight.
Again, John Muir:
The power of imagination makes us infinite.
Non-Tree Features
We stumbled upon what is my lifetime favorite type of fern, the maidenhair. I offer several reasons why it is special to me. It is not common here, nor have I found it in abundance wherever we've lived. Maidenhair, although hardy, appears delicate, with its very small and lace-like fronds. Its fan-shaped leaves typically clustered on wiry black stems add another distinct characteristic. And I like clump-style ferns.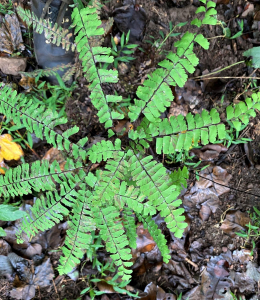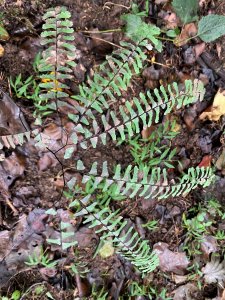 Having risen to the level of accomplished novice aficionado (a triple oxymoron?) of wild edible mushrooms, even when I am not foraging, I delight in seeing species I know are edible, including honey (left) and oyster.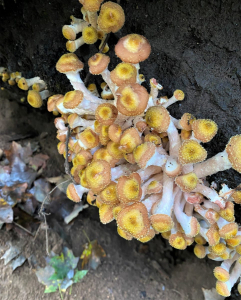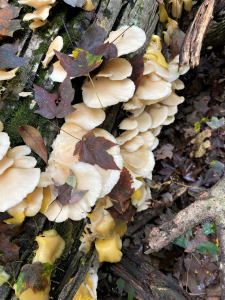 Sam spotted this angle-winged katydid. He paused as we hiked, pointing to his left. Jack and I looked some distance trailside, thinking he was directing our attention at a tree well off the path. Instead, he corrected us, the katydid perched just three inches from his finger. I complimented his observation skills, applauded his interest, and identified the insect with iNaturalist. I can think of few things more rewarding to Pap than seeing the boys express interest in and pay attention to Nature.
Richard Louv, Last Child in the Woods:
The children and nature movement is fueled by this fundamental idea: the child in nature is an endangered species, and the health of children and the health of the Earth are inseparable.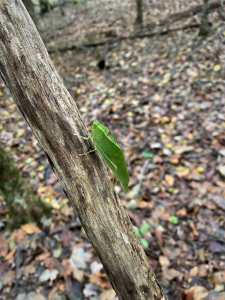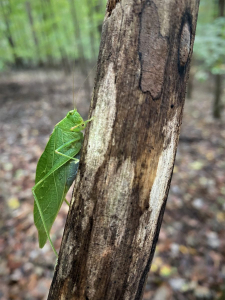 We discover more than we anticipate every time we enter the forest. John Muir said it well:
In every walk with nature one receives far more than he seeks.
Alabama State Parks Foundation
Thoughts and Reflections
I offer these observations:
The child in nature is an endangered species, and the health of children and the health of the Earth are inseparable (Richard Louv).
I can think of few things more rewarding than seeing my grandchildren express interest in and pay attention to Nature.
The power of imagination makes us infinite (John Muir). 
Inhale and absorb Nature's elixir. May Nature Inspire, Inform, and Reward you!
Note: All blog post images created & photographed by Stephen B. Jones unless otherwise noted. Please circulate images with photo credit: "©2021 Steve Jones, Great Blue Heron LLC. All Rights Reserved."
Another Note: If you came to this post via a Facebook posting or by an another route, please sign up now (no cost… no obligation) to receive my Blog Post email alerts: http://eepurl.com/cKLJdL
And a Third: I am available for Nature-Inspired Speaking, Writing, and Consulting — contact me at steve.jones.0524@gmail.com
Reminder of my Personal and Professional Purpose, Passion, and Cause
If only more of us viewed our precious environment through the filters I employ. If only my mission and vision could be multiplied untold orders of magnitude:
Mission: Employ writing and speaking to educate, inspire, and enable readers and listeners to understand, appreciate, and enjoy Nature… and accept and practice Earth Stewardship.
Vision:
People of all ages will pay greater attention to and engage more regularly with Nature… and will accept and practice informed and responsible Earth Stewardship.
They will see their relationship to our natural world with new eyes… and will understand more clearly their Earth home.
Tagline/Motto: Steve (Great Blue Heron) encourages and seeks a better tomorrow through Nature-Inspired Living!
Steve's Three Books
I wrote my books Nature Based Leadership (2016), Nature-Inspired Learning and Leading (2017), and Weaned Seals and Snowy Summits: Stories of Passion for Place and Everyday Nature (2019; co-authored with Dr. Jennifer Wilhoit) to encourage all citizens to recognize and appreciate that every lesson for living, learning, serving, and leading is either written indelibly in or is powerfully inspired by Nature.
I began writing books and Posts for several reasons:
I love hiking and exploring in Nature
I see images I want to (and do) capture with my trusty iPhone camera
I enjoy explaining those images — an educator at heart
I don't play golf!
I actually do love writing — it's the hobby I never needed when my career consumed me
Judy suggested my writing is in large measure my legacy to our two kids, our five grand kids, and all the unborn generations beyond
And finally, perhaps my books and Blogs could reach beyond family and touch a few other lives… sow some seeds for the future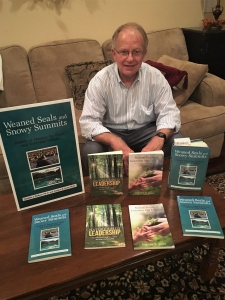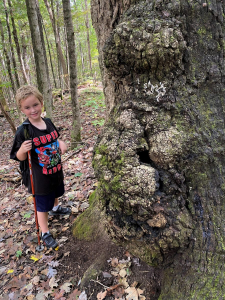 All three of my books (Nature Based Leadership; Nature-Inspired Learning and Leading; Weaned Seals and Snowy Summits) present compilations of personal experiences expressing my (and co-author Dr. Wilhoit for Weaned Seals and Snowy Summits) deep passion for Nature. All three books offer observations and reflections on my relationship to the natural world… and the broader implications for society. Order any and all from your local indie bookstore, or find them on IndieBound or other online sources such as Amazon and LifeRich.
http://stevejonesgbh.com/wp-content/uploads/2021/10/IMG_0864-1.jpg-10.04.21-Monte-Sano-Wells-Trail.jpg
1200
900
Steve Jones
http://stevejonesgbh.com/wp-content/uploads/2017/01/gbhweblogo.png
Steve Jones
2021-12-02 06:50:21
2021-12-02 06:50:21
Early October Foray at Monte Sano State park