Bottomland Hardwood Forest along the Tennessee River in Madison County, Alabama
October 9, 2021, a friend and I roamed a mature bottomland hardwood forest searching for mushrooms that we anticipated would be flourishing after nearly three inches of rain fell the week prior. We were not disappointed.
We hit the jackpot with honey mushrooms (Armlillaria mellea and Armillaria tabescens). From MushroomExpert.com, The classic "honey mushroom," Armillaria mellea, was first named from Europe in the 18th Century; here in North America it turns out to be limited to roughly the eastern half of North America, from about the Great Lakes to the Gulf Coast and the East Coast—although it has also been reported from northern California. It grows in tightly packed clusters, usually on the wood of hardwoods. We spotted a 30-inch diameter standing dead red oak as soon as we entered the forest, its entire basal circumference sprouting dense clusters of fresh honeys.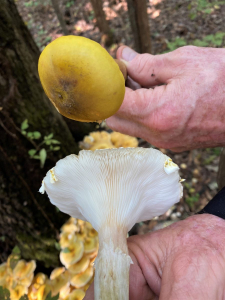 We celebrated our good fortune. However, I reminded myself that my forest pathology course during undergraduate forestry school highlighted Armillaria mellea as a serious hardwood forest pathogen. From an NC State University online article on soil-borne pathogens: Armillaria mellea, and probably other closely related species, is one of the most common fungi in forest soil. They live on the coarse roots and lower stems of conifers and broad-leaved trees. As parasites, the fungi cause mortality, wood decay, and growth reduction. They infect and kill trees that have been already weakened. The fungi also infect healthy trees, either killing them outright or predisposing them to attacks by other fungi or insects. I recall focusing on the disease and the signs and symptons of infection. I simply can not remember anything about its reproductive structure. I knew nothing about its mushrooms, much less their edibility!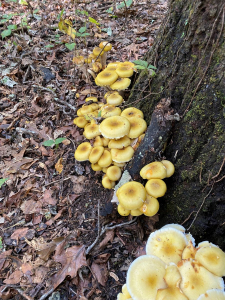 .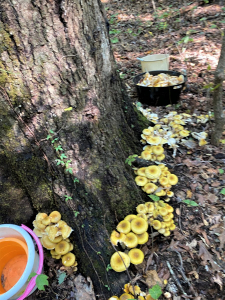 We also found abundant clusters of ringless honey mushrooms (Armillaria tabescens), below clustering around two different snags already well decayed. Like the mellea, the tabescens were at their peak freshness. Both species added color and beauty to the late summer otherwise dull forest floor.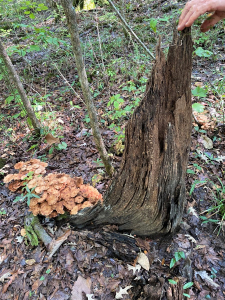 The close-up below left reveals the beauty of this small cluster. During the week following our foraging trip, I noticed tabescens in my neighborhood woodlot fading rapidly, transitioning to the post-ripeness condition below right. This apparent rate of in-the-wild-spoiling concerns me. I wonder whether it means that the honey mushroom season is short. I will continue to montior and learn.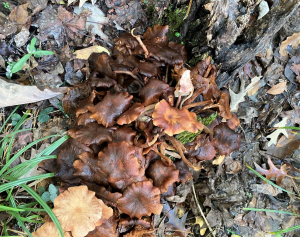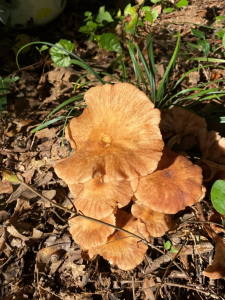 We also found a single (seven pound) hen of the woods. From MushroomExpert.com: Grifola frondosa, sometimes called the "hen of the woods" and the "maitake," is a soft-fleshed polypore recognized by its smoky brown, wavy caps, which are organized in large clusters of rosettes arising from a single, branched stem structure. It is usually found near the bases of oaks, where it causes a butt rot. The site characterizes this fungus as weakly parasitic (growing on live trees) and extensively saprobic, feeding on dead wood.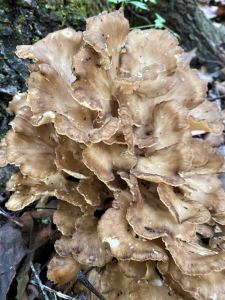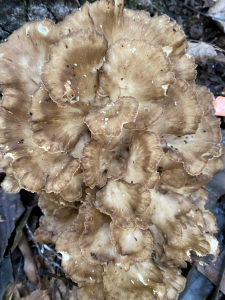 These two photographs present the hen in full sunlight on the tailgate. The left image is the cluster top; the lighter color below right is its underside.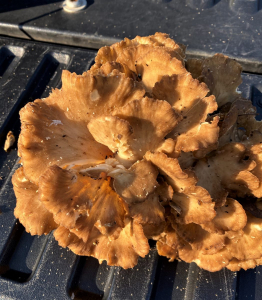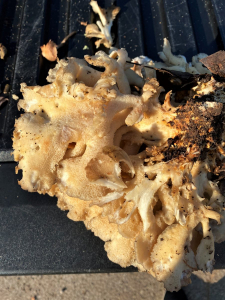 I found the lightly battered and fried hen scrumptious!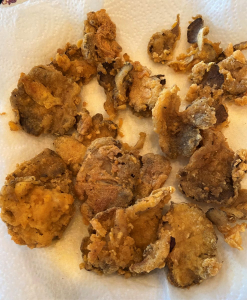 Because I had recently learned more online about turkey tail mushrooms (Trametes versicolor), a weak parasite and primarily a decomposer of dead wood. Prior to this trip I could not definitively identify turkey tail. This time I am certain; the two images are, indeed, turkey tail! Although too tough to eat, turkey tail is widely hailed for its medicinal benefits. The web is rich with more information.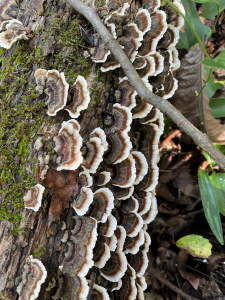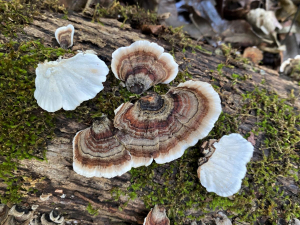 We also found one small colony of five seasonally very late chanterelles, still surprisingly fresh. I failed to snap their photograph. Likewise, in the excitement of the moment I neglected to capture an image of a sugarberry tree's lower trunk just covered with oyster mushrooms! Except for that lapse in forager photo-chronicling responsibility, we enjoyed (with one caveat) a great three-hour woods rambling. The caveat — mosquitoes can be voracious during early autumn in these wetland forests when temperatures reach the low eighties. Even though I wore mosquito netting over my face, combined with liberally applied bug spray, the pesky little critters harrassed us incessently. As I draft my reflections eight days later, the morning temperature is 42 degrees. Summer is now fading into the rearview mirror! A dormant season of woods wandering and mushroom foraging lies ahead.
Riparian Hardwood Forest — Bradford Creek Greenway
October 10, 2021 I biked loops (totaling just under 18 miles) along the Bradford Creek Greenway, a Nature Preserve jointly held by the City of Madison and the Land Trust of North Alabama. The Greenway follows Bradford Creek and its associated riparian forest. I saw honey mushrooms all along the  trail. These are ringless honeys.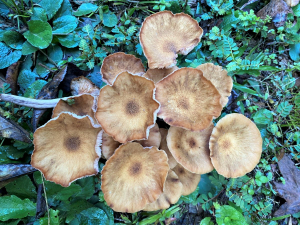 I also discovered one patch of bulbous honey mushrooms (Armillaria gallica), another edible species of the Armillaria genus.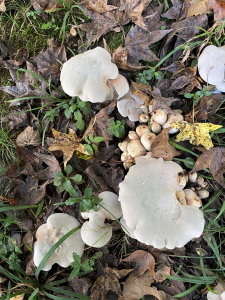 Note the light honey-colored topside (left) and the bulbous base (right).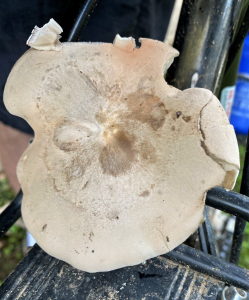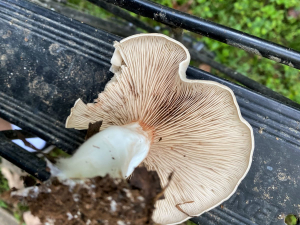 I found several colonies of the distinctively shaped sulfur-tipped coral (Ramaria formosa), an inedible softball size coral fungus. Mushrooms of the Southeast: …a distinctive fungus and one of the larger corals in our region. It is poisonous and can cause serious gastrointestinal issues.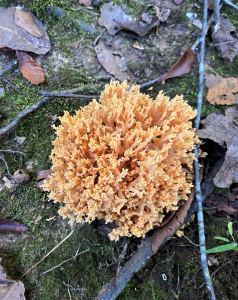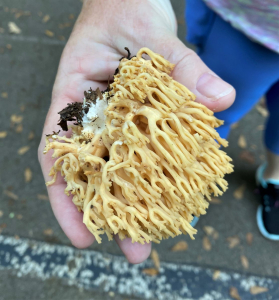 Although the mosquitoes did not interfere with biking, every time I stopped to snap a photo or examine mushrooms, they emerged to greet me. A small price to pay for the exquisite pleasure of getting into the out there!
The Dance of Life
I subscribe by email to Father Richard Rohr's Daily Meditation from the Center for Action and Contemplation. Week forty-one 2021, on contemplating creation, is particularly relevant to the abundance and diversity of forest life within our rich riparian forests of north Alabama. Rohr's Dance of Life essay would fit nicely and applicably within many of my Posts for several reasons:
I write almost exclusively about Nature and Nature-Inspired Life and Living, and this excerpted essay does just that.
Most of my Posts posit some element of spirituality and sacred connection to Nature.
My first four Essential Verbs for Nature exploration, echoed by Rohr, are Believe; Look; See; and Feel.
I hold that every tree and each parcel of land have stories to tell; Rohr asserts that every living thing has its own creation song, its own language, and its own story.
Like Rohr, I am consumed by this achingly beautiful and complete sense of kinship with the entire creation.
Rohr's Dance of Life: Father Richard views Francis of Assisi (1182–1226) as a prime example of someone who discovered within himself the universal connectedness of creation. Francis addressed animals and nature as spiritual beings who are part of reality's harmony. [1] Today, we share wisdom about tuning into creation's harmony from Sherri Mitchell (Penobscot), an attorney and activist for environmental protection and human rights.
Sherri Mitchell: Every living thing has its own creation song, its own language, and its own story. In order to live harmoniously with the rest of creation, we must be willing to listen to and respect all of the harmonies that are moving around us….
We must tune in to our ability to see beyond the physical reality that surrounds us, and awaken to the vast unseen world that exists. Then we can begin to see beyond sight and to hear beyond sound. We see the underlying structures that support our world, and life begins to take on new shape, new meaning. When we live as multisensory beings, we find that we are able to comprehend the language of every living thing. We hear the voices of the trees, and understand the buzzing of the bees. And we come to realize that it is the interwoven substance of these floating rhythms that holds us in delicate balance with all life. Then, our life and our place in creation begins to make sense in a whole new way. Our vision expands to see the overall order of our path, and our hearing tunes in to a whole new source of information. . . . When we merge our internal rhythms with the rhythms of creation, we develop grace in our movement, and without thought or effort we are able to slide into the perfectly choreographed dance of life.
I remember my first moment of conscious engagement with this dance. . . . It was a warm early-summer day and I was seated in a meditative state in my back yard. . . . As I was sitting there, I noticed a tiny ant crawling across a blade of grass. As I watched the ant move along, his little body began to light up. Then, the blade of grass that he was walking on lit up. As I sat there and watched, the entire area surrounding me began to light up. . . . I sat very still, quietly marveling over this newfound sight, afraid to move and lose it. . . . While I sat there breathing with the world around me, the firm lines of my being began to fade. I felt myself expanding and merging with all that I was observing. There was suddenly no separation between me, the ant, the grass, the trees, and the birds. We were breathing with one breath, beating with the pulse of one heart. I was consumed by this achingly beautiful and complete sense of kinship with the entire creation.
I close by repeating two short sentences from Sherri Mitchell: We must tune in to our ability to see beyond the physical reality that surrounds us, and awaken to the vast unseen world that exists. Then we can begin to see beyond sight and to hear beyond sound. My retirement wanderings and Nature-Inspired Life and Living musings have led me to a place of peace and deeper and deeper observation and reflection. I am learning to see beyond sight and hear beyond sound!
Thoughts and Reflections
I offer these observations:
My own connections to Nature, whether towering tree or diverse mushrooms, are sacred and spiritual.
Like Father Rohr, I am consumed by an achingly beautiful and complete sense of kinship with the entire creation.
Immersed in Nature, I am learning to see beyond sight and hear beyond sound.
Inhale and absorb Nature's elixir. May Nature Inspire, Inform, and Reward you!
Note: All blog post images created & photographed by Stephen B. Jones unless otherwise noted. Please circulate images with photo credit: "©2021 Steve Jones, Great Blue Heron LLC. All Rights Reserved."
Another Note: If you came to this post via a Facebook posting or by an another route, please sign up now (no cost… no obligation) to receive my Blog Post email alerts: http://eepurl.com/cKLJdL
And a Third: I am available for Nature-Inspired Speaking, Writing, and Consulting — contact me at steve.jones.0524@gmail.com
Reminder of my Personal and Professional Purpose, Passion, and Cause
If only more of us viewed our precious environment through the filters I employ. If only my mission and vision could be multiplied untold orders of magnitude:
Mission: Employ writing and speaking to educate, inspire, and enable readers and listeners to understand, appreciate, and enjoy Nature… and accept and practice Earth Stewardship.
Vision:
People of all ages will pay greater attention to and engage more regularly with Nature… and will accept and practice informed and responsible Earth Stewardship.
They will see their relationship to our natural world with new eyes… and will understand more clearly their Earth home.
Tagline/Motto: Steve (Great Blue Heron) encourages and seeks a better tomorrow through Nature-Inspired Living!
Steve's Three Books
I wrote my books Nature Based Leadership (2016), Nature-Inspired Learning and Leading (2017), and Weaned Seals and Snowy Summits: Stories of Passion for Place and Everyday Nature (2019; co-authored with Dr. Jennifer Wilhoit) to encourage all citizens to recognize and appreciate that every lesson for living, learning, serving, and leading is either written indelibly in or is powerfully inspired by Nature.
I began writing books and Posts for several reasons:
I love hiking and exploring in Nature
I see images I want to (and do) capture with my trusty iPhone camera
I enjoy explaining those images — an educator at heart
I don't play golf!
I actually do love writing — it's the hobby I never needed when my career consumed me
Judy suggested my writing is in large measure my legacy to our two kids, our five grand kids, and all the unborn generations beyond
And finally, perhaps my books and Blogs could reach beyond family and touch a few other lives… sow some seeds for the future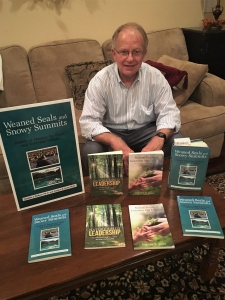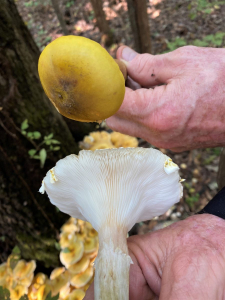 All three of my books (Nature Based Leadership; Nature-Inspired Learning and Leading; Weaned Seals and Snowy Summits) present compilations of personal experiences expressing my (and co-author Dr. Wilhoit for Weaned Seals and Snowy Summits) deep passion for Nature. All three books offer observations and reflections on my relationship to the natural world… and the broader implications for society. Order any and all from your local indie bookstore, or find them on IndieBound or other online sources such as Amazon and LifeRich.
http://stevejonesgbh.com/wp-content/uploads/2021/10/IMG_0906.jpg-10.9.21-WNWR-HGH-Honey-Armillaria-mellea.jpg
1200
900
Steve Jones
http://stevejonesgbh.com/wp-content/uploads/2017/01/gbhweblogo.png
Steve Jones
2021-10-19 16:08:23
2021-10-19 16:08:23
Mushroom Rambling Early October in Two Distinct Alabama Forest Types