Retired videographer Bill Heslip and I are at the early stage of developing a 13-20-minute video telling the Land Legacy Tale of the William Arthur Wells Memorial Trail at Monte Sano State Park.
We interviewed Robert (Bob) Wells the morning of June 25, 2021 at his home in Meridianville, Alabama, just north of Huntsville. Bob donated the 40-acre cathedral forest parcel to the State Park System with the condition that the trail through it be named in honor of his older brother (William Arthur) who died at the WWII Naval Battle at Leyte Gulf in October 1944. Two of my prior Posts provide detail about Bob, his brother, the gift, and the incredible cove forest through which the trail wanders.
Dec 4, 2019: http://stevejonesgbh.com/2019/12/04/memory-and-legacy-for-a-sailor-and-hero/
May 19, 2020: http://stevejonesgbh.com/2020/05/19/earth-day-visit-to-the-cathedral-forest-along-the-wells-memorial-trail-at-monte-sano-state-park/
After interviewing Bob we left for Bill's first visit to the trail. We'll return multiple times over the coming seasons to record sights, scenes, and my reflections as a forester and applied ecologist. The trail is perhaps my favorite across Alabama's 21 State Parks.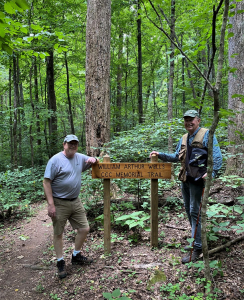 The Legacy Tale stirs deep emotions as I reflect on a young man who, like my own WWII veteran Dad, enlisted to join the War effort. Here is Arthur (high school letter sweater) with his parents, both clinging to him as though knowing in those troubled times that clinging may not be enough.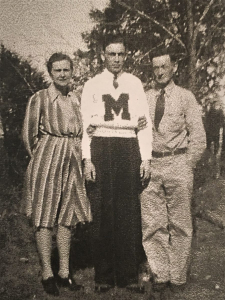 Arthur joined the Civilian Conservation Corps (in CCC uniform below left) after high school. One of his duty assignments, prophetically, detailed him to Monte Sano State Park. With the onset of WWII, Arthur enlisted in the Navy (in uniform below right) bound for the South Pacific.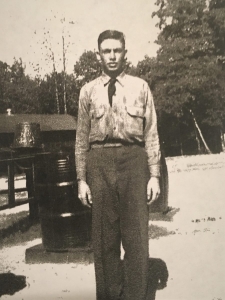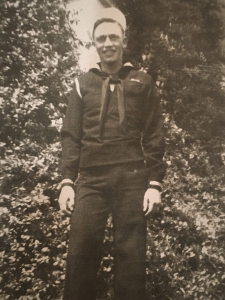 The cathedral forest did not disappoint Bill (and his wife Becky, below left). The yellow poplar along the trail towers above them. The photo below right peers downhill, deeper into the cove. I feel the spirit of Arthur when I contemplate the place, the gift, and its sentiment. I wonder whether during his Monte Sano CCC days did Arthur venture into this cove. Did he somehow feel the future echoes of the legacy…a chill along the back of his neck.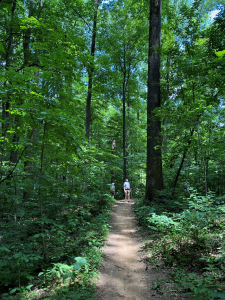 Following the interview, Bill captured Bob and Catherine strolling through the backyard.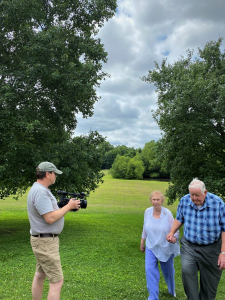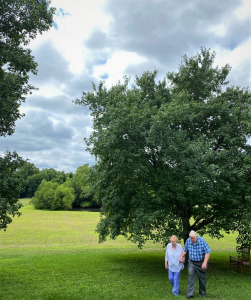 Bob sat in a rocking chair for the interview, under the shade of a tree he had planted years earlier. After returning to his office Bob searched for a few photos of Arthur.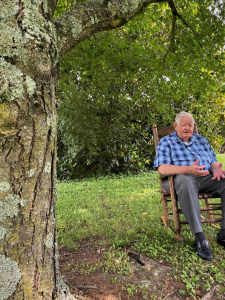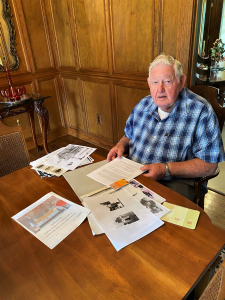 One of the items he found was the newspaper article for the trail dedication.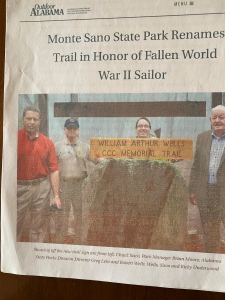 I thought of Bob's brother, whom he had last seen nearly a year before Arthur's ship went down, as we enjoyed the beauty and serenity of the magnificent cathedral cove forest along the trail.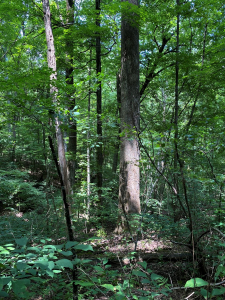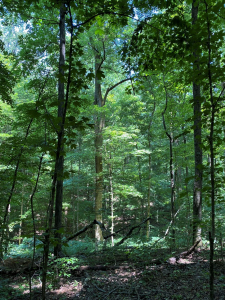 I've written often that every parcel of forest, and even every tree, has a story to tell…often evoking deep spirit, passion, and sentiment. I cannot hike this trail without feeling the spirit of a young man who made the ultimate sacrifice for the country I relish today. A young man of my father's generation…the Greatest Generation. A young man…a patriot, unlike the snowflakes of today who whine and complain about our nation's faults (past and present), seemingly ignorant that no other nation on the face of the Earth is a better place to live. A better place to live for all Americans. I view the cathedral forest as a symbol for our liberty, freedom, and equality of opportunity for which Arthur gave his life.
God Bless America!
Alabama State Parks Foundation
Thoughts and Reflections
I offer these observations:
Every tree and every parcel of land has a story to tell.
Oftentimes, the intersection of human and natural history brings the power of passion to the tale.
This land came to us out of eternity — when the youngest of us associated with it dies, it will still be here, preserved forevermore in tribute to William Arthur Wells. 
Inhale and absorb Nature's elixir. May Nature Inspire, Inform, and Reward you!
Note: All blog post images created & photographed by Stephen B. Jones unless otherwise noted. Please circulate images with photo credit: "©2021 Steve Jones, Great Blue Heron LLC. All Rights Reserved."
Another Note: If you came to this post via a Facebook posting or by an another route, please sign up now (no cost… no obligation) to receive my Blog Post email alerts: http://eepurl.com/cKLJdL
And a Third: I am available for Nature-Inspired Speaking, Writing, and Consulting — contact me at steve.jones.0524@gmail.com
Reminder of my Personal and Professional Purpose, Passion, and Cause
If only more of us viewed our precious environment through the filters I employ. If only my mission and vision could be multiplied untold orders of magnitude:
Mission: Employ writing and speaking to educate, inspire, and enable readers and listeners to understand, appreciate, and enjoy Nature… and accept and practice Earth Stewardship.
Vision:
People of all ages will pay greater attention to and engage more regularly with Nature… and will accept and practice informed and responsible Earth Stewardship.
They will see their relationship to our natural world with new eyes… and will understand more clearly their Earth home.
Tagline/Motto: Steve (Great Blue Heron) encourages and seeks a better tomorrow through Nature-Inspired Living!
Steve's Three Books
I wrote my books Nature Based Leadership (2016), Nature-Inspired Learning and Leading (2017), and Weaned Seals and Snowy Summits: Stories of Passion for Place and Everyday Nature (2019; co-authored with Dr. Jennifer Wilhoit) to encourage all citizens to recognize and appreciate that every lesson for living, learning, serving, and leading is either written indelibly in or is powerfully inspired by Nature.
I began writing books and Posts for several reasons:
I love hiking and exploring in Nature
I see images I want to (and do) capture with my trusty iPhone camera
I enjoy explaining those images — an educator at heart
I don't play golf!
I actually do love writing — it's the hobby I never needed when my career consumed me
Judy suggested my writing is in large measure my legacy to our two kids, our five grand kids, and all the unborn generations beyond
And finally, perhaps my books and Blogs could reach beyond family and touch a few other lives… sow some seeds for the future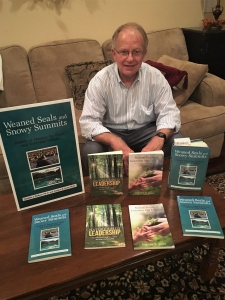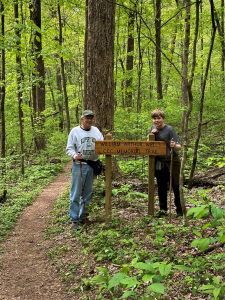 All three of my books (Nature Based Leadership; Nature-Inspired Learning and Leading; Weaned Seals and Snowy Summits) present compilations of personal experiences expressing my (and co-author Dr. Wilhoit for Weaned Seals and Snowy Summits) deep passion for Nature. All three books offer observations and reflections on my relationship to the natural world… and the broader implications for society. Order any and all from your local indie bookstore, or find them on IndieBound or other online sources such as Amazon and LifeRich.
http://stevejonesgbh.com/wp-content/uploads/2021/06/IMG_8863.jpg-06.25.21-Bill-Heslip-Video-Project.jpg
1200
977
Steve Jones
http://stevejonesgbh.com/wp-content/uploads/2017/01/gbhweblogo.png
Steve Jones
2021-10-05 14:25:34
2021-10-05 14:28:06
Contemplating a Video Tale of the William Arthur Wells Memorial Trail: Monte Sano State Park