May 27 and 28, 2021, I met on-site with a research team from Ohio State's College of Food and Agricultural Sciences to plan a native warm season grass trial on reclaimed strip-mine soils on Dutton Farms, site of my Ohio Land Legacy Project. I've previously posted updates on the Project — here's one from September 2020: http://stevejonesgbh.com/2020/11/25/late-september-wanderings-and-ramblings-on-my-ohio-land-legacy-project-site/ The richness of these reclaimed strip mine lands buoys my view of Nature's ultimate resilience when aided by informed and responsible stewardship practice. Every square foot of this view saw full-scale strip mining. The pastures are productive. However, none are populated with native warm season grasses, which perform reliably mid-summer owing to greater drought and heat tolerance. The Dutton family and the Ohio State University (OSU) team are intent upon exploring warm season mixtures for pasture enhancement and resilience.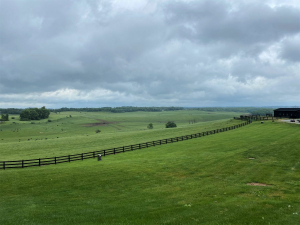 Allow me a brief side trip from May 2021. I remind you that Dutton Land and Cattle (DL&C) is focusing on Akaushi Cattle, a prime quality breed from Japan. These photos depict a bull from this rather docile breed. Rest assured, otherwise I would not be so bold with this big boy (below left).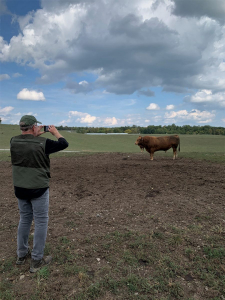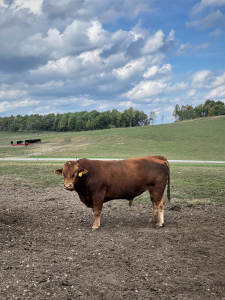 Ohio State University is Ohio's Land Grant University (LGU), authorized by the 1862 Morrill Act establishing one such institution in each state to bring modern agricultural knowledge and practices to farmers and producers. The LGUs have broadened and deepened their service over the intervening 159 years. I've served five LGUs over my career: Penn State, Auburn, Alabama A&M, NC State, and the University of Alaska Fairbanks. I consider partnering now with OSU a positive addition to my retirement portfolio. The main campus lies just two hours west of Dutton Farms.
Photo credit: OSU College of Food and Agricultural Sciences web site
John Dutton (with folder in his left arm) greeted the OSU team under threatening skies May 28, orienting them to DL&C at the equipment shed.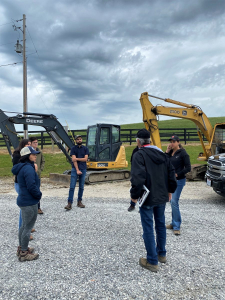 I toured the OSU team May 27, highlighting the strip mining history at the unreclaimed high wall, a stark reminder of the brutal treatment and deep scaring associated with surface mining.
After our early start May 28 orientation we visited the proposed native warm season grass trial site, now supporting a nearly mature cover crop of triticale (a hybrid of wheat and rye). DL&C cares for its soil resources as evidenced by the vibrant triticale.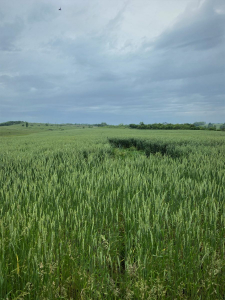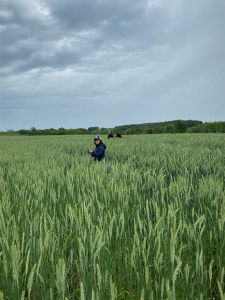 The team quickly dug in (literally), examining the soil. No hesitancy about getting their hands dirty! I enjoyed pleasant memories of my own doctoral research on soil-site relationships for Allegheny Hardwood Forests in southwest NY and northwest PA. I also led tree nutrition and forest fertilization research for Union Camp Corporation company-wide across VA, NC, SC, GA, FL, and AL for four years. I watched the OSU team through a delighted and admittedly rapturous haze of pleasant professional memories. Those were simpler days…before senior administrative positions and four university presidencies led me too far afield of my disciplinary passion. I stood in retirement bliss, once more back to field studies vicariously through this capable and enthusiastic team of young researchers.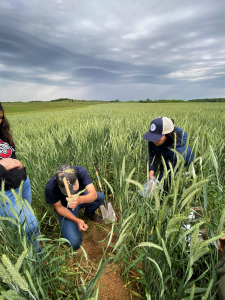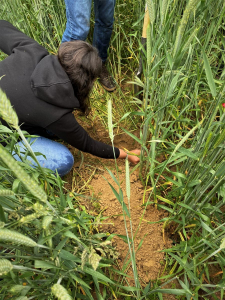 Dutton Farms soils are compacted, relatively young, and showing clear signs of horizonation. This profile shows a darkening upper several inches owing to organic matter beginning to incorporate by root action and soil micro- and macro-organism recycling. Lots of roots are exploiting that upper layer. The soil at this location looks very much like the soils I have excavated across the DL&C's core 1,100 acres.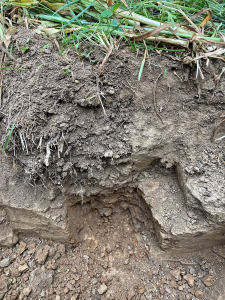 We are fortunate that John Dutton is enthusiastic with the warm season grass project. He is eager to learn and put to practice ways to improve DL&C operations, and better steward the land.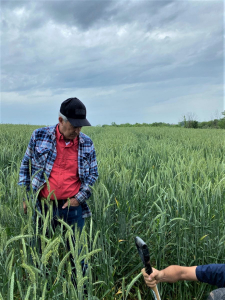 The equation for meaningful life and living, productive research, and successful business operations includes an essential variable — enthusiasm! John, his family, and the OSU team bring it by the barrelful. I am fortunate to be affiliated with the effort to make DL&C a global exemplar for informed and responsible Earth stewardship, reclaiming abused land from the trash heap, transforming it through wisdom, knowledge, and hard work to productive operation, environmental vibrancy, and aesthetic richness.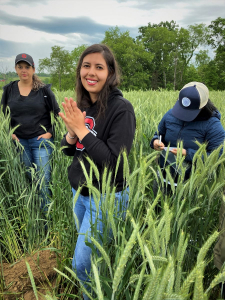 As the native warm season grass trial progresses I will say more in subsequent Posts. For now, I will mention only that the trial will test two seed combinations:
big bluestem and indiangrass blend
switchgrass and eastern gamagrass
The design will overlay cover crop alternatives.
I've concluded over the years that application adds value to knowledge. The foundation of the Land Grant University concept is the application of knowledge to enterprise and life. The native warm season grass trial is applied research to advance life, living, and enterprise. I am fortunate to be engaged with the continuing stewardship saga of Dutton Land and Cattle!
Thoughts and Reflections
I offer these reflections:
The process of learning how best to practice informed and responsible land stewardship is unending.
Few actions match the satisfaction and return on applied research and discovery.
Nothing beats watching younger professionals enthusiastically learning and advancing science.
Inhale and absorb Nature's elixir. May Nature Inspire, Inform, and Reward you!
Note: All blog post images created & photographed by Stephen B. Jones unless otherwise noted. Please circulate images with photo credit: "©2021 Steve Jones, Great Blue Heron LLC. All Rights Reserved."
Another Note: If you came to this post via a Facebook posting or by an another route, please sign up now (no cost… no obligation) to receive my Blog Post email alerts: http://eepurl.com/cKLJdL
And a Third: I am available for Nature-Inspired Speaking, Writing, and Consulting — contact me at steve.jones.0524@gmail.com
Reminder of my Personal and Professional Purpose, Passion, and Cause
If only more of us viewed our precious environment through the filters I employ. If only my mission and vision could be multiplied untold orders of magnitude:
Mission: Employ writing and speaking to educate, inspire, and enable readers and listeners to understand, appreciate, and enjoy Nature… and accept and practice Earth Stewardship.
Vision:
People of all ages will pay greater attention to and engage more regularly with Nature… and will accept and practice informed and responsible Earth Stewardship.
They will see their relationship to our natural world with new eyes… and will understand more clearly their Earth home.
Tagline/Motto: Steve (Great Blue Heron) encourages and seeks a better tomorrow through Nature-Inspired Living!
Steve's Three Books
I wrote my books Nature Based Leadership (2016), Nature-Inspired Learning and Leading (2017), and Weaned Seals and Snowy Summits: Stories of Passion for Place and Everyday Nature (2019; co-authored with Dr. Jennifer Wilhoit) to encourage all citizens to recognize and appreciate that every lesson for living, learning, serving, and leading is either written indelibly in or is powerfully inspired by Nature.
I began writing books and Posts for several reasons:
I love hiking and exploring in Nature
I see images I want to (and do) capture with my trusty iPhone camera
I enjoy explaining those images — an educator at heart
I don't play golf!
I actually do love writing — it's the hobby I never needed when my career consumed me
Judy suggested my writing is in large measure my legacy to our two kids, our five grand kids, and all the unborn generations beyond
And finally, perhaps my books and Blogs could reach beyond family and touch a few other lives… sow some seeds for the future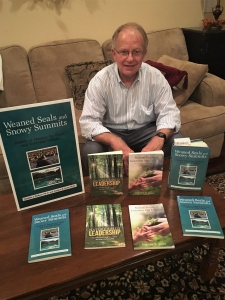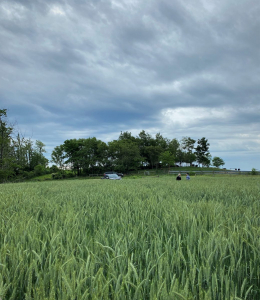 All three of my books (Nature Based Leadership; Nature-Inspired Learning and Leading; Weaned Seals and Snowy Summits) present compilations of personal experiences expressing my (and co-author Dr. Wilhoit for Weaned Seals and Snowy Summits) deep passion for Nature. All three books offer observations and reflections on my relationship to the natural world… and the broader implications for society. Order any and all from your local indie bookstore, or find them on IndieBound or other online sources such as Amazon and LifeRich.
http://stevejonesgbh.com/wp-content/uploads/2021/06/IMG_8529.jpg-05.28.21-10.31-AM-Warm-Season-Grass-Site-Evaluation.jpg
1200
900
Steve Jones
http://stevejonesgbh.com/wp-content/uploads/2017/01/gbhweblogo.png
Steve Jones
2021-09-08 06:16:05
2021-09-08 06:16:05
Dutton Farm Land Legacy Project Expansion: Warm Season Grass Trial with Ohio State University