I returned to my Land Legacy Story project site, Dutton Farms near Flushing in east central Ohio, May 26-28, 2021. We scheduled the visit to correspond with the first annual Farm Day for the Dutton Land and Cattle enterprise. I had last been to the project site in September 2020: http://stevejonesgbh.com/2020/11/25/late-september-wanderings-and-ramblings-on-my-ohio-land-legacy-project-site/
I will not cover the intent and Nature of the project in this Post. Watch for a subsequent Post reflecting on a Warm Season Grass trial we will establish on the property with faculty and graduate students from The Ohio State University College of Food and Agricultural Sciences.
Farm Day
May 27, 2021, I helped (a tertiary role at best) host the first Annual Farm Day by taking the mic (no, that's not me below left) to brief attendees on the land's tale of 1850-1925 abusive agriculture; mid-20th century strip mining; current period of land reclamation to health and vitality through informed and responsible stewardship practices. A story of recovery and rehabilitation…a metamorphosis from wasteland to viable agricultural enterprise. The family (below right) is committed to stewardship across the three generations represented. I am pleased to be playing some small part in telling their Land Legacy Story for posterity and as a means of encouraging others to do same.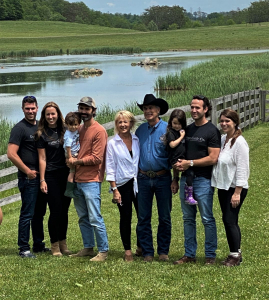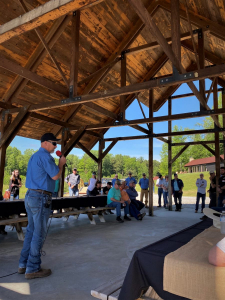 Three-day Skies and Vistas
My purpose with this Post is to highlight some elements of the Nature-Inspired Life and Living I experienced across those three days on-site. I arrived at the Dutton's May 26 mid-day. I introduced a fellow retired forester (a former senior player with the Pennsylvania Bureau of Forestry who lives within an hour to the north) to the Land Legacy Story on-site. Understanding the past treatment (85 percent of the 1,100 acres were stripped for coal at least once) is best accomplished, I've found, by first visiting the remaining high wall on the northeast side of the property. The old scar reminds us of the harsh past in ways that the reclaimed acreage belies. Even the high wall, however, expresses an aesthetic that we both appreciated that day. Nature has remarkable healing powers.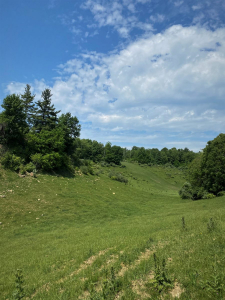 Later that afternoon we stopped by the Dutton's recreational retreat, with everything in sight having been stripped and rehabilitated. To the uninitiated, few would imagine the blasting, scooping, dust, noise, and earth movers, followed by reshaping, seeding, and recovery.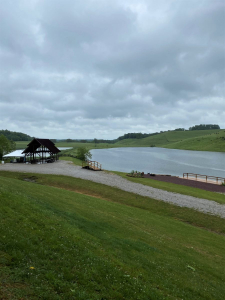 These photos, too, present a landscape entirely stripped. It's impossible to deny the pastoral beauty and appeal of the recovered land.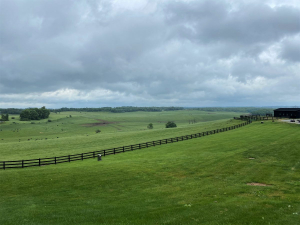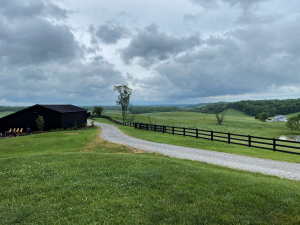 By late evening many of the invited guests, stakeholders, and international experts tracking the success and future of this unique enterprise had arrived. The gentlemen among our small group at the Cabin came from New Hampshire, Pennsylvania, and Texas. I snapped the two photos in waning light at 8:58 and 9:01 PM.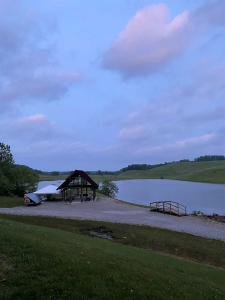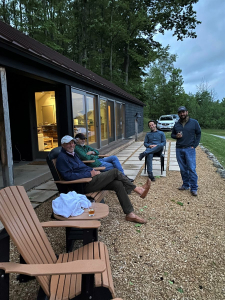 By 9:30 AM May 27, the sky had cleared. I have never experienced a morning at the cabin that was not photo-worthy. I heard no echoes of the explosives and massive equipment that shaped this place of present-day peace, tranquility, and beauty.
Following a full day of demonstration, planning, and dreaming, dusk once again settled over the property. I snapped my final photo of the day at 9:02 PM May 27.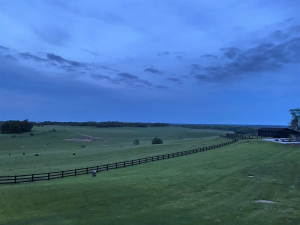 Dutton sunrises seldom disappoint. This 6:33 AM May 28 view is roughly aligned with the prior evening's gloaming perspective. I grew up just 150 miles east of here in western Maryland. Because the westerlies assured that most of our weather came generally from west to east, I often heard, "Pink in the morning; sailors take warning. Pink at night; sailors delight." A pinkish sunrise greeted me.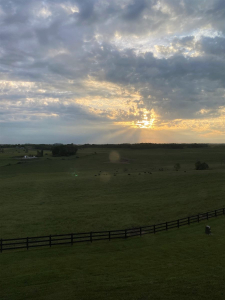 Less than three hours later, at 9:12 and 9:13 AM, the old weather wisdom had brought darkening and thickening clouds. I watched the weather radar as the bulk of the associated precipitation skirted to our south. A lifelong weather enthusiast, I welcomed the fearsome-looking (but toothless for us) clouds.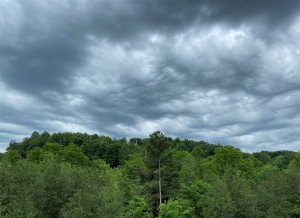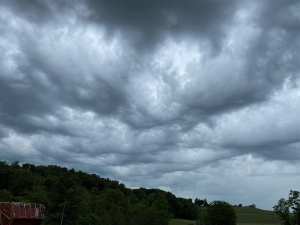 We gathered at the warm season grass trial site (watch for a subsequent Post) amid periods of light rain. I snapped this photo at 10:31 AM over the maturing cover crop of Triticale (hybrid of wheat and rye). I like the pale green under the wavy stratus.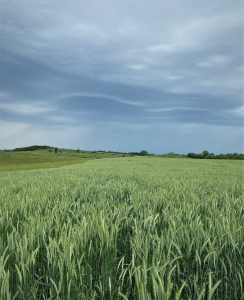 Nitrogen-fixing Pasture Plants
Pasture clovers are nutritious and fix nitrogen. The forage specialists among us (others, not me) found pleasant satisfaction in seeing both birdsfoot trefoil (left) and black medick (right).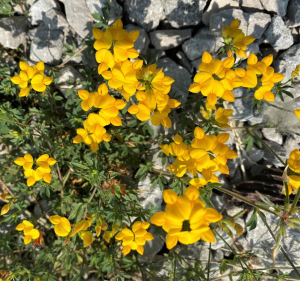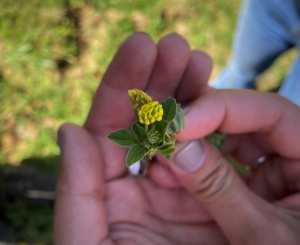 And purple crown vetch.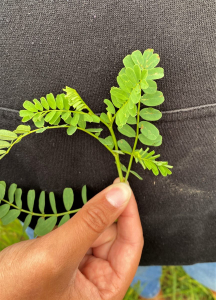 Happy and Healthy Animal Residents
The first day we interrupted a female painted turtle depositing eggs just above the cabin. We also spotted over the course of our visit a pair of great blue herons along the shoreline. The 1,100-acre site is ecologically diverse and rich.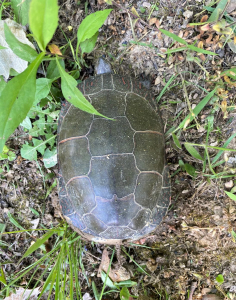 I draw a sense of hope from the Dutton Farms story of Nature's resilience and recovery when directed by the wisdom, knowledge, and hard work of dedicated, informed, and responsible Earth stewardship.
I stand in awe as I reflect upon the wonder and magic of three rather ordinary early summer days on an east-central Ohio farm recovering from a century-and-half of harsh treatment and degradation. I'm reminded of one of Albert Einstein's Nature observations:
I have never imputed to Nature a purpose or a goal, or anything that could be understood as anthropomorphic. What I see in Nature is a magnificent structure that we can comprehend only very imperfectly, and that must fill a thinking person with a feeling of humility. This is a genuinely religious feeling that has nothing to do with mysticism.
Every time I visit Dutton Farms I feel the dual senses of humility and inspiration. I am grateful for the chance to chronicle the tale of land resurrection.
Thoughts and Reflections
I offer three observations from my late May visit:
Even the mundane among Nature's days fills me with wonder.
Nothing lifts me more than seeing Nature recover from harsh treatment!
Earth stewardship is a transcendent (and necessary) action.
Inhale and absorb Nature's elixir. May Nature Inspire, Inform, and Reward you!
Note: All blog post images created & photographed by Stephen B. Jones unless otherwise noted. Please circulate images with photo credit: "©2021 Steve Jones, Great Blue Heron LLC. All Rights Reserved."
Another Note: If you came to this post via a Facebook posting or by an another route, please sign up now (no cost… no obligation) to receive my Blog Post email alerts: http://eepurl.com/cKLJdL
And a Third: I am available for Nature-Inspired Speaking, Writing, and Consulting — contact me at steve.jones.0524@gmail.com
Reminder of my Personal and Professional Purpose, Passion, and Cause
If only more of us viewed our precious environment through the filters I employ. If only my mission and vision could be multiplied untold orders of magnitude:
Mission: Employ writing and speaking to educate, inspire, and enable readers and listeners to understand, appreciate, and enjoy Nature… and accept and practice Earth Stewardship.
Vision:
People of all ages will pay greater attention to and engage more regularly with Nature… and will accept and practice informed and responsible Earth Stewardship.
They will see their relationship to our natural world with new eyes… and will understand more clearly their Earth home.
Tagline/Motto: Steve (Great Blue Heron) encourages and seeks a better tomorrow through Nature-Inspired Living!
Steve's Three Books
I wrote my books Nature Based Leadership (2016), Nature-Inspired Learning and Leading (2017), and Weaned Seals and Snowy Summits: Stories of Passion for Place and Everyday Nature (2019; co-authored with Dr. Jennifer Wilhoit) to encourage all citizens to recognize and appreciate that every lesson for living, learning, serving, and leading is either written indelibly in or is powerfully inspired by Nature.
I began writing books and Posts for several reasons:
I love hiking and exploring in Nature
I see images I want to (and do) capture with my trusty iPhone camera
I enjoy explaining those images — an educator at heart
I don't play golf!
I actually do love writing — it's the hobby I never needed when my career consumed me
Judy suggested my writing is in large measure my legacy to our two kids, our five grand kids, and all the unborn generations beyond
And finally, perhaps my books and Blogs could reach beyond family and touch a few other lives… sow some seeds for the future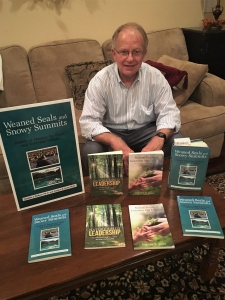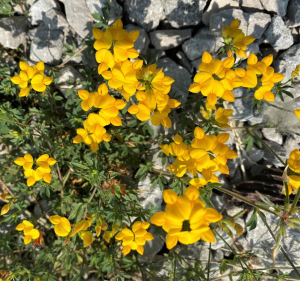 All three of my books (Nature Based Leadership; Nature-Inspired Learning and Leading; Weaned Seals and Snowy Summits) present compilations of personal experiences expressing my (and co-author Dr. Wilhoit for Weaned Seals and Snowy Summits) deep passion for Nature. All three books offer observations and reflections on my relationship to the natural world… and the broader implications for society. Order any and all from your local indie bookstore, or find them on IndieBound or other online sources such as Amazon and LifeRich.
http://stevejonesgbh.com/wp-content/uploads/2021/06/IMG_8506.jpg-05.28.21-6.33AM.jpg
1200
900
Steve Jones
http://stevejonesgbh.com/wp-content/uploads/2017/01/gbhweblogo.png
Steve Jones
2021-08-05 14:44:10
2021-08-05 14:44:10
Dutton Farm May Skies and Viewscapes