July 15, 2021, in conjunction with the quarterly Alabama State Parks Foundation Board meeting, I attended the official on-site announcement of an additional 157 acres to Desoto State Park. The tract lies just upstream of DeSoto Falls on the port (left) side of the West Fork of the Little River. This view looks across the river from the ceremony site. The addition lies upstream (to our left) on that opposite side of the river.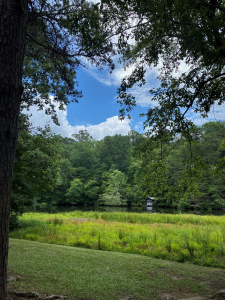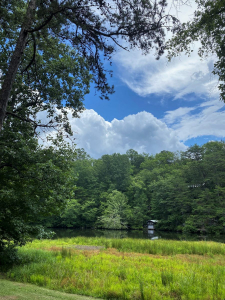 Relative to the 48,000 acres of existing State Parks, 157 acres may sound meager. However, 157 acres (well, 160 acres to be exact) is equivalent to a square block of land with one-half-mile sides! We have all heard references to the back forty… the addition is just shy of four back forties! I've published several of these Great Blue Heron Posts highlighting a particular 40-acre parcel donated a few years ago to Monte Sano State Park. Here's one that exemplifies how significant even a single forty can be: http://stevejonesgbh.com/2019/12/04/memory-and-legacy-for-a-sailor-and-hero/
DeSoto State Park covered 3,502 acres, now 3,659! That's a 4.5 percent increase, which also seems a bit unimpressive. However, it adds more than 1,000 feet of river frontage, an addition that is aesthetically, environmentally, and recreationally quite significant! That's how Conservation Department Commissioner Chris Blankenship described the addition at the lectern (below left) and in responding to media (below right).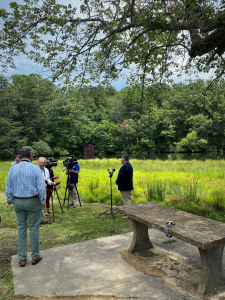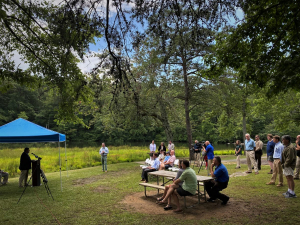 The early afternoon weekday ceremony attracted an appreciative audience (below left in shorts), including Randy Owen (below right), lead singer for the internationally known country group Alabama, home-based in nearby Fort Payne.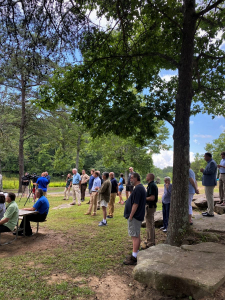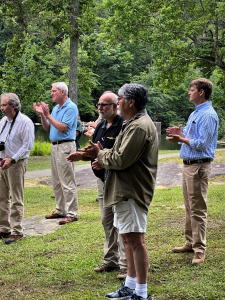 Another view from the site validates my wonder and appreciation for the West Fork of the Little River, tranquil here just a few hundred feet from where it drops 104 feet over the falls. Absolute peace and tranquility beneath a cerulean firmament.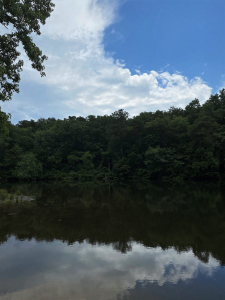 That peace and tranquility drifts serenely away over the next couple of hundred feet (below left)…until the drifting accelerates, tumbles, foams, and drops (below right).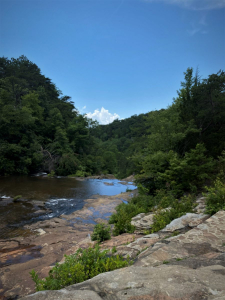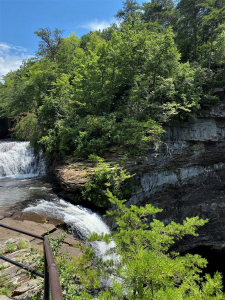 The sky doesn't notice, hanging royally over both the languid and the tempestuous. The river carried a good mid-July flow owing to ample July rains.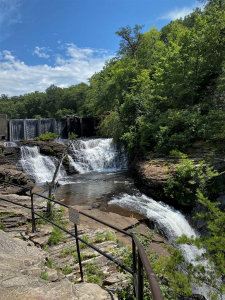 However, the falls showed a more violent face when I visited April 23, 2019 after extended heavy rains! It roared its appreciation for downpours, water volume, terrain, and gravity. The power of water increases exponentially, in this image orders of magnitude greater than during my July 15 visit. I felt a sense of pleasurable terror, a feeling of my own nothingness in a world where Nature rules.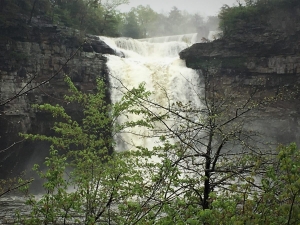 The DeSoto Falls plunge basin (the semi-circular cliffs and deep pool beneath the falls) evidences the power of epic events, forces well above and beyond the still impressive July 15 flow. I recall visiting a creek in New Hampshire where the summer before had brought a real frog-strangler, a nearly stationary thunderstorm that sat in place for hours. The resultant flooding washed out bridges and destroyed buildings creekside. My host, a biology faculty member at the university I served as president, told me with full confidence that this unprecedented flood was attributable to human-induced climate change, a clarion call to action. I stood bankside marveling at the scouring from the prior season's flood reaching far above the then rather calm water level. I could see clearly that the flash flood was one of note. However, I also noticed that in the stream channel and all along its course, huge, automobile- home-size rounded boulders rested in place awaiting the next major torrent. The evidence suggested to me that the prior year's flood was nothing new to this stream. Those rocks told a tale…that this stream writes its signature in form of periodic flash floods, events that occur routinely over centuries, even if not within the time horizon of current human inhabitants.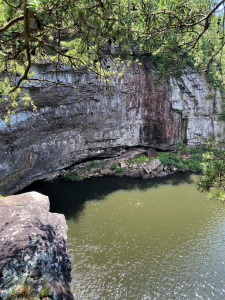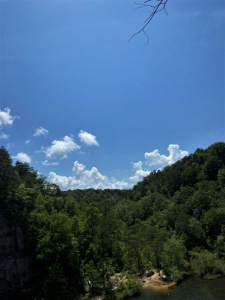 Nature is docile by and large, even as she can be wildly variable. I have lived twice near Syracuse, New York, for which 11-13,000 years ago its current footprint lay under a mile-thick continental ice sheet. The climate warmed; the ice melted; the land is still rebounding (isostatic rebound) from the crust-depressing weight of the ice sheet. Whether the terrain-shaping event is periodic continental glaciation (separated by tens of millennia) or epic flash flooding every few score years, the landscape signature owes to the anomalies and not to the docile flow of the West Fork July 15. Unless we can read Nature's language we might erroneously attribute each and every storm, drought, cold spell, heat wave, and perturbation as a direct result of human-induced climate change. From Wikipedia, In 1849, French writer Jean-Baptiste Alphonse Karr wrote "plus ça change, plus c'est la même chose" – the more things change, the more they stay the same. I believe Karr's 170-year-old wisdom applies to climate.
John Muir's Wisdom Remains Timeless
DeSoto State Park Naturalist Brittany Hughes organized the stair-riser mosaic ascending from the falls observation point.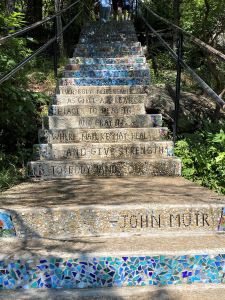 The mosaic treats visitors to one of my (and Brittany's) favorite John Muir quotes  — Everybody needs beauty as well as bread, places to play in and pray in, where nature may heal and give strength to body and soul. My wanderings in Nature do just that…heal and give strength to my own body, heart, mind, soul, and spirit. We are blessed in Alabama to have 21 State parks totaling 48,000 acres, with at least one Park easily within reach of every Alabama citizen, from Gulf Coast, to Appalachian Mountains, to the Tennessee River. Among those Parks, DeSoto is special, according to the Alabama Tourism Department, the fifth most visited Park and Natural Destination in Alabama (May 2021 Report):
Gulf Shores and Orange Beach
Little River Canyon National Preserve
Oak Mountain State Park
 Wind Creek State Park
DeSoto State Park
Note: July 16, 2021, Outdoor Alabama (The Alabama Department of Conservation and Natural Resources) posted an article about the ceremony: https://www.outdooralabama.com/articles/desoto-state-park-adds-157-acres-adjacent-little-river . I do not know how long the article will be accessible.
Alabama State Parks Foundation
Thoughts and Reflections
I offer these observations:
We in Alabama are blessed to have a State Park System still evolving and growing.
Assuring our collective Future-Nature requires investing now.
Exploring nature enriches my life, healing and giving strength to my own body, heart, mind, soul, and spirit. 
Inhale and absorb Nature's elixir. May Nature Inspire, Inform, and Reward you!
Note: All blog post images created & photographed by Stephen B. Jones unless otherwise noted. Please circulate images with photo credit: "©2021 Steve Jones, Great Blue Heron LLC. All Rights Reserved."
Another Note: If you came to this post via a Facebook posting or by an another route, please sign up now (no cost… no obligation) to receive my Blog Post email alerts: http://eepurl.com/cKLJdL
And a Third: I am available for Nature-Inspired Speaking, Writing, and Consulting — contact me at steve.jones.0524@gmail.com
Reminder of my Personal and Professional Purpose, Passion, and Cause
If only more of us viewed our precious environment through the filters I employ. If only my mission and vision could be multiplied untold orders of magnitude:
Mission: Employ writing and speaking to educate, inspire, and enable readers and listeners to understand, appreciate, and enjoy Nature… and accept and practice Earth Stewardship.
Vision:
People of all ages will pay greater attention to and engage more regularly with Nature… and will accept and practice informed and responsible Earth Stewardship.
They will see their relationship to our natural world with new eyes… and will understand more clearly their Earth home.
Tagline/Motto: Steve (Great Blue Heron) encourages and seeks a better tomorrow through Nature-Inspired Living!
Steve's Three Books
I wrote my books Nature Based Leadership (2016), Nature-Inspired Learning and Leading (2017), and Weaned Seals and Snowy Summits: Stories of Passion for Place and Everyday Nature (2019; co-authored with Dr. Jennifer Wilhoit) to encourage all citizens to recognize and appreciate that every lesson for living, learning, serving, and leading is either written indelibly in or is powerfully inspired by Nature.
I began writing books and Posts for several reasons:
I love hiking and exploring in Nature
I see images I want to (and do) capture with my trusty iPhone camera
I enjoy explaining those images — an educator at heart
I don't play golf!
I actually do love writing — it's the hobby I never needed when my career consumed me
Judy suggested my writing is in large measure my legacy to our two kids, our five grand kids, and all the unborn generations beyond
And finally, perhaps my books and Blogs could reach beyond family and touch a few other lives… sow some seeds for the future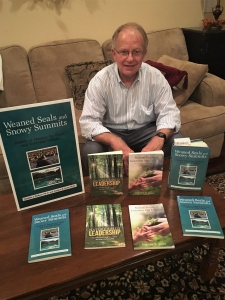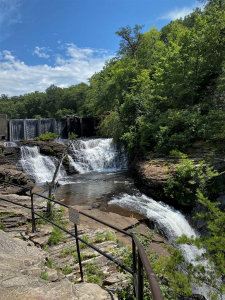 All three of my books (Nature Based Leadership; Nature-Inspired Learning and Leading; Weaned Seals and Snowy Summits) present compilations of personal experiences expressing my (and co-author Dr. Wilhoit for Weaned Seals and Snowy Summits) deep passion for Nature. All three books offer observations and reflections on my relationship to the natural world… and the broader implications for society. Order any and all from your local indie bookstore, or find them on IndieBound or other online sources such as Amazon and LifeRich.
http://stevejonesgbh.com/wp-content/uploads/2021/07/IMG_9342.jpg-07.15.21-DSP-Upstream-of-Falls.jpg
1200
900
Steve Jones
http://stevejonesgbh.com/wp-content/uploads/2017/01/gbhweblogo.png
Steve Jones
2021-07-27 17:34:12
2021-07-29 12:50:20
DeSoto State Park Addition Upstream of DeSoto Falls