March 27, 2021 we visited our son and his family in Butler County, Pennsylvania. While there we traveled with them to a lovely rolling hills horse farm and stables where our two granddaughters help care for and ride two horses. I could not resist wandering across the property, exploring early spring pastures and woodlots, and reveling under an amazing cerulean sky.
A Rolling Pennsylvania Landscape Under a Cerulean Sky
I offer this Post absent much of the ecological science and observations I usually include. Consider this more an aesthetic journey across a special landscape mosaic of open pasture, woods edges, and woodlots, all accented by a remarkable spring sky. Winter had not yet abandoned the farm, although spring was racing northward at roughly 100 miles per week. So, allow me to usher you across the farm, highlighting a few special elements along the way. Still-dormant woodlots, pasture grass coming to life, and a sky of beauty beyond compare.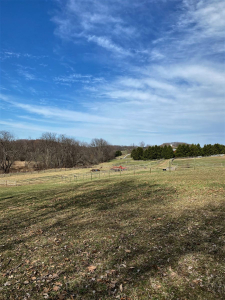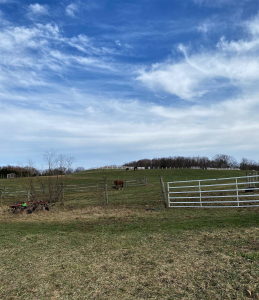 I was grateful to be in the out-there of western Pennsylvania!
Woodlot Edges
Such woods-edge scenes bring rabbits, deer, and soaring birds to mind. Mixed habitats and the ecotones that transition pasture to forest provide rich habitat for all manner of birds and mammals. The woodlots draw me in; the pastures lure me out of the forest.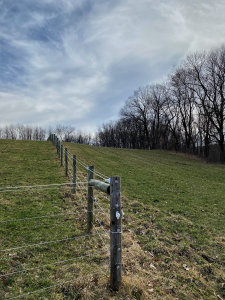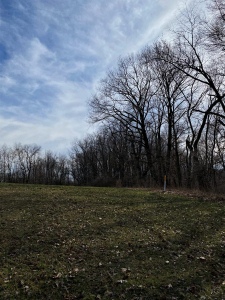 Tree crowns, too, reach into the pasture, not drawn by the open majesty, but by the bountiful pasture sunlight. And beneath those reaching branches, brambles and tree seedlings advance into the open. Sunlight is a powerful magnet. Given time…and a cessation of mowing or horse feeding…the forest would invade the pasture. Maintaining the forest/pasture mixed cover requires management, intentional practice by the landowners.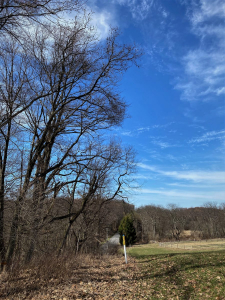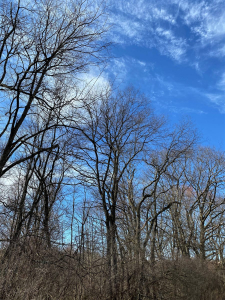 I could not help but pause time and again to gaze skyward, especially at the forest edge. I wanted to capture the aesthetic bounty so that I might return to the image on an insufferably hot Alabama July or August afternoon!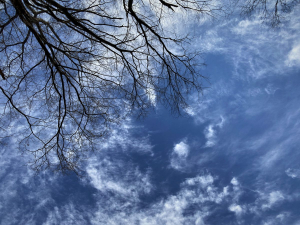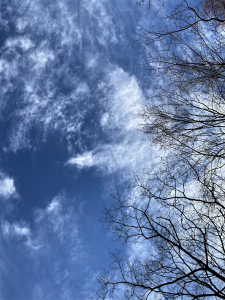 Some of the best things in life are free. I wonder, how many people walk about on a spring day with digital device in hand, unaware of the magic above and surrounding them.
Within a Woodlot
My wanderings always draw me into forests, for trees are my passion. I miss these western Pennsylvania forests, similar to where I grew up in western Maryland and not far from where I conducted my doctoral research in the Allegheny Hardwood forests of NW PA and SW NY. Below left is a bigtooth aspen, whose range extends little beyond the upper mid-Atlantic states, the northeast, and lake states. Aspen, both bigtooth and quaking, make me think of cooler summers and far deeper winters. That's a red maple below right, a more common main canopy occupant than it is here in Alabama. Red maple ranges from the border with Canada  into most of Florida.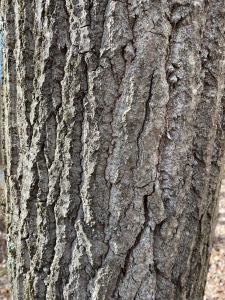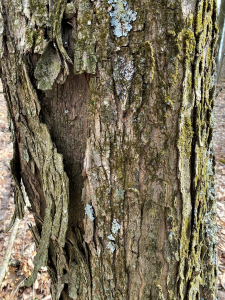 Black cherry (below left) dominated the forests of my doctoral studies. I found northern red oak (below right) commonly on my measurement plots. I also found white oak, sugar maple, red maple, beech, yellow poplar, basswood, white pine, hemlock, and white ash.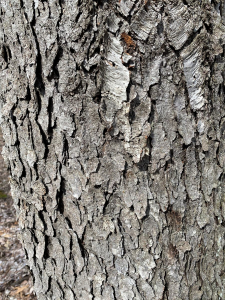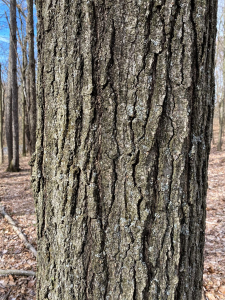 As I've begun to do in dormant season forests wherever I am, I captured the crown image below. Once again, tree crowns are not interlaced. Each individual stands alone with a ring of crown shyness isolating one tree from another. Unlike some of the massive crowns I've reported for white oak in particular in our southern forests, all of these crowns are narrow.
The emerald ash borer mortality front passed through this area within the past five years. Here is a white ash standing dead. The bark is beginning to slough; its crown still reaches into the canopy. Most of its branches have fallen to the ground. Adjoining crowns have not yet filled the ash's canopy void. I consider it a dreadful shame that this magnificent tree is fading from our Pennsylvania forests. The zone of ash mortality is approaching the Alabama/Tennessee border. I am concerned for our north Alabama ash.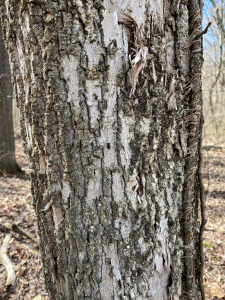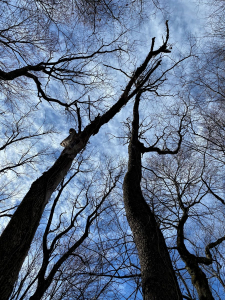 As I often do, I found tree curiosities in the woodlots. Below left a black cherry canker beckons wood bowl turners. And, I discovered that poison ivy (below right), just as it does across Alabama, is a common main canopy resident courtesy of its habit of regenerating with the stand and growing vertically in tandem with the trees reaching skyward.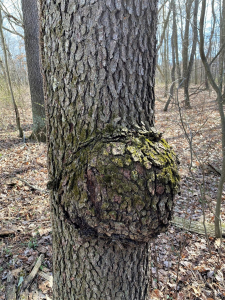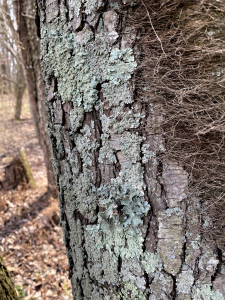 I confess to a fantasy. I'd like to develop a coffee table style book of forest curiosities and tree form oddities. All I need is a sponsor to cover the cost of touring across our eastern hardwood forests, camera in hand, applying my understanding and appreciation of applied ecology to my ever-keener eye for seeing what is hidden in plain sight.
Pastoral Setting
Even as the forester within me seeks the sylvan settings, I thoroughly enjoyed the pastoral elements of the farm. Yet, still I seem to accent the pastoral photos with trees. In western Pennsylvania someone had chosen to plant borders of Norway spruce. This Scandinavian-named species is native to much of western and central Europe, and is quite happy across the northeastern US.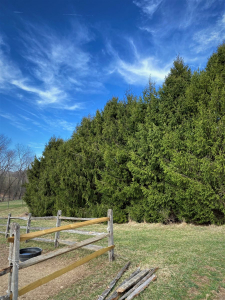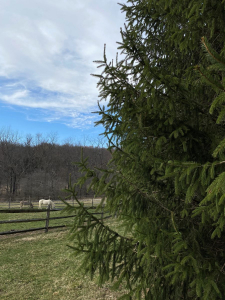 A farm pond near the homestead adds a nice domestic touch to the landscape. And, few things beat a white wooden fence.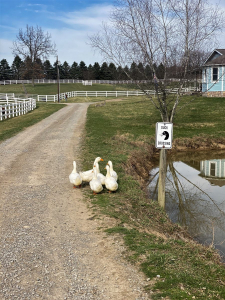 I'll end with the two girls returning to the stables along the white fence. What could be better than wandering a new section of God's green Earth with grandchildren?! I hope that I will have planted a seed of Nature-appreciation in them.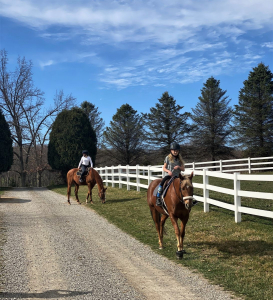 I shall continue to enjoy Nature wherever life and living take me. Perhaps one day, long after only my writing and photos remain, the then two women will see their horseback photos, read my words, and remember their Pap and the seeds of Nature-Inspired Life and Living he sowed.
A Cerulean Firmament — Heaven Over Earth
Our grandchildren compose one element of our heaven on Earth. Yet, I could write ten thousand words and never truly express the utter power, hope, and spirit in this simple woods-edge cerulean firmament photograph.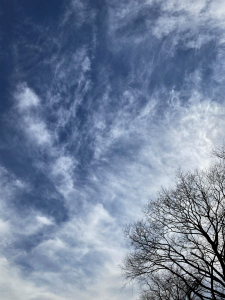 I find Nature's supreme gifts and magic moments whenever (and wherever) I enter wildness.
Thoughts and Reflections
I offer three observations:
Nature never disappoints those willing to look.
A cerulean firmament — gateway to Heaven on Earth.  
Life's greatest pleasures are free.
Inhale and absorb Nature's elixir. May Nature Inspire, Inform, Humble, and Reward you!
Note: All blog post images created & photographed by Stephen B. Jones unless otherwise noted. Please circulate images with photo credit: "©2021 Steve Jones, Great Blue Heron LLC. All Rights Reserved."
Another Note: If you came to this post via a Facebook posting or by an another route, please sign up now (no cost… no obligation) to receive my Blog Post email alerts: http://eepurl.com/cKLJdL
And a Third: I am available for Nature-Inspired Speaking, Writing, and Consulting — contact me at steve.jones.0524@gmail.com
Reminder of my Personal and Professional Purpose, Passion, and Cause
If only more of us viewed our precious environment through the filters I employ. If only my mission and vision could be multiplied untold orders of magnitude:
Mission: Employ writing and speaking to educate, inspire, and enable readers and listeners to understand, appreciate, and enjoy Nature… and accept and practice Earth Stewardship.
Vision:
People of all ages will pay greater attention to and engage more regularly with Nature… and will accept and practice informed and responsible Earth Stewardship.
They will see their relationship to our natural world with new eyes… and will understand more clearly their Earth home.
Tagline/Motto: Steve (Great Blue Heron) encourages and seeks a better tomorrow through Nature-Inspired Living!
Steve's Three Books
I wrote my books Nature Based Leadership (2016), Nature-Inspired Learning and Leading (2017), and Weaned Seals and Snowy Summits: Stories of Passion for Place and Everyday Nature (2019; co-authored with Dr. Jennifer Wilhoit) to encourage all citizens to recognize and appreciate that every lesson for living, learning, serving, and leading is either written indelibly in or is powerfully inspired by Nature.
I began writing books and Posts for several reasons:
I love hiking and exploring in Nature
I see images I want to (and do) capture with my trusty iPhone camera
I enjoy explaining those images — an educator at heart
I don't play golf!
I actually do love writing — it's the hobby I never needed when my career consumed me
Judy suggested my writing is in large measure my legacy to our two kids, our five grand kids, and all the unborn generations beyond
And finally, perhaps my books and Blogs could reach beyond family and touch a few other lives… sow some seeds for the future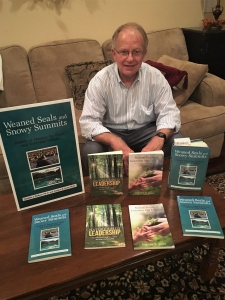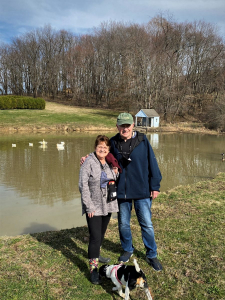 All three of my books (Nature Based Leadership; Nature-Inspired Learning and Leading; Weaned Seals and Snowy Summits) present compilations of personal experiences expressing my (and co-author Dr. Wilhoit for Weaned Seals and Snowy Summits) deep passion for Nature. All three books offer observations and reflections on my relationship to the natural world… and the broader implications for society. Order any and all from your local indie bookstore, or find them on IndieBound or other online sources such as Amazon and LifeRich.
http://stevejonesgbh.com/wp-content/uploads/2021/04/IMG_7013-03.27.21-Horse-Barn-Norway-Spruce-Border.jpg
1200
900
Steve Jones
http://stevejonesgbh.com/wp-content/uploads/2017/01/gbhweblogo.png
Steve Jones
2021-05-10 14:26:36
2021-05-10 14:26:36
Early Spring in West-Central Pennsylvania