I retired full time to Madison, AL January 2018, following 12 years (1973-1985) practicing forestry with a Fortune 500 paper and allied forest products manufacturing company and 33 years serving nine universities. I recall saying during the heart of my career that I just could not imagine ever retiring. I admit to some serious adjustment during the first few months after letting go. However, I have found rewarding, satisfying, and fulfilling pursuits related to my passion for Nature-Inspired Life and Living, to include researching, writing, and publishing these Posts. Also high among those pursuits is participating as a Charter Board Member of the Alabama State Parks Foundation.
I visited Oak Mountain State Park April 14-16 to attend the Alabama State Parks Foundation Board spring meeting and to be there for Governor Ivey's address at the Park Pavilion (And, to enjoy three half-day hikes!). I decided upon my Board appointment to never attend a Park-located Foundation Board meeting without planning an extra day or two to explore that Park. I hiked to Indian Overlook on Shackleford Ridge the morning after the Board meeting (photo below).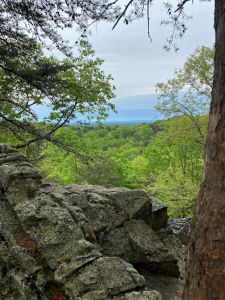 My April 27, 2021 Post (http://stevejonesgbh.com/2021/04/27/fifty-shades-of-april-green-at-oak-mountain-state-park/) highlighted the magic of the Park's fifty-shades-of-green spring forest palette. I am focusing today's Post on other than my ancillary hikes and explorations. I will expand with photos and reflections on the natural wonders with subsequent Posts.
Today I offer the essence of Governor Ivey and the State Legislature's Commitment to Alabama's State Parks, and the extraordinary economic, social, and environmental benefits they provide to our State and its citizens. Governor Ivey made her remarks at the main pavilion near Park headquarters mid-morning April 15. The setting could not have been more grand. Partly cloudy, comfortable breeze, open water, and fifty shades of spring green.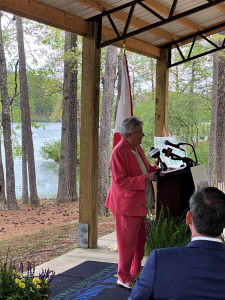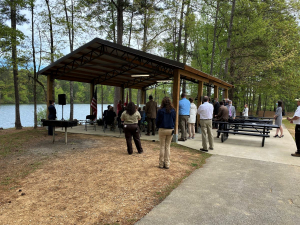 I urge you to view Gov Ivey's four-minute video announcement: https://www.youtube.com/watch?v=KTAGBP6zSUI
All of us on the Board rejoiced. The news was everything we had anticipated relative to memorializing the productive partnership involving the Parks, our Foundation, and private enterprise… and more. The more is summarized below.
A Montgomery newspaper article provided a written summary: "A constitutional amendment that would allow the state to borrow $80 million to improve state parks passed its first vote in the Alabama Legislature on Wednesday.
Alabama Department of Conservation and Natural Resources Commissioner Christopher Blankenship told Alabama Daily News that the bonds would be used to expand and improve campgrounds and recreational areas.
"As we've seen this past year with COVID, state parks and outdoor recreation have been extremely important to people for their physical and mental health," Blankenship said. "We saw great increases in usage at our parks, and also the federal wild properties in the Department of Conservation and Natural Resources."
Blankenship told the Senate and House General Fund budget committees on Wednesday that attendance was up about 1.2 million for a total of 6.2 million visitors to state parks last year.
Alabama voters approved a $110 million bond issue in 1998 to help improve state parks and historical sites. House Majority Leader Nathaniel Ledbetter, R-Rainsville, says now that that bond issue is almost paid off, the state can enter into this new one.
"Because interest rates are so low today, we're able to use the same amount that we're paying out now, redo new bonds and put $80 million into the existing parks, which is going to be a tremendous asset to our state and to our tourism and across our state," Ledbetter told ADN.
House bills 565 and 573 are the constitutional amendment and enabling legislation sponsored by Ledbetter. They passed the committee on Wednesday with no opposition. The Senate bills, 362 and 383, also passed committee with no opposition.
Sen. Clay Scofield, R-Guntersville, sponsors the Senate version of the plan, which has 24 co-sponsors. He said the bond issue is about making the parks self-sufficient and providing amenities that will give a return on investment.
"We feel as though making these investments will lead to even more improvements that can be made in a quicker amount of time and will bring in even more visitors and more money to the parks so that they can continue to do that over and over," Scofield told ADN.
An amendment was added to both House and Senate bills that would allow any potential overage on the bond issue to go to various properties operated by the Alabama Forestry Commission.
A fiscal note on the bill says the bond issue would increase General Fund spending by about $5.5 million per year for 20 years, but House General Fund Chairman Steve Clouse, R-Ozark, explained that it really isn't an increase since it is replacing the bond issue that has now been paid out.
A brochure provided by the ADCNR  (https://documentcloud.adobe.com/link/review?uri=urn:aaid:scds:US:a5c6edd8-9589-4c90-be7d-14df0bcdb513#pageNum=1) lists their renovation plans, which include expanding campgrounds, modernizing day-use areas, adding cabins or swimming pools and providing internet connectivity to overnight accommodations.
Blankenship said the renovations will provide capabilities for modern-day desires.
"To bring them up to a standard that people have come to expect now and as the landscape is changing with motor homes and they're becoming more advanced and require more from our campgrounds," Blankenship said.
State parks are not funded by the State General Fund, but rather through fees. They generate 80-90% of their revenue directly through entrance, rental, lodging, golf and other recreational fees.
From 2011-2015, around $15 million was transferred from the parks budget to the state general fund and in 2015, five state parks had to shut down due to lack of funds.
In 2016 Alabama voters approved a constitutional amendment that would prevent future reallocating of state park funds for other uses in the state's budgets.
Scofield said in committee that the amendment passed in 2016 has helped with maintenance costs of the parks but is not able to provide the necessary funds to make the renovations they want to make in a quick enough manner.
"Money is staying in the parks system but it is just slower than anticipated," Scofield said.
There are 21 state parks in Alabama that have an estimated $375 million economic impact for the state, according to the ADCNR brochure.
If the constitutional amendment is passed by both chambers then Alabama voters will likely vote on it in the 2022 election.
Scofield, who has three state parks in his district, said his constituents support improving the parks and he believes Alabama voters will approve the bond issue easily.
"Our parks play an important role in making sure that we are providing outdoor activities for the citizens of Alabama, even though you might not have a state park located in your area, doesn't mean that there isn't one near for a day trip," Scofield said.
Since it's a constitutional amendment, Gov. Kay Ivey does not have to sign off on the bill. However, Ivey Press Secretary Gina Maiola told ADN that Ivey supports the initiative."
Urgent Update to this Post: Commissioner Blankenship communicated this message to the Foundation Board May 5, 2021:
Last week, the Alabama Legislature passed a bill that will put a proposed Constitutional Amendment on the ballot that would allow the state to sell up to $80 million in bonds for renovation, acquisition and capital improvements for Alabama State Parks under the jurisdiction of the Department of Conservation and Natural Resources. This CA will be on the ballot for the statewide primary in May 2022. I am very excited about this step in our plan. I would like to thank Speaker McCutcheon, Senate Pro Tem Greg Reed, House Majority Leader Nathaniel Ledbetter and Senate Majority Leader Clay Scofield for championing the State Parks and effectively shepherding this legislation through the process.
A companion bill was also passed that will increase funds we receive for general maintenance from $5 million annually to $7 million annually with a CPI adjustment every year. 
The bond projects coupled with the private partnerships forged through the ASP Foundations Capital Campaign that we kicked off on April 15 with Governor Ivey, Buffalo Rock and the Alabama Power Foundation, position us for a great deal of important work to make our Alabama State Parks first class!
As a Board member, citizen of Alabama, and a lifelong Earth Stewardship enthusiast I am thrilled that our State Parks System is poised to elevate its commitment to and practice of conservation, Nature-based recreation, and environmental education. I am overjoyed that Foundation Board Founding Chair, Dr. Dan Hendricks (below), invited me to join the then-fledgling Board.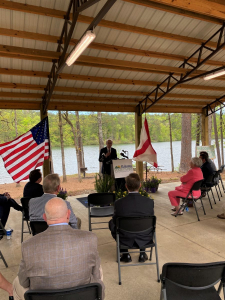 I commend and salute Dan, Park System Director Greg Lein (below left), and Commissioner Chris Blankenship (below right) for their extraordinary leadership, vision, and dedication to the cause.
Park System Commitment to Education
The Park System Mission is succinct and powerful:
To acquire and preserve natural areas; to develop, furnish, operate and maintain recreational facilities; and to extend the public's knowledge of the state's natural environment.
I love all facets of the mission, but I must admit to deepest passion for the education element. Environmental education fits hand-in-glove with my personal retirement mission: Employ writing and speaking to educate, inspire, and enable readers and listeners to understand, appreciate, and enjoy Nature… and accept and practice Earth Stewardship. That is what motivates my weekly Posts on Nature-Inspired Life and Living.
I hope my efforts have played some small role in the System's commitment to expanding and strengthening its education mission. I learn a great deal interacting with our Park Naturalists. I hiked the afternoon of April 14 upon my arrival, and then several more hours on the trails after the April 15 Board meeting with Oak Mountain Naturalist Lauren Muncher (below right) and Central District Environmental Educator Scottie Jackson (left). Scottie has broad responsibility for education at Oak Mountain, Cheaha, and Wind Creek. The Central District position is new, as is having an environmental educator (Scottie) assigned to Wind Creek.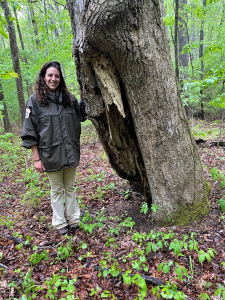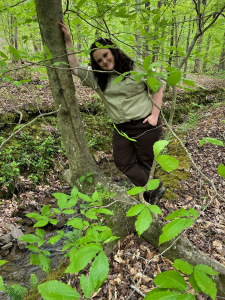 We also now have an environmental educator assigned for the first time to Joe Wheeler State Park, and the search for a first time Naturalist position at Monte Sano State Park is underway.
Lauren and Scottie bring unbridled enthusiasm, passion, and good humor to extending the public's knowledge of the state's natural environment. Both are committed to the task, creative, and eager to learn. We spent time together on-site in the spirit of learning and in challenging each other to imagine new ways of spreading the gospel of informed and responsible stewardship of our corner of this pale blue orb. I am buoyed by both the act of expanding environmental education staff… and by the quality of personnel.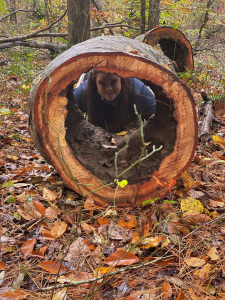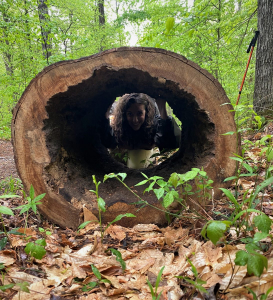 I found it fitting that Lauren and Scottie paused (and posed) standing atop a Civilian Conservation Corps culvert constructed in the 1930s. They know and understand that human and natural history are intertwined on all 21 Alabama State Parks and across the entire 48,000-acre Park System. They appreciate that the results of their efforts will reach across the next eight decades and beyond. They want to…and will…make a difference. I applaud their zeal to touch the future!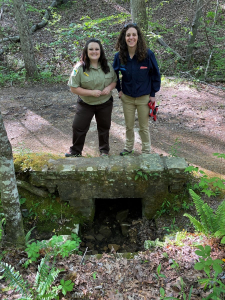 Nature inspires, even as it humbles. Whether the view from atop Shackleford Ridge (beginning of this Post) or the serene image from the front porch of the cabin where I stayed on the Park's Tranquility Lake (below), Nature is an elixir that stirs my soul. And, a salve that brings greater meaning to my life.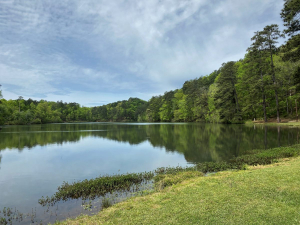 And, when I contemplate the people of vision and passion who established the Alabama State Park System decades ago, or consider today's leaders and educators who are lighting the torch for the next century, I am humbled. Humbled…and happy…to play some small role. To influence stewardship of some corner of this world through wisdom, knowledge, and hard work.
Alabama State Park Foundation Board
Thoughts and Reflections
I offer these reflections:
Our Parks are treasures… returning economic, recreation, and environmental benefits.
I celebrate our State's commitment to responsible and informed Earth Stewardship.
Hats-off to Park System leadership for strengthening environmental education.
Inhale and absorb Nature's elixir. May Nature Inspire, Inform, and Reward you!
Note: All blog post images created & photographed by Stephen B. Jones unless otherwise noted. Please circulate images with photo credit: "©2021 Steve Jones, Great Blue Heron LLC. All Rights Reserved."
Another Note: If you came to this post via a Facebook posting or by an another route, please sign up now (no cost… no obligation) to receive my Blog Post email alerts: http://eepurl.com/cKLJdL
And a Third: I am available for Nature-Inspired Speaking, Writing, and Consulting — contact me at steve.jones.0524@gmail.com
Reminder of my Personal and Professional Purpose, Passion, and Cause
If only more of us viewed our precious environment through the filters I employ. If only my mission and vision could be multiplied untold orders of magnitude:
Mission: Employ writing and speaking to educate, inspire, and enable readers and listeners to understand, appreciate, and enjoy Nature… and accept and practice Earth Stewardship.
Vision:
People of all ages will pay greater attention to and engage more regularly with Nature… and will accept and practice informed and responsible Earth Stewardship.
They will see their relationship to our natural world with new eyes… and will understand more clearly their Earth home.
Tagline/Motto: Steve (Great Blue Heron) encourages and seeks a better tomorrow through Nature-Inspired Living!
Steve's Three Books
I wrote my books Nature Based Leadership (2016), Nature-Inspired Learning and Leading (2017), and Weaned Seals and Snowy Summits: Stories of Passion for Place and Everyday Nature (2019; co-authored with Dr. Jennifer Wilhoit) to encourage all citizens to recognize and appreciate that every lesson for living, learning, serving, and leading is either written indelibly in or is powerfully inspired by Nature.
I began writing books and Posts for several reasons:
I love hiking and exploring in Nature
I see images I want to (and do) capture with my trusty iPhone camera
I enjoy explaining those images — an educator at heart
I don't play golf!
I actually do love writing — it's the hobby I never needed when my career consumed me
Judy suggested my writing is in large measure my legacy to our two kids, our five grand kids, and all the unborn generations beyond
And finally, perhaps my books and Blogs could reach beyond family and touch a few other lives… sow some seeds for the future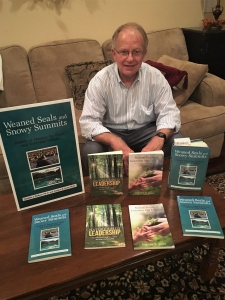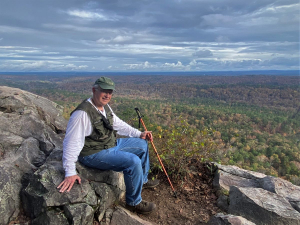 All three of my books (Nature Based Leadership; Nature-Inspired Learning and Leading; Weaned Seals and Snowy Summits) present compilations of personal experiences expressing my (and co-author Dr. Wilhoit for Weaned Seals and Snowy Summits) deep passion for Nature. All three books offer observations and reflections on my relationship to the natural world… and the broader implications for society. Order any and all from your local indie bookstore, or find them on IndieBound or other online sources such as Amazon and LifeRich.
http://stevejonesgbh.com/wp-content/uploads/2021/04/IMG_7635.jpg-04.15.21-OMSP-Governors-Address.jpg
1200
900
Steve Jones
http://stevejonesgbh.com/wp-content/uploads/2017/01/gbhweblogo.png
Steve Jones
2021-05-04 20:12:47
2021-05-05 15:10:03
Governor Kay Ivey's Exciting April 2021 State Park System Announcement at Oak Mountain State Park