Reflections on Natural Disasters
Today's instant global news connects us with calamities from Asian tsunamis to California and Australian wildfires to calving Antarctic mega-glaciers to seething volcanoes to European floods to a variety of weather extremes (hurricanes, tornadoes, avalanches, ice storms, severe thunderstorms, tidal surges, and drought). We anthropocentric humans dub such events as natural disasters. Yes, these perturbations are natural. But, in whose eyes are they disasters? Excepting their effect on humans and our lives, structures, and economies, they are simply normal fluxes of atmospheric physics, weather patterns, and our Earth's dynamic crustal plates. Landslides and earthquakes result from a constant battle for equilibrium. Storms of all sorts occur as the global atmosphere seeks balance. Glaciers work tirelessly to scrape mountains to the sea. Water and gravity likewise sweep soil, rocks, and associated debris seaward.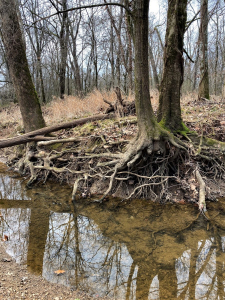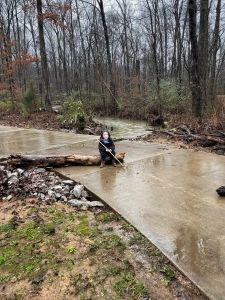 Fires have burned California forests, growing happily in a dry-summer/wet-winter Mediterranean climate on steep hillsides, since long before the first humans entered what became the Golden State. Winter rains have generated mudslides on the fire-cleared hillsides for as long as fires have periodically scorched the forests. The cycle of forest/fire/mudslide/forest is natural, and will continue without regard for the foolhardy humans who place homes with little regard to Nature's ways. Flood plains identify themselves clearly to the hydrologists among us, yet we build homes and cities in harm's way. We populate beachfronts subject to tropical storms with homes and other infrastructure. We time and again "protect" New Orleans by rebuilding, reinforcing, and elevating levees, yet as the city sinks year after year from the weight of thousands of feet of sediment, the city will one day pay the ultimate price.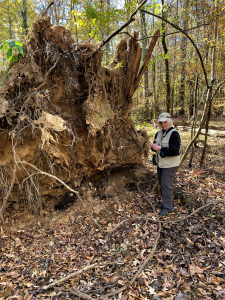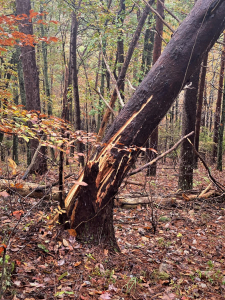 From the perspective of managers and recreationists at Joe Wheeler State Park (Rogersville, AL), the December 2019 tornado that destroyed the campground amounted to a natural disaster. Nature "handles" such disasters in stride. In fact, such storms serve to renew the forest, or whatever ecosystem is affected. It is we humans who struggle with the impacts.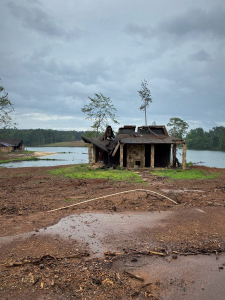 The week of February 15, we witnessed a deep-diving polar outbreak reaching to the Texas Gulf coast, bringing record low temperatures, relentless snowfall, and historic ice storms. The death toll in Texas alone reached 86. Property damage across the southern US matched major hurricane levels. The news media spoke of this as an unprecedented natural disaster. Many of the now-broken records go back 100-plus years to 1890. Unprecedented? Okay, in 1890 the US population was one-sixth of today's. Because home electricity did not appear commonly until 1930, residents in 1890 did not suffer from power outages. Frozen pipes? Likewise not a problem. A disaster? Certainly a disaster for those who lost power, experienced frozen pipes, were unable to secure clean water, suffered carbon monoxide poisoning, and went without food. But, a natural disaster? I think that Nature and her wildness will feel little consequence from such a weather phenomenon, which, while unusual, occurs every few decades or once a century.
Here in northern Alabama, the evening of February 17 brought us six inches of snow. I am sure it triggered many fender-benders and perhaps a few resultant injuries. Schools closed for several days. Yet, I do not consider this generally as more than a minor natural perturbation here on the eastern edge of the more calamitous cold air invasion. In fact, I welcomed the snow as a brief period of winter during a time when spring was locked and loaded, ready to emerge.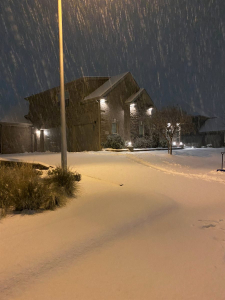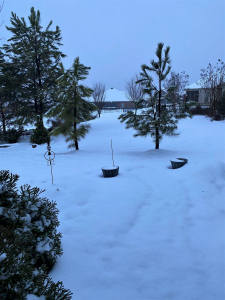 All of these natural disturbances are part of the grand cycle of life and the ongoing fluxes associated with forces seeking balance. Natural disasters? I beg to differ. Natural, yes. Disaster? Only in human terms. However, I understand how we derived the term. I don't suggest that we seek an alternate moniker. I simply want to remind readers that our own human impacts on the future may be more of a disaster than anything that Nature throws our way. Consider among others: foul air; abusive agricultural practices; soil erosion; wetland elimination; species extinction; water pollution; paving paradise (and putting up a parking lot; courtesy of Big Yellow Taxi, Joni Mitchell).
So-called natural disasters do not not dim my own maturing love affair with Nature. Instead, the vagaries, mysteries, and power of Nature further inspire me, driving me to seek deeper understanding of this incredible planet and our place within its global ecosystem.
Thoughts and Reflections
I offer three observations from my musings on natural disasters:
Everything in Nature occurs in accord with her own immutable laws
Nature cares not about human impacts
We humans can only deal with Nature… not control her
Inhale and absorb Nature's elixir. May Nature Inspire, Inform, and Reward you!
Note: All blog post images created & photographed by Stephen B. Jones unless otherwise noted. Please circulate images with photo credit: "©2021 Steve Jones, Great Blue Heron LLC. All Rights Reserved."
Another Note: If you came to this post via a Facebook posting or by an another route, please sign up now (no cost… no obligation) to receive my Blog Post email alerts: http://eepurl.com/cKLJdL
And a Third: I am available for Nature-Inspired Speaking, Writing, and Consulting — contact me at steve.jones.0524@gmail.com
Reminder of my Personal and Professional Purpose, Passion, and Cause
If only more of us viewed our precious environment through the filters I employ. If only my mission and vision could be multiplied untold orders of magnitude:
Mission: Employ writing and speaking to educate, inspire, and enable readers and listeners to understand, appreciate, and enjoy Nature… and accept and practice Earth Stewardship.
Vision:
People of all ages will pay greater attention to and engage more regularly with Nature… and will accept and practice informed and responsible Earth Stewardship.
They will see their relationship to our natural world with new eyes… and will understand more clearly their Earth home.
Tagline/Motto: Steve (Great Blue Heron) encourages and seeks a better tomorrow through Nature-Inspired Living!
Steve's Three Books
I wrote my books Nature Based Leadership (2016), Nature-Inspired Learning and Leading (2017), and Weaned Seals and Snowy Summits: Stories of Passion for Place and Everyday Nature (2019; co-authored with Dr. Jennifer Wilhoit) to encourage all citizens to recognize and appreciate that every lesson for living, learning, serving, and leading is either written indelibly in or is powerfully inspired by Nature.
I began writing books and Posts for several reasons:
I love hiking and exploring in Nature
I see images I want to (and do) capture with my trusty iPhone camera
I enjoy explaining those images — an educator at heart
I don't play golf!
I actually do love writing — it's the hobby I never needed when my career consumed me
Judy suggested my writing is in large measure my legacy to our two kids, our five grand kids, and all the unborn generations beyond
And finally, perhaps my books and Blogs could reach beyond family and touch a few other lives… sow some seeds for the future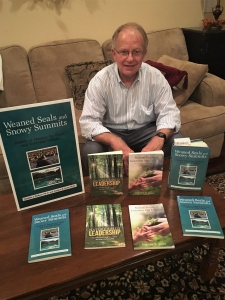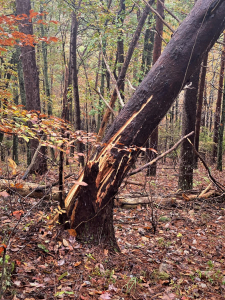 All three of my books (Nature Based Leadership; Nature-Inspired Learning and Leading; Weaned Seals and Snowy Summits) present compilations of personal experiences expressing my (and co-author Dr. Wilhoit for Weaned Seals and Snowy Summits) deep passion for Nature. All three books offer observations and reflections on my relationship to the natural world… and the broader implications for society. Order any and all from your local indie bookstore, or find them on IndieBound or other online sources such as Amazon and LifeRich.
http://stevejonesgbh.com/wp-content/uploads/2020/09/IMG_3347.jpg-06.08.20-Dec-19-2020-Tornado.jpg
1200
900
Steve Jones
http://stevejonesgbh.com/wp-content/uploads/2017/01/gbhweblogo.png
Steve Jones
2021-03-23 15:25:19
2021-03-23 15:25:19
Reflections on Natural Disasters