I've published more than 250 Great Blue Heron Posts over the past five years, ranging widely from observations in my own backyard to our western USA National Parks to visiting three National Parks in Kazakhstan in 2019. I've stayed true to the theme of Nature-Inspired Life and Living, and remain steadfast to my retirement Mission: Employ writing and speaking to educate, inspire, and enable readers and listeners to understand, appreciate, and enjoy Nature… and accept and practice Earth Stewardship.
An Unexpected Award for a Labor of Love!
Shorty after retiring permanently to Madison, Alabama January 2018, I accepted appointment as a founding member of the Alabama State Parks Foundation Board. Since then I've published dozens of these Great Blue Heron Posts inspired by my wanderings on many of Alabama's 21 incredible Parks, encompassing 47,000 acres of Alabama wild! The count includes 16 State Park Posts just since January 2020. The Foundation's Mission: The Alabama State Parks Foundation hosts a community of people who love our State's parks. A philanthropic partner of the Parks Administration, the Foundation seeks gifts that will support and enhance park programming, parks facilities, and parks experiences. Members of the Foundation are people dedicated to building and sustaining a great, statewide park system.
The Park System likewise has a mission to which I fully subscribe: Acquire and preserve natural areas; to develop, furnish, operate and maintain recreational facilities; and to extend the public's knowledge of the state's natural environment.
And, my own retirement mission resonates with both: Employ writing and speaking to educate, inspire, and enable readers and listeners to understand, appreciate, and enjoy Nature… and accept and practice Earth Stewardship.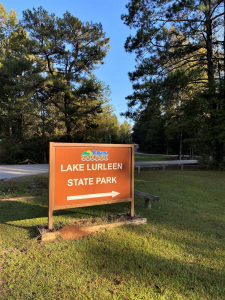 So, I have found a meaningful way to integrate my love of Nature, my passion for making a difference for Earth and its future, and my knack for translating the science of Nature toward inspiring others to learn about and care for her. Volunteering on behalf of the Alabama State Parks System enables me to satisfy my personal retirement mission and serve Nature, the System, and our State.
Here are my three most recent Posts generated by wandering nearby State Parks:
http://stevejonesgbh.com/2021/01/19/fungi-and-non-flowering-plants-mid-december-2020-at-monte-sano-state-park/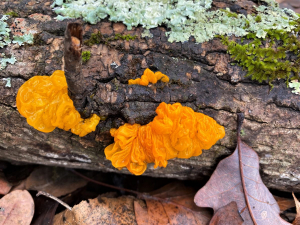 http://stevejonesgbh.com/2021/01/07/tree-form-curiosities-mid-december-2020-at-monte-sano-state-park/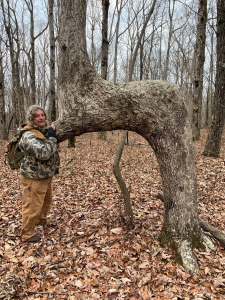 http://stevejonesgbh.com/2020/12/09/destination-kings-chair-oak-mountain-state-park/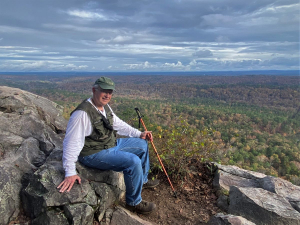 I am honored and humbled to receive one of the ten 2021 Eagle Awards! Here's Jerry Weisenfeld, Advertising and Marketing Manager for the Alabama State Park System, presenting the Award, fittingly, in the plateau forest near the Monte Sano State Park offices March 12, 2021.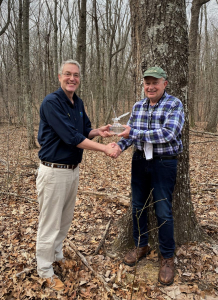 If the above photo of two unmasked adults shaking hands alarms you, please know that we both had received our second vaccinations and we're standing outside in a fresh breeze. If still upset, please see the photo below: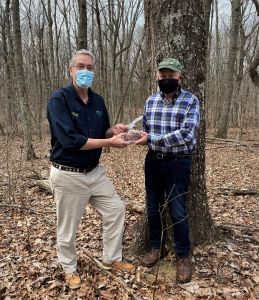 I accepted this Eagle Award with deep satisfaction and humility. Exploring our wildlands, getting to know our State Park gems, and offering my photos and reflections stand as a labor of absolute love!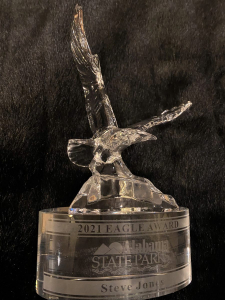 The crystal sculpture is apt — my heart soars like an eagle!
Here is the State Parks media release that preceded my accepting the Award from Jerry:
The Eagle Award is presented to people and organizations who have made outstanding contributions in support of the parks. For 2020, 10 winners were selected from nominations submitted. Congratulations to all of our 2021 Eagle Award Winners!
1) Randy Householder, of Montgomery, from Alabama Outdoor Adventurer (Community Partner)
2) Hailey Sutton and Christopher Cole, of Montgomery and reporters for WSFA News 12 (Community Partner)
3) Steve Jones, of Huntsville (Park Partner)
4) Shar and Phil Roos with A Year to Volunteer, Joe Wheeler and Buck's Pocket State Parks (Volunteer in the Park)
5) Pam and Rick Kerheval, Gulf State Park (Volunteer in the Park)
6) Carol and Jim Wehr, Gulf State Park (Volunteer in the Park)
7) David Rogers, DeSoto State Park (Volunteer in the Park)
8) Ed Rogers, of Huntsville (Volunteer in the Park)
9) Garrett Southers, of Scottsboro and Eagle Scout Troop 708 (Youth)
10) Alabama State Senator Tom Whatley, of Lee County (Elected Official)
Thoughts and Reflections
I offer these reactions in accepting the Award:
Reward in satisfaction and fulfillment alone is enough
Yet, receiving a significant Award I did not know existed is sweet beyond expression
The Eagle Award refuels my engine and inspires me to continue these Posts! 
Inhale and absorb Nature's elixir. May Nature Inspire, Inform, and Reward you!
Note: All blog post images created & photographed by Stephen B. Jones unless otherwise noted. Please circulate images with photo credit: "©2021 Steve Jones, Great Blue Heron LLC. All Rights Reserved."
Another Note: If you came to this post via a Facebook posting or by an another route, please sign up now (no cost… no obligation) to receive my Blog Post email alerts: http://eepurl.com/cKLJdL
And a Third: I am available for Nature-Inspired Speaking, Writing, and Consulting — contact me at steve.jones.0524@gmail.com
Reminder of my Personal and Professional Purpose, Passion, and Cause
If only more of us viewed our precious environment through the filters I employ. If only my mission and vision could be multiplied untold orders of magnitude:
Mission: Employ writing and speaking to educate, inspire, and enable readers and listeners to understand, appreciate, and enjoy Nature… and accept and practice Earth Stewardship.
Vision:
People of all ages will pay greater attention to and engage more regularly with Nature… and will accept and practice informed and responsible Earth Stewardship.
They will see their relationship to our natural world with new eyes… and will understand more clearly their Earth home.
Tagline/Motto: Steve (Great Blue Heron) encourages and seeks a better tomorrow through Nature-Inspired Living!
Steve's Three Books
I wrote my books Nature Based Leadership (2016), Nature-Inspired Learning and Leading (2017), and Weaned Seals and Snowy Summits: Stories of Passion for Place and Everyday Nature (2019; co-authored with Dr. Jennifer Wilhoit) to encourage all citizens to recognize and appreciate that every lesson for living, learning, serving, and leading is either written indelibly in or is powerfully inspired by Nature.
I began writing books and Posts for several reasons:
I love hiking and exploring in Nature
I see images I want to (and do) capture with my trusty iPhone camera
I enjoy explaining those images — an educator at heart
I don't play golf!
I actually do love writing — it's the hobby I never needed when my career consumed me
Judy suggested my writing is in large measure my legacy to our two kids, our five grand kids, and all the unborn generations beyond
And finally, perhaps my books and Blogs could reach beyond family and touch a few other lives… sow some seeds for the future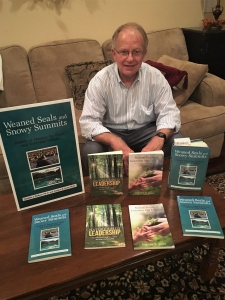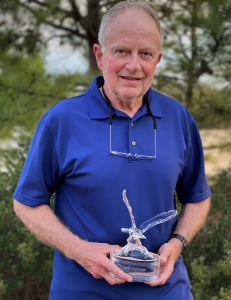 All three of my books (Nature Based Leadership; Nature-Inspired Learning and Leading; Weaned Seals and Snowy Summits) present compilations of personal experiences expressing my (and co-author Dr. Wilhoit for Weaned Seals and Snowy Summits) deep passion for Nature. All three books offer observations and reflections on my relationship to the natural world… and the broader implications for society. Order any and all from your local indie bookstore, or find them on IndieBound or other online sources such as Amazon and LifeRich.
http://stevejonesgbh.com/wp-content/uploads/2021/03/IMG_6864-2021-AL-State-Parks-Eagle-Award.jpg
1200
924
Steve Jones
http://stevejonesgbh.com/wp-content/uploads/2017/01/gbhweblogo.png
Steve Jones
2021-03-16 04:56:18
2021-03-16 04:56:18
My Alabama State Parks 2021 Eagle Award