February 6, 2021, I met a small group of fellow Nature enthusiasts at Huntsville, Alabama's Goldsmith-Schiffman Wildlife Sanctuary (G-SWS). Marian Moore-Lewis, author of Southern Sanctuary (a 12-month journey through the seasons at G-SWS), led my colleagues and me through the Sanctuary. This was their first visit to this exquisite wildness right in our backyard. I shared my prior Posts about the property with them in advance:
https://stevejonesgbh.com/2020/06/23/visiting-a-southern-sanctuary-my-orientation-visit/
https://stevejonesgbh.com/2020/06/30/visiting-a-southern-sanctuary-natures-insistence-upon-renewal/
https://stevejonesgbh.com/2020/12/23/late-fall-at-goldsmith-schiffman-wildlife-sanctuary/
I decided to draft yet another Post, spurred by the incredibly photogenic frosty morning and unmatched sky! We gathered at 27 degrees Fahrenheit, the air rich with moisture and all surfaces coated with delicate fingers and frostings of ice. A stalled cold front lay to our south, its associated cloud deck clearly visible in both photos below.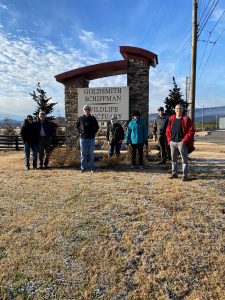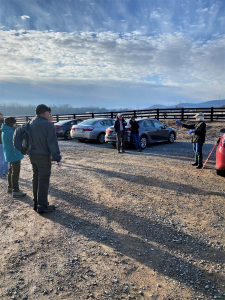 Sky and Nature as Art
I will never forget my love for a fresh snowy landscape showcased by a rising winter sun, wherever we lived further north. I can't expect such mornings but rarely here in the deeper south. So, instead, I will delight in the magic of a sunlit heavy frost. The view is nearly as stunning as a snowy field and woodland, without the bother of shoveling my driveway, driving 30 miles on packed snow roadways, and anticipating and dealing with slush, dirtying snow piles, and then the black ice of refreezing. Mornings such as this one stir my soul and lift my spirits.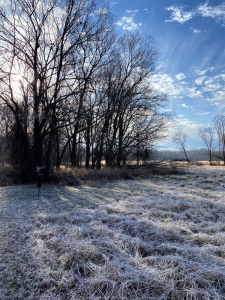 Of mornings such as this, Leonardo da Vinci observed simply:
Once you have tasted the sky, you will forever look up.
Could an artist paint a more lovely scene than this view (below) of absolute peace, tranquility, and contentment? A winter-dormant, fallow field; a barren treeline of leafless hardwoods; the sun backlighting thin, fair-weather clouds. Such an image stirs twin competing (or, complementing?) feelings. The first is deep humility… for, standing there in frosted awe, I realize that I am nothing more than an average human intellect within its fragile vessel for a brief moment in time. A human lifespan is nothing across the vast heartbeat of time. Consider my soon-to-be-seventy-years on planet Earth contrasted to the ultra-deep space, 13-billion-year-old-galaxy images that Hubble is now collecting. However, even with the deep humility, the same photograph below creates a sense of overwhelming inspiration, countering the brief sense of woe and insignificance. I remind myself that this lifetime is all I have, my only window for embracing the humility and reveling in Nature's inspiration. Imagine how empty and bereft a life could be without deeply inhaling the glory of mornings in the wildness that lies all around us.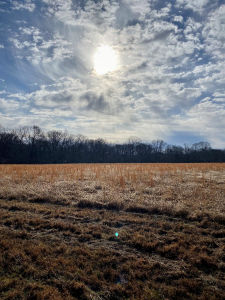 I refuse to miss any such mornings. I accept and embrace each day as a gift… for that is exactly what every dawning is. John Muir said it all:
The grand show is eternal. It is always sunrise somewhere.
And my friend (a fellow Earth-traveler who reaches across 500 years to show and teach) Leonardo da Vinci, observed so eloquently:
Principles for the Development of a Complete Mind: Study the science of art. Study the art of science. Develop your senses- especially learn how to see. Realize that everything connects to everything else.
I appreciate Nature's aesthetic, in large measure, because I understand it… through my own deep scientific study (PhD in applied ecology), and practice of the art of my scientific discipline. And, I understand from observing relentlessly and passionately across seven decades of Nature-absorbed life and living. Some say that beauty is only skin deep. The scene below is indeed beautiful in its two-dimensional glory. Yet, I see the ecological significance of its multidimensional tale of atmospheric physics, seasonal fluxes, ecotonal implications, and diurnal fluxes. I have said frequently that every place in Nature has a compelling story to tell. The story implied below could fill a volume… no, many volumes. I have finally, after all these years, learned how to see… after first learning how to look.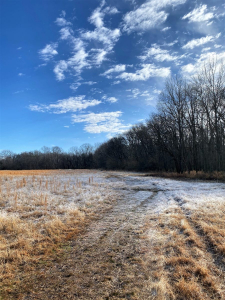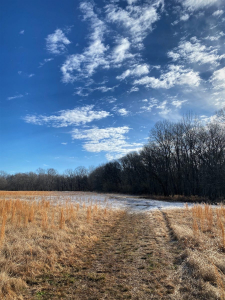 As the frost begins to melt in the quickening sun, the now-stationary front lies visibly across the southern horizon. When it passed south over us two days prior, the system dropped a third of an inch of rain. I knew that it had stalled, and was forecast to retreat northward, returning rain to us within 24 hours. Overnight and the next day, I measured another one-half inch. Would I have enjoyed the image below as much had I no clue of its weather implications? I think not. Peel away enough layers of the onion, and the onion is gone. Each layer of science within Nature strengthens the story, deepens the plot, and multiplies my appreciation.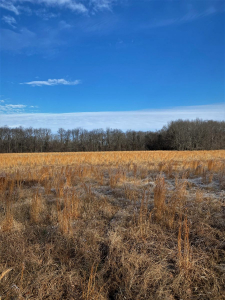 Again, da Vinci nailed it:
Nothing can be loved or hated unless it is first understood.
The noblest pleasure is the joy of understanding.
I thrill and revel in understanding the nuances, layers, and lessons embedded in all things of Nature. I have said time and again that every lesson for living, learning, leading, and serving is either written indelibly in or is compellingly inspired by Nature.
Additional Observations
For those willing to look and eager to see, the sky resides above… and below, here reflected flawlessly in the placid water of Jobala Pond, a now-naturalized 70-year-old gravel and sand pit mined for a nearby public road. Although early-February is still winter, even this far south, the alder leaning over the water and reflected on the pond's surface is bursting in three-inch catkins, its male spring flowers. Seasons here do not rush into action… they slow transition one into another.
A side note: eleven days later (February 17) we measured six inches of snow; a week after that (February 24) I hiked the nearby Wheeler National Wildlife Refuge at 70 degrees!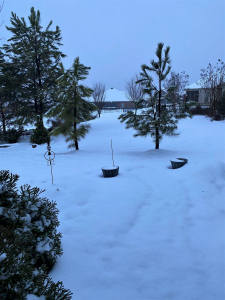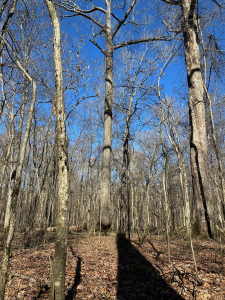 We walked along a secondary arm of the Flint River, this segment embracing the island across from my colleagues, and rejoining the primary channel another 100 yards downstream, just beyond sight. I include these photos simply to evidence the diversity of habitats and ecotones on the Sanctuary. The photo below right signals the dynamic environment along a river that flushes in rapid torrents several times a year, scouring sandy banks, exposing tree roots, and shifting channels. Life along the river is never static. So, too, nothing in Nature is static.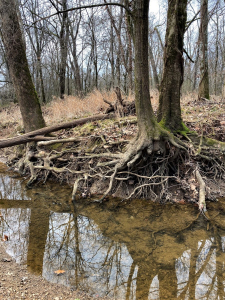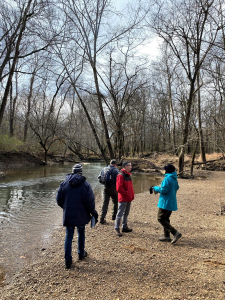 And, finally, I leave you with a significant Eastern red cedar burl (a tree tumor, if you will), one that would make a beautiful bowl in the hands of the right wood-turner.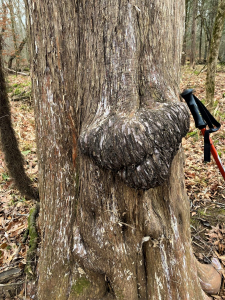 I've yet to enter Nature without discovering something unexpected… and, even the expected yields immeasurable reward, satisfaction, and fulfillment. Yes, the grand show is eternal. It is always sunrise somewhere.
Thoughts and Reflections
I offer three observations borrowed from Muir and da Vinci:
Once you have tasted the sky, you will forever look up
The grand show is eternal. It is always sunrise somewhere
The noblest pleasure is the joy of understanding Nature
Inhale and absorb Nature's elixir. May Nature Inspire, Inform, Humble, and Reward you!
Note: All blog post images created & photographed by Stephen B. Jones unless otherwise noted. Please circulate images with photo credit: "©2021 Steve Jones, Great Blue Heron LLC. All Rights Reserved."
Another Note: If you came to this post via a Facebook posting or by an another route, please sign up now (no cost… no obligation) to receive my Blog Post email alerts: http://eepurl.com/cKLJdL
And a Third: I am available for Nature-Inspired Speaking, Writing, and Consulting — contact me at steve.jones.0524@gmail.com
Reminder of my Personal and Professional Purpose, Passion, and Cause
If only more of us viewed our precious environment through the filters I employ. If only my mission and vision could be multiplied untold orders of magnitude:
Mission: Employ writing and speaking to educate, inspire, and enable readers and listeners to understand, appreciate, and enjoy Nature… and accept and practice Earth Stewardship.
Vision:
People of all ages will pay greater attention to and engage more regularly with Nature… and will accept and practice informed and responsible Earth Stewardship.
They will see their relationship to our natural world with new eyes… and will understand more clearly their Earth home.
Tagline/Motto: Steve (Great Blue Heron) encourages and seeks a better tomorrow through Nature-Inspired Living!
Steve's Three Books
I wrote my books Nature Based Leadership (2016), Nature-Inspired Learning and Leading (2017), and Weaned Seals and Snowy Summits: Stories of Passion for Place and Everyday Nature (2019; co-authored with Dr. Jennifer Wilhoit) to encourage all citizens to recognize and appreciate that every lesson for living, learning, serving, and leading is either written indelibly in or is powerfully inspired by Nature.
I began writing books and Posts for several reasons:
I love hiking and exploring in Nature
I see images I want to (and do) capture with my trusty iPhone camera
I enjoy explaining those images — an educator at heart
I don't play golf!
I actually do love writing — it's the hobby I never needed when my career consumed me
Judy suggested my writing is in large measure my legacy to our two kids, our five grand kids, and all the unborn generations beyond
And finally, perhaps my books and Blogs could reach beyond family and touch a few other lives… sow some seeds for the future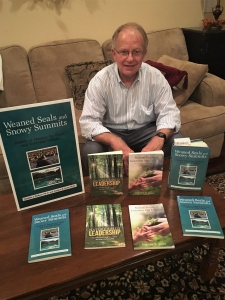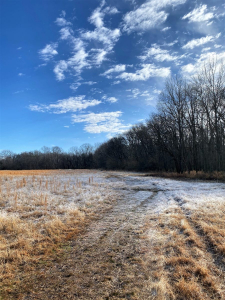 All three of my books (Nature Based Leadership; Nature-Inspired Learning and Leading; Weaned Seals and Snowy Summits) present compilations of personal experiences expressing my (and co-author Dr. Wilhoit for Weaned Seals and Snowy Summits) deep passion for Nature. All three books offer observations and reflections on my relationship to the natural world… and the broader implications for society. Order any and all from your local indie bookstore, or find them on IndieBound or other online sources such as Amazon and LifeRich.
http://stevejonesgbh.com/wp-content/uploads/2021/02/IMG_6519.jpg-Goldsmith-Schiffman-WS-02.06.21-8.27-a.m..jpg
1200
900
Steve Jones
http://stevejonesgbh.com/wp-content/uploads/2017/01/gbhweblogo.png
Steve Jones
2021-02-25 04:53:00
2021-02-25 04:53:00
Early February Spectacular Frosty Morning Sky at the Goldsmith-Schiffman Wildlife Sanctuary