Saturday, December 19, 2020 dawned gloriously without ceremony. Too few people witnessed the day's beginning… only a handful of us intrepid souls apparently had no penchant for late Friday nights, choosing instead early Saturday risings. Judy and I perform our daily pre-dawn 1.5-mile neighborhood walk irrespective of whether it is weekday or weekend.
I offer a 30-minute sequence of dawn-sky-show from that near-solstice winter morning. The sun at that time of year here in north Alabama rises nearly 30 degrees south of due east, a full 60-degree swing from the summer solstice. Daylight arrives an hour and 15 minutes later on December 19 compared to six months prior (hours adjusted for DST and ST). I did not know the nuances of the term dawn until researching and drafting this Post. Science recognizes three stages of dawn: astronomical; nautical; and civil. Here are the delineations for December 19:
Astronomical Dawn (center point of sun reaches 18 degrees below the horizon): 5:18 AM
Nautical Dawn (center point of sun reaches 12 degrees below the horizon): 5:49 AM
Civil Dawn (center point of sun reaches 6 degrees below the horizon): 6:20 AM
Daylight (center point of sun rises above the horizon): 6:48 AM
We'll keep these in mind for the following photos and discussion. I arise early enough daily to know that astronomical dawn hints at its arrival only to spring birds, whose faith in the new day, and some sixth sense of anticipation that I do not share, signal their morning romance-induced song-burst. We began our walk at the onset of nautical dawn, when the band of sky-brightening is visible in the ESE sky. Although most of our route confines us within a suburban development, we passed a vacant lot bounded to the east by a woodlot at 6:15. At the tail end of nautical dawn, the sky has begun to blaze.
Nautical Dawn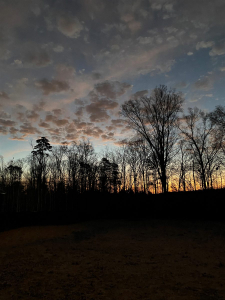 Four minutes make a visible difference as we near civil dawn at 6:19 AM.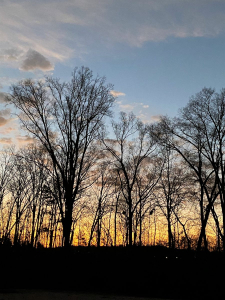 Civil Dawn
No other point along our route permitted unobstructed view of the new day's sky. We returned home where I assumed my flat-on-my-back sky-viewing position atop our garden wall near the edge of Big Blue Lake (my name for the four-acre pond on whose northern shore we reside). This series of photos begins at 6:42 AM and runs four minutes to just before the official sunrise. Over those few minutes, dawn transitioned from lovely to just shy of spectacular. Applying the old adage of "You should quit while you're ahead," I ceased snapping photos when the progress shifted into its waning phase. I won't offer much commentary. A photo is, in fact, worth a thousand words… photo language is far richer than my own feeble and unworthy verbiage.
Cirrus and altocumulus clouds provided the matrix upon which advancing dawn marched its colors toward sunrise. Cirrus are the wispy, paint-stroke clouds high above… 20,000 feet and higher, composed of ice crystals (even on hot summer days). Altocumulus are mid-level cotton balls from 6,500 to 20,000. The two types are clearly distinguishable in this series of dawn photos, these first two at 6:42.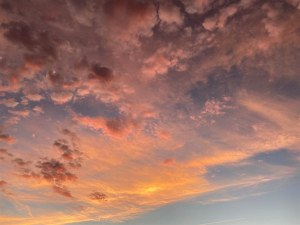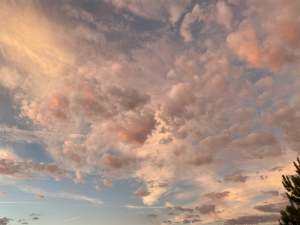 Change accompanied the swing of the second hand, these two at 6:43.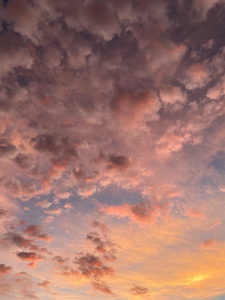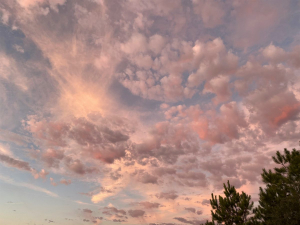 I witnessed subtle image alterations depending upon how I pointed the camera… perspectives not apparent through the viewfinder. Upon viewing later, the photo below left reminded me of the view from high Earth orbit, as though looking down on an ocean partially obscured by a cloud deck, again at 6:43. The image below right took me back to looking up (out), the cirrus once more visible beyond the altocumulus.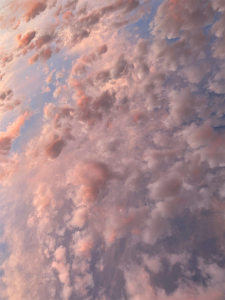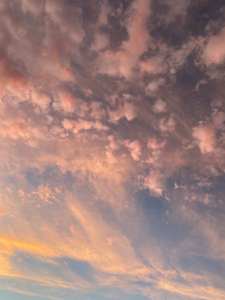 By 6:44 and 6:45 (below) the cirrus has further brightened as the altocumulus glows a little more deeply.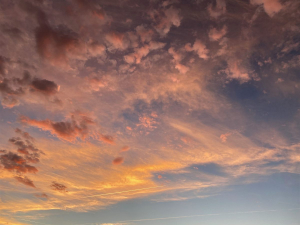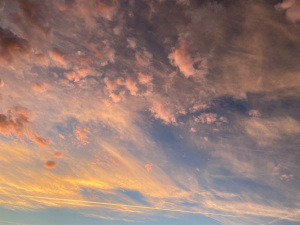 The morning spectacle reached its zenith at 6:46, two minutes before sunrise, below the same perspective in full color and black and white.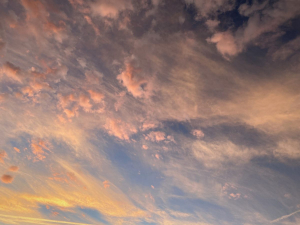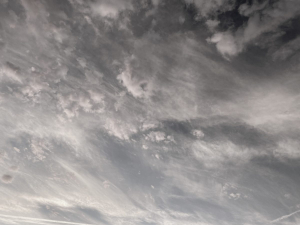 This dawn series calls Joyce Kilmer's verse to mind:
"Poems are made by fools like me,
But only God can make a tree."
Or a sunrise; a sunset; a snowy woods; a cloud-draped mountain; and infinite other snapshots of Nature's beauty, magic, wonder, and awe!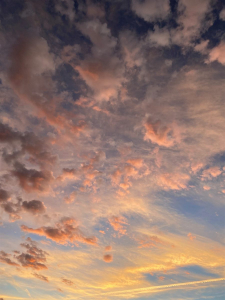 As so often is the case, John Muir anticipated my dawn-sky reflections:
When we contemplate the whole globe as one great dewdrop, striped and dotted with continents and islands, flying through space with other stars all singing and shining together as one, the whole universe appears as an infinite storm of beauty.
Thoughts and Reflections
Thirty minutes of quiet dawn sky contemplation can encapsulate a lifetime of Nature-Inspiration:
Exquisite colors
Fanciful patterns
Unlimited peace, tranquility, and promise
Inhale and absorb Nature's elixir. May Nature Inspire, Inform, and Reward you!
Note: All blog post images created & photographed by Stephen B. Jones unless otherwise noted. Please circulate images with photo credit: "©2021 Steve Jones, Great Blue Heron LLC. All Rights Reserved."
Another Note: If you came to this post via a Facebook posting or by an another route, please sign up now (no cost… no obligation) to receive my Blog Post email alerts: http://eepurl.com/cKLJdL
And a Third: I am available for Nature-Inspired Speaking, Writing, and Consulting — contact me at steve.jones.0524@gmail.com
Reminder of my Personal and Professional Purpose, Passion, and Cause
If only more of us viewed our precious environment through the filters I employ. If only my mission and vision could be multiplied untold orders of magnitude:
Mission: Employ writing and speaking to educate, inspire, and enable readers and listeners to understand, appreciate, and enjoy Nature… and accept and practice Earth Stewardship.
Vision:
People of all ages will pay greater attention to and engage more regularly with Nature… and will accept and practice informed and responsible Earth Stewardship.
They will see their relationship to our natural world with new eyes… and will understand more clearly their Earth home.
Tagline/Motto: Steve (Great Blue Heron) encourages and seeks a better tomorrow through Nature-Inspired Living!
Steve's Three Books
I wrote my books Nature Based Leadership (2016), Nature-Inspired Learning and Leading (2017), and Weaned Seals and Snowy Summits: Stories of Passion for Place and Everyday Nature (2019; co-authored with Dr. Jennifer Wilhoit) to encourage all citizens to recognize and appreciate that every lesson for living, learning, serving, and leading is either written indelibly in or is powerfully inspired by Nature.
I began writing books and Posts for several reasons:
I love hiking and exploring in Nature
I see images I want to (and do) capture with my trusty iPhone camera
I enjoy explaining those images — an educator at heart
I don't play golf!
I actually do love writing — it's the hobby I never needed when my career consumed me
Judy suggested my writing is in large measure my legacy to our two kids, our five grand kids, and all the unborn generations beyond
And finally, perhaps my books and Blogs could reach beyond family and touch a few other lives… sow some seeds for the future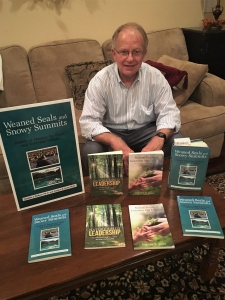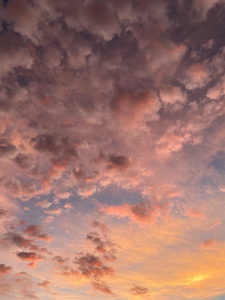 All three of my books (Nature Based Leadership; Nature-Inspired Learning and Leading; Weaned Seals and Snowy Summits) present compilations of personal experiences expressing my (and co-author Dr. Wilhoit for Weaned Seals and Snowy Summits) deep passion for Nature. All three books offer observations and reflections on my relationship to the natural world… and the broader implications for society. Order any and all from your local indie bookstore, or find them on IndieBound or other online sources such as Amazon and LifeRich.
http://stevejonesgbh.com/wp-content/uploads/2020/12/IMG_6105.jpg-12.19.20-6.42-AM-Backyard.jpg
900
1200
Steve Jones
http://stevejonesgbh.com/wp-content/uploads/2017/01/gbhweblogo.png
Steve Jones
2021-02-03 16:30:29
2021-02-03 16:30:29
Dawn Sky Glory December 19, 2020