July 10, 2020, Judy and I took our two Alabama grandsons (Jack, 12, and Sam, 6) to Cathedral Caverns State Park. No hiking the forest trails for this State Park visit. There are trails there that I'll save for a subsequent trip.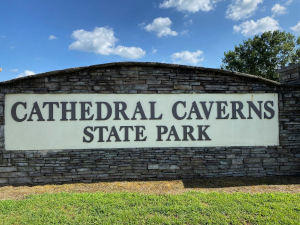 I won't devote a lot of text to this Post. The Caverns offer a different kind of Nature from my general forest-oriented photo-essays. I include this Post as a sidebar evidencing that my normal forest ecosystem immersions stand as a rather narrow slice of Nature's beauty, magic, wonder, and awe. A secondary point I wish to make is that Alabama's State Parks offer variety beyond imagination. Cathedral Caverns is a world-class below-ground treasure. Also consider the incredible above-ground diversity as I've demonstrated from Gulf State Park to Cheaha, Monte Sano, and Joe Wheeler. I still have so much to explore and discover in the forests across the Alabama State Parks system.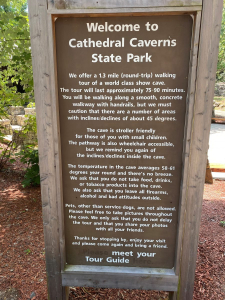 So, let's consider this a brief break from my forest wanderings. Besides, we cherished the cool temperatures within Cathedral Caverns on a tough mid-summer afternoon. The cavern is massive. I gazed back at the entrance and saw the ghosts and heard the echoes of ten thousand years of Native Americans finding shelter within the mouth.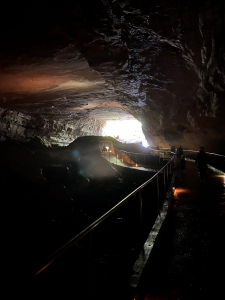 I had no idea that my iPhone-11 would capture the cavern images so well. I won't burden the reader with extensive (endless) explanations. Suffice it to say the caverns offer incredible sights.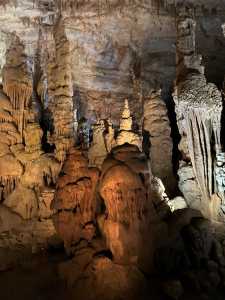 The cavern derives its name from the soaring columns, massive sanctuary vaults, and towering pipe-organ structures. I felt sacred connections to the place and to the adventurous souls who entered this silent world for many centuries.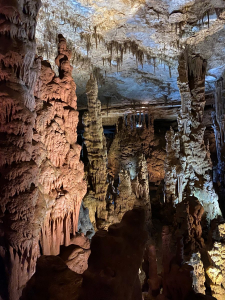 I can't recall what moniker our tour guide gave to this formation. It strikes me as a parapet, an elevated balcony with low walls overlooking the trail below.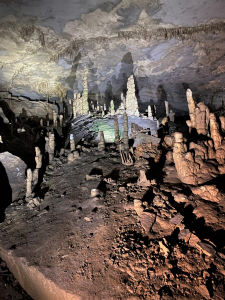 This thin column reaches from ceiling to cavern floor. A bearded guard stands with broad shoulders to the right side of the photo.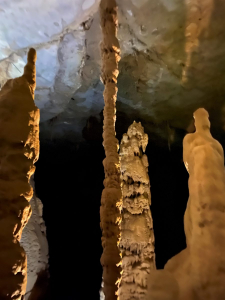 Our tour guide referred to this 15-foot-high flowstone as The Waterfall, an apt moniker.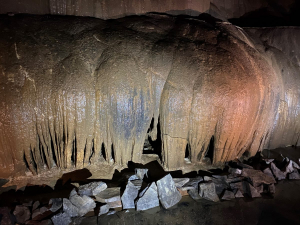 Here's another cathedral room, with people and the lighted walkway as an indication of scale.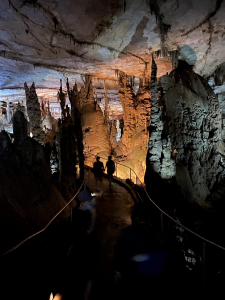 The grandsons and I sensed beings within the cave, drawing strength we presumed from its perpetual darkness (absent the artificial lighting). Although we did not actually see The Grinch (or even fathom why he might be present), there is no doubt that we saw his shadow, peering from behind the massive column.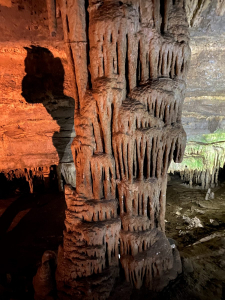 We just can't seem to escape Covid-19 reminders. This Park mannequin-guide stood (literally and symbolically) to remind us to maintain social distancing and wear a mask otherwise.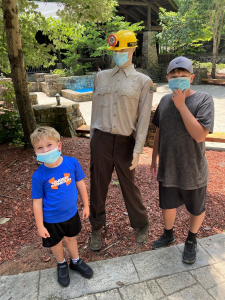 I recommend Cathedral State Park to all who pass through north Alabama. It's a natural wonder, a great escape from the heat, and another splendid example of The Nature of North Alabama!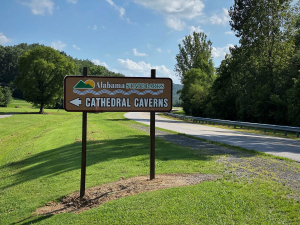 As I indicated above, I have yet to explore the Park's above-ground woodland trails. I know I'll discover at least a little magic and wonder there.
Alabama State Parks Foundation
I'll remind you that I serve on the Alabama State Parks Foundation Board, in part because of my love of Nature and in recognition for my writing many prior Posts about visiting and experiencing the Parks. I urge you to take a look at the Foundation website and consider ways you might help steward these magical places: https://asparksfoundation.org/ Perhaps you might think about supporting the Parks System education and interpretation imperative: https://asparksfoundation.org/give-today#a444d6c6-371b-47a2-97da-dd15a5b9da76
The Foundation exists for the sole purpose of providing incremental operating and capital support for enhancing our State parks.
Thoughts and Reflections
We occupy a dynamic planet rich with beauty, magic, wonder, and awe, both living and non-living:
Nature's wonder is where we seek it… whether along a Gulf coastal estuary, atop Cheaha Mountain, or hidden deep underground.
Inhale and absorb Nature's elixir. May Nature Inspire, Inform, and Reward you!
Note: All blog post images created & photographed by Stephen B. Jones unless otherwise noted. Please circulate images with photo credit: "©2020 Steve Jones, Great Blue Heron LLC. All Rights Reserved."
Another Note: If you came to this post via a Facebook posting or by an another route, please sign up now (no cost… no obligation) to receive my Blog Post email alerts: http://eepurl.com/cKLJdL
And a Third: I am available for Nature-Inspired Speaking, Writing, and Consulting — contact me at steve.jones.0524@gmail.com
Reminder of my Personal and Professional Purpose, Passion, and Cause
If only more of us viewed our precious environment through the filters I employ. If only my mission and vision could be multiplied untold orders of magnitude:
Mission: Employ writing and speaking to educate, inspire, and enable readers and listeners to understand, appreciate, and enjoy Nature… and accept and practice Earth Stewardship.
Vision:
People of all ages will pay greater attention to and engage more regularly with Nature… and will accept and practice informed and responsible Earth Stewardship.
They will see their relationship to our natural world with new eyes… and will understand more clearly their Earth home.
Tagline/Motto: Steve (Great Blue Heron) encourages and seeks a better tomorrow through Nature-Inspired Living!
Steve's Three Books
I wrote my books Nature Based Leadership (2016), Nature-Inspired Learning and Leading (2017), and Weaned Seals and Snowy Summits: Stories of Passion for Place and Everyday Nature (2019; co-authored with Dr. Jennifer Wilhoit) to encourage all citizens to recognize and appreciate that every lesson for living, learning, serving, and leading is either written indelibly in or is powerfully inspired by Nature.
I began writing books and Posts for several reasons:
I love hiking and exploring in Nature
I see images I want to (and do) capture with my trusty iPhone camera
I enjoy explaining those images — an educator at heart
I don't play golf!
I actually do love writing — it's the hobby I never needed when my career consumed me
Judy suggested my writing is in large measure my legacy to our two kids, our five grand kids, and all the unborn generations beyond
And finally, perhaps my books and Blogs could reach beyond family and touch a few other lives… sow some seeds for the future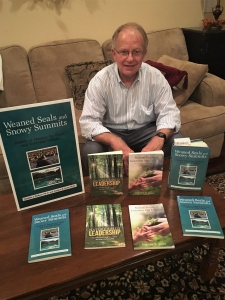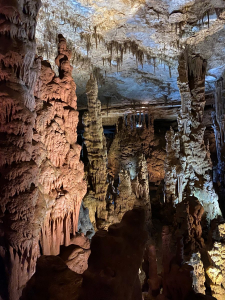 All three of my books (Nature Based Leadership; Nature-Inspired Learning and Leading; Weaned Seals and Snowy Summits) present compilations of personal experiences expressing my (and co-author Dr. Wilhoit for Weaned Seals and Snowy Summits) deep passion for Nature. All three books offer observations and reflections on my relationship to the natural world… and the broader implications for society. Order any and all from your local indie bookstore, or find them on IndieBound or other online sources such as Amazon and LifeRich.
http://stevejonesgbh.com/wp-content/uploads/2020/07/IMG_3798.jpg-07.10.20-.jpg
1200
900
Steve Jones
http://stevejonesgbh.com/wp-content/uploads/2017/01/gbhweblogo.png
Steve Jones
2020-10-01 18:28:10
2020-10-01 18:28:10
Wonder Below Ground: Cathedral Caverns State Park