November 29, 2016, a weak tornado (EF-0; winds 40-72 mph or EF-1; 73-112 mph) touched down briefly at the northern bluff-edge of Monte Sano State Park's North Plateau Trail. I hiked the trail circuit August 27, 2020 to assess forest healing and recovery after nearly four full growing seasons since the November storm. I include in this Post State Park file photos taken November 30, 2016 and my own photographs from March 22, 2018 (one growing season later), and from my recent examination. I am never surprised to see how well and rapidly Nature moves beyond disturbance, quickly filling voids to assure that the ecosystem closes ranks, recaptures site resources, and reestablishes equilibrium (such as it is in our dynamic forests). I've said time and again that nothing in Nature is static. Disturbance is one of Nature's constants. The miracles of rebirth and recovery are honed by millennia of practice. The genotypes and ecosystem components that adapt to disturbance, whether subtle or catastrophic, are the ones that persevere. This bluff-side oak-hickory forest obviously knows the drill.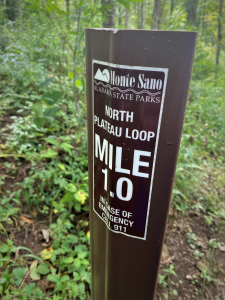 Taken November 30, 2016, the day after the tornado, this Park file photo shows the narrow strip of wind-thrown forest. Many stems are uprooted while others snapped near the ground. Most seem to have fallen to the east.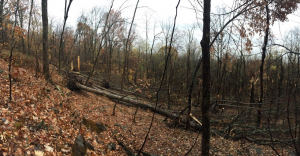 Also from the Park files, this view is a 180-degree panorama. The view east is on the right; west on the left. Some trees remain leaning, not thrown completely to the ground. Note that the trail is at the plateau edge.

Although I accept the Park staff assertion that the storm had been verified as a tornado, I could not rule out, from my own observations, that the cause could be attributable to straight-line winds, a thunderstorm microburst that can be quite damaging. The National Weather Service describes microbursts:
It all starts with the development of a thunderstorm and the water droplets/hailstones being suspended within the updraft.  Sometimes an updraft is so strong it suspends large amounts of these droplets and hailstones in the upper portions of the thunderstorm. There are many factors that can lead to evaporational cooling (sinking air) and therefore weakening of the updraft. Once this occurs, it is no longer capable of holding the large core of rain/hail up in the thunderstorm. As a result, the core plummets to the ground. As it hits the ground it spreads out in all directions. The location in which the microburst first hits the ground experiences the highest winds and greatest damage. Wind speeds in microbursts can reach up to 100 mph, or even higher, which is equivalent to an EF-1 tornado! Winds this high can cause major damage to home and other structures.
So, whether a weak tornado or a localized microburst, the storm exacted forest damage along a narrow one-quarter-mile stretch parallel to the bluff edge, just 100 to 200 feet north of the campground. Talk about luck of the draw! I wondered how many people occupied the campground that evening… and how many would have suffered dire consequences had the transect shifted just a short distance southward. Here again, is a Park file photo, this one from an occupied campsite.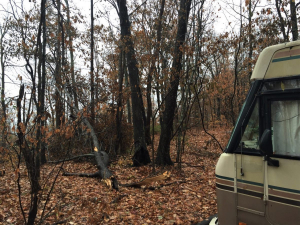 March 22, 2018 Photos
I first hiked the North Plateau Trail March 22, 2018, just a couple of months after establishing permanent residency in nearby Madison, Alabama. I did not know in advance that such a storm had impacted the Park just 16 months (one growing season) prior. Park crews had cleared the trail. I recognized the storm damage immediately, still raw…with healing not yet apparent. Sure, I saw limited evidence of seasonally-dead herbaceous vegetation and some woody sprouting that had begun to fill the void, but my overwhelming impression was of a raw wound.
Here's the view to the west showing windthrow mounds and downed logs. The campground is just out of view to the left. The larger trees are down; ragged mid-canopy residuals remain.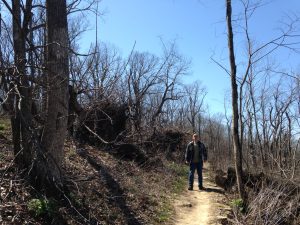 This view is downhill through the foreground rubble. The undamaged forest stands several hundred feet below the narrow storm path.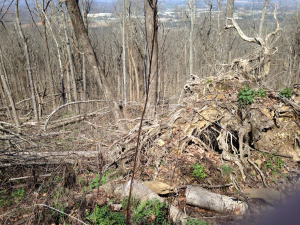 Note that debris on the ground is clearly visible, unlike what I could see in late August three growing seasons later.
Four Growing Seasons of Healing
August 27, 2020 I once again circuited the North Plateau Trail. What a difference three additional growing seasons make! Nothing raw about Nature's response to disturbance. A nearly solid wall of green obscured all ground debris (below left). Remnant mid-canopy trees are flush with foliage expanding into the full sunshine. The standing snag of a tornado-destroyed oak appears only through the view-window rapidly closing (below right).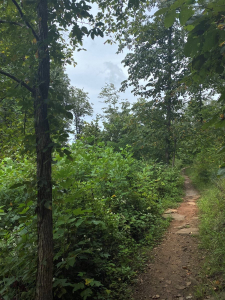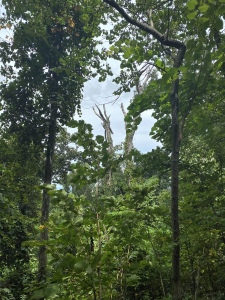 One of the remnant trees (mid-opening below left) appears as a green column, having sprouted shoots from adventitious buds responding to full sunlight along its entire height. A Chinese princess tree (Paulownia tomentosa), an escaped ornamental landscape species from central and western China, is growing explosively in the disturbed area (below right).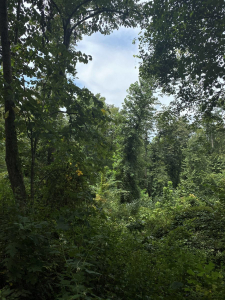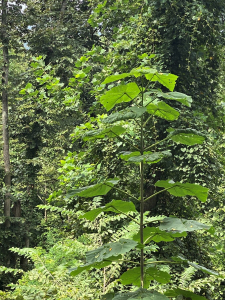 This species is a dreaded competitor. From the EcosystemGardening website:
Paulownia Trees are highly invasive and are destroying native ecosystems from Maine to Florida and Texas, as well as the Pacific Northwest. However, open almost any gardening magazine and you'll find adds touting this tree as an "amazing, fast-growing, shade tree." It is this fast-growing nature that is causing so many problems for native ecosystems. Growing up to 15 feet in a single year, this invasive tree shades out and out-competes native plant communities for resources such as water and nutrients. It thrives in disturbed soils, is drought and pollution tolerant, and easily takes over riparian areas. Every spring when it blooms, I am dismayed at how many more of these trees have gained a foothold along the wooded stream as I drive through my neighborhood. It can reproduce from seed or root sprouts, which grow very quickly. A single tree can produce up to 20 million seeds each year, which are easily dispersed by wind and water. Even though the light purple blooms are quite pretty, I have learned to hate the sight of them.
Perhaps fodder for a new horror movie" Unleashed by Tornadic Winds… The Evil Princess Tree!
I'll end with a few more photographs with little explanation. Below left another opening rapidly filling, framed by a snag and remnants. Looking east, the view below right shows the undamaged stand to the right of the trail and a line of untouched trees along the path's north edge. Nature dances along narrow lines separating devastation from untouched.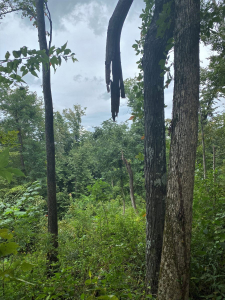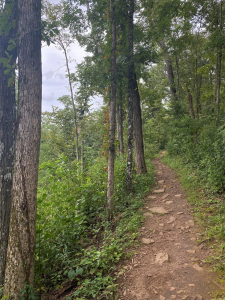 Below left depicts the place north of the trail when the beast began touching down. From there eastward it left its mark. Below right, just 50-feet westward, the forest is mostly intact.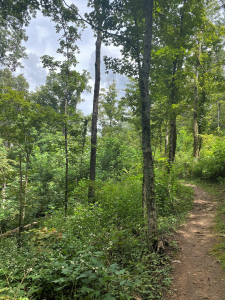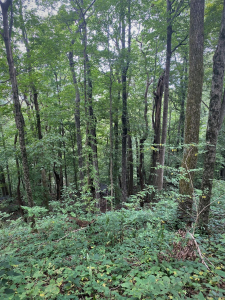 Nearby, just a single top broken hints at the storm that just 200 feet away nearly leveled that narrow strip of forest.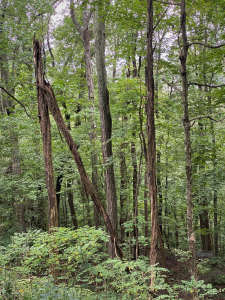 All of us in northern Alabama know that tornadoes are a significant thread (and threat!) in our weather fabric. We are aware that tornadoes range from mild (this November 2016 storm as an example) to catastrophic. An EF-3 (maximum is EF-5) struck the Joe Wheeler State Park campground last winter (December 19, 2019; below). Damaging, yes, but not catastrophic; the foreground disturbance is from debris clearing with heavy equipment. I recall flying in a private plane in the late 1990s over the track of an EF-5 tornado on the west side of Birmingham. The one-half-mile-wide swath left bare concrete pads where houses once stood. Even lawns had been wind-scraped to bare brown soil. The fury of Nature unleashed! Devastation! Horror beyond words for those who bore its brute forest.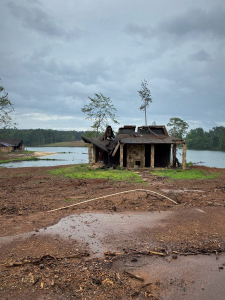 The November 2016 winds along the northern bluff merely hinted that in the face of Nature's absolute power we mere humans are nothing.
Alabama State Parks Foundation
I'll remind you that I serve on the Alabama State Parks Foundation Board, in part because of my love of Nature and in recognition for my writing many prior Posts about visiting and experiencing the Parks. I urge you to take a look at the Foundation website and consider ways you might help steward these magical places: https://asparksfoundation.org/ Perhaps you might think about supporting the Parks System education and interpretation imperative: https://asparksfoundation.org/give-today#a444d6c6-371b-47a2-97da-dd15a5b9da76
The Foundation exists for the sole purpose of providing incremental operating and capital support for enhancing our State parks.
Thoughts and Reflections
My late August trek along the narrow track of a weak tornado spurred several observations:
Nature's power and fury equilibrate with her beauty and inspiration
Nothing in Nature is static
Nature can heal even the worst of her wounds
Inhale and absorb Nature's elixir. May Nature Inspire, Inform, and Reward you!
Note: All blog post images created & photographed by Stephen B. Jones unless otherwise noted. Please circulate images with photo credit: "©2020 Steve Jones, Great Blue Heron LLC. All Rights Reserved."
Another Note: If you came to this post via a Facebook posting or by an another route, please sign up now (no cost… no obligation) to receive my Blog Post email alerts: http://eepurl.com/cKLJdL
And a Third: I am available for Nature-Inspired Speaking, Writing, and Consulting — contact me at steve.jones.0524@gmail.com
Reminder of my Personal and Professional Purpose, Passion, and Cause
If only more of us viewed our precious environment through the filters I employ. If only my mission and vision could be multiplied untold orders of magnitude:
Mission: Employ writing and speaking to educate, inspire, and enable readers and listeners to understand, appreciate, and enjoy Nature… and accept and practice Earth Stewardship.
Vision:
People of all ages will pay greater attention to and engage more regularly with Nature… and will accept and practice informed and responsible Earth Stewardship.
They will see their relationship to our natural world with new eyes… and will understand more clearly their Earth home.
Tagline/Motto: Steve (Great Blue Heron) encourages and seeks a better tomorrow through Nature-Inspired Living!
Steve's Three Books
I wrote my books Nature Based Leadership (2016), Nature-Inspired Learning and Leading (2017), and Weaned Seals and Snowy Summits: Stories of Passion for Place and Everyday Nature (2019; co-authored with Dr. Jennifer Wilhoit) to encourage all citizens to recognize and appreciate that every lesson for living, learning, serving, and leading is either written indelibly in or is powerfully inspired by Nature.
I began writing books and Posts for several reasons:
I love hiking and exploring in Nature
I see images I want to (and do) capture with my trusty iPhone camera
I enjoy explaining those images — an educator at heart
I don't play golf!
I actually do love writing — it's the hobby I never needed when my career consumed me
Judy suggested my writing is in large measure my legacy to our two kids, our five grand kids, and all the unborn generations beyond
And finally, perhaps my books and Blogs could reach beyond family and touch a few other lives… sow some seeds for the future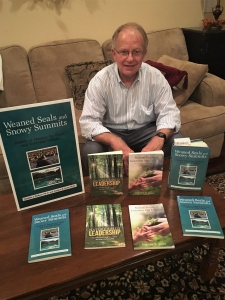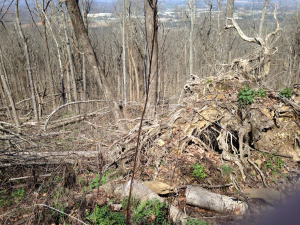 All three of my books (Nature Based Leadership; Nature-Inspired Learning and Leading; Weaned Seals and Snowy Summits) present compilations of personal experiences expressing my (and co-author Dr. Wilhoit for Weaned Seals and Snowy Summits) deep passion for Nature. All three books offer observations and reflections on my relationship to the natural world… and the broader implications for society. Order any and all from your local indie bookstore, or find them on IndieBound or other online sources such as Amazon and LifeRich.
http://stevejonesgbh.com/wp-content/uploads/2020/09/Bluff-Tornado-Nov.-29-2016-3.jpeg-MSSP-File-Photo.jpeg
623
1200
Steve Jones
http://stevejonesgbh.com/wp-content/uploads/2017/01/gbhweblogo.png
Steve Jones
2020-09-23 05:46:52
2020-09-23 05:46:52
Four-Year Tornado Forest Recovery at Monte Sano State Park