I'll begin with the broad lesson I draw from these photos and reflections:
Just as the waters of Bradford Creek flow ceaselessly seaward, Nature's seasons advance reliably day after day, annually completing a full cycle. So too do the seasons of our lives pass year after year.
Seasonal Progress Across Geography
I published a Blog Post June 5, 2018, chronicling the advance of spring across a 660-mile south-to-north road transect from Madison, Alabama to just north of Pittsburgh, PA: https://stevejonesgbh.com/2018/06/05/six-hundred-sixty-mile-transect/. Elevation and latitude are powerful variables controlling spring's inexorable trip northward.
Yet we don't need to travel to observe seasonal shifts. I offer here my observations at a fixed place (nearby Bradford Creek) from October 12, 2019 (climatically very late summer here in north Alabama) through the end of May, 2020 (early summer here). Keep in mind that my characterization of climatic season is based upon a life perspective across thirteen career-driven interstate moves, including stays in upstate New York, New Hampshire, Pennsylvania, Ohio, West Virginia, western Maryland, and Alaska, as well as Virginia, North Carolina, Georgia, and Alabama..
Seasons Flowing with the Waters of Bradford Creek
October 14 in Fairbanks, Alaska (our home for four years) is the autumn date when the average high temperature first rests at freezing. From that point through April 1, the average daily high stays below 32 degrees. I snapped the photo below October 12, three weeks ahead of Huntsville's average date of first freezing temperature (November 2). Snow had already fallen in Fairbanks by October 12 each of the four autumns we resided there. In fact, first flakes arrived by the end of September. Along Bradford Creek October 12, the hardwoods had begun dropping brown leaves, blanketing the sand and gravel bars. Canopy-greens are fading. In central Interior Alaska, aspen and birch reached full fall color during the first two weeks of September; branches were bare before the fall equinox. Therefore, I do not hesitate to observe that October 12 represents very late summer along Bradford Creek.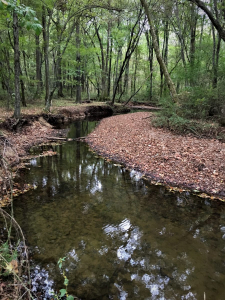 By November 5 the mood had changed. Still a lot of leaves clinging above. Greens weakening to yellow-brown. More fall than summer, yet clearly short of winter.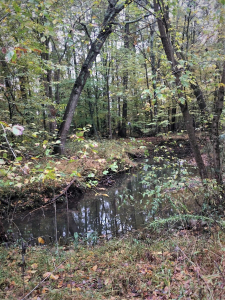 By December 4, I am willing to declare winter-like. A few residual main canopy brown leaves, some which will persist until spring leaf-out. Bradford Creek flowing gently, evidencing that seasonal rains had not yet begun to return creek levels to typical winter flush.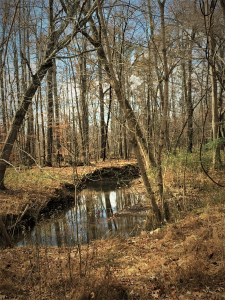 Ah, by December 28 we have reached deep winter (again, winter is relative), looking nothing here like the Hallmark Card ideal of New England Christmas cards. Bare trees and occasional bank-full flow along the creek.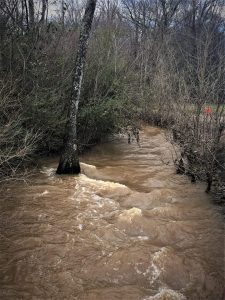 A week later (January 3) Bradford Creek had receded from flood, leaving debris scattered across the trail. Grandson Sam poses on a stranded log. I admit to missing the threat and reality of a classic major north-land snow, yet I continue to embrace the magic of a Gulf-fed deluge over a couple of days, triggered by a low pressure system encountering an attempt by winter to surge southward.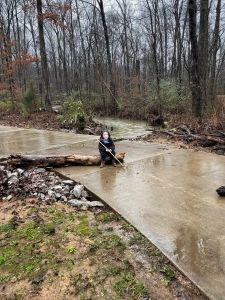 For two reasons I skipped ahead to the spring equinox (March 22). First, I don't venture out on the trail often during the wet and chill of winter. Second, the seasons don't progress much during January and February. By this point stream-side green is bursting and the canopy is evidencing bud break. Spring has sprung! In contrast, one of our Fairbanks year we experienced a high of one-degree below zero April 1, no fooling!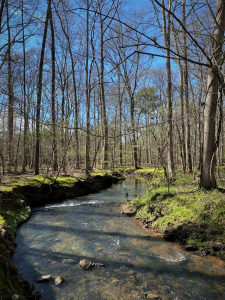 And from the webcam on our University of Alaska Fairbanks campus, here is the image taken at the spring equinox 2020. Still a snowpack of nearly three feet. Bud break remains a distant dream. Spring has not sprung, except as a point on the calendar.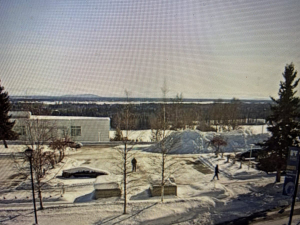 Spring along Bradford Creek soon surges… explodes. By April 4 light green dominates.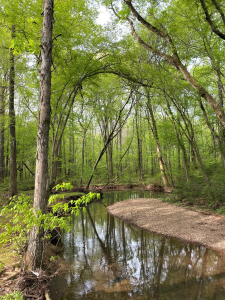 Within the next few days, greens deepen and shade begins to grace the forest floor.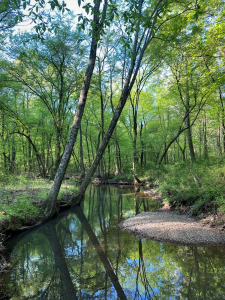 By April 26 the mood gives faint evidence of the winter just ending. I consider this full-spring, deep spring if you will.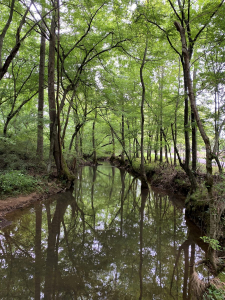 Even the understory shrubs and herbaceous perennials are in full leaf by May 5.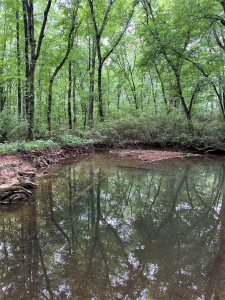 May 19, by any standards and criteria I might select, we are squarely in what I would characterize as early summer!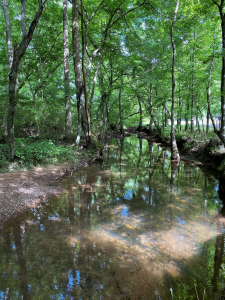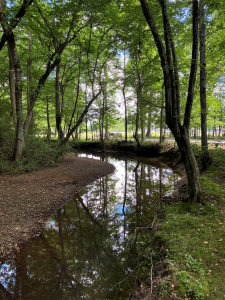 Aldo Leopold famously captured the flow of seasons on his Wisconsin property seventy years ago in his timeless classic, A Sand County Almanac. I don't suggest that this brief photo essay is on par with Leopold's near poetic, deeply philosophical, and scientifically spot-on musings. However, I do hope that my photo and reflective journey along nearby Bradford Creek from October through May does in some small way enlighten, inform, and inspire readers to appreciate, value, and enjoy the magic of local wildness across the seasons.
Thoughts and Reflections
I wrote my books Nature Based Leadership (2016), Nature-Inspired Learning and Leading (2017), and Weaned Seals and Snowy Summits: Stories of Passion for Place and Everyday Nature (2019; co-authored with Dr. Jennifer Wilhoit) to encourage all citizens to recognize and appreciate that every lesson for living, learning, serving, and leading is either written indelibly in or is powerfully inspired by Nature. All three are available on Amazon and other online sources.
The fundamental truth I draw from this Blog Post: Just as the waters of Bradford Creek flow ceaselessly seaward, Nature's seasons advance reliably day after day, annually completing a full cycle. So too do the seasons of our lives pass year after year.
Inhale and absorb Nature's elixir. May Nature Inspire, Reward, and Heal you!
Note: All blog post images created & photographed by Stephen B. Jones unless otherwise noted. Please circulate images with photo credit: "©2020 Steve Jones, Great Blue Heron LLC. All Rights Reserved."
Another Note: If you came to this post via a Facebook posting or by an another route, please sign up now (no cost… no obligation) to receive my Blog Post email alerts: http://eepurl.com/cKLJdL
And a Third: I am available for Nature-Inspired Speaking, Writing, and Consulting — contact me at steve.jones.0524@gmail.com
My Personal and Professional Purpose, Passion, and Cause
If only more of us viewed our precious environment through the filters I employ. If only my mission and vision could be multiplied untold orders of magnitude:
Mission: Employ writing and speaking to educate, inspire, and enable readers and listeners to understand, appreciate, and enjoy Nature… and accept and practice Earth Stewardship.
Vision:
People of all ages will pay greater attention to and engage more regularly with Nature… and will accept and practice informed and responsible Earth Stewardship.
They will see their relationship to our natural world with new eyes… and will understand more clearly their Earth home.
Tagline/Motto: Steve (Great Blue Heron) encourages and seeks a better tomorrow through Nature-Inspired Living!
Steve's Three Books
I began writing books and Posts for several reasons:
I love hiking and exploring in Nature
I see images I want to (and do) capture with my trusty iPhone camera
I enjoy explaining those images — an educator at heart
I don't play golf!
I actually do love writing — it's the hobby I never needed when my career consumed me
Judy suggested my writing is in large measure my legacy to our two kids, our five grand kids, and all the unborn generations beyond
And finally, perhaps my books and Blogs could reach beyond family and touch a few others lives… sow some seeds for the future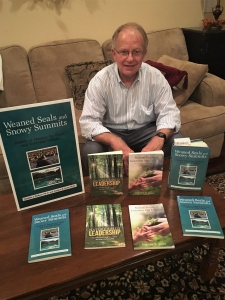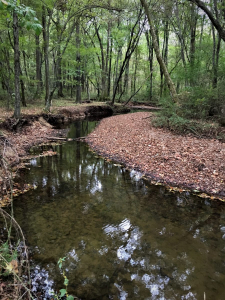 All three of my books (Nature Based Leadership; Nature-Inspired Learning and Leading; Weaned Seals and Snowy Summits) present compilations of personal experiences expressing my (and co-author Dr. Wilhoit for Weaned Seals and Snowy Summits) deep passion for Nature. All three books offer observations and reflections on my relationship to the natural world… and the broader implications for society. Order any and all from your local indie bookstore, or find them on IndieBound or other online sources such as Amazon and LifeRich.
http://stevejonesgbh.com/wp-content/uploads/2020/05/IMG_2477.jpg-04.26.20-Along-Bradford-Creek-GW.jpg
1200
900
Steve Jones
http://stevejonesgbh.com/wp-content/uploads/2017/01/gbhweblogo.png
Steve Jones
2020-06-02 14:22:45
2020-06-02 14:22:45
Seasons Flowing with the Waters of Bradford Creek