I published a previous Post (including one of my poems) based upon my March 21, 2020 Covid-19 hike at nearby Rainbow Mountain Preserve: http://stevejonesgbh.com/2020/03/24/resurrection-fern-a-metaphor-in-verse-for-natures-simplicity/ I focused that Post on the wondrous nature of resurrection fern. I subsequently issued a Post on spring wildflowers I encountered on that same spring equinox hike: http://stevejonesgbh.com/2020/04/27/a-covid-19-escape-hike-wildflower-lift/
A lot more than resurrection fern and wildflowers impressed me on that several-hour leisurely hike through the preserve.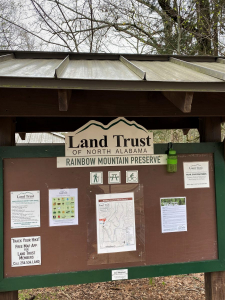 No matter where or when I ramble through Nature I search for the unusual shapes, forms, and curiosities. I included this photo in that prior Post, focusing then on the still-living contorted eastern red cedar's (Juniperus virginiana) resurrection fern drapery. I now puzzle with how the cedar managed to get in the shape it's in. I see no direct evidence of physical injury, yet I know the tree had no reason to independently contort itself. Often when I encounter odd tree forms I can construct a scenario to explain, usually finding causal evidence. I can only offer that this specimen brought to mind some alien creature from Men In Black! Seriously, this ridge top has seen human influence for more than a century. The abundant cedar, an early successional pioneer species, suggests that what is now closed forest may have been pastured, then abandoned and naturally transitioned to forest. This individual, long ago a supple sapling, may have been manipulated (bent/doubled over) for some reason not now apparent.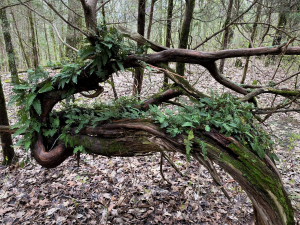 As I said, cedar is a major stand component across the upper elevations of Rainbow Mountain. Much of it is dead and dying, including this face (showing its dead and decaying interior wood) of the larger of these two living cedar. I found fascination in its agonized (my impression) branching,  with its deep red exposed decaying heart. I imagined that in its dying throes the tree is reaching out with brittle and bare arms to beseech help. I may have communicated false hope when I stopped to snap a few photos. Had I been hiking in evening's gloaming, I may have steered away from those grasping arms. I recall my early career days as a forest products industry forester, who found sheer joy and reward in viewing standing trees through my commercial lens: assessing number of 16-foot logs; potential lumber yield; and dollar value. I still admire a tall, straight bole without apparent defect. But at this stage of life, I register value mostly through my lenses of emotion, aesthetics, art, heart, spirit, and soul… a sort of sacred value metric.
Offering high visual reward, here are twin dead stems of the original cedar successional stage. Longer-lived oaks and hickories are now the dominant main canopy species. Nothing unusual about dead and dying trees within even healthy forest stands. Death and life go hand in hand; nothing in Nature is static. Because cedar is naturally decay resistant (sure, it decays but just takes a lot longer), its dead soldiers remain standing sometimes for decades, providing many persistent ghost trees… marvels for my camera and fuel for my imagination.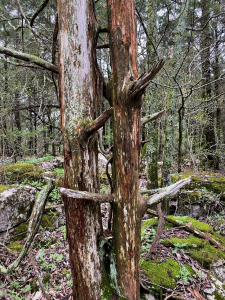 Not just Cedar Tree Curiosities
But cedar served as just one dimension of the curiosities I encountered. I felt a bit like Alice in Wonderland, "Curiouser and curiouser! Cried Alice (she was so much surprised, that for the moment she quite forgot how to speak good English."
I encountered magnificent works of pure art, crafted by Nature's hands. I am sure that a mere human would find challenge in creating the trail-side decayed stump sculpture. I could not discern whether this tree had been cut or the stem toppled by wind or ice. Because it is hollow I will assume breakage either before or after its death. Electing not to defile its beauty, I did not attempt with knife or foot to ascertain wood/species identity. I am satisfied with simply dubbing it the mossy stump sculpture.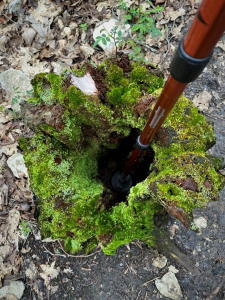 Trees suffer physical injury from multiple causes, including: ice and snow load breakage; wind; a nearby tree or branch falling. Trees have endured such damage since the first tree rose above the brush. They begin immediately compartmentalizing the wound to limit penetration by agents of decay, usually fungi. The first line of defense is chemical. Longer term the tree stimulates adjoining cambial tissue to callous over the injury. Below are two examples from that hike of oak trees combating serious injury. The coat-hook stub below left is about eight feet above ground. The resurrection fern hanging garden perches on a similarly-healed stub at about twenty feet. The old timber forester residing within me would have viewed both oaks as marginally merchantable due to poor stem form and apparent quality defects. The now-retired forest/naturalist sees an entirely different value metric. The metric gives high weight to a curiosity factor!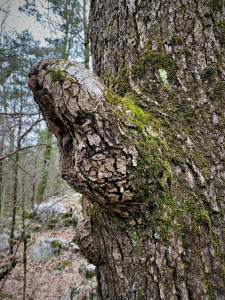 Some trees provoke fear and terror. I dared not stand too long near this sign-eating hickory. Perhaps the moss infuses some evil elixir, stimulating a hunger for the metal placard. Maybe the soil is deficient in some minerals derived from the sign. Or the tree could be of superior intellect starving for the written word. No matter what prompted this absorbing behavior, the forest is rich with curiosities that enrich any Nature venture.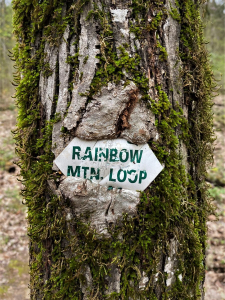 And I just can't get enough of our ubiquitous non-flowering plants! What better than a stem moss carpet with a few scattered lichens! A gentle cushion for my trekking pole. And another such pole support, this one providing anchorage for a vertical resurrection fern garden.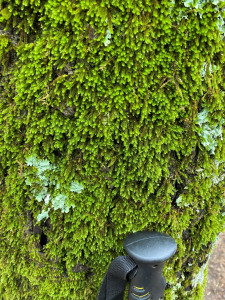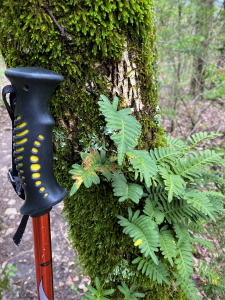 And this dead cedar stem bedecked with moss, lichens, and resurrection fern. A rich palette of life flourishing on a staff of death. May the circle be unbroken. Could we possibly create such paradox by design and intent? I think not — such is the magic of forest curiosities.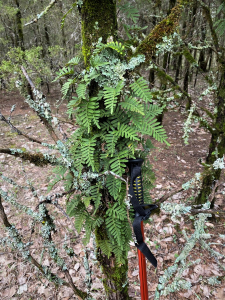 Ah, I enjoyed the Nature-dream images of a quiet hike on an early spring morning following a night of soaking rain. Perhaps Rainbow Mountain derives its moniker from resting occasionally at the base of a rainbow. Who knows whether the leprechauns have danced their spells of druid-like curiosities, assisting Nature in weaving magic across the Preserve. Yet, I am not convinced that Rainbow Mountain cultivates a disproportional density of forest curiosities. I find such delight wherever my Nature wanderings take me across this pale blue orb we call home. My secret — believing the magic exists; looking intently for its presence; seeing what to many is hidden in plain sight; feeling the wonder of it all. And then embracing my mission to: Employ writing and speaking to educate, inspire, and enable readers and listeners to understand, appreciate, and enjoy Nature… and accept and practice Earth Stewardship.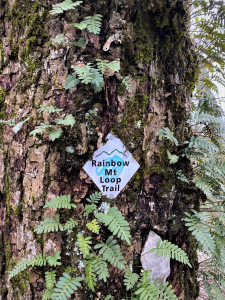 I have kept my sanity during this extended Covid-19 House Arrest by escaping repeatedly into local Nature. I practice recommended social distancing. I enjoy fresh air, discover Nature's secrets, and contemplate my insignificance in the grand web of life.
Thoughts and Reflections
I wrote my books Nature Based Leadership (2016), Nature-Inspired Learning and Leading (2017), and Weaned Seals and Snowy Summits: Stories of Passion for Place and Everyday Nature (2019; co-authored with Dr. Jennifer Wilhoit) to encourage all citizens to recognize and appreciate that every lesson for living, learning, serving, and leading is either written indelibly in or is powerfully inspired by Nature. All three are available on Amazon and other online sources.
Here are the three succinct truths I draw from this Blog Post:
Each venture into Nature opens my eyes ever more keenly to discovering her secrets
Nature's power to lift us and heal us, physically and of the soul, is unlimited


Nature hides richness within plain sight
Inhale and absorb Nature's elixir. May Nature Inspire, Reward, and Heal you!
Note: All blog post images created & photographed by Stephen B. Jones unless otherwise noted. Please circulate images with photo credit: "©2020 Steve Jones, Great Blue Heron LLC. All Rights Reserved."
Another Note: If you came to this post via a Facebook posting or by an another route, please sign up now (no cost… no obligation) to receive my Blog Post email alerts: http://stevejonesgbh.com/contact/
And a Third: I am available for Nature-Inspired Speaking, Writing, and Consulting — contact me at steve.jones.0524@gmail.com
Reminder of my Personal and Professional Purpose, Passion, and Cause
If only more of us viewed our precious environment through the filters I employ. If only my mission and vision could be multiplied untold orders of magnitude:
Mission: Employ writing and speaking to educate, inspire, and enable readers and listeners to understand, appreciate, and enjoy Nature… and accept and practice Earth Stewardship.
Vision:
People of all ages will pay greater attention to and engage more regularly with Nature… and will accept and practice informed and responsible Earth Stewardship.
They will see their relationship to our natural world with new eyes… and will understand more clearly their Earth home.
Tagline/Motto: Steve (Great Blue Heron) encourages and seeks a better tomorrow through Nature-Inspired Living!
Steve's Three Books
I began writing books and Posts for several reasons:
I love hiking and exploring in Nature
I see images I want to (and do) capture with my trusty iPhone camera
I enjoy explaining those images — an educator at heart
I don't play golf!
I actually do love writing — it's the hobby I never needed when my career consumed me
Judy suggested my writing is in large measure my legacy to our two kids, our five grand kids, and all the unborn generations beyond
And finally, perhaps my books and Blogs could reach beyond family and touch a few others lives… sow some seeds for the future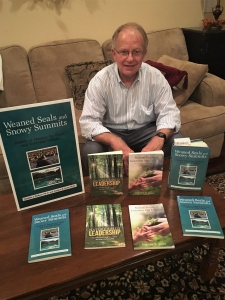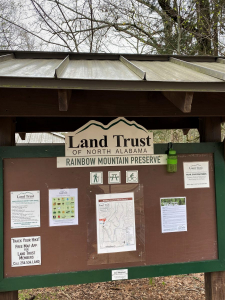 All three of my books (Nature Based Leadership; Nature-Inspired Learning and Leading; Weaned Seals and Snowy Summits) present compilations of personal experiences expressing my (and co-author Dr. Wilhoit for Weaned Seals and Snowy Summits) deep passion for Nature. All three books offer observations and reflections on my relationship to the natural world… and the broader implications for society. Order any and all from your local indie bookstore, or find them on IndieBound or other online sources such as Amazon and LifeRich.
http://stevejonesgbh.com/wp-content/uploads/2020/03/IMG_1874.jpg-03.21-Rainbow-Mountain-Res-Fern-on-Twisted-Cedar.jpg
900
1200
Steve Jones
http://stevejonesgbh.com/wp-content/uploads/2017/01/gbhweblogo.png
Steve Jones
2020-05-04 19:19:46
2020-05-04 19:19:46
A Covid-19 Escape Hike -- Inspiration from Nature's Curiosities