Covid-19 Escape
March 21, 2020, in the midst of our societal Covid-19-induced social distancing, I hiked nearby Rainbow Mountain Preserve. I posted March 24 about the spectacular resurrection fern profusion that afternoon at the Preserve just three miles from my front door: http://stevejonesgbh.com/2020/03/24/resurrection-fern-a-metaphor-in-verse-for-natures-simplicity/
I saw enough beauty, magic, wonder, and awe to distill to two additional Posts:
This one reviewing the spring wildflowers I encountered
The subsequent one highlighting the curiosities presenting themselves to me
Rather than once again providing the full Land Trust of Northern Alabama background for the Preserve, please visit the March 24 Post.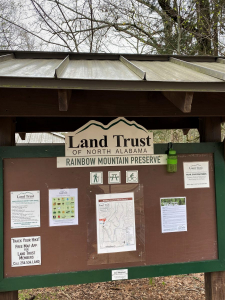 Spring Ephemerals — Hope and Beauty within the Haze of Covid-19
Virginia spiderwort (Tradescantia virginiana) graced trail-side near the balancing rock just below the southwest rim. Keeping with the same stated theme, within a few feet I found colonies of Virginia saxifrage (Micranthes virginiensis), a reliable very early spring bloomer often quite content on shallow soils among such stony outcrops.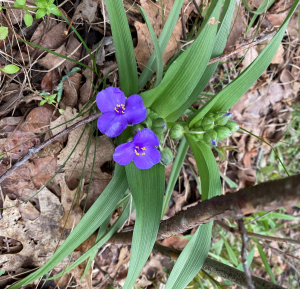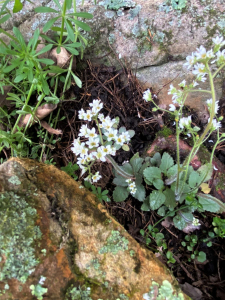 Two species of trillium greeted me as I began descending the Rainbow Mountain Loop Trail, which continuing counter clockwise would eventually return me to the trail head. Both express green-mottled leaves and what I call purple petals. Persons more color-fully endowed may have a more sophisticated color moniker. I refer to the green-mottled structures as leaves. And although I will continue to do so, I am not technically correct. A USDA Forest website explains:
All trillium species belong to the Liliaceae (lily) family and are rhizomatous herbs with unbranched stems. Trillium plants produce no true leaves or stems above ground. The "stem" is actually just an extension of the horizontal rhizome and produces tiny, scalelike leaves (cataphylls). The aboveground plant is technically a flowering scape, and the leaf-like structures are actually bracts subtending the flower. Despite their morphological origins, the bracts have external and internal structure similar to that of a leaf, function in photosynthesis, and most authors refer to them as leaves.
The first two photos show little sweet Betsy (Trillium cuneatum), perhaps the most common of all northern Alabama trilliums.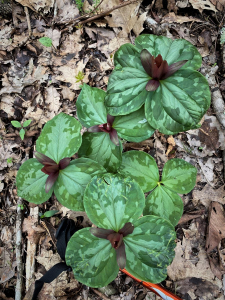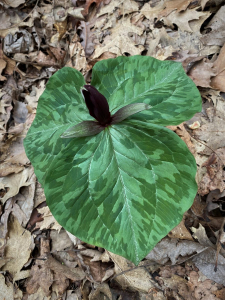 Similar to little sweet Betsy, twisted trillium (T. stamineum) has clearly twisted sepals. Both species are sessile trilliums. That is, their flowers sit right on the leaves (bracts), without having a stalk. I love the distinct twists, even as I ponder the evolutionary reason. There must be some explanation — a competitive advantage. For now I will leave the pondering to others.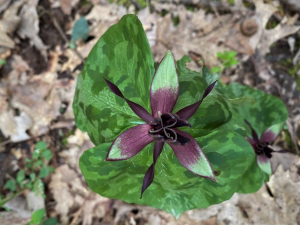 Wild blue phlox (Phlox divaricata) also graced the forest floor. Also called woodland phlox or wild sweet William, its delicate five-petaled flowers on erect stems provided color in an otherwise drab setting of last season's leaf debris.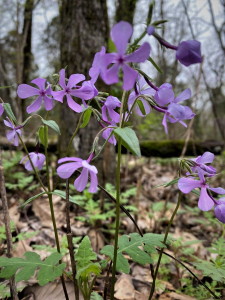 Violet woodsorrel (Oxalis violacea), aka sour glass, sour trefoil, and shamrock, presented itself 2-3 days before the flowers fully opened. The one below right came teasingly close to showing its full beauty.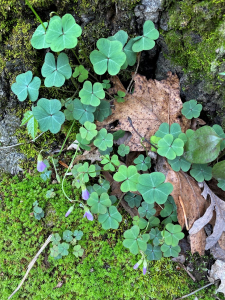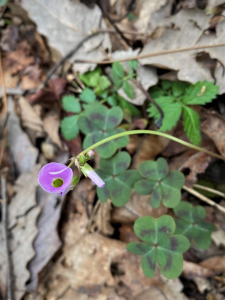 I'm a big fan of our ubiquitous northern Alabama red buckeye (Aesculus pavia), also known as firecracker plant, whose range extends across the southern and eastern US.  I love its spring firecracker flowers as well as its wonderful fall buckeyes packaged in tan hulls that split when ripe. Red buckeye is sold as a cultivar across the US and apparently thrives at latitudes far north of its native range.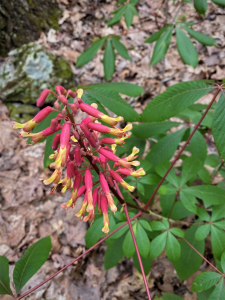 Eastern redbud (Cercis canadensis) is another common spring-flowering small tree whose native range extends across the eastern US… from southern Ontario to northern Florida. The tree is an aggressive colonizer, finding a perfect setting along road openings. Redbud's spring color dominates roadsides where I lived in Ohio, Maryland, Pennsylvania, West Virginia, and upstate New York. Redbud is the state tree of Oklahoma. Interestingly, our Alabama state tree, longleaf pine (Pinus palustris), is not native to our Tennessee Valley region of northern Alabama.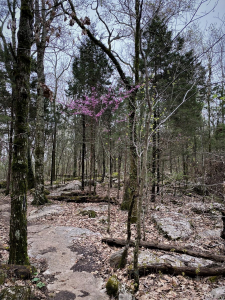 Another of my early spring favorites, jack-in-the-pulpit (Ariseama triphyllum), also known as bog onion, brown dragon, and wild turnip, enjoys a range across the eastern US… from Nova Scotia west to Minnesota and south into lower Florida. Look closely to see Jack standing at the pulpit under the green-striped hood. The USDA Forest Service offers a technical description of this unusual flower form: Jack-in-the-pulpit is pollinated by small flies and flowers from March through June depending on locale. The flower is an unusual green and maroon striped spathe surrounding a fleshy, maroon-colored spadix that bears the tiny, embedded flowers. This particular example is particularly pale, absent the maroon shades common to the species.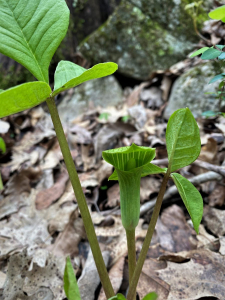 A Different Kind of Spring Wildflower
To this point I've focused on what I'll term as traditional spring wildflowers. The next two photos likewise picture a spring wildflower… but one of an entirely different nature. This is a non-photosynthesizing (achlorophyllous) parasitic plant. Meet American cancer-root (Conopholis americana), nurturing on the roots of oak and beech. Other common names are squawroot and bear corn, either of which is a more pleasant moniker. I suppose this odd plant cares little what name we give it. I found scores of clusters along my route. I recall seeing my first squawroot when I worked undergraduate summers on the Savage River State Forest in far western Maryland, my home state. Imagine the wonder of finding squawroot on a magical Appalachian Mountain forest bearing a name that included Savage! Fact is, I felt absolute continuing beauty, magic, wonder, and awe during every moment of those two summers. Five decades later, the memory and lift remain within my being… mind, heart, and soul. Amazing what Nature has gifted me across my time's travel. I suppose there is some level of irony in a non-photosynthesizing (achlorophyllous) parasitic plant transporting me fifty years back in time! I wish such pleasant memories and flashbacks for all who trek Nature's paths.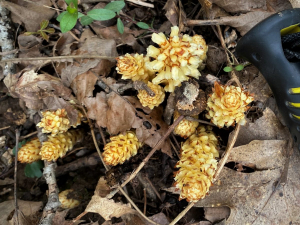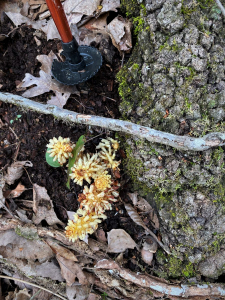 Thoughts and Reflections
I wrote my books Nature Based Leadership (2016), Nature-Inspired Learning and Leading (2017), and Weaned Seals and Snowy Summits: Stories of Passion for Place and Everyday Nature (2019; co-authored with Dr. Jennifer Wilhoit) to encourage all citizens to recognize and appreciate that every lesson for living, learning, serving, and leading is either written indelibly in or is powerfully inspired by Nature. All three are available on Amazon and other online sources.
Here are the three succinct truths I draw from this Blog Post:
Each venture into Nature opens my eyes ever more keenly to discovering her secrets
Nature's power to lift us and heal us, physically and of the soul, is unlimited


Nature hides richness within plain sight
Inhale and absorb Nature's elixir. May Nature Inspire, Reward, and Heal you!
Note: All blog post images created & photographed by Stephen B. Jones unless otherwise noted. Please circulate images with photo credit: "©2020 Steve Jones, Great Blue Heron LLC. All Rights Reserved."
Another Note: If you came to this post via a Facebook posting or by an another route, please sign up now (no cost… no obligation) to receive my Blog Post email alerts: http://stevejonesgbh.com/contact/
And a Third: I am available for Nature-Inspired Speaking, Writing, and Consulting — contact me at steve.jones.0524@gmail.com
Reminder of my Personal and Professional Purpose, Passion, and Cause
If only more of us viewed our precious environment through the filters I employ. If only my mission and vision could be multiplied untold orders of magnitude:
Mission: Employ writing and speaking to educate, inspire, and enable readers and listeners to understand, appreciate, and enjoy Nature… and accept and practice Earth Stewardship.
Vision:
People of all ages will pay greater attention to and engage more regularly with Nature… and will accept and practice informed and responsible Earth Stewardship.
They will see their relationship to our natural world with new eyes… and will understand more clearly their Earth home.
Tagline/Motto: Steve (Great Blue Heron) encourages and seeks a better tomorrow through Nature-Inspired Living!
Steve's Three Books
I began writing books and Posts for several reasons:
I love hiking and exploring in Nature
I see images I want to (and do) capture with my trusty iPhone camera
I enjoy explaining those images — an educator at heart
I don't play golf!
I actually do love writing — it's the hobby I never needed when my career consumed me
Judy suggested my writing is in large measure my legacy to our two kids, our five grand kids, and all the unborn generations beyond
And finally, perhaps my books and Blogs could reach beyond family and touch a few others lives… sow some seeds for the future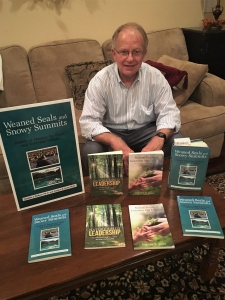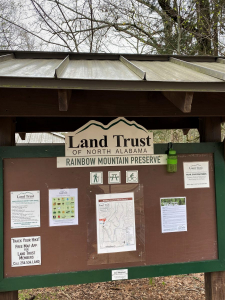 All three of my books (Nature Based Leadership; Nature-Inspired Learning and Leading; Weaned Seals and Snowy Summits) present compilations of personal experiences expressing my (and co-author Dr. Wilhoit for Weaned Seals and Snowy Summits) deep passion for Nature. All three books offer observations and reflections on my relationship to the natural world… and the broader implications for society. Order any and all from your local indie bookstore, or find them on IndieBound or other online sources such as Amazon and LifeRich.
http://stevejonesgbh.com/wp-content/uploads/2020/03/IMG_1908.jpg-03.21.20-Red-Buckeye.jpg
1200
900
Steve Jones
http://stevejonesgbh.com/wp-content/uploads/2017/01/gbhweblogo.png
Steve Jones
2020-04-27 04:59:23
2020-04-27 04:59:23
A Covid-19 Escape Hike -- Wildflower Lift