Covid-19 Context
I wrote these words the Wednesday after Easter, a day when Covid-19 deaths in the US were at approximately 30,000 (42,000 today), with confirmed cases at 614,000 (787,000 today). We remain under what I term Covid-19 House Arrest. A dire situation, yet I see signs of hope. The new case and hospitalization curves in most places (including New York City) appear to be beyond peak — that is, we have successfully flattened the curves. Deaths are at peak, reflecting the 10-16-day lag beyond new cases. I thought a lot about parallels to Covid-19 as violent Easter Sunday storms raked across the southeastern US with an energetic storm system trailing a cold front ushering record-breaking cold to much of the country.
Here in northern Alabama I measured just under four inches of rain, bringing us to ~44-inches since December 1, 2019! Right here in Madison, AL we endured numerous warnings during the afternoon and evening: Area-wide flood; flash flood; severe thunderstorm; and tornado. Fortunately we suffered little damage beyond several snapped utility poles nearby and eleven hours without power. We had readied our storm shelter, but never retreated into it. Nothing signaled imminent impact; even the tornado warning indicated the funnel in the southern porting of our county. Southwide the system killed 40-plus.
Monday morning, which dawned with full glory and promise, after allowing time for Bradford Creek to ease back into its banks, I headed for the Bradford Creek Greenway to bike. I offer the reader photographs and reflections from the Easter storms and their standing as a metaphor for the savagery of the Covid-19 pandemic. This viral fury, too, will pass, leaving an indelible mark on life and living, and stamping reminders, lessons, and emotional scars into our individual and societal psyche.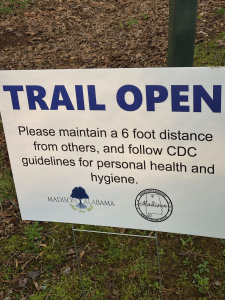 Rather than develop a text-packed Post to communicate my reflections, I find it easier to condense my impressions and feelings, expressing all with verse and accompanying photographs:
Easter Storms — Covid-19 Corollary in Verse
.
Easter 2020 dawned forebodingly
Skies dark with threat,
Absent the light of hope, and
The sunshine of resurrection
Covid-19 and its own darkness
Cast deep and frightful shadows,
Cancelled Easter gatherings and services
Kept us physically isolated… hug-less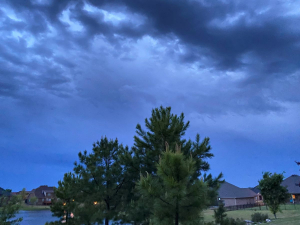 Now add the ominous threat
Of imminent flooding,
Severe thunderstorms and hail,
High winds and twisters
By Easter's early afternoon
An energetic storm system lifts,
Bringing rain and thunder, and
Storm warnings through late evening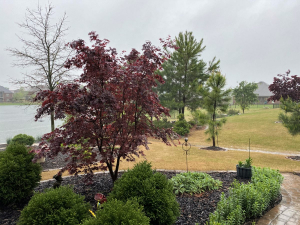 Pounding, slanting downpours
Snapping lightning; growling thunder,
Frequent new warnings
Storm shelter open and stocked
But this time not needed
All slipping east by nightfall,
Threats ebbing with the departure
Easing our minds for sleep
Easter Monday dawned with promise
With the full glory of renewal,
An abundance of hope's light
And the sunshine of resurrection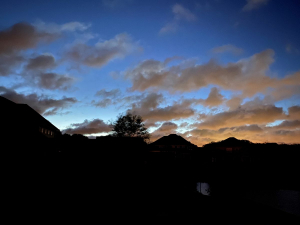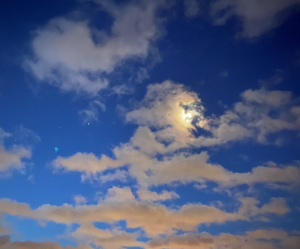 The storms left their mark
Eleven hours without power,
Others were not so fortunate
More than 40 died southwide
Monday morning biking
Along Bradford Creek Greenway
Revealed the clear evidence
Of rain just shy of four inches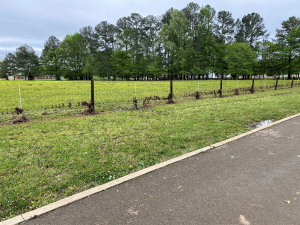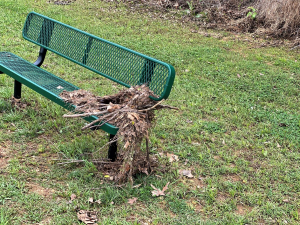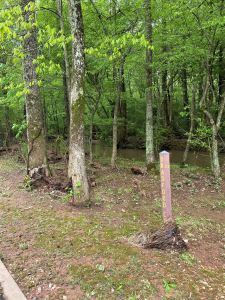 Like Sunday's storms,
A literal deluge and whirlwind,
The Covid-19 savagery is passing
Leading to a dawn of glory and promise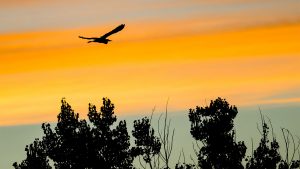 This, too, shall pass. We will emerge stronger for the experience. We have learned that we are all in this together. That we are one with Nature. That even the smallest of life forms, a lowly virus, can change lives. That humility can be soothing salve for the soul and heart, and for our emotional well-being. And most importantly, that the power of Nature's inspiration (even from an outbreak of severe weather) can lift us toward resurrection and renewal. And, for me, I feel a growing sense of sacred connection to life and living… to what is important and essential. Not just sacred… spiritual as well. The storms and pandemic reinforce my belief that I am nothing. Nothing beyond a small element of a greater whole. Part of Creation… for a brief moment in time.
Thoughts and Reflections
I wrote my books Nature Based Leadership (2016), Nature-Inspired Learning and Leading (2017), and Weaned Seals and Snowy Summits: Stories of Passion for Place and Everyday Nature (2019; co-authored with Dr. Jennifer Wilhoit) to encourage all citizens to recognize and appreciate that every lesson for living, learning, serving, and leading is either written indelibly in or is powerfully inspired by Nature. All three are available on Amazon and other online sources.
Here are the two succinct truths I draw from this Blog Post:
Now is a time to reflect on what is important and essential
Nature always provides lessons for dealing with life and living
Inhale and absorb Nature's elixir. May Nature Inspire, Reward, and Heal you!
Note: All blog post images created & photographed by Stephen B. Jones unless otherwise noted. Please circulate images with photo credit: "©2020 Steve Jones, Great Blue Heron LLC. All Rights Reserved."
Another Note: If you came to this post via a Facebook posting or by an another route, please sign up now (no cost… no obligation) to receive my Blog Post email alerts: http://stevejonesgbh.com/contact/
And a Third: I am available for Nature-Inspired Speaking, Writing, and Consulting — contact me at steve.jones.0524@gmail.com
Reminder of my Personal and Professional Purpose, Passion, and Cause
If only more of us viewed our precious environment through the filters I employ. If only my mission and vision could be multiplied untold orders of magnitude:
Mission: Employ writing and speaking to educate, inspire, and enable readers and listeners to understand, appreciate, and enjoy Nature… and accept and practice Earth Stewardship.
Vision:
People of all ages will pay greater attention to and engage more regularly with Nature… and will accept and practice informed and responsible Earth Stewardship.
They will see their relationship to our natural world with new eyes… and will understand more clearly their Earth home.
Tagline/Motto: Steve (Great Blue Heron) encourages and seeks a better tomorrow through Nature-Inspired Living!
Steve's Three Books
I began writing books and Posts for several reasons:
I love hiking and exploring in Nature
I see images I want to (and do) capture with my trusty iPhone camera
I enjoy explaining those images — an educator at heart
I don't play golf!
I actually do love writing — it's the hobby I never needed when my career consumed me
Judy suggested my writing is in large measure my legacy to our two kids, our five grand kids, and all the unborn generations beyond
And finally, perhaps my books and Blogs could reach beyond family and touch a few others lives… sow some seeds for the future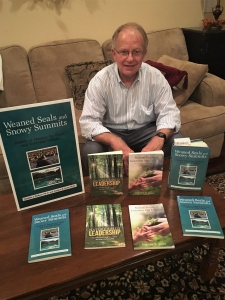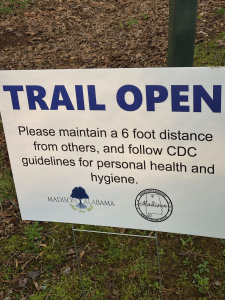 All three of my books (Nature Based Leadership; Nature-Inspired Learning and Leading; Weaned Seals and Snowy Summits) present compilations of personal experiences expressing my (and co-author Dr. Wilhoit for Weaned Seals and Snowy Summits) deep passion for Nature. All three books offer observations and reflections on my relationship to the natural world… and the broader implications for society. Order any and all from your local indie bookstore, or find them on IndieBound or other online sources such as Amazon and LifeRich.
http://stevejonesgbh.com/wp-content/uploads/2020/04/IMG_2281-1.jpg-04.13.20-Morning-After-Easter-Storms-5.36-am.jpg
900
1200
Steve Jones
http://stevejonesgbh.com/wp-content/uploads/2017/01/gbhweblogo.png
Steve Jones
2020-04-20 14:08:39
2020-04-20 14:08:39
Easter Storms -- A Covid-19 Corollary