I see cruel irony that as Covid-19 frees time to read, ponder, write, and create, it's the virus that too often dominates my mind. I sat recently in my doctor's office parking lot waiting to be summoned to the appointment (a Covid-blessing — no crowded waiting room torment in these days of physical-distancing). A wet cold front had passed earlier that morning, leaving chilly wind and gloomy skies. The light level emphasized green, fractionating to shades seldom otherwise distinguishable.
I've concluded over the years that summer evenings, as day fades toward gloaming, the greens grow more intense… ever more vibrant. They seem to rise above nearby colors. Judy and I for years have dubbed it "the green time of evening." I believe the thick cloud cover that 8:00 AM spring day triggered a "green time of morning." I haven't been able to substantiate my green-intensity observation with science.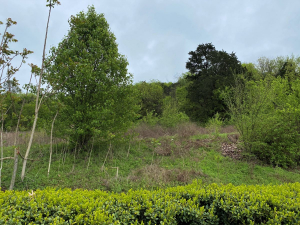 I penned a verse titled Fifty Shades of Green later that day:
Fifty Shades of Green
We always hear so much
About autumn's rich palette,
Forests of multiple hues
Golds, reds, and yellows
Yet, look to hillsides when
Winter releases its grip,
A richness of verdant greens
All spring-fresh with promise
But my heart in this southern land,
Sees spring as other than promise,
Spring is the real thing, the delivery
Too soon yielding to summer
I want spring to linger, holding tight
To cool evenings, chilly morns,
Celebrating new life… longer days,
But a virus intercedes, parasitizing life
As Corona cast its shadow
Its darkness dims our spirits,
But Nature pays no heed
Bursting 50 shades of green
I refuse to ignore spring's interlude
Escaping Covid-19 house arrest,
Entering Nature in transition
Relishing 50 shades of green!
I don't need to search long for the fifty shades. Here's a bonanza of green along nearby Bradford Creek Greenway.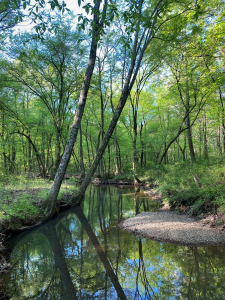 One hundred feet away, the big oak bears a few flowers, back-dropped by a greening riparian canopy.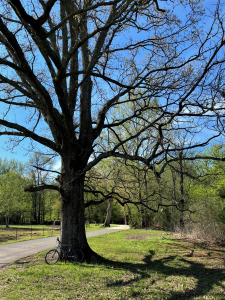 Even lush non-flowering plants carry bright robes of greenery — with apologies to Dolly Parton, wearing coats of many colors (all of them shades of green).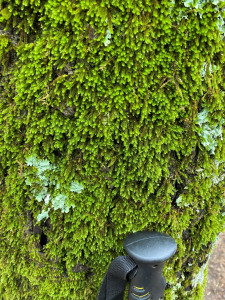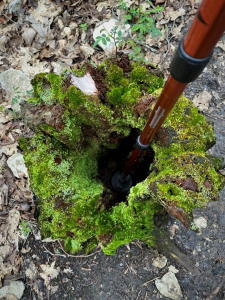 Combine emerging tree and shrub foliage with moss-green rocks and throw in a bit of purple phacelia — a viriscent panoply (I confess, I don't talk like that!) with a splash of violet.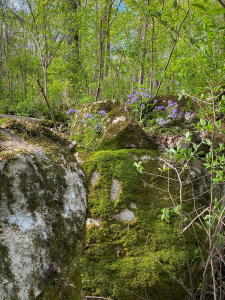 And here are new Virginia creeper leaves and a mossy stump ring outlining where once a forest tree stood.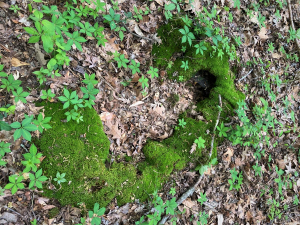 Last year's loblolly pine needles and fresh catkins (male flowers fully loaded with pollen ready for flight).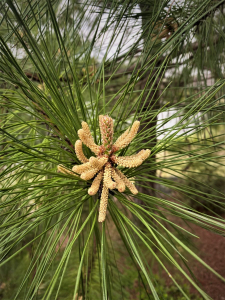 A flooded farm and forest road at nearby Wheeler National Wildlife Refuge — winter rye green over-topped by the greening forest and the soft blue sky above. A spring color buffet for those not requiring other than green (and blue).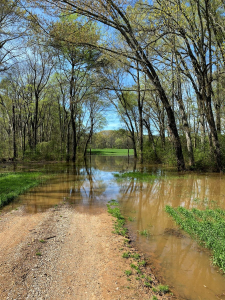 Six-year-old grandson Sam poking a catkin cluster to release a puff of pollen. Also in my backyard, landscape ornamentals do not maintain such fidelity to green foliage. I believe the foreground Japanese maple gives just the right shade of new red.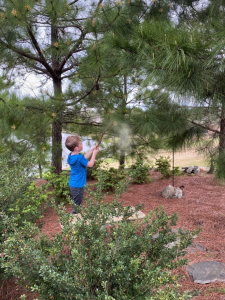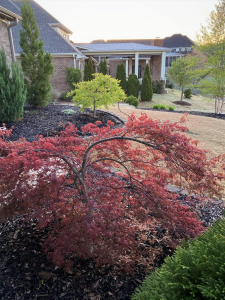 Reminder of my Personal and Professional Purpose, Passion, and Cause
If only more of us viewed our precious environment through the filters I employ. If only my mission and vision could be multiplied untold orders of magnitude:
Mission: Employ writing and speaking to educate, inspire, and enable readers and listeners to understand, appreciate, and enjoy Nature… and accept and practice Earth Stewardship.
Vision:
People of all ages will pay greater attention to and engage more regularly with Nature… and will accept and practice informed and responsible Earth Stewardship.
They will see their relationship to our natural world with new eyes… and will understand more clearly their Earth home.
Tagline/Motto: Steve (Great Blue Heron) encourages and seeks a better tomorrow through Nature-Inspired Living!
Steve's Three Books
I began writing books and Posts for several reasons:
I love hiking and exploring in Nature
I see images I want to (and do) capture with my trusty iPhone camera
I enjoy explaining those images — an educator at heart
I don't play golf!
I actually do love writing — it's the hobby I never needed when my career consumed me
Judy suggested my writing is in large measure my legacy to our two kids, our five grand kids, and all the unborn generations beyond
And finally, perhaps my books and Blogs could reach beyond family and touch a few others lives… sow some seeds for the future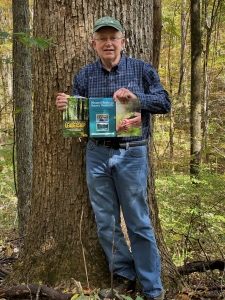 I like to imagine that representative samples of my books appreciate accompanying me into the woods. So far, none has complained nor groaned. Knowing that I am getting way out in front of remote possibility, perhaps there is a book of Steve's Nature-Inspired Life and Living Poetry awaiting me around the corner of some forested trail!
All three of my books (Nature Based Leadership; Nature-Inspired Learning and Leading; Weaned Seals and Snowy Summits) present compilations of personal experiences expressing my (and co-author Dr. Wilhoit for Weaned Seals and Snowy Summits) deep passion for Nature. All three books offer observations and reflections on my relationship to the natural world… and the broader implications for society. Order any and all from your local indie bookstore, or find them on IndieBound or other online sources such as Amazon and LifeRich.
Note: All blog post images created & photographed by Stephen B. Jones unless otherwise noted. Please circulate images with photo credit: "©2020 Steve Jones, Great Blue Heron LLC. All Rights Reserved."
Another Note: If you came to this post via a Facebook posting or by an another route, please sign up now (no cost… no obligation) to receive my Blog Post email alerts: http://stevejonesgbh.com/contact/
And a Third: I am available for Nature-Inspired Speaking, Writing, and Consulting — contact me at steve.jones.0524@gmail.com
http://stevejonesgbh.com/wp-content/uploads/2020/04/IMG_2067-1.jpg-03.31.20-Nehind-Dr-Stricklands-Office.jpg
900
1200
Steve Jones
http://stevejonesgbh.com/wp-content/uploads/2017/01/gbhweblogo.png
Steve Jones
2020-04-15 09:16:37
2020-04-15 09:16:37
Fifty Shades of Green