Wheeler National Wildlife Refuge here in northern Alabama covers 35,000 acres, 54.7 square miles. February 1, 2020, my daughter's younger son (Sam, soon-to-be-six-years-old) and I visited an arm of the Refuge about a dozen miles due south of where I live and just six miles from where Sam resides. We hiked out a mile or so, ducking from the gravel road into the riparian forest frequently to examine items of interest… Sam's and mine. I had snapped the two signage photos a few weeks prior on a clear blue day when I first explored the trails by bicycle, discovering an ideal trek for Sam and me.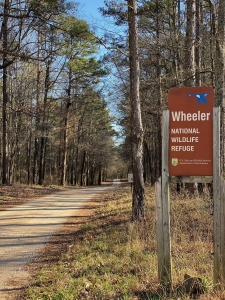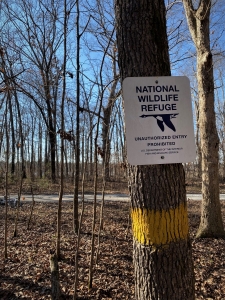 Opening Young Eyes to Nature's Beauty, Magic, Wonder, and Awe
We hiked a gray day following a night of gentle rain. The wetness accentuated the mosses and lichens whose vivid colors captured our attention and excited both of us with the extraordinary growth forms and patterns. The white oak below, with its moss-bedecked feet dwarfs Sam. We had cut his sycamore rod on a prior hike at Bradford Creek Greenway. It's perfect for balancing while crossing a log bridge over standing water, digging, spearing, and serving as any number of weapons. I like it for Sam's posing by a large oak!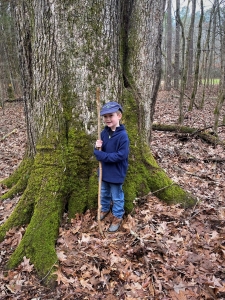 Looks like emerging javelin expertise. He prided in the damage wrought by the mighty spear point hitting the dirt road surface. I thrilled at his imagination operating full-bore in the absence of digital devices.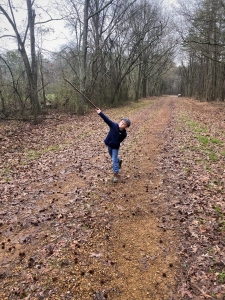 He found fascination in the thick moss carpet blanketing the soil mound lifted from maintaining the roadside ditch several years ago. He admired the large red oak. He showed a bit of trepidation approaching the thick hairy vine he recognized as poison ivy (below right). He just did not trust that the dormant plant-beast wouldn't somehow generate a rash with excessive itch and scratch. I think he understood, yet wanted to tease me into perceiving him as afraid.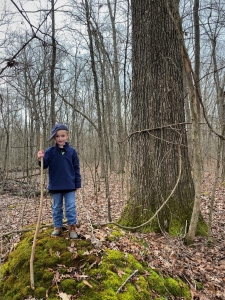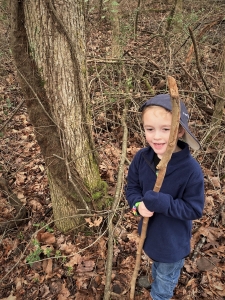 My spare hat proved to be a little loose, yet I think he appreciated the look. We both liked seeing these three-foot-plus diameter oaks, this one a white oak at woods edge along a field planted to winter rye or wheat. I have since measured this white oak at 5'2′ diameter breast height! These Tennessee River riparian areas are rich for farm and forest. What a great place for a National Wildlife Refuge.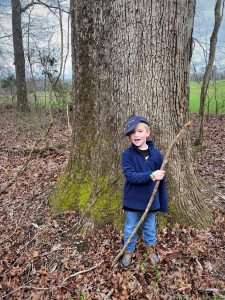 A Special Feature
We both appreciated this hickory monster, its eyes peering menacingly from 20-feet above. We decided we'd want to be careful were we in its vicinity at nightfall. Our forests are filled with tree form oddities. Nothing escapes an imagination-sharpened, observant six-year-old. He saved me from a lurking, near-road hulk of a rotting stump, which I failed to capture with a photograph. That sycamore staff proved quite versatile.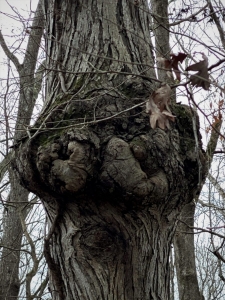 A Banner Day for Non-flowering Plants
Sam began our hike picking up every branch he found along the trail and throwing it, with a clear target, into the woods. Doing so he soon discovered, with great fascination, some fairy tale lichens. Instead of chucking these branches, he shared them with me for joint inspection.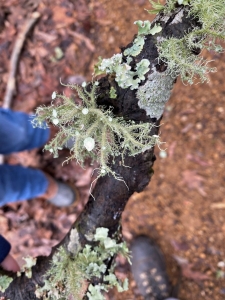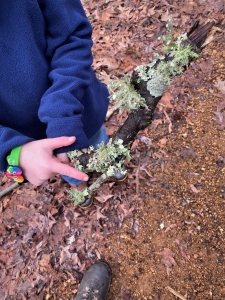 We discovered hidden worlds and magic landscapes he could hold in his hands. Next time we will explore them with iNaturalist. Sam reached a new stage of Nature-curiosity and appreciation with this hike. We'll add a new level of learning (for Sam and me) the next time. I am thrilled!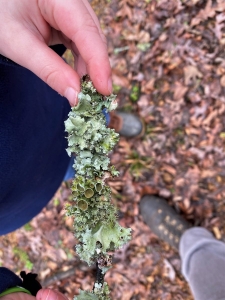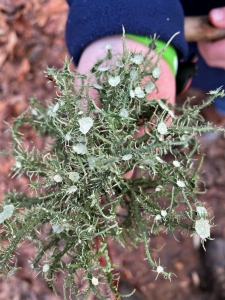 Not just lichens, but multiple types, colors, and varieties of fungi. I believe two very wet months and the prior night's drizzle enhanced the rich colors, whether greens or deep orange-tan.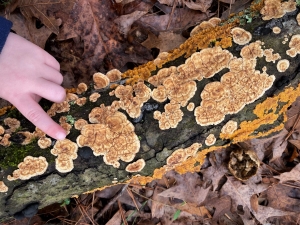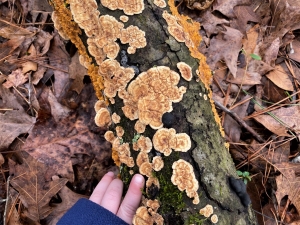 I liked the strong meaty texture of this polyporous fungus. I wanted it to be edible, but later confirmed that it wasn't. Acquaintances who do know their mushrooms cautioned me against chancing it, even though one astute forager said it looks a lot like a local edible known as turkey tail. As with so much in Nature, I'm finding day after day that the more I learn, the less I know.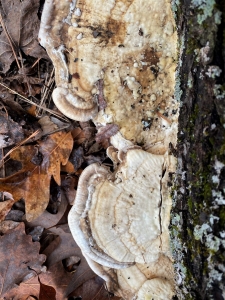 Thoughts and Reflections
I wrote my books Nature Based Leadership (2016), Nature-Inspired Learning and Leading (2017), and Weaned Seals and Snowy Summits: Stories of Passion for Place and Everyday Nature (2019; co-authored with Dr. Jennifer Wilhoit) to encourage all citizens to recognize and appreciate that every lesson for living, learning, serving, and leading is either written indelibly in or is powerfully inspired by Nature. All three are available on Amazon and other online sources.
Here are the three succinct recommendations I draw from this Blog Post:
Never miss an opportunity to inoculate a young person with Nature's magic

Take a kid hiking; infect him or her with vitamin N

Have fun yourself when exploring Nature with young people — young people of all ages!

Inhale and absorb Nature's elixir. May Nature Inspire and Reward you!
Note: All blog post images created & photographed by Stephen B. Jones unless otherwise noted. Please circulate images with photo credit: "©2020 Steve Jones, Great Blue Heron LLC. All Rights Reserved."
Another Note: If you came to this post via a Facebook posting or by an another route, please sign up now (no cost… no obligation) to receive my Blog Post email alerts: http://stevejonesgbh.com/contact/
And a Third: I am available for Nature-Inspired Speaking, Writing, and Consulting — contact me at steve.jones.0524@gmail.com
Reminder of my Personal and Professional Purpose, Passion, and Cause
If only more of us viewed our precious environment through the filters I employ. If only my mission and vision could be multiplied untold orders of magnitude:
Mission: Employ writing and speaking to educate, inspire, and enable readers and listeners to understand, appreciate, and enjoy Nature… and accept and practice Earth Stewardship.
Vision:
People of all ages will pay greater attention to and engage more regularly with Nature… and will accept and practice informed and responsible Earth Stewardship.
They will see their relationship to our natural world with new eyes… and will understand more clearly their Earth home.
Tagline/Motto: Steve (Great Blue Heron) encourages and seeks a better tomorrow through Nature-Inspired Living!
Steve's Three Books
I began writing books and Posts for several reasons:
I love hiking and exploring in Nature
I see images I want to (and do) capture with my trusty iPhone camera
I enjoy explaining those images — an educator at heart
I don't play golf!
I actually do love writing — it's the hobby I never needed when my career consumed me
Judy suggested my writing is in large measure my legacy to our two kids, our five grand kids, and all the unborn generations beyond
And finally, perhaps my books and Blogs could reach beyond family and touch a few others lives… sow some seeds for the future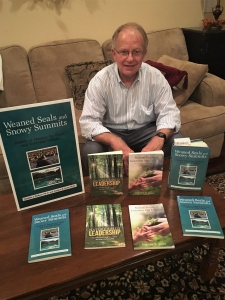 I like to imagine that representative samples of my books appreciate accompanying me into the woods. So far, none has complained nor groaned! Sam is with me in this photo on a fall hike at Bradford Creek Greenway.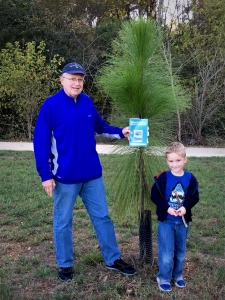 All three of my books (Nature Based Leadership; Nature-Inspired Learning and Leading; Weaned Seals and Snowy Summits) present compilations of personal experiences expressing my (and co-author Dr. Wilhoit for Weaned Seals and Snowy Summits) deep passion for Nature. All three books offer observations and reflections on my relationship to the natural world… and the broader implications for society. Order any and all from your local indie bookstore, or find them on IndieBound or other online sources such as Amazon and LifeRich.
http://stevejonesgbh.com/wp-content/uploads/2020/02/IMG_1515.jpg-02.01.20-Wheeler-NWR-Co-Line-Road-Sam-at-WO-with-Moss.jpg
1200
900
Steve Jones
http://stevejonesgbh.com/wp-content/uploads/2017/01/gbhweblogo.png
Steve Jones
2020-02-26 08:32:41
2020-02-26 08:32:41
A Morning Visit to a Nearby Section of Wheeler National Wildlife Refuge with my Six-Year-Old Grandson