Autumn Serenity along Bradford Creek
Hard to believe that this is my last Great Blue Heron Blog Post of 2019, a very fulfilling year for my semi-retirement ventures to spread the gospel of Nature-Inspired Life and Living. This Post returns me to nearby Bradford Creek Greenway.
Our first autumn weather at long last arrived overnight October 11, 2019. Saturday the 12th dawned cloudy with temperature in the upper 40s. I pedaled 19 miles along nearby Bradford Creek Greenway beginning at 7:00AM. So nice to don long pants and my biking jacket, the first time since April that I needed more than my summer gear: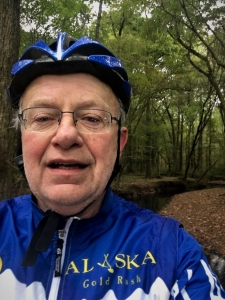 Here below are two special images of the creek just off the trail… without the distraction of the old guy in the foreground! What's so special you might ask. I loved the lighting… dark overcast and deep riparian forest. The placid creek after two-and-a-half months with little rain. The clear water and the leaf-fall lining the sand and gravel bar.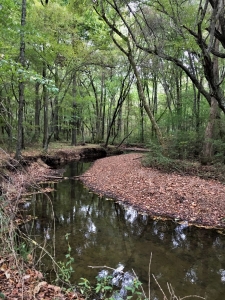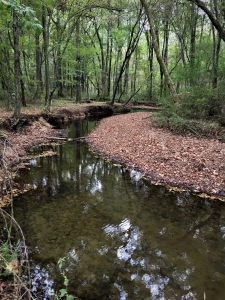 Summer's New Growth on Planted Longleaf Pine
The Bradford Creek Greenway is an urban sewer line right-of-way, managed as a recreational trail for its 2.5-mile length in Madison, Alabama. Utility crews lifted and increased the line's capacity over the trail's southern 0.70-mile length during the summer of 2018. Crews completed the upgrade late summer. Regrading, repaving, and seeding the right-of-way finally permitted biking that south end by early autumn last year. I took the two photos below in December 2018, showing the double rows of planted longleaf pines in a 50-foot wide construction staging area between the trail and an agricultural field. The forester in me cannot resist this opportunity to tell a tree tale (fact… not a tall tale). Read-on below these two images.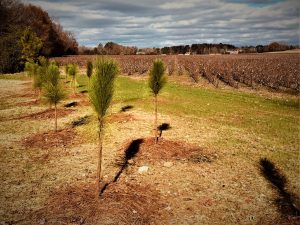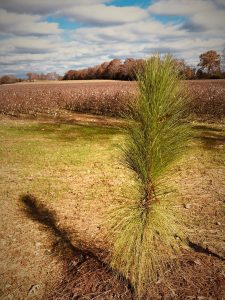 Longleaf begins its seedling life resembling grass, and sends its first vertical growth candle only after several years. From the Longleaf Alliance website: This stage is an inconspicuous yet unique stage of a longleaf pine's life history where the seedling resembles a clump of grass more than a tree, hence the name. During the grass stage, the growing tip (bud) of the tree is protected under a thick arrangement of needles at ground level. When fires sweep through, the needles may burn but the tip of the bud remains protected. New needles quickly replace those that were burned off. During the grass stage, longleaf pine seedlings are virtually immune to fire. At this stage, although the tree will not be growing upwards, the seedling will be putting down an impressive root system underground. Also during this stage, longleaf may become infected with a fungus called brown spot needle blight. Brown spot causes the needles to brown, fall off, and hamper growth. Repeated defoliation will cause the seedling to die. The grass stage may last anywhere from one to seven years depending on the degree of competition with other plants for resources. Rare instances of 20 years have been documented.
Here's my grass-stage photo from a prior outing at one of our Alabama State Parks. The trees in the above December 2018 photos grew at least two summers in nursery transplant beds, evidencing two vertical candles.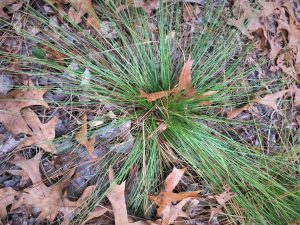 The photos below are from October 13, 2019. The longleaf seedlings obviously enjoyed a great first summer in their new location. Last summer's (2018) candles now have the second year needles downcast, preparing to shed them this winter. Longleaf needles perform for just two growing seasons. This year's growth includes the seedlings' first lateral branches (see the tuft above last summer's candle) as well as another vertical shoot. Summer 2020 will see vigorous lateral branching… growing up and out.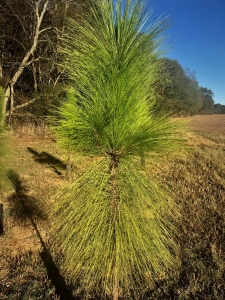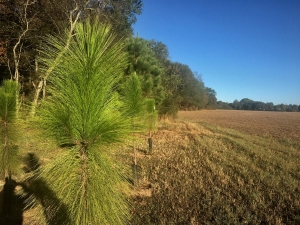 I'll try to retake the longleaf pine images every fall to chronicle each subsequent summer's growth. Photos are unmatched for demonstrating Nature's dynamic progress. Ten years from now people will not be too impressed if I tell them that I remember when those trees were just planted. But show them the ten-year images. Their eyes will widen and their jaw will drop! Ten years out I picture breast high diameter at 5-7-inches and height at greater than 20-feet. Nothing in Nature is static.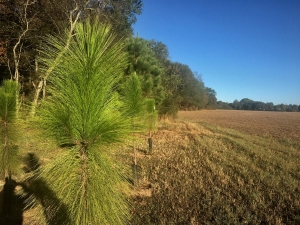 I took the images below a day earlier, October 12, 2019. I often showcase in these Posts my fascination with weather, sky, and clouds. These are the same trees, yet their appearance is radically different, almost night and day. Dense clouds in contrast with deep blue. Which image is more striking? Neither — both are superb. I'll take Nature's glory however it presents itself! My ride this morning (October 13) covered 29 miles. Three extended loops, each one further opening my eyes and deepening my fulfillment and satisfaction.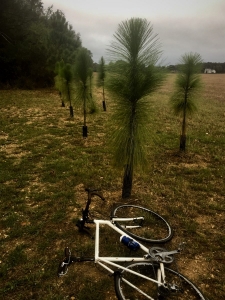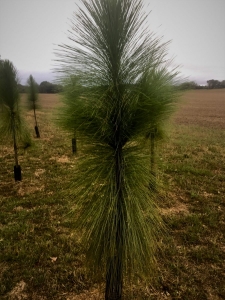 I've said frequently that understanding the science magnifies my appreciation and multiplies Nature's inspiration. The image is only part of the magic. Would it mean as much without knowing about the species' grass stage and its growth patterns? Clearly not. I see a point in time along a trajectory deep into the future. Nature rewards those willing to believe, look, see, and feel. I am grateful I chose a career and education path that led to understanding and appreciating Nature.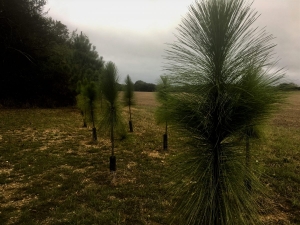 A not-so-pleasant surprise greeted me November 23 when I rode loops on the trail. One of the longleaf pines had died. I had seen no signs of impending demise on prior rides. It is now clearly dead. Cause of death — undetermined. I see no evidence of mechanical stem damage. Nothing has chewed or disturbed the cambium. No obvious stem cankers or signs of fungal infection. Perhaps the seedling had not been well-planted… big air pocket or roots J-shaped (stuffed into the hole so that the longer roots bent back on themselves). During my time (1981-85) as Alabama Region Land Manager for Union Camp Corporation, we planted 16,000 acres annually to mostly loblolly pine. We conducted seedling survival surveys the winter following the first growing season. I don't recall many sites with greater than 95 percent survival… and none with no mortality. I fought the temptation to pull this one to see whether the cause of mortality was discernible. One fatality out of 16 out-plants is not bad; 94 percent survival. I will continue to monitor, hoping that we lose no more next year and beyond.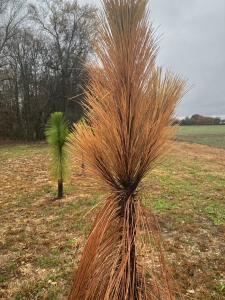 A mid-December Postscript
I biked 19 miles on Bradford Trail December 12. The low temperature had reached 28 degrees; the high nudged 55. The average for the date: 35 and 54. The coldest average low and high (mid-January) is 32 and 51. My point? We are enjoying mid-winter mildness here in north Alabama. I enjoy getting out this time of year. I see more now than I can with full foliage. I've been bike-cruising Bradford Trail for three years. Yesterday was the first time I've noticed this trail-side honey locust (Gleditsia triacanthos). Formidably beautiful! My three books include tales of pleasurable terror — stories of times when I've been caught in rather scary weather, survived it, and took great memories of withstanding the ferocious onslaught. So, just another of Nature's many ironies. Pleasurable terror and formidable beauty. Nature is rich with irony.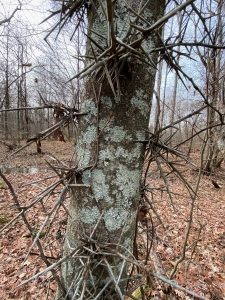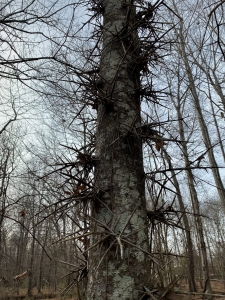 When I stopped to photograph the thorny specimen, I noticed several sapling buck-rubs, also at trail's edge.This one will not survive; the buck has stripped cambium 360-degrees. I had hoped to find a cause of mortality as obvious on the dead longleaf — not so.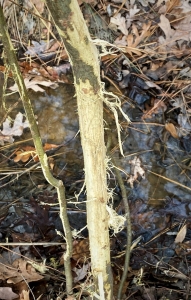 Nature…everyday Nature…fuels my passion and purpose in life. Death is natural. The dance of life and death is ongoing. Everyday Nature, whether we like it or not, includes both death and renewal. Life giving death — yet another of Nature's ironies.
A Footnote
I love the Land Trust of North Alabama's tagline: Conservation in Action! As a former four-time university president, I hold that application adds value to knowledge. Applying knowledge (driven by dedication and passion) brings action to bear. Without applying action to conservation, we as humanity, communities, and individuals practice only a shallow and meaningless conservation inaction. Amazing how removing that one space (between 'in' and 'action') changes the entire essence. Talking by itself can amount merely to conservation virtue-signaling. The Land Trust gets it done! I applaud its action, guided by a succinct and noble mission: The Land Trust preserves land and its legacies for conservation, public recreation, and environmental education to enhance quality of life in North Alabama now and for the future.
The Land Trust donated a 112-acre easement to the City of Madison (2006) for the Bradford Creek Greenway. The aerial photo shows the property lines (green) and the 2.5-mile trail (red) from Heritage School to Palmer Park. I have spent many hours biking along the creek under its welcome riparian forest cover and shade. A wonderful gift to future generations.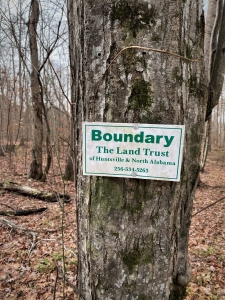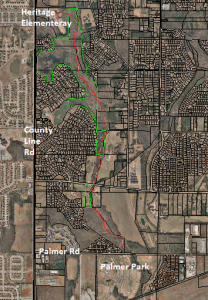 Thoughts and Reflections
I wrote my books Nature Based Leadership (2016), Nature-Inspired Learning and Leading (2017), and Weaned Seals and Snowy Summits: Stories of Passion for Place and Everyday Nature (2019; with co-author Dr. Jennifer Wilhoit) to encourage all citizens to recognize and appreciate that every lesson for living, learning, serving, and leading is either written indelibly in or is powerfully inspired by Nature. All three are available on Amazon and other online sources.
Here are three succinct lessons I draw from this Blog Post:
Nature rewards those willing to look closely, whether in a bucket-list National Park or along a local Greenway

Everyday Nature can amaze and inspire with her stories of magic and wonder
Every element of Nature has a story to tell — whether an entire ecosystem or a single species of tree (i.e. longleaf pine)

Inhale and absorb Nature's elixir. May Nature Inspire and Reward you!
Note: All blog post images created & photographed by Stephen B. Jones unless otherwise noted. Please circulate images with photo credit: "©2019 Steve Jones, Great Blue Heron LLC. All Rights Reserved."
Another Note: If you came to this post via a Facebook posting or by an another route, please sign up now (no cost… no obligation) to receive my Blog Post email alerts: http://stevejonesgbh.com/contact/
And a Third: I am available for Nature-Inspired Speaking, Writing, and Consulting — contact me at steve.jones.0524@gmail.com
Reminder of my Personal and Professional Purpose, Passion, and Cause
If only more of us viewed our precious environment through the filters I employ. If only my mission and vision could be multiplied untold orders of magnitude:
Mission: Employ writing and speaking to educate, inspire, and enable readers and listeners to understand, appreciate, and enjoy Nature… and accept and practice Earth Stewardship.
Vision:
People of all ages will pay greater attention to and engage more regularly with Nature… and will accept and practice informed and responsible Earth Stewardship.
They will see their relationship to our natural world with new eyes… and will understand more clearly their Earth home.
Tagline/Motto: Steve (Great Blue Heron) encourages and seeks a better tomorrow through Nature-Inspired Living!
Steve's Three Books
I began writing books and Posts for several reasons:
I love hiking and exploring in Nature
I see images I want to (and do) capture with my trusty iPhone camera
I enjoy explaining those images — an educator at heart
I don't play golf!
I actually do love writing — it's the hobby I never needed when my career consumed me
Judy suggested my writing is in large measure my legacy to our two kids, our five grand kids, and all the unborn generations beyond
And finally, perhaps my books and Blogs could reach beyond family and touch a few others lives… sow some seeds for the future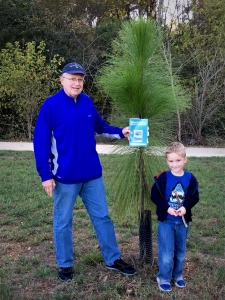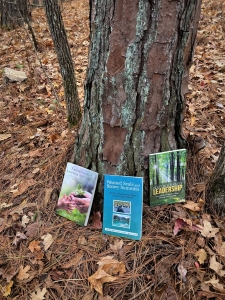 All three of my books (Nature Based Leadership; Nature-Inspired Learning and Leading; Weaned Seals and Snowy Summits) present compilations of personal experiences expressing my (and co-author Dr. Wilhoit for Weaned Seals and Snowy Summits) deep passion for Nature. The books inspire deeper relationship with and care for our One Earth. Order any and all from your local indie bookstore, or find them on IndieBound or other online sources such as Amazon and LifeRich.
http://stevejonesgbh.com/wp-content/uploads/2019/10/IMG_2209.jpg-10.12.19-A-successful-First-Summer-Growth-of-Planted-LL-Pine.jpg
900
1200
Steve Jones
http://stevejonesgbh.com/wp-content/uploads/2017/01/gbhweblogo.png
Steve Jones
2019-12-30 18:01:23
2019-12-30 18:01:23
Longleaf Pine along Bradford Creek Greenway