C&O Canal National Historical Park
I issued multiple Posts this past summer and fall from July visits to National Parks, Monuments, and Memorials in Utah, Wyoming, Montana, and South Dakota. Add in two more Posts from visiting three National Parks in Kazakhstan. November 20, 2019 I published yet another, this one from a September visit to the C&O Canal National Historical Park. I now post another from visiting the C&O Canal National Historical Park: I offer a few photos and reflections from stopping by the western terminus at Cumberland, Maryland, my home town, and then enjoying an extend hike through the Paw Paw Tunnel and back over its Tunnel Hill Trail. As is my Blog Post pattern, I will focus on Nature, and weave through the essay observations on the interplay of human and natural history.
The Canal's Western Terminus
I'll begin with a view of Cumberland from my September visit. The original Canal planning brought the Canal to this point, and then built it up and over the Allegany front and onward to the Ohio River. Cumberland became its final destination after the enterprise met overwhelming competition from the railroads and ultimately succumbed to brutal flooding from the adjacent Potomac River in 1924.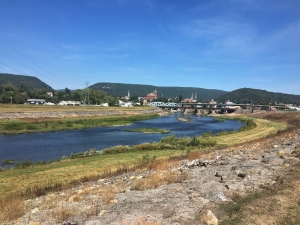 I snapped this terminus visitor's center wall mural photograph (below), taken during the Canal's peak operations well before 1924. The view looks east over the terminus operations, including two canal boats, loading and unloading docks, and a lone mule. The hills beyond rise a couple of hundred feet above the canal level. I grew up perhaps a quarter mile to the south (right) where the hills softened. The high school I attended, built in the mid 1930s, now sits beyond the unidentifiable building top-center in the dip above the center casks. I played in those hills, which we then called "The Clay Hills." The image below depicts the hills as scarred and denuded, likely cut repeatedly for firewood, and perhaps even stripped for aggregate and clay to support residential and commercial development in the growing city. I knew explicitly and intuitively as a youth that the land had been abused. Prior to any formal forestry and natural resources education and training, I observed that the terrain evidenced deep erosion gullies. I recognized that such treatment of our Earth was hurtful and probably irreparable. In my youth, shrub-cover had begun to colonize the hills, yet exposed red "soil" dominated the appearance. The shrubs had not fully captured the hillside. I can recall only that sumac (Rhus typhina) and tree of heaven (Ailanthus altissima) dominated the emerging vegetation.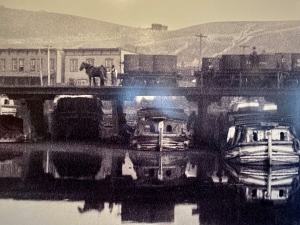 I took the photo below from roughly the same spot looking east at least a hundred years later (November 2019). My high school is visible beyond that same dip as a flat-topped building with its smoke stack rising midway. The approximately 1.5-mile distance belies the school's size, a large three-story school. The Clay Hills now sprout a few homes and an emerging forest. The raw red "soil" is no longer visible. Examining the photo, I now have a desire to venture into those once-denuded hills to assess progress of recovery.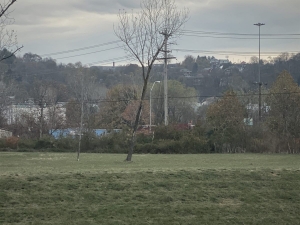 I have observed often in these Posts that nothing in Nature is static. Even Clay Hills revert with time and protection to forest. Nature heals all human induced scars. I first saw the Clay Hills as a raw wound, apparent even to a kid. Interestingly, if I assume I first ventured into the hills at age eight, I've watched the recovery for 60 years. No telling how many years more I will visit. Were I able, I would return every decade for the next millennium… and beyond. I can instead enjoy the conjecture. I visualize a forest eventually prospering in the naturally rejuvenated soil. Will that forest prosper before humanity fades and disappears, sadly from self-inflicted wounds, or will we humans awaken and live harmoniously as informed and responsible Earth citizens? Let's hope the latter.
Paw Paw Tunnel
Over those six decades I've spent countless hours exploring Paw Paw Tunnel and environs, located near milepost 155.2, 29 Canal-miles east of Cumberland. We camped often near the tunnel, fished in the Potomac, and hiked in the forest. From a National Park Service online source about the tunnel:
14 years of construction.
Over $600,000 spent.
6 million bricks used.
3,118 feet long
Those are just a few of the staggering statistics of the greatest engineering marvel along the Chesapeake & Ohio Canal National Historical Park. Located at milepost 155.2, the Paw Paw Tunnel helped eliminate 6 miles of canal and opened up economic success for Cumberland, Maryland. However, completing the Paw Paw Tunnel was not an easy task. Through labor strikes, money issues, and illness, the construction of the 3,118 foot long tunnel took nearly 14 years to complete and was placed well over budget. Today, when you plan your visit to the Paw Paw Tunnel, bring a flashlight and discover the weep holes, rope burns, rub rails, as well as brass plates that bring the tunnel's history to life. Following your travels through the tunnel, enjoy the two-mile long Tunnel Hill Trail where you can discover breathtaking views of the Paw Paw Bends.
The interpretive signage (below left) shows the tunnel route and describes avoiding the six miles of sweeping bends along the Potomac. Lower right the tunnel's western (Cumberland) end beckoned me in mid-November.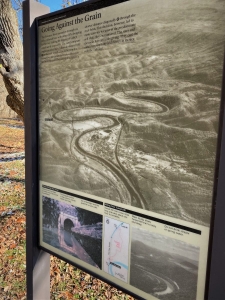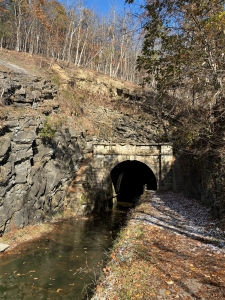 A hundred feet inside the western entrance, I caught the view out of the tunnel. Combining the light entering from behind me and employing a three-second exposure, I exalted in how well I captured the tunnel interior and the far eastern end. Some of what appears well-illuminated actually stands in pitch blackness. Mid-way, except for the "light at the end of the tunnel," I could not see my hand in front of my face. Engineers and workers completed the tunnel in 1850, 14 years after the initial pick blows and dynamiting. As I strolled through the tunnel and returned over the Hill Trail, I marveled at the construction technique: coming in from both ends, dropping twice vertically to tunnel level and working all four of those internal faces! Imagine those immigrant laborers who arose early morning, hiked up to one of the shafts, and lowered to excavation-level where they performed heavy and dangerous tasks… for 14 years!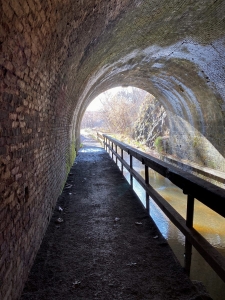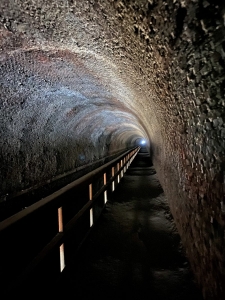 The tunnel exited east into a deep cut that extends for another half-mile, connecting again to the Potomac a half-mile beyond that. The snow-coated boardwalk offered a pleasant complement to the clear blue sky. I felt deep sentiment revisiting a stretch I had walked scores of times as a boy, then as an adult whenever trips home gave me an opportunity to renew that Central Appalachian spirit of my life. I wish I could remember the last time I hiked the tunnel with my Dad. His memory and his essence accompanied me even on this most recent pass nearly 25 years after his death. We do communicate on such treks, but it's just not the same.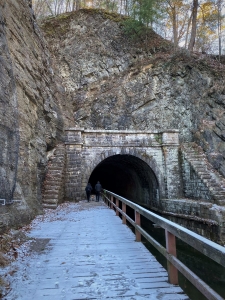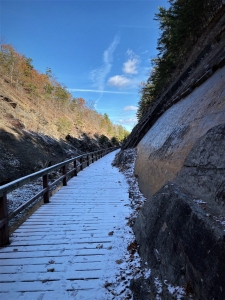 He long ago impressed upon me the importance of paying attention to little things in Nature. A row of icicles along a small ledge. Or the engineering beauty of a long-abandoned lock east of the long cut. I recall standing with him, or sitting on the exquisite stonework, trying to re-imagine the lift-lock in operation. Dad's spirit and the ghosts of thousands watched silently with me that cold and sunny morning.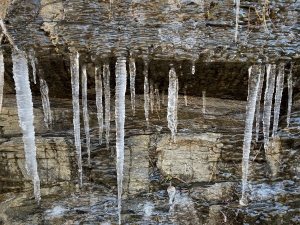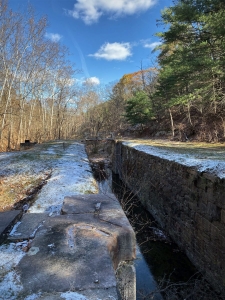 I turned back when I reached the Potomac, six river miles from where I entered the tunnel, some 1.7 towpath miles behind. About to re-enter the cut (below left), I left the canal and began the Tunnel Hill Trail, a path I had taken dozens of times. The Trail presents a strenuous hike for those not accustomed to physical challenge. As I reflected on my ventures with Dad, I paused to wonder how many more times I will make the trek. Once I am gone, will my spirit haunt these hills? What difference will these musings have made?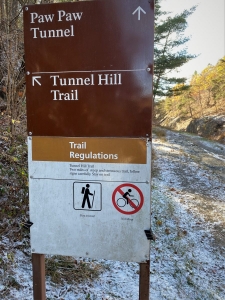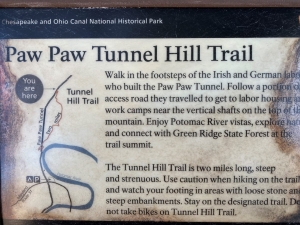 On a more positive note, I know that my writing soothes me, lifts my spirit, and adds value to my own life. I welcome and treasure these reflective hikes into memory…into special places that I have long treasured and that shaped my life.
Human and Natural History Interacting on the Tunnel Hill Trail
The National Park Service tells the Paw Paw Tunnel stories quite well… with interpretive signage, publications, and online information. I won't recite the signage for you. My intent through this section is to comment on the natural history I observed along the trail and with my photos. Think about the tremendous volume of rock excavated during construction from both ends and brought up through the vertical shafts. Those resultant debris piles (spoils) are dry and infertile. I like the thick lichen cushion nestling a long-dead, weathered Virginia pine (Pinus virginiana) stump-remnant below right.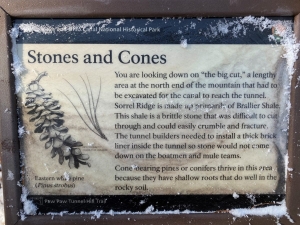 Although the trail passes through "wildness," signage reminds us that this particular spot once supported a community and its schoolhouse. I listened in vain for the ancient echoes of children playing. Nature is sweeping away most direct evidence.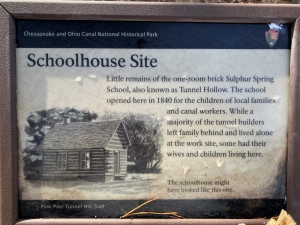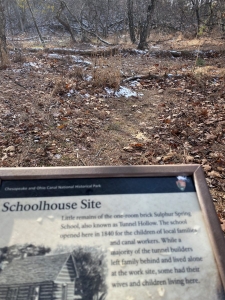 I wonder what Park Serve archeologists discovered at this former construction village. Nature doesn't care… intent upon reclaiming what is hers.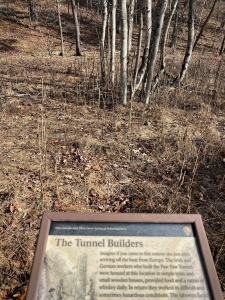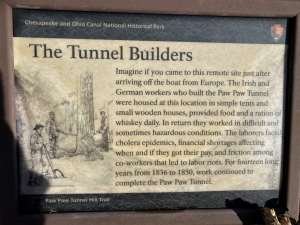 Again, massive amounts of spoil now fill many ravines and coves along the Trail. The photo lower right shows spoil to a depth of nearly fifty feet. To the casual observer, without benefit of the sign, the land tells no tales. I am fortunate to know Nature's language well enough to interpret her stories. Her shelves hold many volumes, each one written in forest and landscape evidence. Man has never left a mark that will survive time and Nature's incessant healing.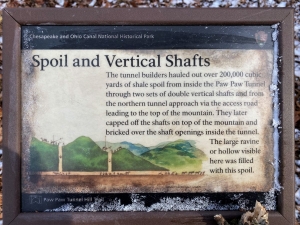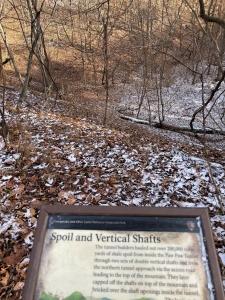 Picture the lower left wagon trail 165 years ago running along the base of a denuded hillside, stripped repeatedly for firewood to fuel cooking stoves and warm winter quarters. Imagine wagons loaded with spoil heading down to dumping grounds; carts forwarding workers and supplies up to the shafts; and exhausted laborers clinging to the cart rails returning to camp after their daily shift. What I don't know is whether the crews worked during the night. Daylight or dark would make no difference for those working the four internal tunnel-level excavation faces. The snow-dusted Tunnel Hill Trail, to those not privy to the 14-year construction struggle, appears now as merely a sheltered footpath leading through the wildness of Sorrel Ridge, part of Maryland's 46,560-acre Green Ridge State Forest (GR SF). Another sentimental connection for me is that I worked my junior summer as a forestry aide on GR SF, a dream job!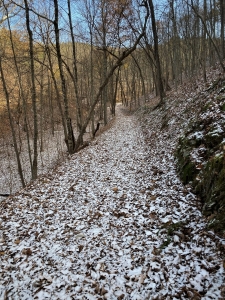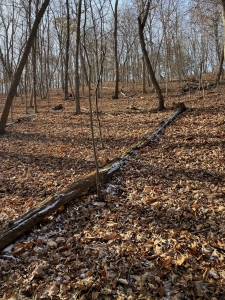 I view this as another glimpse of the magic synergy between human and natural history, and my own intersection with it. I can recall no untouched forestland (virgin forest) on Green Ridge State Forest, neither from my summer employment there or from my reading of Land of the Living: The Story of Green Ridge Forest (1996), authored by my summer-of-1972 boss, Green Ridge Forest Supervisor John Mash. In his Preface, John wrote, "When I first came to the Green Ridge Forest in 1971 as a young forester I soon became aware that others preceded me. One of the things I learned in forestry school was that the past influences the present and that there was evidence of many past disturbances in the forest." John's 875 pages tell the stories of Green Ridge Forest eloquently with great passion.  Again in his Preface he said, "The proper way to read this book is lying on a hammock in the forest, listening to the birds and imagining what happened on the very spot you lounge. You were not the first there to experience the sights, sounds, joys, wonders and sorrows of the Green Ridge mystique."
As I hiked the Trail (below left) on that gorgeous November morning, I thought of John, who loved the entire Green Ridge Forest and all life within it, present and past. John died far too young. I would love to have accompanied him over the Tunnel Hill Trail. We spent a lot of time together that summer. I marveled at his sharp eyes in spotting rattlesnakes and his never-failing intent upon picking them up, examining each one, and gently releasing it where he found it. He likewise studied the signs of past disturbance religiously, always alerting me to faint trail traces, evidence of past timber cutting, old foundations, and settlement relics. I visualized John stretched on his hammock between two oaks that morning. He tipped his forester's hat, twirled his handlebar mustache, and wished me well.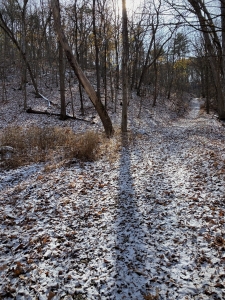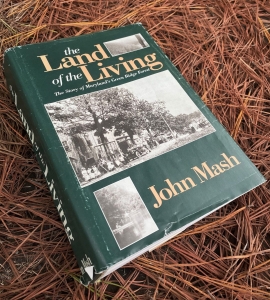 The hike over Sorrel Ridge offers ample reward for the exertion. The central Appalachians likewise reward me with deep feelings of home. I've stood at scenic overlooks across the US and even at a number of places internationally. I never fail to appreciate the beauty, magic, wonder, and awe of elevated perspective, yet nothing surpasses the scenic, emotional, and sentimental elixir of what I will always consider home. I suppose the echoes of youth across time magnify my appreciation. I am sure I was adolescent the first time I stood at this overlook. How much of what I now see is modified through the filters of life, memory, and education? I believe earnestly that what I now see far exceeds the simple image I enjoyed 55 years ago at age 13!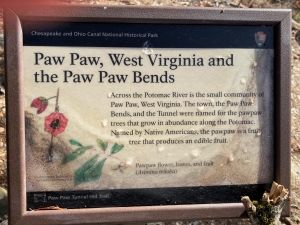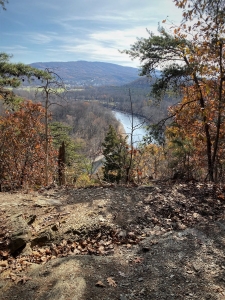 I snapped a selfie to make sure that it was old Steve up there on the trail. Sure enough,  I had not passed through some time warp! I wanted a photo with the hilltop sparsely-stocked oak stand behind me (below left), and another with the Virginia pine overhead (below right) as I enjoyed a well-traveled bagel with peanut butter. I now confess to failing to pay enough attention to my surroundings. The lower right photo shows beyond a doubt that the pine behind me is recently dead, its crown reddish-brown, having given up the ghost during the summer. How could I have missed it? Blinded by the vista? I who pride myself in seeing far more in Nature than most! Nature offers unlimited inspiration and humility.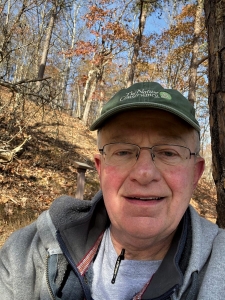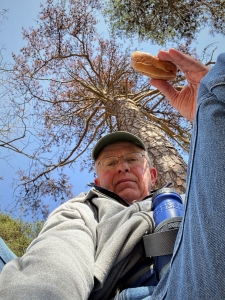 I know my missing the obvious has nothing to do with my age. After all, how could an old guy have just traversed a trail that carries the warning statement, "Danger. Steep cliffs and loose footing. One misstep could result in serious injury or a life threatening situation." Perhaps I was so focused on the danger I faced to note that the pine was dead! No, I shall not shamelessly reach for excuses. Quite simply, I missed the obvious, and "saw" it only after examining the photo that evening.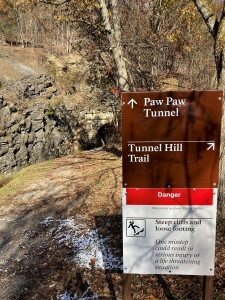 As I've observed many times, nothing in Nature is static. Witness the now-dead pine. Recall the recovering Clay Hills in Cumberland.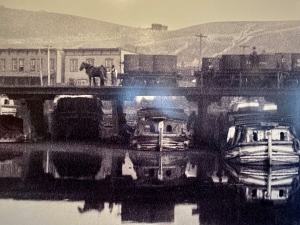 Life marches on in this Land of the Living — Green Ridge Forest, the C&O Canal, and the Paw Paw Tunnel. John Mash's simple book Dedication fittingly closes this Great Blue Heron Blog Post:
This book is dedicated to all those souls, known but to God, who lie forever in so many places in the unmarked forest graves. They have nourished the soil with their bodies and in turn live in the trees and plants that feed the wild animals. Although no one knows of their earthly joys and sorrows, they will be a part of the forest forever.
Thoughts and Reflections
I wrote my books Nature Based Leadership (2016), Nature-Inspired Learning and Leading (2017), and Weaned Seals and Snowy Summits: Stories of Passion for Place and Everyday Nature (2019; co-authored with Dr. Jennifer Wilhoit) to encourage all citizens to recognize and appreciate that every lesson for living, learning, serving, and leading is either written indelibly in or is powerfully inspired by Nature. All three are available on Amazon and other online sources.
Here are the three succinct truths I draw from this Blog Post:
Nature, with the help of a National Historical Park designation, inexorably reclaims what humanity once cleared and domesticated.
Human-scale time has no meaning to a river, nor to the mountains within which it courses.
"The National Park Service preserves unimpaired the natural and cultural resources and values of the national park system for the enjoyment, education, and inspiration of this and future generations." The C&O National Historical Park is no less a part of our heritage than Yellowstone or Yosemite.

Inhale and absorb Nature's elixir. May Nature Inspire and Reward you!
Note: All blog post images created & photographed by Stephen B. Jones unless otherwise noted. Please circulate images with photo credit: "©2019 Steve Jones, Great Blue Heron LLC. All Rights Reserved."
Another Note: If you came to this post via a Facebook posting or by an another route, please sign up now (no cost… no obligation) to receive my Blog Post email alerts: http://stevejonesgbh.com/contact/
And a Third: I am available for Nature-Inspired Speaking, Writing, and Consulting — contact me at steve.jones.0524@gmail.com
Reminder of my Personal and Professional Purpose, Passion, and Cause
If only more of us viewed our precious environment through the filters I employ. If only my mission and vision could be multiplied untold orders of magnitude:
Mission: Employ writing and speaking to educate, inspire, and enable readers and listeners to understand, appreciate, and enjoy Nature… and accept and practice Earth Stewardship.
Vision:
People of all ages will pay greater attention to and engage more regularly with Nature… and will accept and practice informed and responsible Earth Stewardship.
They will see their relationship to our natural world with new eyes… and will understand more clearly their Earth home.
Tagline/Motto: Steve (Great Blue Heron) encourages and seeks a better tomorrow through Nature-Inspired Living!
Steve's Three Books
As with my weekly Blog Posts, I weave Nature's thread through the essays within my books. I reflect on my own life experiences in Nature and their relevance to my life and living. I try to have a little fun, mostly at my own expense. I take what I do very seriously, yet I don't take (and never have) myself too seriously (see me lower right working feverishly on my writing!).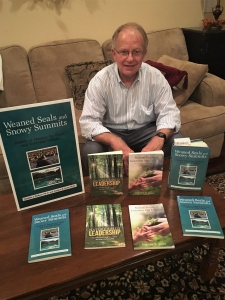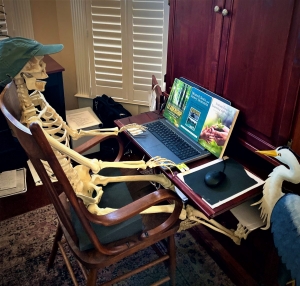 Actual time in Nature stimulates my reflections, fuels my passion, and provides fodder for my essays. I occasionally treat my books to walks in the forest (see below).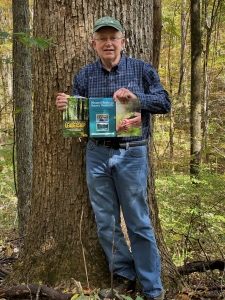 All three of my books (Nature Based Leadership; Nature-Inspired Learning and Leading; Weaned Seals and Snowy Summits) present compilations of personal experiences expressing my (and co-author Dr. Wilhoit for Weaned Seals and Snowy Summits) deep passion for Nature. The books inspire deeper relationship with and care for our One Earth. Order any and all from your local indie bookstore, or find them on IndieBound or other online sources such as Amazon and LifeRich.
http://stevejonesgbh.com/wp-content/uploads/2019/11/IMG_0242.jpg-11.13.19-Paw-Paw-Tunnel-East-End.jpg
1200
900
Steve Jones
http://stevejonesgbh.com/wp-content/uploads/2017/01/gbhweblogo.png
Steve Jones
2019-12-23 13:41:44
2019-12-23 13:41:44
At the Nexus of Human and Natural History: Paw Paw Tunnel