Natural Treasures Are Always Close at Hand
I posted an essay in February 2017 on a trip I made to the North Alabama Land Trust's 70-acre Harvest Square Nature Preserve: http://stevejonesgbh.com/2017/02/09/the-simple-things-become-our-ultimate-pleasure/ My then nine-year-old Alabama grandson Jack accompanied me. Nearly three years ago, at that time I did not always include photos as I do now.
I returned with Judy, Jack (now 12), and five-and-a-half year old Sam November 9, 2019. This time I snapped lots of photos, offering them with reflections in this Post. The photos certainly help me compose my observations and reflections, and assist with memory retention! Jack and Sam stand with me at the entrance sign… shamelessly promoting my three books.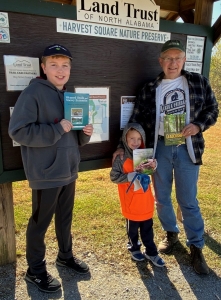 Ponds — AKA Borrow Pits
The interpretive "Ponds" sign leaves no room for confusion — these "are not natural ponds." Minnesota's state tagline claims, "Land of Ten Thousand Lakes." My limnology faculty at the University of Alaska Fairbanks reminded me that Alaska has 2,000,000 lakes and ponds! Alabama? Most of our "ponds" and lakes are human-made, including the four-acre Big Blue Lake where I reside. It's hard to be a pond and lake purist here in the South, far from Minnesota's 10,000 glacier-carved ponds and lakes. So, I treasure even our Alabama ponds carved by development engineers and excavators.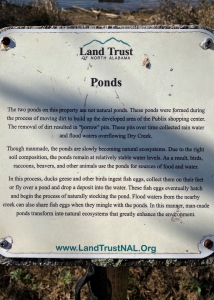 My appreciation is not dimmed at Harvest Square knowing that Terry and Turner Ponds provided scraped spoils for elevating the construction site for Harvest Square Shopping Center. I spent little time explaining to grandsons Sam and Jack the ponds' origin. Instead, we focused on the wonder of Nature's healing such raw disturbed sites. Harvest Square memorializes the inspired action of the Land Trust of North Alabama acquiring the site, protecting it from further perturbation, arranging access, placing interpretive signage, and telling the story of informed and responsible land stewardship. Who would know…and who would second guess…the rehabilitation and rebirth of an evolving natural community following the equivalent of harsh strip-mining. The open meadows, succeeding brush and forest, serene ponds, full array of wildlife, and the stunning beauty of a fall day belie the violence acted upon the land. What absolute genius to convert wasteland to nature preserve!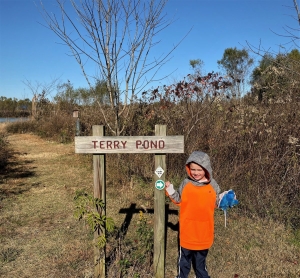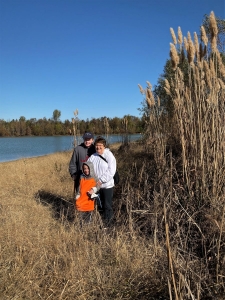 Nature has been rehabilitating disturbed land for eons… for-ever! Think of the Mount Saint Helens blast zone from May 1980; devastated… and now green and recovering. The most recent continental ice sheet retreated 12-14,000 years ago after scraping the land clear from Canada through the Great Lakes and into southern New York State — Long Island is a terminal moraine! The Yellowstone caldera last blew 630,000 years ago; it is now among the nation's most beautiful national treasures. Nature knows full well how to tear asunder… and then heal. What's a little man-made shopping center construction to Nature's insistence to rehabilitate and heal?! Throw in a dedicated Land Trust, some trail and dock infrastructure, and limited healing time… and the result meets even my rigid criteria for declaring it a wildland worthy of visiting, studying, and sharing! Who could imagine Judy and the grandsons are nearly within sight of the shopping center?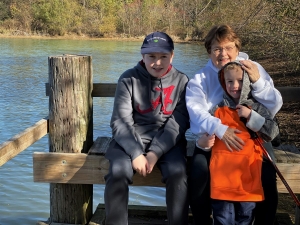 Well-placed and attractive signage complements the experience. Toss in the wildness of the great blue heron who lifted from the shoreline near this trail marker to add to our enjoyment.
The trail is aptly named. Beaver occupy bank lodges along Terry Pond's northwest corner. They've constructed ingress and egress canals along the shore. Sam is holding two branches stripped clean of bark/cambium by foraging beavers. Sam uses one as a walking stick; the longer one suits me quite well.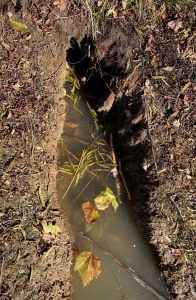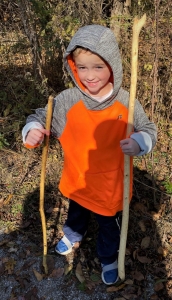 Staghorn sumac (Rhus typhina) is colonizing the preserve, providing colorful fruit, a fall buffet for dozens of bird species.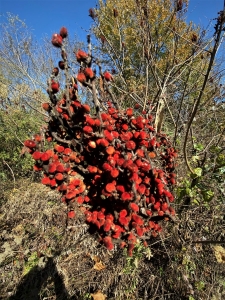 We hiked the short trail to Turner Pond and the boardwalk along its west edge. Vegetation is everywhere — Nature abhors a vacuum. Natural reclamation is accelerating. As an ecologist, I know how quickly succession moves these highly disturbed sites into more mature brush and forest stages. I'd like to see the Land Trust establish permanent photo points so that visitors years and decades from now can travel photographically back in time. What will these two views show in 2050? Or 2100?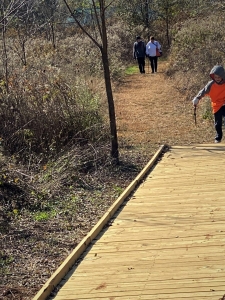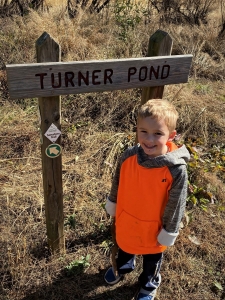 Will the forest behind Jack and Judy tower above visitors 50 years hence?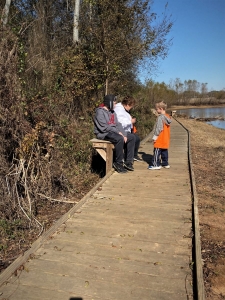 We spotted a pair of great blue herons as we left Terry Pond heading toward the woods. I never (and will never) tire of seeing these avatars for my life and my memories of Dad! To see this pair made me ever more appreciative of Nature's supreme power to heal… the land and my heart.
Woods Trail
The woods trail winds past an already towering loblolly pine (Pinus taeda). Good fortune that the shopping center clearing did not strip the entire tract. This is wildness that stirs my forester's heart!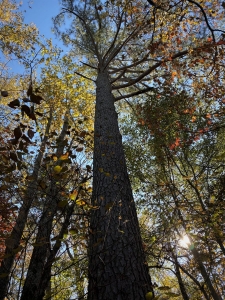 The Trust does an excellent job of trail interpretation and tree identification.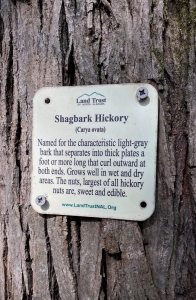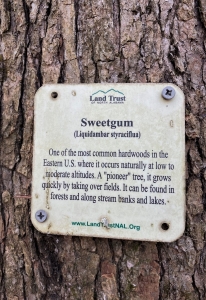 I have observed often that having  an understanding of Nature enhances appreciation and strengthens our resolve to steward the land.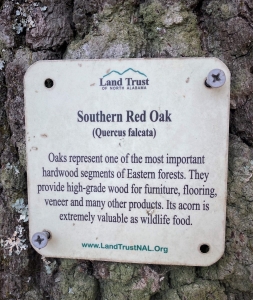 Nothing in Nature is static; nothing lives and stands tall forever. Life and death are in a perpetual dance; ashes to ashes and dust to dust. Wind-throw is as natural as the new growth that will fill the space vacated by this old soldier toppled by a gusty thunderstorm a few summers prior. I think Sam understands the mechanism.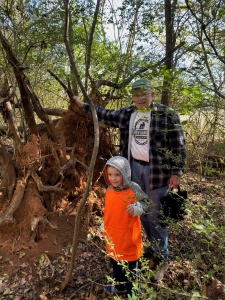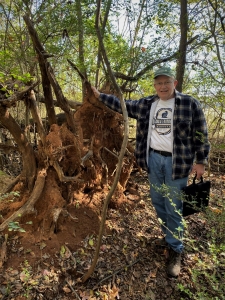 The magnificent loblolly will one day return its mass, fiber, and nutrients to the soil. Death is part and parcel of life. The Harvest Square Nature Preserve is close at-hand to many of us in the greater Huntsville area. Its story is one of disturbance, preservation, and recovery. In so many ways, as I mentioned earlier, the Harvest Square Story ironically parallels the ecological tale told by Mount Saint Helens and Yellowstone. Nature knows how to close the circle; in fact, Nature designed and created the circle.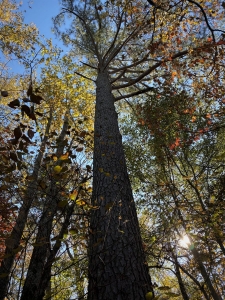 If you would like to visit Harvest Square, see the Huntsville Adventurer website: https://huntsvilleadventurer.com/harvest-square-nature-preserve/?fbclid=IwAR18Fyskf-vv0IWzXjMCO3L7mF4VTxHiOOXS1qeExGLG4Pj-MFAdfUcF6xM

The Land Trust of North Alabama mission is simple, succinct, and noble: The Land Trust preserves land and its legacies for conservation, public recreation, and environmental education to enhance quality of life in North Alabama now and for the future. I urge you to visit the Trust's website: https://www.landtrustnal.org/vision-history/ Please consider joining and or contributing. 
Thoughts and Reflections
I wrote my books Nature Based Leadership (2016), Nature-Inspired Learning and Leading (2017), and Weaned Seals and Snowy Summits: Stories of Passion for Place and Everyday Nature (2019; co-authored with Dr. Jennifer Wilhoit) to encourage all citizens to recognize and appreciate that every lesson for living, learning, serving, and leading is either written indelibly in or is powerfully inspired by Nature. All three are available on Amazon and other online sources.
Here are the three succinct truths I draw from this Blog Post:
Nature, with the help of the dedicated efforts of a local Land Trust, is converting sows ears to silk purses

Nature's power to heal (the land and our hearts) is unlimited

We can all do our part to make some small corner of the world better through wisdom, knowledge, and hard work

Inhale and absorb Nature's elixir. May Nature Inspire and Reward you!
Note: All blog post images created & photographed by Stephen B. Jones unless otherwise noted. Please circulate images with photo credit: "©2019 Steve Jones, Great Blue Heron LLC. All Rights Reserved."
Another Note: If you came to this post via a Facebook posting or by an another route, please sign up now (no cost… no obligation) to receive my Blog Post email alerts: http://stevejonesgbh.com/contact/
And a Third: I am available for Nature-Inspired Speaking, Writing, and Consulting — contact me at steve.jones.0524@gmail.com
Reminder of my Personal and Professional Purpose, Passion, and Cause
If only more of us viewed our precious environment through the filters I employ. If only my mission and vision could be multiplied untold orders of magnitude:
Mission: Employ writing and speaking to educate, inspire, and enable readers and listeners to understand, appreciate, and enjoy Nature… and accept and practice Earth Stewardship.
Vision:
People of all ages will pay greater attention to and engage more regularly with Nature… and will accept and practice informed and responsible Earth Stewardship.
They will see their relationship to our natural world with new eyes… and will understand more clearly their Earth home.
Tagline/Motto: Steve (Great Blue Heron) encourages and seeks a better tomorrow through Nature-Inspired Living!
Steve's Three Books
I began writing books and Posts for several reasons:
I love hiking and exploring in Nature
I see images I want to (and do) capture with my trusty iPhone camera
I enjoy explaining those images — an educator at heart
I don't play golf!
I actually do love writing — it's the hobby I never needed when my career consumed me
Judy suggested my writing is in large measure my legacy to our two kids, our five grand kids, and all the unborn generations beyond
And finally, perhaps my books and Blogs could reach beyond family and touch a few others lives… sow some seeds for the future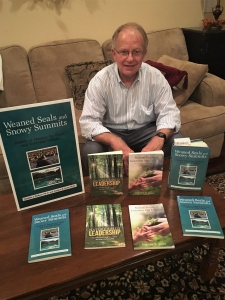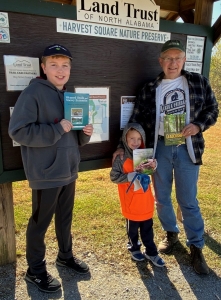 The same windthrow back-dropping Weaned Seals and Snowy Summits! I like to imagine that representative samples of my books appreciate accompanying me into the woods. So far, none has complained nor groaned!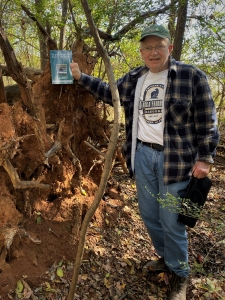 All three of my books (Nature Based Leadership; Nature-Inspired Learning and Leading; Weaned Seals and Snowy Summits) present compilations of personal experiences expressing my (and co-author Dr. Wilhoit for Weaned Seals and Snowy Summits) deep passion for Nature. The books inspire deeper relationship with and care for our One Earth. Order any and all from your local indie bookstore, or find them on IndieBound or other online sources such as Amazon and LifeRich.
http://stevejonesgbh.com/wp-content/uploads/2019/11/IMG_0194.jpg-11.09.19-Loblolly.jpg
1200
900
Steve Jones
http://stevejonesgbh.com/wp-content/uploads/2017/01/gbhweblogo.png
Steve Jones
2019-12-17 14:18:48
2019-12-17 14:18:48
Revisiting Harvest Square Nature Preserve