The Making of a Legacy — A Hero Enters Adulthood
September 2018 I posted my photos and reflections from hiking the William Arthur Wells Trail at Monte Sano State Park: http://stevejonesgbh.com/2018/09/17/monte-sano-state-park-exploring-an-addition/ I snapped a few of the photos below on that 2018 hike. I vowed then to meet the gentleman responsible for the memorial trail. William Arthur Wells (Arthur) died October 25, 1944 when his Navy ship went down in the Battle Leyte Gulf (the largest naval engagement of WWII) in the Philippines. I met with Robert (Bob) Wells, Arthur's 15-year-junior brother at his home exactly 75 years later. The internet is rich with information about this definitive US Naval victory.
I enjoyed my visit with Robert and Catherine, married in 1964. Robert, with significant verified Native American heritage, served six years in the US Army. Robert and Catherine filled in many of the blanks important to the story of Wells Trail, and gave me copies of photographs from Arthur's pre-WWII days. That's him below wearing his high school letter sweater flanked by his proud parents. I imagined a toddler Robert standing somewhere nearby witnessing his brother's graduation celebration.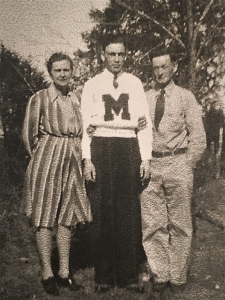 Arthur's next step in life took him into the Civilian Conservation Corp (October 3, 1939, two months shy of his 18th birthday), ushering him quickly into responsible adulthood. Hard for me now to accept that some universities are teaching credit-bearing courses on something called adulting, defined by an online dictionary as the practice of behaving in a way characteristic of a responsible adult, especially the accomplishment of mundane but necessary tasks. I am sure that Arthur began wearing his big boy pants without benefit of three such college credits! Options remain available today for young men and women to enter adulthood without spending $10,000 or more per year on tuition for such higher education. Among other alternatives are getting a job or enlisting in military service. Okay, as I am now within just 18 months of turning 70, I admit to a bit of cynicism and intolerance for how certain elements of society believe we need to treat our youth as helpless, hopeless, hapless, and dependent snowflakes. Arthur stands atop Monte Sano at his CCC Camp in his dress uniform (below). Did he miss his mom and dad, and his younger brothers Robert and Charles, and sister Nancy? I am certain he did. Was he contributing materially and responsibly to the family's welfare? Absolutely. Was he adulting? Yes, the young man was now fully engaged as an adult. No safe space and crying rooms for him, nor any of his generation.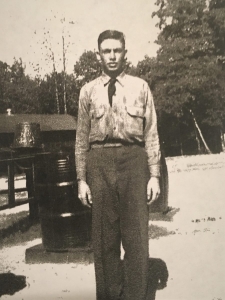 The fact that Arthur is pictured at the Monte Sano CCC Camp is a major component of the William Arthur Wells Trail tale.
Arthur exited the CCC September 20, 1941 (three months shy of age 20), heading soon for WWII service in the US Navy, fully grown, mature, and adulted (below left). He served his country faithfully for three years in the Pacific theater. The recognition of service and death-in-combat certificate (lower right) hangs in Robert and Catherine's home, beautifully glass-encased. Arthur's presence there seemed real and palpable. I felt deep humility and full gratitude for America's greatest generation.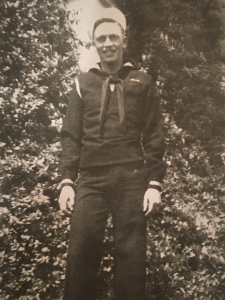 My own Dad likewise served in the Pacific theater… in the Army Air Corps. That's Dad and Mom lower left with six-year-old Steve snug between them, just 12 years after the War ended. I am grateful for Dad's service and blessed that he served and survived. Obvious to the point of absurdity, I would neither have entered this fine Earthly oasis nor developed my passion for Nature without Dad. I believe he would have enjoyed reading my three books and my weekly Blog Posts. Makes me wonder what future generations and achievements sunk into the Pacific 75 years ago in Leyte Gulf. William Arthur Wells gave his last full measure that Robert, Catherine, me, and all Americans would stand free and independent.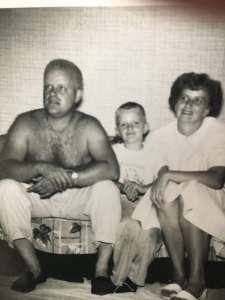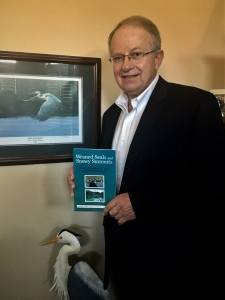 A Memorial Legacy for Future Generations
Robert and three investment partners acquired a large property in 2007 along Dug Hill Road, including the 40 acres "up there on the mountain," too steep and isolated to develop for commercial or residential purposes. Besides, that '40' supported "some of the last virgin forest in Alabama." Why did the partnership donate the land to the adjoining Monte Sano State Park? Robert did not hesitate in answering — the "tax write-off" sealed the deal. Yet he also admitted to a deep emotion for its continued stewardship. And he made the gift of land contingent upon dedicating the trail to his long-gone but never forgotten brother. The Trail stands as a memorial legacy for a genuine hero. Arthur lives on in these sacred woods — a cathedral forest. I snapped these two photos in 2018. Having visited with Robert and Catherine, I felt William's spirit when I returned a year later. Although he lives in and will always reside in this special, spiritual, sacred place, I wonder whether Arthur ventured close to this area when he served in the CCC? I like to think that he did.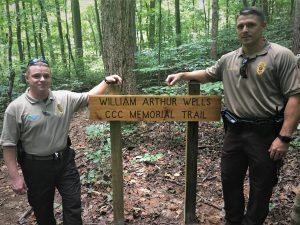 I will work with Monte Sano State Park staff to see that mementos from Arthur's life are displayed at the Park's CCC Museum.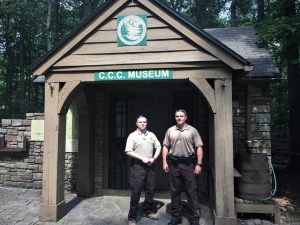 Again, from my 2018 hike, this cathedral grove is a fitting home to the Trail, and for Arthur's spirit and memory.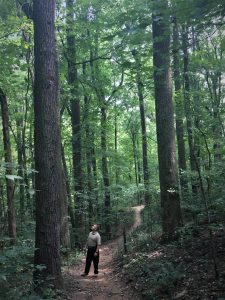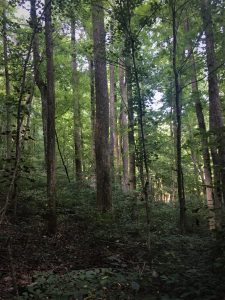 Benefactors Extraordinaire
Robert and Catherine welcomed me warmly into their lovely home. By the time I departed two hours later, I felt part of the family. I presented them with my second book, Nature-Inspired Learning and Leading (https://www.indiebound.org/search/book?keys=nature-inspired+learning+and+leading). The William Arthur Wells Trail Legacy epitomizes what my books and writing extol and urge. Their beaming facial expressions below speak volumes of the kind of people I believe they are. I am convinced that Arthur would be proud of his little brother and Robert's soul mate. I wonder, how many more Robert and Catherine Wells individuals own property adjacent to one of our 21 Alabama State Parks, potentially rising to legacy donation significance? Through my membership on the Alabama State Parks Foundation Board, I hope to encourage such legacy awareness and action. Robert and Catherine are land legacy poster exemplars for my own mission statement and the core mission of the AL Parks System.
Parks Mission: A

cquire and preserve natural areas; to develop, furnish, operate and maintain recreational facilities; and to extend the public's knowledge of the state's natural environment.

Steve's Mission: Employ writing and speaking to educate, inspire, and enable readers and listeners to understand, appreciate, and enjoy Nature… and accept and practice Earth Stewardship.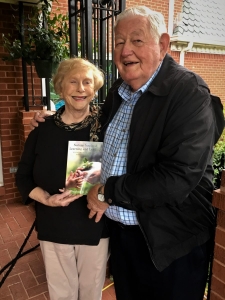 I proudly shook the hand of that fine citizen who lost his older brother 75 years ago in a War that saved the world. Arthur gave his life to that noble cause. Robert never forgot, and chose to leave his and Catherine's own gift of land treasure to the future. Somehow that handshake passed a little, but still significant, essence of Arthur's lifeblood into my own veins.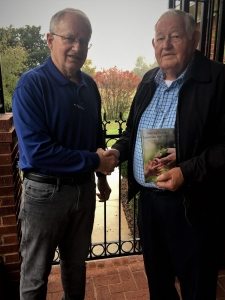 Nature's Lessons Along the William Arthur Wells Trail
I took that spirit along with me weeks later when I once again hiked the Trail, this time in fall-yellowed cathedral glory. The fall color altered my perception, yet that was not all. I viewed the cathedral through a new set of filters. I had since come to "know" William Arthur Wells. I "saw" him standing in CCC and Navy uniforms as I strolled the Trail. I took him along with me. I experienced the grove in multiple dimensions… inhaling the forest's beauty, magic, wonder, and awe… channeling those inhalations to Arthur as though he were there with me.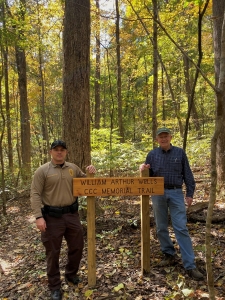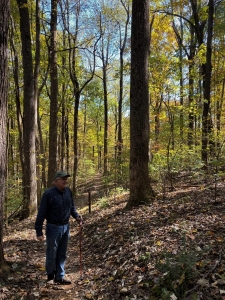 Funny how life courses ahead. The forest is now 75 years older than when Arthur drew his final breath. The forest holds little resemblance to what it was like in 1944. The basswood (Tilia americana) stump cluster below would have been a grouping of sapling-size sprouts growing from the base of the parent tree, likely cut by lumbermen or snapped by wind near its base.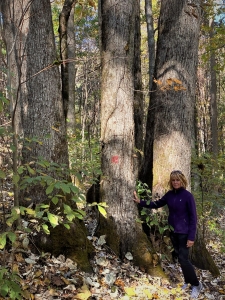 The Trail serves as a segment for an annual 50K (31 miles) ultra-marathon. I've run marathons (26.2 miles) in my younger years, but never through the woods. I know that by mile-mark 20, my level of cognition began to suffer. Simple math required to calculate pace took great concentration. I'm certain that the 50K runners, provided this segment came beyond the 20-mile mark, would deeply appreciate the natural wonders they encountered along the way, but that they likely experienced as a cognitive blur. Instead, I hope their passage drew them back another time in hiking boots, far more ready to understand, appreciate, and enjoy Nature… and accept and practice Earth Stewardship and to extend the public's knowledge of the state's natural environment. This Trail, along with hundreds of miles of State Parks trails statewide, serve as ports of entry and transit through our 47,000 acres of Alabama State Parks.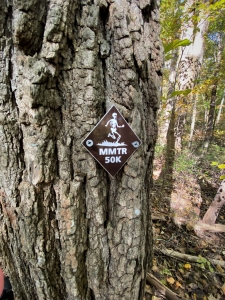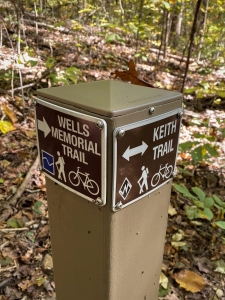 Trails provide direct access to untold wonders of Nature. The yellow poplar (Liriodendron tulipifera) below left bears the vertical scar of a powerful lightning strike, traveling down the trunk hotter than the sun's surface, searing the cambium. The scar is now healing over with callous tissue, sealing the wound and perhaps permitting the tree to live decades more. The blown over hickory below right fared less well. Wind tipped the entire tree, including its massive root ball downwind. Yet life in the forest goes on — ashes to ashes and dust to dust. Arthur, too, lives on in this forest as the circle goes round and round. Robert and Catherine's selfless act of love and memory made sure we all remember.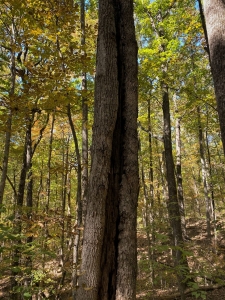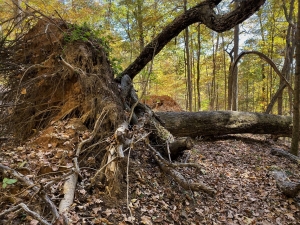 On a less melancholy and somber note, the weeping poplar burl, covered by black sooty mold, brought to mind an evil alien egg preparing to loose some terrifying creature on the next passerby. Okay, I'm just having a little fun. Nevertheless, I would like to know more about this spiked protuberance.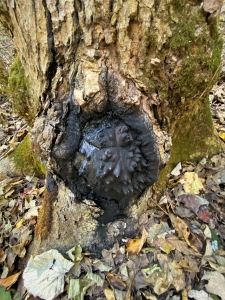 The forest terrain reveals much about local geology. Dr. Callie Schweitzer, US Forest Service Research Scientist who accompanied us, is standing in a sink hole, evidencing the limestone beneath us and expressing the karst topography typical of such limestone under-pinning.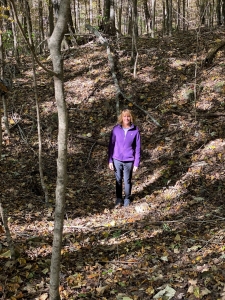 I close by once more acknowledging the legacy of William Arthur Wells and the generosity of Robert and Catherine Wells. Every place in Nature has a story. We are blessed by the heroes and fine citizens who have acted selflessly to make tomorrow brighter.
Thoughts and Reflections
I wrote my books Nature Based Leadership (2016), Nature-Inspired Learning and Leading (2017), and Weaned Seals and Snowy Summits: Stories of Passion for Place and Everyday Nature (2019) to encourage all citizens to recognize and appreciate that every lesson for living, learning, serving, and leading is either written indelibly in or is powerfully inspired by Nature. All three are available on Amazon and other online sources.
Here are the three succinct lessons I draw from this Blog Post:
Every place in Nature tells a story… of both human and natural history

Memories and emotion enrich our appreciation and understanding of Nature

There is no better legacy than land preserved and protected in honor of those gone or soon to go

Inhale and absorb Nature's elixir. May Nature Inspire and Reward you!
Note: All blog post images created & photographed by Stephen B. Jones unless otherwise noted. Please circulate images with photo credit: "©2019 Steve Jones, Great Blue Heron LLC. All Rights Reserved."
Another Note: If you came to this post via a Facebook posting or by an another route, please sign up now (no cost… no obligation) to receive my Blog Post email alerts: http://stevejonesgbh.com/contact/
And a Third: I am available for Nature-Inspired Speaking, Writing, and Consulting — contact me at steve.jones.0524@gmail.com
Reminder of my Personal and Professional Purpose, Passion, and Cause
If only more of us viewed our precious environment through the filters I employ. If only my mission and vision could be multiplied untold orders of magnitude:
Mission: Employ writing and speaking to educate, inspire, and enable readers and listeners to understand, appreciate, and enjoy Nature… and accept and practice Earth Stewardship.
Vision:
People of all ages will pay greater attention to and engage more regularly with Nature… and will accept and practice informed and responsible Earth Stewardship.
They will see their relationship to our natural world with new eyes… and will understand more clearly their Earth home.
Tagline/Motto: Steve (Great Blue Heron) encourages and seeks a better tomorrow through Nature-Inspired Living!
Weaned Seals and Snowy Summits
Co-authors Dr. Jennifer Wilhoit and I share great fulfillment in celebrating the publication and release of Weaned Seals and Snowy Summits: Stories of Passion for Place and Everyday Nature. This book is a collection of nature stories seeking to inspire deeper relationship with and care for this beautiful Earth. Order your copy from your local indie bookstore, or find it on IndieBound: https://www.indiebound.org/book/9781489723529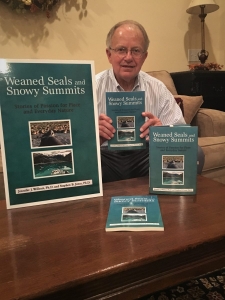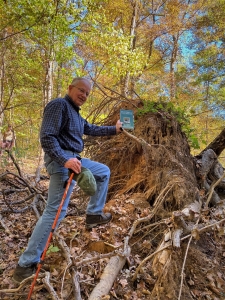 I had previously published two similar collections of stories inspired by Nature and told through my deep passion for this Earth and its special places. Here I stand with all three books by a large white oak (Quercus alba) along the Wells Trail. Please think about the books as Holiday gifts.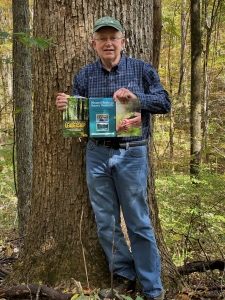 Alabama State Parks Foundation
I'll remind you that I serve on the Foundation Board, in part because of my love of Nature and in recognition for my writing many prior Posts about visiting and experiencing the Parks. I urge you to take a look at the Foundation website and consider ways you might help steward these magical places: https://asparksfoundation.org/ Perhaps you might think about supporting the Parks System education and interpretation imperative, including initiatives related to exploring and revealing what lies hidden in plain sight.
Perhaps most importantly, help us identify potential land legacy benefactors.
http://stevejonesgbh.com/wp-content/uploads/2019/11/IMG_0072.jpg-11.6.19-Cathedral-Forest-Wells-Trail-Chad-Davis.jpg
1200
900
Steve Jones
http://stevejonesgbh.com/wp-content/uploads/2017/01/gbhweblogo.png
Steve Jones
2019-12-04 14:18:26
2020-01-15 04:43:22
Memory and Legacy for a Sailor and Hero