Cumberland, Maryland and My Central Appalachian Roots
I attended my 50th high school reunion this September. Who could possibly have imagined how many old people would be there! So great to see some 100 fellow class-of-69 time travelers. Our Earth has revolved on its axis more than 18,000 times since we graduated. Every hour of each day the Earth sped Cumberland Maryland's 39.6 degrees North latitude spot on the planet 801 miles eastward. We spun some 19,224 miles per day…totaling a mind-numbing 351 million miles across those 50 orbits of our sun. Our Earth covered 584 million miles every time we orbited the sun, or 29 billion miles over that half-century. Not to mention the solar system's movement within the Milky Way, and our galaxy's motion within the universe. All that, and the Potomac River still passes by town relatively unchanged (below). A river pays no heed to years or even centuries or millennia. It's been here since the ancient Appalachian orogeny (325-260 million years ago) began creating the Himalayan-scale high peaks that have since eroded to these soft ridges that nestle western Maryland's Queen City and Fort Hill High School today.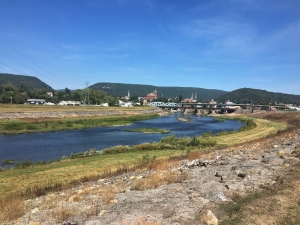 I captured all these images as I hiked three miles out (and then back) along the Chesapeake and Ohio Canal (C&O Canal) the morning of our reunion picnic.
Reading Landscape History through Vegetation
The C&O Canal operated from 1831 to 1924. I hiked along the Canal's towpath often until I left Cumberland in 1971, and then nearly every time since that I've returned to visit family. The C&O Canal, designated as a National Historical Park in 1971 (https://www.nps.gov/choh/index.htm), extends 184.5 miles from Georgetown in Washington D.C. to Cumberland. Construction started on its eastern terminus in 1828, reaching Cumberland in 1850. The canal backers had planned to reach Pittsburgh and the Ohio River, engaging in a ferocious competitive engineering and construction contest with the Baltimore and Ohio Railroad (B&O), which made it to Cumberland eight years before the C&O, and then summited the Allegheny Mountains en route to Pittsburgh. I've biked the entire C&O Canal towpath length, enjoying the rich history and natural environment along the way. Once the old Western Maryland Railroad abandoned its tracks, The Allegheny Trail Alliance began creating the Great Allegheny Passage rails to trail. I've biked the 150 miles from Pittsburgh to Cumberland. What wonderful fodder for Blog Posts if I ever repeat those journeys!
Just south of Cumberland, the view below (looking upriver) captures a railroad trestle crossing the towpath, the old canal bed to the right. Oh, to have a photograph of a canal boat passing under, mule pulling dutifully, as a steam locomotive crossed above! The 24-inch diameter sycamore seeded, sprouted, and grew to its 80-foot height subsequent to the 1924 floods that sent the operating Canal into antiquity, yielding commerce transportation exclusively to the iron horses and steel rails, and subsequently to the knights of our highways.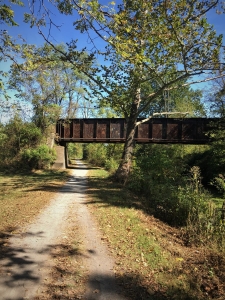 For good reason I do not recall the canal-side 3-4-foot diameter trees from my 1950s and 60s explorations along the towpath. Those individuals would have been no older than a quarter century during my early years, and much smaller then, little more than saplings.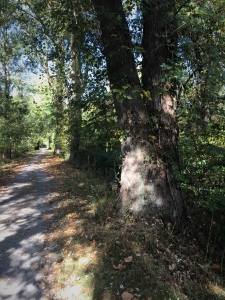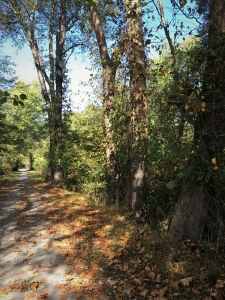 Late Summer Flowers and Plants
Although summer was drawing rapidly to an end, I saw plenty of color along the towpath. Jerusalem artichoke (Helianthus tuberosus; below left) and wingstem (Verbisina alternifolia; right) stood tall and commonly.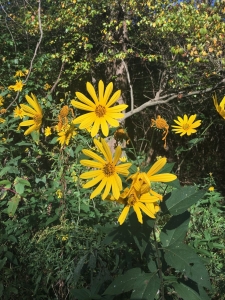 Not nearly so common, chickory (Cichorium intybus) provided a splash of blue now and then. Honeysuckle (Lonicera japonica) appeared only in more open areas. I've seen it in flower on prior visits much earlier in the season. I spotted these blooms on vigorous new growth on plants that I believe were mowed during the summer along drainage-ways in grassy areas.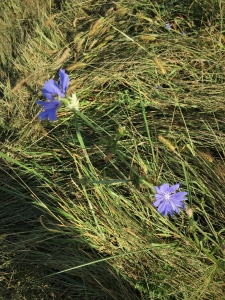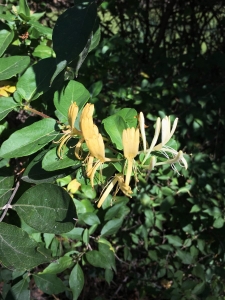 Common White Snakeroot (Ageratina altissima; below left) and Smooth Goldenrod (Solidago gigantea) bordered the towpath in areas absent overhanging trees and deeper shade.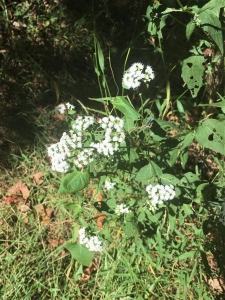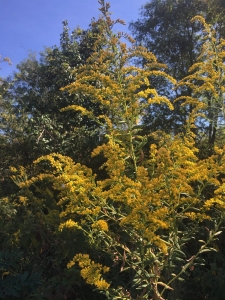 Hairy White Oldfield Aster (Symphotrichum pilosum; below left) and morning glory (Convolvulaceae family) offered still-sharp whites also along the more open edges.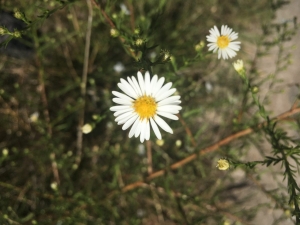 No longer flowering, Pokeweed (Phytolacca americana) added its own color with its purple berries and red stems.
Japanese Knotweed (Reynoutria japonica), according the the Invasive Plant Atlas, is a dense growing shrub reaching heights of 10 ft. (3 m). The semi-woody stem is hollow with enlarged nodes. Leaves are alternate, 6 in. (15.2 cm) long, 3-4 in. (7.6-10 cm) wide and broadly-ovate. Flowering occurs in late summer, when small, greenish-white flowers develop in long panicles in the axils of the leaves. Plants are dioecious (male and female flowers occur on separate plants). Japanese knotweed commonly invades disturbed areas with high light, such as roadsides and stream banks. Reproduction occurs both vegetatively (rhizomes) and seeds, making this plant extremely hard to eradicate. The dense patches shade and displace other plant life and reduce wildlife habitat. Japanese knotweed resembles giant knotweed (Polygonum sachalinense), but giant knotweed is larger and has heart-shaped leaves. Japanese knotweed is native to eastern Asia and was first introduced into North America in the late 1800s.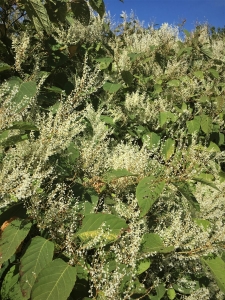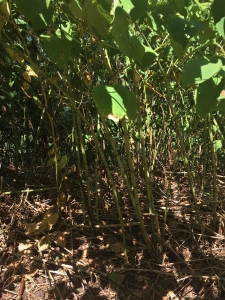 I found a few patches of impenetrable knotweed thickets, void of light reaching the ground (above right), and easy to see why nothing can withstand its advance and site-capture.
Long since flowering, Teasel (Dipsacus fullonum; below left) and Queen Anne's lace (Daucus carota) provided their own touch of seasonal beauty along the towpath. On the unseasonably warm morning I hiked, senesced individuals promised cooler fall days ahead.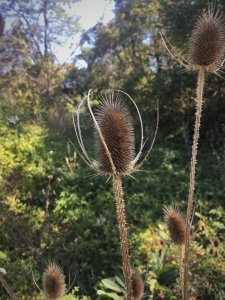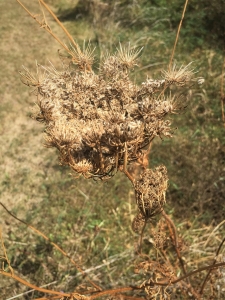 I'm entering a region of botanical uncertainty with this plant. I left my reference books back in Alabama. I failed to make notes supplementing the photographs. The photos alone did not furnish the diagnostic details I needed. A naturalist colleague here in Alabama assisted via photo-sharing (encumbered by the same diagnostic limits). The best we could do was agree upon a cautious identification as possumhaw (Ilex decidua). I am only about 75 percent certain… and could be persuaded out of it… so long as you are convincing!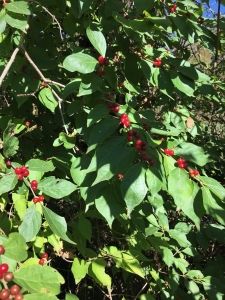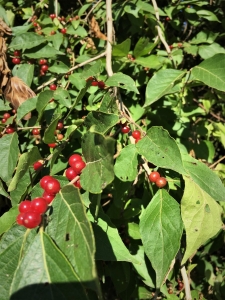 The trees, shrubs, and forbs are inexorably reclaiming what had for nearly a century been a state-of-the art artery of commerce… a battleground for competing modes of transport. The battle long since settled, some 95 years since the Canal's commercial demise, Nature is proving to be the ultimate victor. The National Park Service, with the over-arching protection by the C&O Canal's designation as a National Historical Park, manages the 184.5-mile corridor with a soft touch.
Thoughts and Reflections
I wrote my books Nature Based Leadership (2016), Nature-Inspired Learning and Leading (2017), and Weaned Seals and Snowy Summits: Stories of Passion for Place and Everyday Nature (2019; co-authored with Dr. Jennifer Wilhoit) to encourage all citizens to recognize and appreciate that every lesson for living, learning, serving, and leading is either written indelibly in or is powerfully inspired by Nature. All three are available on Amazon and other online sources.
Here are the three succinct truths I draw from this Blog Post:
Nature, with the help of a National Historical Park designation, inexorably reclaims what humanity once cleared and domesticated.
Human-scale time has no meaning to a river, nor to the mountains within which it courses.
"The National Park Service preserves unimpaired the natural and cultural resources and values of the national park system for the enjoyment, education, and inspiration of this and future generations." The C&O National Historical Park is no less a part of our heritage than Yellowstone or Yosemite.

Inhale and absorb Nature's elixir. May Nature Inspire and Reward you!
Note: All blog post images created & photographed by Stephen B. Jones unless otherwise noted. Please circulate images with photo credit: "©2019 Steve Jones, Great Blue Heron LLC. All Rights Reserved."
Another Note: If you came to this post via a Facebook posting or by an another route, please sign up now (no cost… no obligation) to receive my Blog Post email alerts: http://stevejonesgbh.com/contact/
And a Third: I am available for Nature-Inspired Speaking, Writing, and Consulting — contact me at steve.jones.0524@gmail.com
Reminder of my Personal and Professional Purpose, Passion, and Cause
If only more of us viewed our precious environment through the filters I employ. If only my mission and vision could be multiplied untold orders of magnitude:
Mission: Employ writing and speaking to educate, inspire, and enable readers and listeners to understand, appreciate, and enjoy Nature… and accept and practice Earth Stewardship.
Vision:
People of all ages will pay greater attention to and engage more regularly with Nature… and will accept and practice informed and responsible Earth Stewardship.
They will see their relationship to our natural world with new eyes… and will understand more clearly their Earth home.
Tagline/Motto: Steve (Great Blue Heron) encourages and seeks a better tomorrow through Nature-Inspired Living!
Weaned Seals and Snowy Summits: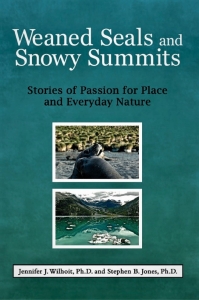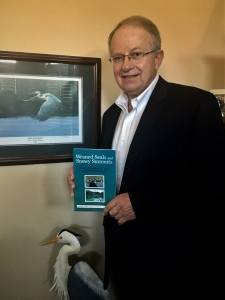 Jennifer and Steve: "We're so proud to promote the publication and release of our co-authored book, Weaned Seals and Snowy Summits: Stories of Passion for Place and Everyday Nature. This book is a collection of nature stories seeking to inspire deeper relationship with and care for this beautiful Earth." Order your copy from your local indie bookstore, or find it on IndieBound: https://www.indiebound.org/book/9781489723529
http://stevejonesgbh.com/wp-content/uploads/2019/09/IMG_2162.jpg-09.20.19-Terminus.jpg
900
1200
Steve Jones
http://stevejonesgbh.com/wp-content/uploads/2017/01/gbhweblogo.png
Steve Jones
2019-11-20 17:09:24
2019-11-24 13:19:17
A Taste of Mid-September Nature at the C&O Canal National Historical Park