I returned to Lake Guntersville State Park October 16-18 to attend our fall meeting of the Alabama State Parks Foundation Board. Always ready to take advantage of every opportunity to further explore our 21-pearl necklace of State Parks (covering 47,000 acres), I arranged to spend two half-days on park trails with Lake Guntersville State Park Naturalist Mike Ezell. See my prior Post describing our wanderings along a newly reopened trail through a portion of the Park ravaged by the April 27, 2011 tornado outbreak.
An Everyday Place — Extraordinary Expressions of Nature's Inspiration
Join me now for a quick immersion in the glory of the simple, ordinary twice-daily phenomena as our Earth spins east into the morning sun, and hours later continues to spin out from under the setting sun. Dawn and dusk, day after day, year after year. Visual magic fit for royalty–each day potentially (and usually) different from the prior. I write these words at dawn October 29, sitting in my home office. Dense fog obscures any hint of color; a monochromatic black and white morning. No early brightening to the east. The entire world slowly draws into focus; cardinal directions indistinguishable. I love both ends of the day, whether crisp and clear or damp and foggy.
What a privilege to enjoy two sunsets and sunrises at the LG SP lodge atop Sand Mountain, overlooking the Lake. I'll begin with the entrance sign upon my late morning arrival. Entering any of our Parks gives me a sense of peace, satisfaction, and anticipation.
Because I neglected to take a photo of the Lodge, here's one from the official Park website. Next time I will strive to remember to snap an image. Even as I write those words, I am reminded of the sage Yoda, who said "Do or do not. There is no try."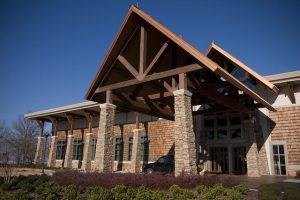 Official AL Parks Photo
From my July 26, 2018 visit, here is yet another morning at the Lodge overlooking the Lake as morning burned away the thick fog that had earlier obscured the valley. I include the photo here to represent just another special morning that left indelible visual memories. See my Blog Post from August 2018.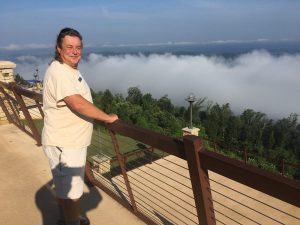 I can't remember the last time the sun brightened the morning before I awoke. I know many people who might observe the reverse, "I can't recall the last time I awakened before dawn." The mornings are mine; I belong to the new day's dawning. Forget the midnight oil; even in my youth nothing about midnight attracted my attention. I've often set the alarm for 11:45PM on New Years Eve!
October 16 sunset from my Lake Guntersville State Park Lodge room balcony could not have been more satisfying. I've said often that I prefer paintings that look like photos… and photos that look like paintings. Nature expresses herself beautifully… a view that paints ten thousand words! Heaven on Earth… Heavenly Earth. Soul-soothing, begging the question, "Did I put this day to good use? Am I prepared to make tomorrow meaningful? Am I worthy of the gift of Nature's wonder?"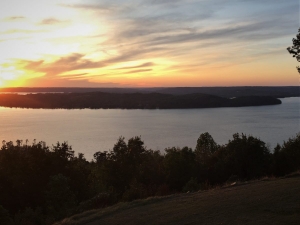 The October 17 sunset matched its predecessor's elixir dosage. Imagine being unaware of what lies within plain site. Imagine being blinded indoors by some shallow digital distraction while this glorious scene passes unobserved right outside the door. Imagine some banal message self-imposing a sense of urgency upon our lives. Missing this for what? Better be much more important than it probably is. Relax, reward, renew, refresh, resplendent — Nature dazzles even when she wears her everyday garb. It's there for the taking. Deep breaths, studied visual inhalation, and perhaps a bit of 18-year-old Scotch to sip. The elixir deepens life, even if not extending it.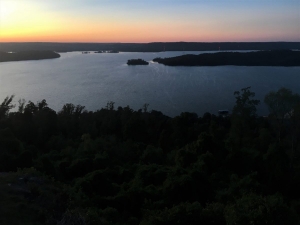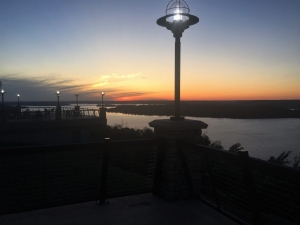 Morning Has Broken
The October 18 dawn added its own touch of life-renewing and refreshing intoxication. Who could not but be positive about the day ahead! A still-shadowed near-shore; the western sky returning the sun's greeting from behind me. The morning's fog rolling along the lake, soon to burn away with the day's heat.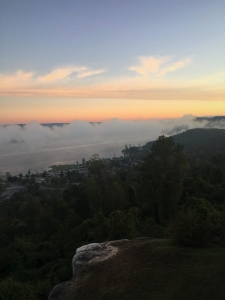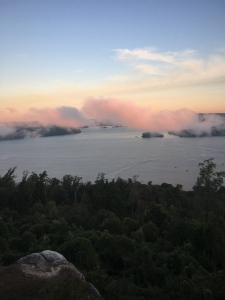 Sunrise and sunset, in October the two growing closer and closer beyond the September equinox in anticipation of December 21, when the separation begins once again. I draw spirit-strength from dawn and dusk, the transition periods that twice a day signal both beginning and end. Either a night ending (or beginning) or a day (ending or beginning). My time on this Earth has extended across more than 25,000 dawns. I hope many more remain. Until I experience one fewer than the other, I will cherish each day, celebrate each gloaming, and long for each new day.
Cat Stevens sang so eloquently of the day's dawning in Morning Has Broken:
Morning has broken like the first morning
Blackbird has spoken like the first bird
Praise for the singing
Praise for the morning
Praise for them springing fresh from the world
Sweet the rain's new fall, sunlit from heaven
Like the first dew fall on the first grass
Praise for the sweetness of the wet garden
Sprung in completeness where his feet pass
Mine is the sunlight
Mine is the morning
Born of the one light Eden saw play
Praise with elation, praise every morning
God's recreation of the new day
Morning has broken like the first morning
Blackbird has spoken like the first bird
Praise for the singing
Praise for the morning
Praise for them springing fresh from the world
I echo the lyrics: praise for the singing, praise for the morning… God's recreation of the new day!
July 10, 2019 sunrise at Joe Wheeler State Park. Every Park a jewel; every sunrise a gift!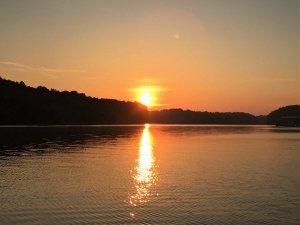 Thoughts and Reflections
I wrote my books Nature Based Leadership (2016), Nature-Inspired Learning and Leading (2017), and Weaned Seals and Snowy Summits: Stories of Passion for Place and Everyday Nature (2019) to encourage all citizens to recognize and appreciate that every lesson for living, learning, serving, and leading is either written indelibly in or is powerfully inspired by Nature. All three are available on Amazon and other online sources.
Here are the three succinct lessons I draw from this Blog Post:
Never has a new day begun without a dawn breaking; the same applies to all human endeavors

Nature presents two gifts every day — sunrise and sunset (with the exception of latitudes above the polar circles)

Something so ordinary (and twice-daily) as a sunrise or sunset can lighten our burden, lift our spirit, and strengthen our resolve to live each day fully
Inhale and absorb Nature's elixir. May Nature Inspire and Reward you!
Note: All blog post images created & photographed by Stephen B. Jones unless otherwise noted. Please circulate images with photo credit: "©2019 Steve Jones, Great Blue Heron LLC. All Rights Reserved."
Another Note: If you came to this post via a Facebook posting or by an another route, please sign up now (no cost… no obligation) to receive my Blog Post email alerts: http://stevejonesgbh.com/contact/
And a Third: I am available for Nature-Inspired Speaking, Writing, and Consulting — contact me at steve.jones.0524@gmail.com
Reminder of my Personal and Professional Purpose, Passion, and Cause
If only more of us viewed our precious environment through the filters I employ. If only my mission and vision could be multiplied untold orders of magnitude:
Mission: Employ writing and speaking to educate, inspire, and enable readers and listeners to understand, appreciate, and enjoy Nature… and accept and practice Earth Stewardship.
Vision:
People of all ages will pay greater attention to and engage more regularly with Nature… and will accept and practice informed and responsible Earth Stewardship.
They will see their relationship to our natural world with new eyes… and will understand more clearly their Earth home.
Tagline/Motto: Steve (Great Blue Heron) encourages and seeks a better tomorrow through Nature-Inspired Living!
Weaned Seals and Snowy Summits:
Co-authors Jennifer and Steve: "We're so proud to announce the publication and release of our co-authored book, Weaned Seals and Snowy Summits: Stories of Passion for Place and Everyday Nature. This book is a collection of nature stories seeking to inspire deeper relationship with and care for this beautiful Earth." Order your copy from your local indie bookstore, or find it on IndieBound: https://www.indiebound.org/book/9781489723529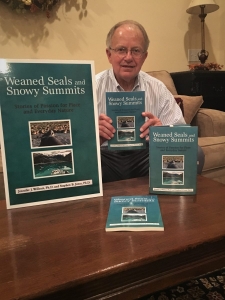 Stories of Passion for Place and Everyday Nature, whether Lake Guntersville or Buck's Pocket:
Every sunrise tells a tale of Nature's Passion.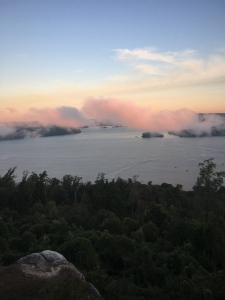 Alabama State Parks Foundation
I'll remind you that I serve on the Foundation Board, in part because of my love of Nature and in recognition for my writing many prior Posts about visiting and experiencing the Parks. I urge you to take a look at the Foundation website and consider ways you might help steward these magical places: https://asparksfoundation.org/ Perhaps you might think about supporting the Parks System education and interpretation imperative, including initiatives related to exploring and revealing what lies hidden in plain sight.
http://stevejonesgbh.com/wp-content/uploads/2019/10/IMG_2343.jpg-10.18.19-Dawn-at-LGSP.jpg
1200
900
Steve Jones
http://stevejonesgbh.com/wp-content/uploads/2017/01/gbhweblogo.png
Steve Jones
2019-11-12 08:40:35
2019-11-12 09:06:32
Lake Guntersville State Park -- The Glory of Sunrise and Sunset