I stopped by Buck's Pocket State Park mid-October… a side excursion from my primary destination at Lake Guntersville State Park (LG SP). What a great stroke of good fortune. My first visit and an unanticipated thrill. We entered via a short 20-minute drive from LG SP across the plateau of Sand Mountain. The Buck's Pocket moniker? My State Park hosts could not be sure whether the "buck" referred to a male deer or a person's name. I have not researched to determine for myself.
The "pocket" part is self-evident. The topography is clearly a sunken "pocket," its canyon floor lying 800-feet below the plateau rimrock. I will return another time to explore the Park far more intimately than our quick walk to the Jim Lynn Overlook allowed.
A Pocket of Beauty Atop Sand Mountain's Plateau
I did not know what to expect, yet I must admit whatever I anticipated fell far short of what appeared! This is a magnificently surprising landscape. We emerged from the unremarkable plateau with mixed farm and forest to a spectacular vista. Far below we spotted a small lake, where our State Park host, Superintendent Michael Jeffreys, told us we would find the camping area. I can only imagine what lies in some of those hidden coves and protected lower slopes. I visualize some rich sites with fat oaks and poplars reaching skyward. And some great natural spring wildflower gardens. As Robert Service observed in his Spell of the Yukon: "The freshness, the freedom, the farness–Oh God! how I'm stuck on it all… There's a land–oh, it beckons and beckons, And I want to go back–and I will."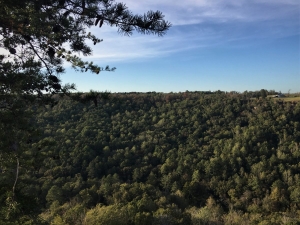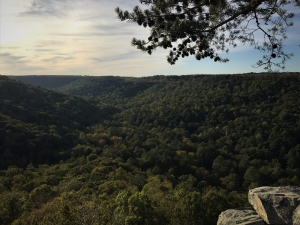 The simple overlook view ignited a passion for this place, where I've not yet ventured with boots on the ground. Perhaps I am blinded by seeing far more from the overlook than I had anticipated, yet I feel certain I will not be disappointed. I am learning more about my northern Alabama, southern Appalachian neighborhood. I am eager to descend into the pocket; I see it as a full-day hike and exploration. I will carry notepad and camera… and share my impressions and reflections with readers. I am thrilled that anticipation fills me with joy for tomorrow. Recall from John Denver's Rocky Mountain High… "going home to a place I've never been before." So, watch these Posts for what I find and how I react. I've said often that every acre of every parcel of God's green Earth tells a tale.
A Hard-Scrabble Life
Even the rimrock tells tales. The dead Virginia pine (Pinus virginiana) signals the hazards of life at the edge (literally and metaphorically). Life is exposed; conditions are harsh; there are no guarantees for extended bliss and happy days. What is scenery to a tree — likely not sufficient to cover the cost of living in shallow soils, standing firm against persistent wind; bearing the brunt of ice storms and scalding sunlight. I am grateful for the tree's valiant efforts… and for the photo-frame and contrast of its dead standing skeleton. Its gift of a focal point. Its expression of existence as conflict in the ongoing succession of life and death.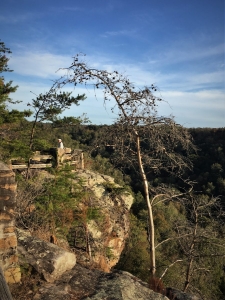 Somehow this smaller, yet still very much alive, Virginia pine perseveres, finding purchase on the edge in a fissure… fully exposed on bare rock, yet somehow tapping sufficient life forces (soil medium and moisture) year after year. It provides a point of rimrock focus, and a wonderful foreground for the pocket falling away beyond it.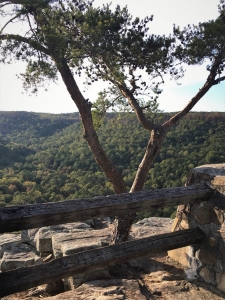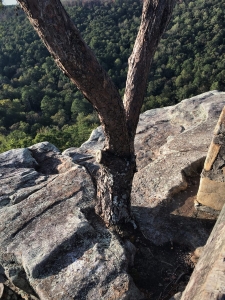 And the pine stands as a nice backdrop to NE District Superintendent Mike Jeffreys.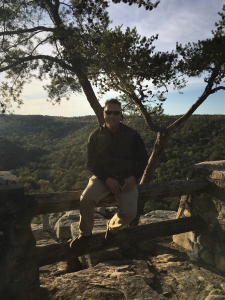 With or without Mike and the lone pine, the Buck's Pocket scenery is exquisite, especially as we neared sunset.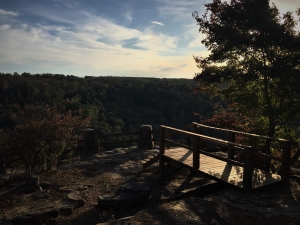 Sourwood (Oxydendrum arboreum) is one of my lifetime favorites. It's an intermediate canopy occupant, rarely reaching into the overstory. Its sweet blossoms are coveted by beekeepers. Its honey commands premium prices. The persistent seed heads decorate this sourwood on the rimrock.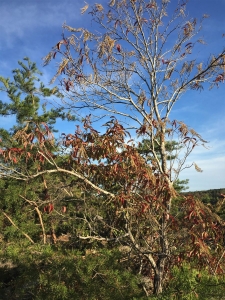 This dead Virginia pine is, in my mind, the Jim Lynn Overlook standard-bearer. Its story is told in annual rings. I wonder how many years ago the newly germinated seedling grew it first needles. I feel certain that its much younger self furnished a little shade to a CCC crew as they labored with stonework at the overlook. Does it date back to Native Americans gazing over the valley. I think not, but I won't flatly rule our the possibility.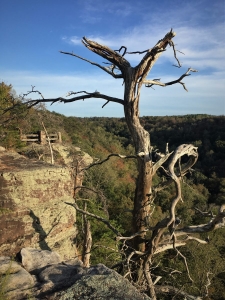 Again, I feel great curiosity for the multidimensional stories of passion for place and everyday Nature. Contemplating the rich human and natural history of this spot and so many more stirs my soul and stimulates my imaginings. I am eager to return to Buck's Pocket: "The freshness, the freedom, the farness–Oh God! how I'm stuck on it all… There's a land–oh, it beckons and beckons, And I want to back–and I will."
Thoughts and Reflections
I wrote my books Nature Based Leadership (2016), Nature-Inspired Learning and Leading (2017), and Weaned Seals and Snowy Summits: Stories of Passion for Place and Everyday Nature (2019) to encourage all citizens to recognize and appreciate that every lesson for living, learning, serving, and leading is either written indelibly in or is powerfully inspired by Nature. All three are available on Amazon and other online sources.
Here are the three succinct lessons I draw from this Blog Post:
Some places stir love at first sight
We each define special places through our own subjective lens

Robert Service nailed it: "The freshness, the freedom, the farness–Oh God! how I'm stuck on it all… There's a land–oh, it beckons and beckons, And I want to go back–and I will."
Inhale and absorb Nature's elixir. May Nature Inspire and Reward you!
Note: All blog post images created & photographed by Stephen B. Jones unless otherwise noted. Please circulate images with photo credit: "©2019 Steve Jones, Great Blue Heron LLC. All Rights Reserved."
Another Note: If you came to this post via a Facebook posting or by an another route, please sign up now (no cost… no obligation) to receive my Blog Post email alerts: http://stevejonesgbh.com/contact/
And a Third: I am available for Nature-Inspired Speaking, Writing, and Consulting — contact me at steve.jones.0524@gmail.com
Reminder of my Personal and Professional Purpose, Passion, and Cause
If only more of us viewed our precious environment through the filters I employ. If only my mission and vision could be multiplied untold orders of magnitude:
Mission: Employ writing and speaking to educate, inspire, and enable readers and listeners to understand, appreciate, and enjoy Nature… and accept and practice Earth Stewardship.
Vision:
People of all ages will pay greater attention to and engage more regularly with Nature… and will accept and practice informed and responsible Earth Stewardship.
They will see their relationship to our natural world with new eyes… and will understand more clearly their Earth home.
Tagline/Motto: Steve (Great Blue Heron) encourages and seeks a better tomorrow through Nature-Inspired Living!
Weaned Seals and Snowy Summits:
Co-authors Jennifer and Steve: "We're so proud to announce the publication and release of our co-authored book, Weaned Seals and Snowy Summits: Stories of Passion for Place and Everyday Nature. This book is a collection of nature stories seeking to inspire deeper relationship with and care for this beautiful Earth." Order your copy from your local indie bookstore, or find it on IndieBound: https://www.indiebound.org/book/9781489723529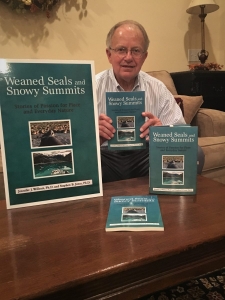 Stories of Passion for Place and Everyday Nature, whether Lake Guntersville or Buck's Pocket: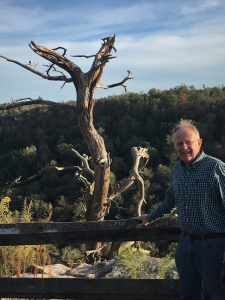 Alabama State Parks Foundation
I'll remind you that I serve on the Foundation Board, in part because of my love of Nature and in recognition for my writing many prior Posts about visiting and experiencing the Parks. I urge you to take a look at the Foundation website and consider ways you might help steward these magical places: https://asparksfoundation.org/ Perhaps you might think about supporting the Parks System education and interpretation imperative, including initiatives related to exploring and revealing what lies hidden in plain sight.
http://stevejonesgbh.com/wp-content/uploads/2019/10/IMG_2263.jpg-10.16.19-Bucks-Pocket-Overlook-VA-Pine-Skeleton.jpg
1200
900
Steve Jones
http://stevejonesgbh.com/wp-content/uploads/2017/01/gbhweblogo.png
Steve Jones
2019-11-04 08:31:37
2019-11-04 08:32:09
Buck's Pocket State Park