I spent two half-days at Lake Guntersville State Park on the trails with Park Naturalist Mike Ezell, October 15-16, 2019. I never tire of this State Park pearl, just one hour twenty minutes from my home. My intent is to share photos and reflections from this early fall point-in-time exposure. Each immersion in Nature, even at a single place, reveals features, images, and realities different from the last… both because things have changed over the time interval or because closer inspection yields what previously had been hidden within. And each visit uncovers new impressions through fresh eyes, altered attitude, or since-acquired knowledge. Every journey into any wildness, local or international, heightens the senses and leads me to stronger belief in and understanding of Nature's ways.
I have written often in these essays of my five essential verbs for discovering and appreciating Nature's beauty, magic, wonder, and awe… compelling me to practice informed and responsible Earth stewardship. I hope that they apply to your orientation to Nature as well. From my Great Blue Heron website:
I find Nature's Lessons because I know they lie hidden within view — to believe enables me to look and see… to discover
Really look, with eyes open to your surroundings, external to electronic devices and the distractions of meaningless noise and data
Be alert to see deeply, beyond the superficial
See clearly, with comprehension, to find meaning and evoke feelings
Feel emphatically enough to spur action
I begin with two photos I took late last summer at the Park when Mike and I trekked several trails (July 26, 2018) some seven weeks (and a year) prior to the recent visit. I offer it in simple contrast to evidence the inexorable seasonal progression, year after year, week after week. Below left is the distinctive blocky bark of an overstory persimmon tree (Diospyros virginiana). That's Mike's hand holding seven dropped still-green persimmons. I'll keep you in suspense for a couple of photographs and two or three paragraphs to show how ripening altered the look of this year's persimmon crop over that seven week period. Bear with me.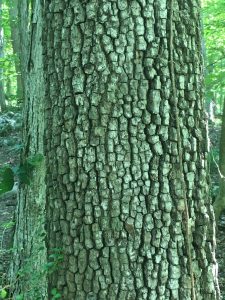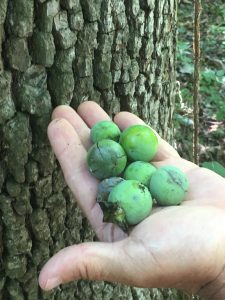 We did not revisit the undisturbed forest trails we hiked last year… so we did not encounter the same tree or even another overstory persimmon tree.
Tornado-Disturbed (April 27, 2011) Mid-Slope Forest
An outbreak of three tornadoes crossed the Park during an historically violent day here in Alabama April 27, 2011. The National Weather Service reported 62 tornadoes in Alabama alone: https://www.weather.gov/bmx/event_04272011. Mike and I focused our wanderings within the very large tornado-disturbed acreage. We walked a two-mile trail recently relocated and cleared of debris from those storms, soon to be reopened to public use. Here's Mike standing in the hollow of a large blow-down. Wind toppled the tree lifting the roots and associated soil matrix. The resultant micro-topography goes by at least two monikers: pit and mound; hummock and hollow. Nine growing seasons after the outbreak, a young forest is developing beyond the mound, which is now softening from its sharp features immediately after the trauma… roots are decaying, raindrop impact is eroding the mound, and leaves and organic debris are accumulating in the pit.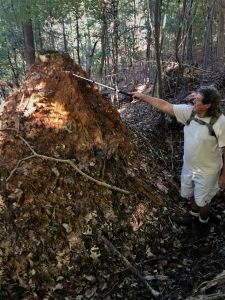 We strolled past massive jackstrawed heaps of trunks and tops. I failed to successfully capture an image good enough to include in this Post. Here's the oddly re-sprouted stump of a 15+-inch diameter yellow poplar (Liriodendron tulipifera) sheared fifteen feet above ground by the wrenching winds. The seven-inch diameter sprout is reaching for the sky along with many other sapling-size hardwoods, the various species evolved over eons to recapture sites leveled by wind, ice, or other elemental forces of Nature. So closely associated with the decaying stump, this sprout will likely succumb to the more routine force of wind and ice.
Okay, you were patient — I've returned to persimmon. No longer green, these fruits are nearly ripe. We tasted, and found them disappointingly stringent. We estimated another two weeks before they would be human-edible and desirable. Rewarded by the tornado with full sunlight, this tree now bears a full fruit burden, bending the branches and promising lots of goodness for foraging wildlife. Tornado devastation? To hikers along the rehabilitated trail for the past nine years — yes! To wildlife flourishing from the rich persimmon fruit harvest this year — no! To the forest itself? Forest stands ebb and flow over time. One year… a vigorous maturing mixture of overstory hardwood species. April 27, 2011… a powerful tornado violently leveling the stand to near-ground level. Nine years later… yet another stage, this one of violent recovery. Powerful forces of rebirth. It's Nature's way. Let's project to 2069… a half-century hence. Hikers will enjoy the deep summer shade, will marvel at the arching canopy, the towering trunks. That is, an old-growth forest… until the next tornado, hurricane, or ice storm. Nothing is static in Nature… she does not know…or prefer…stasis.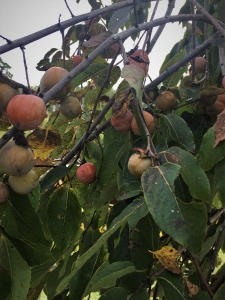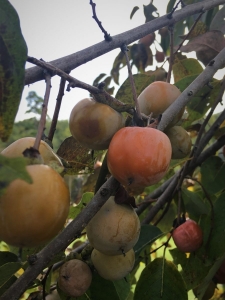 Even day-to-day, nothing remains the same. A week later, this leaf will have gone to burgundy, and a week later will be transitioning to forest floor, fueling future forest growth and renewal.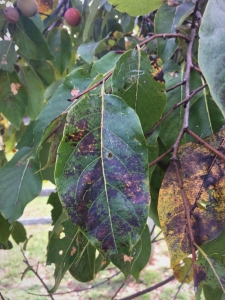 We discovered multiple species that are new to me… or, at least unfamiliar. Mike identified them, yet admitted that they seemed to be uncommonly plentiful in the tornado recovery zone. Carolina Buckthorn (Frangula caroliniana) seemed vigorous, thriving in those disturbed areas. I suspect they are still responding to the overstory removal and their new life in plentiful sunshine. Deep dark green leaves, with the species' distinctive parallel lateral venation, and a good fruit crop, in this case already ripened from red to black. Birds will soon make short work of them.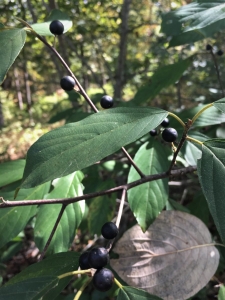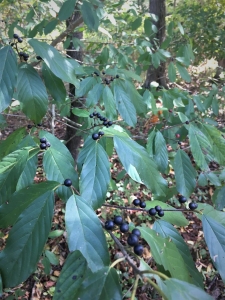 Again, the deep venation is a distinguishing feature.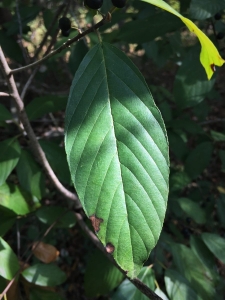 The winged elm (Ulmus alata) threw me for a loop. I immediately thought of sweetgum (Liquidambar styraciflua), quite common and likewise bearing the corky wings on small branches. Yet these seemed far more prominent… and, most importantly, bearing leaves clearly not sweetgum. Mike quickly introduced me to winged elm. A few leaves remained (below left) despite our prolonged late summer and early fall drought. I could not stop admiring the pronounced wings and greenish twigs (below right). I will never again mistake this understory and intermediate canopy occupant for sweetgum. Once again, here is a species flourishing in the uber-disturbed tornado path. I am becoming more confident that certain species that occupy the understory of our regional hardwood forest, almost invisibly lie in wait for the apocalyptic disturbances that afford them a brief (decade or two) period of explosive growth and reproduction while the main canopy forest species recapture the site. The species like Carolina buckthorn then lie patiently in wait… until the next major disturbance. The game is termed forest ecology and succession. Nothing in Nature is static; Nature is prepared for any and all eventualities.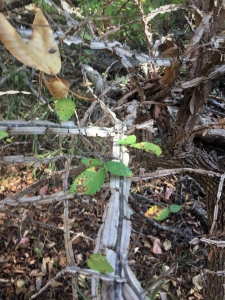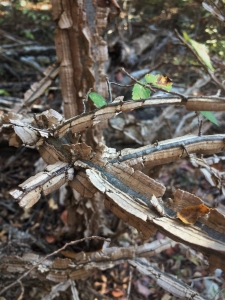 Red buckeye (Aesculus pavia) is common across northern Alabama; its cousin yellow buckeye (Aesculus flava) according to Mike's experience at Lake Guntersville State Park, is not. From Auburn University's Trees of Alabama and the Southeast, "Leaves are opposite, deciduous and palmately compound with 5-7 obovate leaflets. Stout light brown twigs show prominent terminal buds and shield shaped leaf scars. Bark is gray-brown and smooth on small trees and becomes scaly and plated, sometimes with "bull's-eye" grooves in the bark, on large trees. Flowers are pale yellow. Fruit is a smooth capsule enclosing two poisonous nuts. Form is up to 26 m (85 ft) in height and 1.5 m (5 ft) in diameter. Yellow buckeye is a large tree found in rich mesic woods in northern Alabama." I've always been a buckeye tree fan, collecting the dark brown "eyed" nuts enthusiastically as a kid in western Maryland. To this day I can't resist gathering them.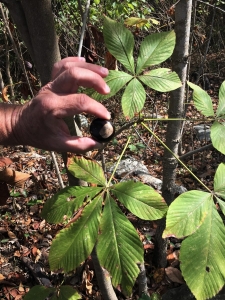 I must admit, too, that I've never been an Ohio State University Buckeye fan. Nine years on the faculty at Penn State, a faithful Nittany Lion fan, I view the "Luckeyes" (yeah, the spelling is intentional) as a major rival… one that beat us too often! My love of the nut, however, still stands undiminished.
Paw Paw (Asimina triloba) is another of my formative-years favorites. I grew up 28 miles upstream (along the Potomac River) from Paw Paw, West Virginia. This under- and mid-story forest species flourishes in the central Appalachians, seeming quite content on the more xeric mid- and upper slopes. From a National Park Service website, paw paw are shade tolerant "trees in the forest understory. With leaves and branches that deer avoid, and fruit that is loved by all, the pawpaw… is a fascinating native tree. It's the only local member of a large, mainly-tropical plant family (Annonaceae), and produces the largest edible fruit native to North America." When ripe, its yellowish to near-brown fruit is quite sweet with a dollop of banana taste and consistency. When I encountered fruit for the picking and eating I considered myself fortunate indeed. I worked as a Forester's Aid both sophomore/junior and junior/senior summers on Green Ridge State Forest in Maryland's Appalachians, the heart of paw paw country. Since then my encounters with ripe paw paws have been far too infrequent.

Tornadic winds brought a main canopy tree from vertical to horizontal, flattening the paw paw sapling below that now supports the four visible vertical saplings that have since sprouted and now reach for the light above. Nature prepares all of her denizens (plant and animal) to deal with adversity.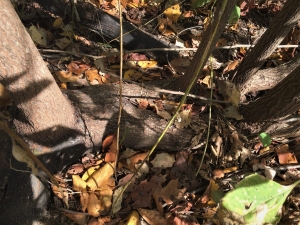 I love the shape, size, texture, tropical-nature, and color of paw paw leaves (below). I thrilled with each new and unanticipated secondary species we encountered in the recovering tornado-disturbed forest. Who knows how long this paw paw had patiently persevered in the forest understory shade, evolutionarily prepared to exploit the tornado-delivered gift of light. One man's bane is another's boon. Nature does not pass judgment on phenomena that we humans might class as good or bad, favorable or catastrophic. The paw paw knows only that when forest floor light increases, its role is to act… produce more leaf surface; grow and prosper; accelerate flowering and fruiting; reproduce. The window of opportunity will be brief. The overstory forest will likewise respond, reach above the paw paw, and once more relegate the paw paw to its proper place in the shade.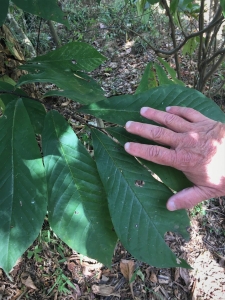 So, persimmon, Carolina buckthorn, winged elm, paw paw, and yellow buckeye… already five species accounted for on the tornado-disturbed hillside. And yet two more secondary species caught our eye. The first is eastern Bumelia (Bumelia lycioides), a shrub to small tree with thorns at buds. Once more, Mike immediately identified this sharp-thorned and angular-stemmed tree-shrub.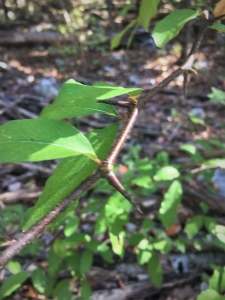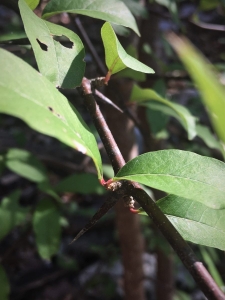 Peterson's Field Guide to Trees and Shrubs nailed the leaves: "Leaves narrow to elliptic or even parallel-sided  or egg-shaped, without teeth, tips short-pointed or rounded, either hairless or somewhat silky. Leaf blades 2.5-6 inches. Height to 30′." It takes a special knowledge and talent to write these wonderful descriptors.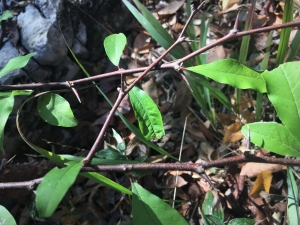 And the seventh hillside canopy-subordinate species we identified is rusty blackhaw (Viburnum rufidulum). From a University of Florida website: "A native of the well-drained, upland woods of southeastern North America, Rusty Blackhaw forms a multiple or (occasionally) single-trunked small tree or large shrub, reaching 25 feet in height with an equal spread. The dark bark is blocky, resembling older Flowering Dogwood bark. Trunks usually grow no thicker than six inches and arch away from the tree, forming a pleasing, vase-shaped crown. Leaves are dark green, three inches long, leathery, and extremely glossy. The tree is covered in springtime with striking five-inch-wide clusters of small, white blooms. These flowers are followed by clusters of dark blue, waxy, one-half-inch-long fruits that are extremely popular with wildlife and will occasionally persist on the plant from September throughout the autumn, if not eaten by wildlife. In fall, Rusty Blackhaw puts on a brilliant display of scarlet red to purple foliage."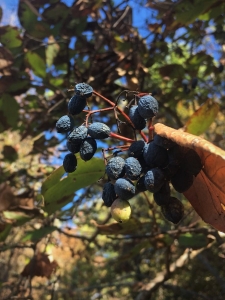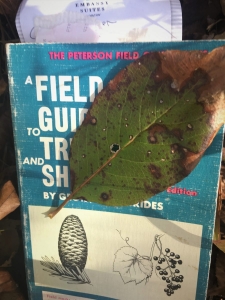 Had I seen this specimen following leaf fall (and without Mike), I would have declared dogwood (Cornus florida). The bark is a dead-ringer for dogwood.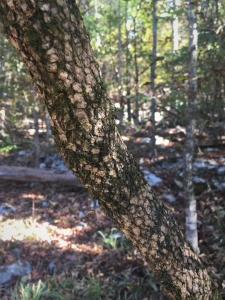 Although not typically a secondary species, sugar maple (Acer saccharum) is shade tolerant and would have been content in the understory of the pre-tornado forest, opportunistically biding time, positioned and poised to spring into the overstory in the event of main canopy removal. This one caught our eye with its circumferential yellow-bellied sapsucker (Sphyrapicus varius) bird peck. Another element of Nature's bag of tricks and special visual treats.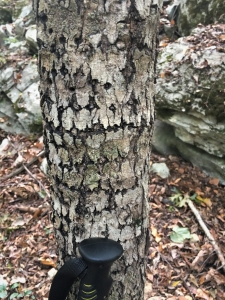 Away from the Tornado Track
Even if one of the tornadoes had tracked across this place on the map, the cave would have cared not a single iota. This geologic feature is clearly mapped and openly accessible. My interests reach beyond Nature's biological wonders.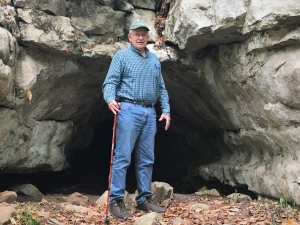 I am always alert for tree form oddities — see my related Post from January 2019: http://stevejonesgbh.com/2019/01/14/our-lives-mimic-nature-lessons-learned-from-tree-form-oddities/. We spotted this white oak (Quercus alba) near the Cave Trail (see above). These massive burls flank both sides behind me, earning my declared moniker of angel-winged oak! Perhaps in the Halloween gloaming I would lean more toward a more ghoulish characterization!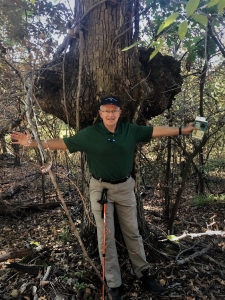 Mike guided me off trail to another cave, purposely off the beaten and publicized track, where the entrance is more dangerous (a 20-foot vertical drop) and the resident bat colony meriting protection.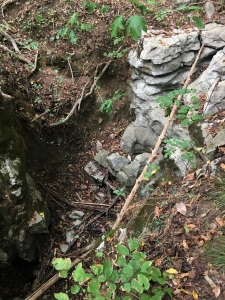 The limestone ledges surround the sink-hole near the cave entrance. The hole, now sediment and debris filled to level, supports a vibrant stand of mixed hardwood reaching skyward with straight and clear boles. The soils are rich… and the trees demonstrate their gratitude in height and girth.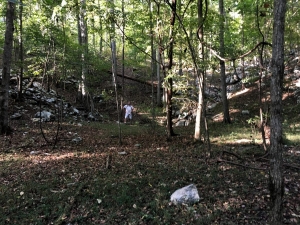 This white oak and partnering grape vine grow at the lower slope just a few feet above sink's ground level.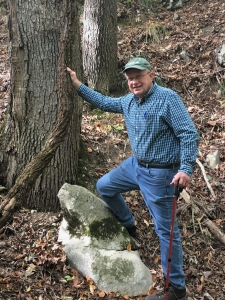 And this two-foot diameter black walnut (Juglans nigra), also at the ledge base and tapping the fertile sink soil, expresses the site's richness.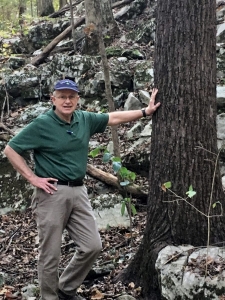 I am partial to high quality hardwood forests on deep, well-drained, fertile sites. I am pleased that tornado steering currents protected this special place. What I don't know is how many such special places the spring twisters ravaged. I cannot even be certain that 60-80 years ago a similar weather day did not rip through a previous stand in this very spot… leading to the forest I am now admiring, even revering, viewing it as a forest cathedral, deeply spiritual and awe inspiring. Remember, Nature makes no judgement with respect to forest beauty… or human life and limb.
Thoughts and Reflections
I wrote my books Nature Based Leadership (2016), Nature-Inspired Learning and Leading (2017), and Weaned Seals and Snowy Summits: Stories of Passion for Place and Everyday Nature (2019) to encourage all citizens to recognize and appreciate that every lesson for living, learning, serving, and leading is either written indelibly in or is powerfully inspired by Nature. All three are available on Amazon and other online sources.
Here are the three succinct lessons I draw from this Blog Post:
Nature is magnificent in both beauty and violence, acting without judgement or prejudice

Disturbance, whether catastrophic or gradual, is the rule; nothing in Nature is static

Deep time has prepared all life for disturbance; an F-3 tornado is but a perturbation in the life of a forest ecosystem… extending across millennia

Inhale and absorb Nature's elixir. May Nature Inspire and Reward you!
Note: All blog post images created & photographed by Stephen B. Jones unless otherwise noted. Please circulate images with photo credit: "©2019 Steve Jones, Great Blue Heron LLC. All Rights Reserved."
Another Note: If you came to this post via a Facebook posting or by an another route, please sign up now (no cost… no obligation) to receive my Blog Post email alerts: http://stevejonesgbh.com/contact/
And a Third: I am available for Nature-Inspired Speaking, Writing, and Consulting — contact me at steve.jones.0524@gmail.com
Reminder of my Personal and Professional Purpose, Passion, and Cause
If only more of us viewed our precious environment through the filters I employ. If only my mission and vision could be multiplied untold orders of magnitude:
Mission: Employ writing and speaking to educate, inspire, and enable readers and listeners to understand, appreciate, and enjoy Nature… and accept and practice Earth Stewardship.
Vision:
People of all ages will pay greater attention to and engage more regularly with Nature… and will accept and practice informed and responsible Earth Stewardship.
They will see their relationship to our natural world with new eyes… and will understand more clearly their Earth home.
Tagline/Motto: Steve (Great Blue Heron) encourages and seeks a better tomorrow through Nature-Inspired Living!
Weaned Seals and Snowy Summits:
Co-authors Jennifer and Steve: "We're so proud to announce the publication and release of our co-authored book, Weaned Seals and Snowy Summits: Stories of Passion for Place and Everyday Nature. This book is a collection of nature stories seeking to inspire deeper relationship with and care for this beautiful Earth." Order your copy from your local indie bookstore, or find it on IndieBound: https://www.indiebound.org/book/9781489723529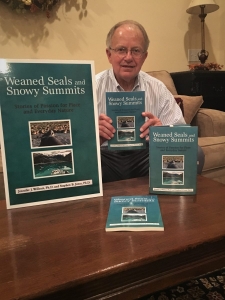 Stories of Passion for Place and Everyday Nature, whether Lake Guntersville State Park or a Local Greenway!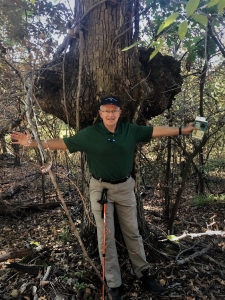 Alabama State Parks Foundation
I'll remind you that I serve on the Foundation Board, in part because of my love of Nature and in recognition for my writing many prior Posts about visiting and experiencing the Parks. I urge you to take a look at the Foundation website and consider ways you might help steward these magical places: https://asparksfoundation.org/ Perhaps you might think about supporting the Parks System education and interpretation imperative, including initiatives related to exploring and revealing what lies hidden in plain sight.
http://stevejonesgbh.com/wp-content/uploads/2019/10/IMG_2248.jpg-10.17.19-Diospyros-virginiana-Persimmon.jpg
1200
900
Steve Jones
http://stevejonesgbh.com/wp-content/uploads/2017/01/gbhweblogo.png
Steve Jones
2019-10-29 17:00:58
2019-10-29 17:05:03
Mid-October Lake Guntersville State Park: Special Small Trees and Shrubs