This Post is the next in a series of multiple photographic essays from our July National Parks journey, beginning with my late July Post previewing the series: http://stevejonesgbh.com/2019/07/26/previewing-a-series-of-blog-posts-july-2019-national-parks-journey/. See all the subsequent Posts at: http://stevejonesgbh.com/blog/. My focus for this Post is heavenward.
NASA describes our planet's atmosphere in objective clinical terms: The Earth's atmosphere is an extremely thin sheet of air extending from the surface of the Earth to the edge of space. The Earth is a sphere with a roughly 8000 mile diameter; the thickness of the atmosphere is about 60 miles. In this picture, taken from a spacecraft orbiting at 200 miles above the surface, we can see the atmosphere as the thin blue band between the surface and the blackness of space. If the Earth were the size of a basketball, the thickness of the atmosphere could be modeled by a thin sheet of plastic wrapped around the ball. Gravity holds the atmosphere to the Earth's surface. Within the atmosphere, very complex chemical, thermodynamic, and fluid dynamics effects occur. The atmosphere is not uniform; fluid properties are constantly changing with time and location. We call this change the weather. A NASA photo begins to strip away the cold objectivity, translating the words to art, spirituality, and wonder: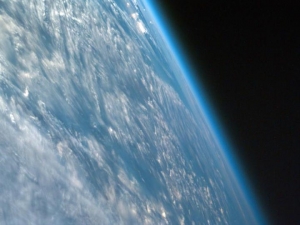 NASA Website Photo
Allow me a postscript of sorts to the basketball and plastic film analogy. I recall reading once that if the Earth were reduced to the size of a ping pong ball, it would be smoother than an actual ping pong ball! Okay, back to the atmosphere. Landing at the Huntsville airport on a return earlier this year, I captured this perspective from within the troposphere (the weather-affected layer nearest the Earth) late evening. The camera faces east, from which the Earth's shadow is advancing as the sun sets behind me.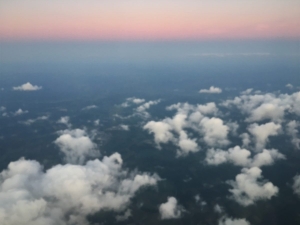 This cumulus (below) rises above the Norway spruce planted near the Oregon and California Trail Center at Montpelier, Idaho, its top leaning downwind. We visited the Center as we drove north from Salt Lake City in route to Jackson, Wyoming. The scene for me serves as beacon, signaling the magic that lies ahead for our journey through an itinerary of National Parks, Monuments, and Memorials. The rich green, blue, and white could not be more striking.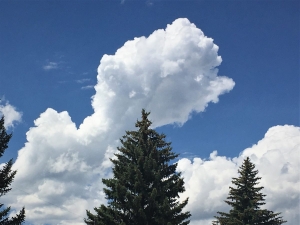 I'm a lifelong cloud addict in search of daily fixes. I kept my eyes skyward during our 12-day, five-state tour of National Parks in July 2019. I took up the addiction honestly, getting hooked as a toddler, enabled through my youth, adolescence, and early adulthood. Dad, a WWII Army Air Corps, Pacific theater veteran, always kept an eye peeled above. I looked where he did, and embraced his fascination for the wild blue yonder. He kept John Gillespie Magee's High Flight folded in his wallet to his final days:
Oh! I have slipped the surly bonds of earth,
And danced the skies on laughter-silvered wings;
Sunward I've climbed, and joined the tumbling mirth
Of sun-split clouds, — and done a hundred things
You have not dreamed of — Wheeled and soared and swung
High in the sunlit silence. Hov'ring there
I've chased the shouting wind along, and flung
My eager craft through footless halls of air…
Up, up the long, delirious, burning blue
I've topped the wind-swept heights with easy grace
Where never lark or even eagle flew —
And, while with silent lifting mind I've trod
The high untrespassed sanctity of space,
Put out my hand, and touched the face of God.
I read High Flight for Dad's eulogy. As I approach the age at which Dad slipped the surly bonds of earth, I pay ever greater attention to the near-Earth firmament.
We began our trip in Salt Lake City and the Lake's basin. We visited Great Salt Lake State Park (below left), where we looked east to the city and the Wasatch Range rising beyond. I am certain that few among our group noticed the virga (profile-visible precipitation evaporating before reaching the ground) that descended from the nearly horizon-to-horizon stratus. From the state capital steps, we could see that banners of the descending rain reached the ground into the Wasatch. One man's virga is another man's shower. A bit of reminder why the higher elevations support rich vegetation and forest cover within sight of the basin's desert!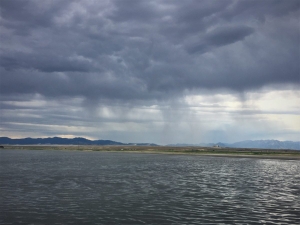 Into the High Country of Grand Teton and Yellowstone
No virga trailed from this lone cumulus the next day as we crested 7,300-feet at the Bear Lake Overlook. The little cloud served as an exclamation point in a scene that without it may still have been special. Yet for me it is a focal point that completes the landscape. Although we did not stay long enough for me to verify, I suspect that the peak to the north generated a standing wave as the wind, that day blowing from the west…left to right, resulting in a succession of cumulus that appeared just upwind then faded back to blue sky downwind.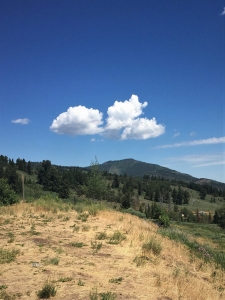 By the time we reached the Trail Center, the afternoon's vertical temperature profile had changed enough to stimulate more abundant cumulus, a fleet of cotton balls.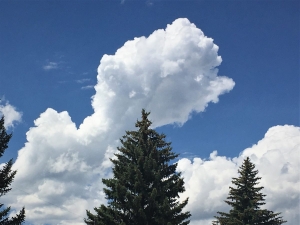 The cotton balls grew more serious as we entered the higher country along the Snake River in Jackson, Wyoming, where the river valley elevation stood a half-mile higher than at Bear Lake. In fact, that evening not long after we arrived in Jackson, a rather vigorous, but short-lived, thundershower hit us with gusty winds, dark clouds, cooler temperatures, and rain that did little more than wet the pavement. The storm quickly moved beyond our Snow King Resort accommodations (below left), already back in full evening sunshine. Another such shower blessed us the second evening about the same time, with similar temperament and like effect. This time, I captured the storm's backside as the cloud's trailing edge lifted above the setting sun (below right), with rain still falling.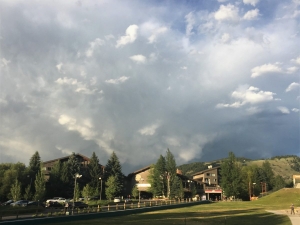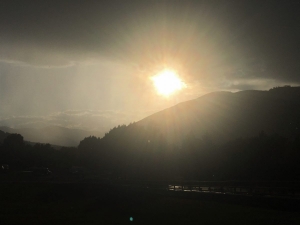 I've heard so many people over the years and across the country bemoan clouds, rain, and other sorts of foul weather. Not me… never! How can a forester and naturalist not delight in the gift of essential moisture, the soothing grace of dripping water, the gurgle of streams, the shifting patterns of clouds, weather systems, and the promise of new snow, rumbling thunder, and clearing fog? I could not fathom living in an arid, sun-dominated climate. How dull and boring!
Nothing dull and boring about this view west from the east shore of Jenny Lake in Grand Teton National Park, the early day once more tranquil. The scene belies the extreme forces of climate that created the extraordinary beauty. Imagine an alpine glacier within the past 10,000 years (a geologic heartbeat) plowing eastward through the U-shaped valley beyond the lake, gouging what is now the lake-bottom and depositing the terminal moraine (where I am standing with camera in hand) to create this treasure-lake. Two elements enrich this image. First, a scattering of tiny cumulus exclamation points. Second, the science explaining the genesis of Jenny Lake. A third dimension emerged later in the day as we drove through Yellowstone and encountered yet another shower. Hold that thought.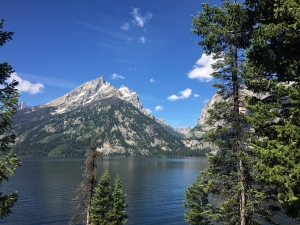 Within a few miles of Yellowstone, we paused to look back south to the Tetons, now hazy with the distance… and owing to the incoming air mass now bearing greater moisture.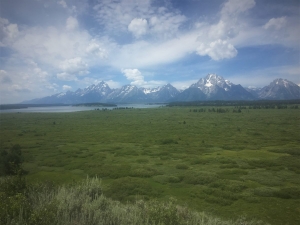 That greater moisture manifest as thickening and lowering clouds from this vantage point at West Thumb Geyser Basin on Yellowstone Lake. Contrast this image to how it may have looked with clear blue sky, still glorious yet without the drama of potential impending fury. While we did not encounter fury, we drove through occasionally heavy rain as we crossed the Park's high country (near 9,000-feet) heading toward our accommodations in West Yellowstone. At the height of the storm (both elevation and intensity), I watched rain and wet snow splatter the windshield. Mid-July, when back home in Alabama high temperatures daily reach 90 and above, I am likely just a thousand feet or so beneath steady snow! I wondered whether the same storm tripped south into the Tetons… and did the summit of Grand Teton see a fresh snow cap?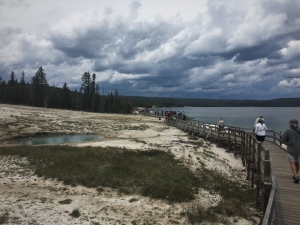 Clouds from the Ground — Hydrothermal Origin
I've previously devoted an entire Post to the Yellowstone Caldera: http://stevejonesgbh.com/2019/09/03/yellowstone-national-park-caldera-and-hot-spot/. No need to revisit the science. Instead, I'll just toss in three representative photos depicting the interaction of hot water, clear cool air, old sol sailing overhead, and an arc of deep blue sky. You don't need me to tell you how striking the images are.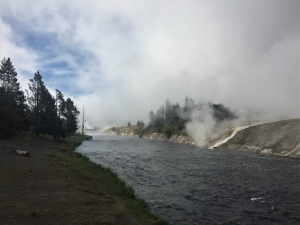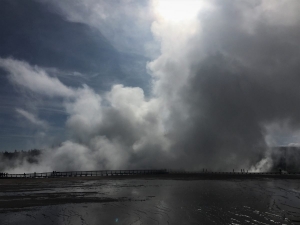 I pondered in that prior Post how magnificently amplified the effect must be at 30-degrees-below zero! Oh, to be there in January and see first hand. I still have my arctic clothing from living four years in Fairbanks, Alaska. I cling to the hope that maybe such a winter visit is within reach.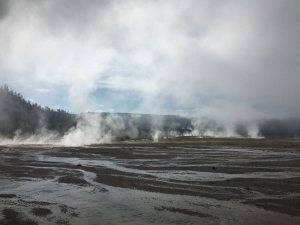 Still within the Caldera, at Mammoth Hot Springs I turned my attention to the sky above interacting with the geophysical landscape features, back-dropped by deep blue and the ever-present drifting cumulus. I am a forester and applied ecologist… not an artist. I could not teach any semblance of a course on technical art appreciation… yet I could speak to Nature's aesthetic from the Steve Jones perspective for weeks on end. I've concluded (again, for me) that scenery is a composite of land, life, sky, understanding, emotion, impression, and memory interwoven. The combination powerful enough to evoke tears wins my prize and earns my praise. I often draft these Posts with YouTube symphonic selections playing from my laptop. At this moment, it's Ennio Morricone, The Mission Main Theme, soothing and inspiring my writing. The music, images, memories, and words are soul salve, occasionally moistening my eyes… welling a tear.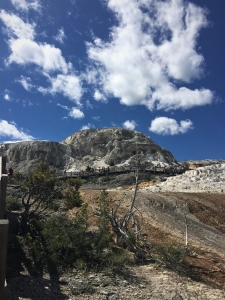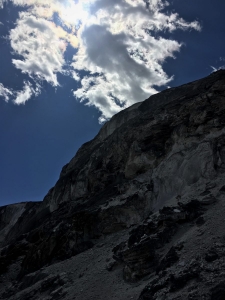 We made a final stop in Yellowstone at Tower-Roosevelt, where we gazed into the valley cut by the Yellowstone River. Once more, for the purposes of this Post, I offer a cloud photograph, this one of another passing cumulus framed by lodgepole pine boughs. I snapped the image while all (not just most — all!) of my fellow travelers looked into and across the valley, focused on the river flowing below, the mountain goats on the scree opposite us, and the palisades rimming the far wall. My heart and soul are not complete in Nature unless I include the firmament in my field of vision, appreciation, and interpretation!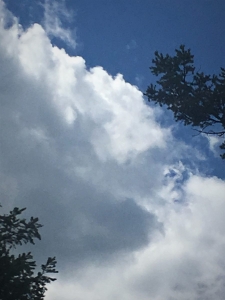 We exited Yellowstone to the east, motoring along the Lamar River Valley. The blue sky and white clouds accompanied us.
Beyond Yellowstone
We overnighted at Cody, Wyoming, and visited nearby Cody Dam the next morning. The canyon walls reached some 1,000-feet above us, and the friendly field of scattered cumulus another 1,000 feet above the rimrock. When I stare into this image, the clouds drift with the prevailing winds from left to right. The memory and impression are that strong. It's a form of memory-evoked illusion. May it never leave me…and always enrich me!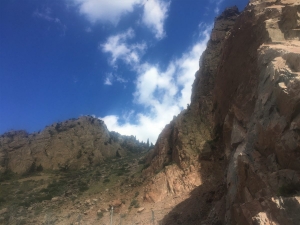 We stopped Sunday morning after an early departure from Rapid City, North Dakota at Fort Phil Kearny (built in the 1860s), located some 15 miles east of the Bighorn Mountains. I snapped this photo at 9:32AM. The chilly breeze prompted us to seek the morning sun as we awaited the 1860s-period demonstration.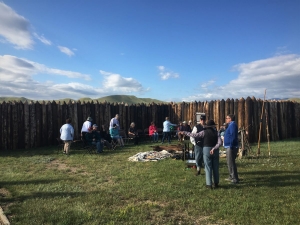 By 10:55AM, the sky had changed dramatically. I include this photo only to show the leaden sky. The clouds that rolled in suggested early fall. The stiff breeze across the open plains made it feel like autumn. We were pleased to have jackets at hand. Note the same hills behind Judy that in the first photo appear above the fort's wall. Everywhere we've lived the locals have said, "If you don't like the weather here in (you name it), just wait an hour and it will change." A common folk lore across our fine land! Yet the NASA quote from earlier indicates objectively that fluid properties are constantly changing with time and location.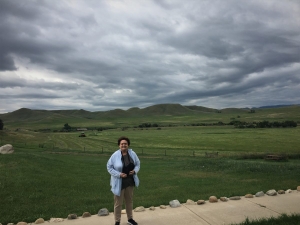 That same evening I enjoyed the threatening clouds (turned out to be all bark and no bite) above Rapid City's town square. Knowing what weather-wise awaited our return to Alabama, we relished the dark clouds and cool weather. I'm typing these words October 2. The temperature reached record levels for the third consecutive day — yesterday's high set an all-time record high in Huntsville for the month of October. Tomorrow's forecast is for another record high for the date. The current temperature in Rapid City (45 degrees) is 50 degrees cooler than here in Huntsville! Oh well, I can dream.
The next day we visited Badlands National Park. As one might expect in this arid zone, deep blue prevailed.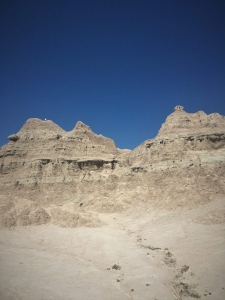 Devils Tower National Monument sits in a climate moist enough to support open forest. Once more we see our drifting cumulus friends!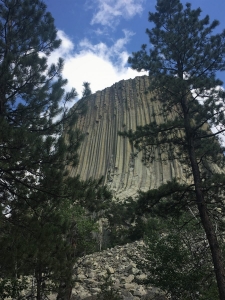 And Mount Rushmore National Memorial likewise from its location in the Black Hills receives precipitation sufficient to support forests. The sky in this photo is absent cumulus and instead provides a high partial cover of wispy cirrus… ice crystals at least 20,000 feet above the four presidents.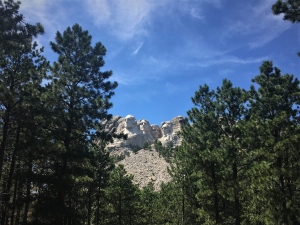 And a final farewell once again to the approaching storm at West Thumb Basin, Lake Yellowstone. I view clouds as the spice to our gourmet tour, seasoning the scenery with delectable flavoring and accents.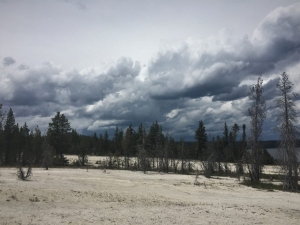 Thoughts and Reflections
I wrote my books Nature Based Leadership (2016), Nature-Inspired Learning and Leading (2017), and Weaned Seals and Snowy Summits: Stories of Passion for Place and Everyday Nature (2019) to encourage all citizens to recognize and appreciate that every lesson for living, learning, serving, and leading is either written indelibly in or is powerfully inspired by Nature. All three are available on Amazon and other online sources.
Here are the three succinct lessons I draw from this Blog Post:
My heart and soul are not complete in Nature unless I include the firmament in my field of vision, appreciation, and interpretation!
Scenery is a composite of land, life, sky, understanding, emotion, impression, and memory… all interwoven.
How can a forester and naturalist not delight in the gift of essential precipitation, the soothing grace of dripping water, the gurgle of streams, the shifting patterns of clouds and weather systems, and the promise of new snow, rumbling thunder, or clearing fog!
Inhale and absorb Nature's elixir. May Nature Inspire and Reward you!
Note: All blog post images created & photographed by Stephen B. Jones unless otherwise noted. Please circulate images with photo credit: "©2019 Steve Jones, Great Blue Heron LLC. All Rights Reserved."
Another Note: If you came to this post via a Facebook posting or by an another route, please sign up now (no cost… no obligation) to receive my Blog Post email alerts: http://stevejonesgbh.com/contact/
And a Third: I am available for Nature-Inspired Speaking, Writing, and Consulting — contact me at steve.jones.0524@gmail.com
Reminder of my Personal and Professional Purpose, Passion, and Cause
If only more of us viewed our precious environment through the filters I employ. If only my mission and vision could be multiplied untold orders of magnitude:
Mission: Employ writing and speaking to educate, inspire, and enable readers and listeners to understand, appreciate, and enjoy Nature… and accept and practice Earth Stewardship.
Vision:
People of all ages will pay greater attention to and engage more regularly with Nature… and will accept and practice informed and responsible Earth Stewardship.
They will see their relationship to our natural world with new eyes… and will understand more clearly their Earth home.
Tagline/Motto: Steve (Great Blue Heron) encourages and seeks a better tomorrow through Nature-Inspired Living!
Weaned Seals and Snowy Summits:
Co-authors Jennifer and Steve: "We're so proud to announce the publication and release of our co-authored book, Weaned Seals and Snowy Summits: Stories of Passion for Place and Everyday Nature. This book is a collection of nature stories seeking to inspire deeper relationship with and care for this beautiful Earth." Order your copy from your local indie bookstore, or find it on IndieBound: https://www.indiebound.org/book/9781489723529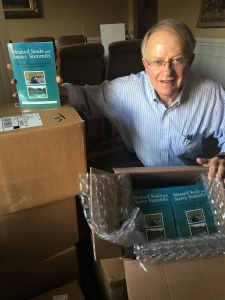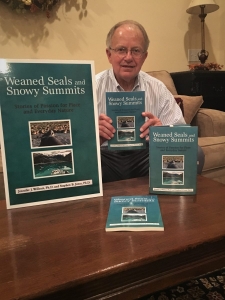 http://stevejonesgbh.com/wp-content/uploads/2019/07/IMG_0985.jpg-07.14.19-Snow-King-Resort-with-Storm-Receding.jpg
900
1200
Steve Jones
http://stevejonesgbh.com/wp-content/uploads/2017/01/gbhweblogo.png
Steve Jones
2019-10-17 07:36:13
2019-10-17 07:36:13
The Tumbling Mirth Of Sun-split Clouds: Sky Gazing on a 12-Day National Parks Journey