I will always cherish the opportunity afforded to me by an August 2019 visit and tour of National Parks in Kazakhstan by Kimep University in Almaty: http://stevejonesgbh.com/2019/09/10/three-national-parks-in-kazakhstan-an-august-immersion/
Although eleven times zones to the east of my Central Time USA location, southeastern Kazakhstan (latitude the same as Syracuse, NY) struck me as remarkably similar to what I'm accustomed here in the eastern US. I viewed the ecological commonalities as a reminder that regardless of location, we share a Common Home…our One Earth, isolated by nearly unfathomable time and distance. Eleven time zones is nothing when contrasted to our solar system's location 25,000 light years from the center of our home galaxy!
Oh So Familiar!
Cultural consistencies presented themselves as well. I wonder whether civilizations elsewhere (a long time ago in a galaxy far, far away) have embraced the Golden Arches, which stand as a common thread connecting us Americans to our friends in Almaty, KZ. No breakfast served, so we enjoyed a hamburger and fries before departing one morning for our National Parks exploration.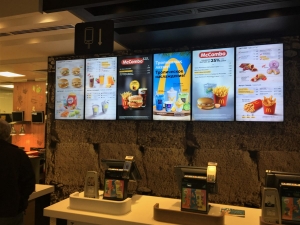 And my hotel residence in Almaty carried a banner-name in English. Virtually the entire staff spoke English quite well. Only I was the pitiful global traveler who spoke only a single language.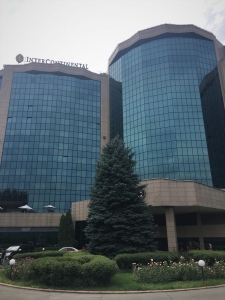 Few things are more important to humanity, whether in America or Kazakhstan, than our culture and heritage. En route Saturday morning to Issyk Lake National Park, we stopped by the State Historical Cultural Reserve-Museum of Issyk. From the website: The museum is a complex of 80 Saks burial mounds (kurgans), the residence of the Saka rulers "Rakhat" and ancient city "Oricti." One of the world-famous founding, discovered in 1970, is a burial of Golden Man – a skeleton, warrior's equipment, and assorted funerary goods, including 4,000 gold ornaments, reflecting the sacred meaning of Saks mythology.
The main function of the museum is organization of research, cultural, educational and tourist activities. There are four exhibition halls: History and Cultural of the Saks, The Golden Man, The Archaeology of Kazakhstan and The Secrets of the Golden Man. We stopped too early to enter the museum (below left) or hike to any of the 80 mounds.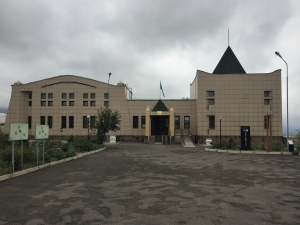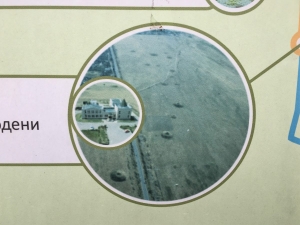 So much unites us, including the way we tie ourselves to culture, history, and our environment. We cannot trek into the future unless we recognize and preserve the richness of antiquity. The lower left mound lies within 100 yards of the fence. The signage evidences the importance and power of our link to the past.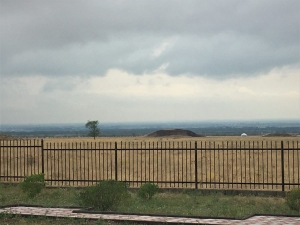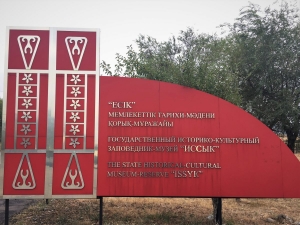 Kazakhstan: From Culture and History to Ecology
So, culture and history connect us to the past and forge a bond to what lies ahead. Yet for me, my primary focus sought the ecologic connections. I identified the specimens below as members of the thistle group, common across the eastern half of the US. The US Forest Service reports that 58 species of the genus Cirsium are native to the US. I suppose it's not surprising to find thistle in Kazakhstan. I snapped the photograph below left at a lower and drier elevation, where it had already reached senescence. The lower right specimen was still flourishing at a higher and better-watered elevation.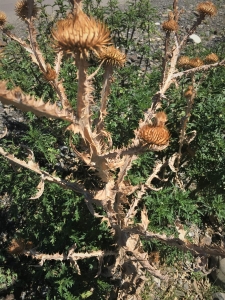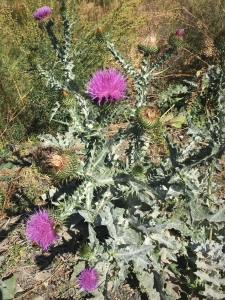 We encountered what I identified as Picea schrenkiana, known as Schrenk's spruce or Asian spruce, native to the Tian Shan mountains of central Asia. At least six species of spruce (genus Picea) are native to the contiguous lower 48 states. Red spruce (Picea rubens) grows closest to Alabama in the high elevations of western North Carolina and eastern Tennessee. The three photographs below capture Asian spruce trees and forests that were ubiquitous in the high country of both Lake Issyk and Kolsai Lakes National Parks, which we visited during my stay in Kazakhstan.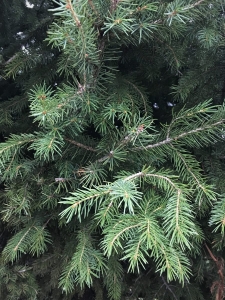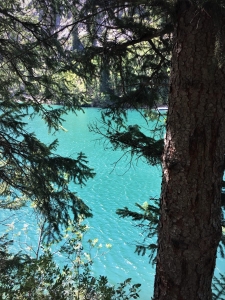 Lush spruce forest blanketed the steep hills in both locations.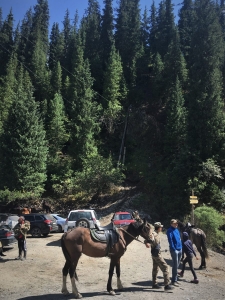 Along the shore at Lake Issyk, this birch closely resembles our northeastern US white or paper birch (Betula papyifera). I offer a somewhat informed stab at identification: Betula tianshanica, whose species name identifies the mountain range (Tian Shan, the Mountains of Heaven) within which both parks are located.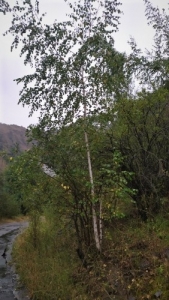 I will certainly disappoint the reader with this photo of a flowering vine in full, exotic bloom at Kolsai Lakes. The flower is familiar, yet I could not even approximate an identity. Reminds me a bit of our native fringetree (Chionanthus virginicus). Sorry, but that is the best I can offer. Note the lush Asian spruce forest on the hillside beyond.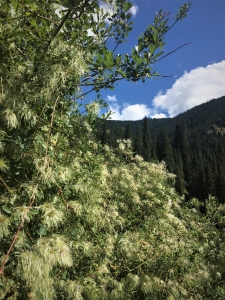 Along the streets of Almaty I spotted this planted Norway maple (Acer platanoides). It appeared to be quite content with its location. Although common in the US, this ornamental is native to Europe and western Asia and Russia, despite its common name as a "Norway" maple! How was I to know that "Norway" maple is native to Kazakhstan!?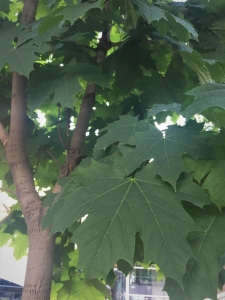 Also along the streets of Almaty I spotted what looked to be staghorn sumac (Rhus typhina). I suppose that Kazakhstan has native species of the same genus.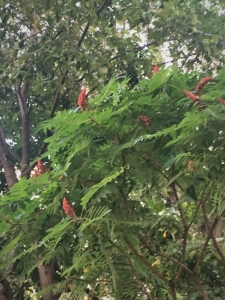 And I found Scots pine (Pinus sylvestris), native to Eurasia, and planted extensively in the eastern US as an ornamental and as a timber tree on tens of thousands of acres during CCC days (1930s) and the Soil Bank conservation program of the late 1950s and early 60s. It strikes me as odd that a forester from the eastern US should be surprised to see a species with which he is intimately familiar in the States appearing in its native Kazakhstan! We occupy a small planet located on an outer spiral arm of a rather unspectacular galaxy, one of some two trillion such massive star clusters. Our planet is but a mote of dust… one supporting life for 2-3 billion years. How could we not expect life across our home planet to be similar within its temperate northern hemisphere? Continental borders and ocean buffers are becoming less and less isolating as we trend increasingly to more and faster means of global transportation. Those Scots pine really get around! Who would know that dandelion isn't a North American native!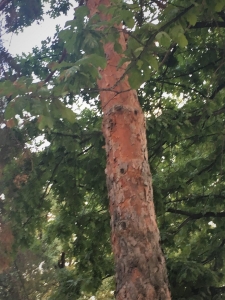 Kazakhstan and USA: Cultural Constants
Returning from Kolsai Lakes National Park we stopped for our evening meal at a village bazaar, which differed little in spirit from a rural community festival anywhere across the US. Farmers selling local produce under a street-side canopy (below left). Local meats and other delights at a vendor's open grill (below right)… in this case lamb, duck, and chicken kabobs. Delicious!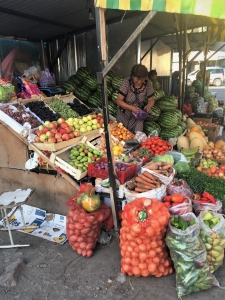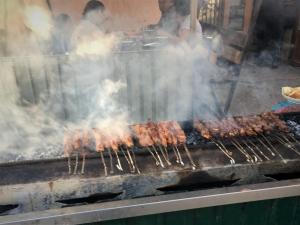 Like Salt Lake City or Denver, Almaty sits at the base of craggy mountains (below left)… the Tian Shan Mountains, which just south of the city rise to ~13,000 feet (lower right; file photo from the internet and not mine). Spectacular natural scenery knows no geographic, cultural, political, or language bounds.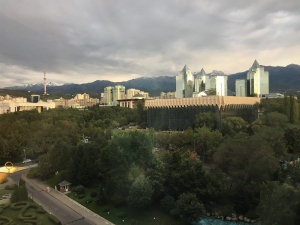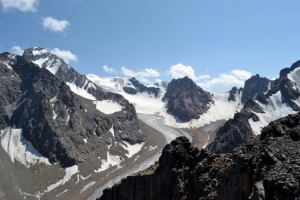 Shymbulak ski resort is a very short bus ride from where I stayed in Almaty. Like so many US ski resorts, Shymbulak welcomes summer visitors to experience the mountains, enjoy the cooler air, and taste of the lofty heights. Kimep University's Dr. Arai Kuderbayeva ushered me to the slope, accompanied me on the gondola, and shared a thundershower's rain, breeze, and rumbles. Aside from signage, we could have been at Wyoming's Snow King Resort.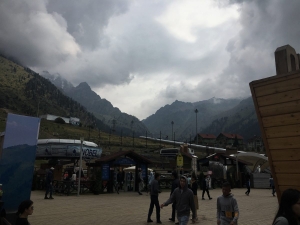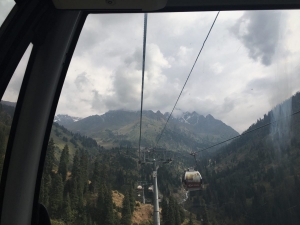 On our descent we shared a gondola with a Kazakh family. I had not considered that I stood apart from any other person at the resort. However, this sixth-grader sat mesmerized by the American.  I apparently did not blend in nearly as well as I imagined! She asked me shyly in English, "Are you American?" Arai kindly translated beyond the young lady's initial query. Such a delight to make acquaintance with one person who found me interesting!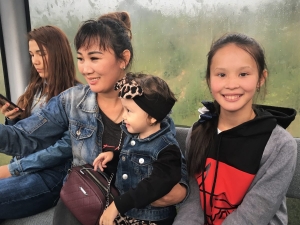 My hotel offered another universal amenity that I heartily embraced after the ski slope as I prepared for the next afternoon's workshop. A happy-hour outdoor beer garden offering draft beer and fresh popcorn — a special treat anywhere on Earth!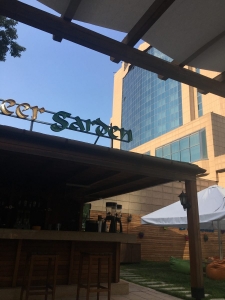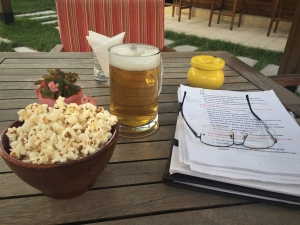 And the joy of seeing an old friend! Dr. Tim Barnett, my Kimep University host, arranged for my visit, warmly welcomed me, and enabled me to immerse deeply in the Nature, culture, and history of southeastern Kazakhstan. Tim and I worked together at the University of Alaska Fairbanks.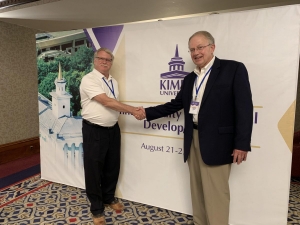 Thoughts and Reflections
I wrote my books Nature Based Leadership (2016), Nature-Inspired Learning and Leading (2017), and Weaned Seals and Snowy Summits: Stories of Passion for Place and Everyday Nature (2019; with co-author Dr. Jennifer Wilhoit) to encourage all citizens to recognize and appreciate that every lesson for living, learning, serving, and leading is either written indelibly in or is powerfully inspired by Nature. All three are available on Amazon and other online sources.
Here are three succinct lessons I draw from this Blog Post:
We share a tiny planet…our One Earth…whether in Central Asia or the southeastern USA

Eleven time zones notwithstanding, we are far more alike than different… in geography, Nature, and culture
Our Common Home draws us together in shared obligation to practice informed and responsible Earth stewardship
Inhale and absorb Nature's elixir. May Nature Inspire and Reward you!
Note: All blog post images created & photographed by Stephen B. Jones unless otherwise noted. Please circulate images with photo credit: "©2019 Steve Jones, Great Blue Heron LLC. All Rights Reserved."
Another Note: If you came to this post via a Facebook posting or by an another route, please sign up now (no cost… no obligation) to receive my Blog Post email alerts: http://stevejonesgbh.com/contact/
And a Third: I am available for Nature-Inspired Speaking, Writing, and Consulting — contact me at steve.jones.0524@gmail.com
Reminder of my Personal and Professional Purpose, Passion, and Cause
If only more of us viewed our precious environment through the filters I employ. If only my mission and vision could be multiplied untold orders of magnitude:
Mission: Employ writing and speaking to educate, inspire, and enable readers and listeners to understand, appreciate, and enjoy Nature… and accept and practice Earth Stewardship.
Vision:
People of all ages will pay greater attention to and engage more regularly with Nature… and will accept and practice informed and responsible Earth Stewardship.
They will see their relationship to our natural world with new eyes… and will understand more clearly their Earth home.
Tagline/Motto: Steve (Great Blue Heron) encourages and seeks a better tomorrow through Nature-Inspired Living!
Weaned Seals and Snowy Summits: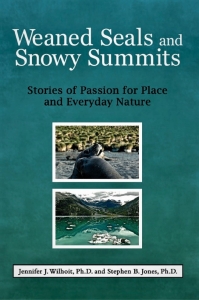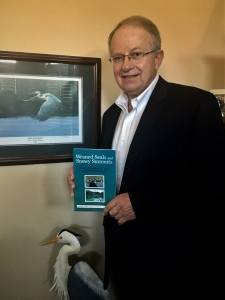 Jennifer and Steve: "We're so proud to announce the publication and release of our first co-authored book, Weaned Seals and Snowy Summits: Stories of Passion for Place and Everyday Nature. This book is a collection of nature stories seeking to inspire deeper relationship with and care for this beautiful Earth." Order your copy from your local indie bookstore, or find it on IndieBound: https://www.indiebound.org/book/9781489723529
http://stevejonesgbh.com/wp-content/uploads/2019/09/IMG_1869.jpg-08.18.19-Scotts-Pine-in-Almaty.jpg
1200
900
Steve Jones
http://stevejonesgbh.com/wp-content/uploads/2017/01/gbhweblogo.png
Steve Jones
2019-10-08 16:07:06
2019-10-08 16:07:06
Eleven Time Zones Apart, Yet Oh So Familiar!